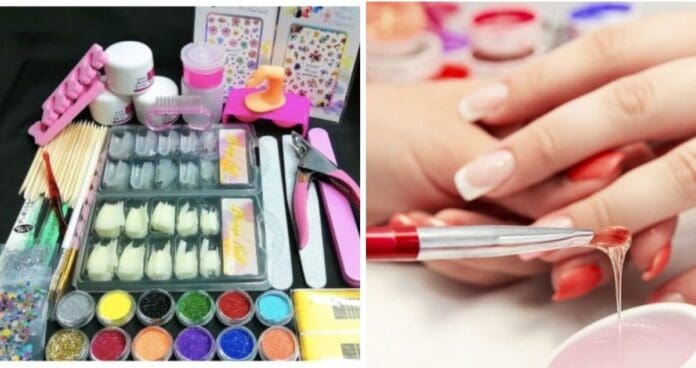 The way we feel about our beauty regimens has changed over the last year; More and more people are turning to home beauty solutions. If you want a great manicure but can't go to a salon due to restrictions, or maybe you want to save money, the DIY Acrylic Nail Kit will help you create perfect nails from the comfort of your own home. The beauty of these kits is that they allow us to learn a new skill, and with the right tools and a little practice, you can get a salon-approved look. There is an almost unlimited choice of colors and you can get creative with your nail designs. To learn more and help you choose the perfect package, keep reading.
What are Acrylic Nails?
Acrylic nails are artificial extended nails that are created using a mixture of polymer powder and liquid monomer. It is a popular choice among women who want strong and durable nails. Easy to add extra length and choose from different nail shapes; this can be achieved with nail forms or tips and styling as desired. Acrylic paints are also popular with people with weak natural nails. A typical manicure will last 2-3 weeks before it needs to be touched up. These nails have many benefits, but they can also damage your natural nails if you don't remove them properly, if you don't use the right formula, or if you skip the nail prep steps.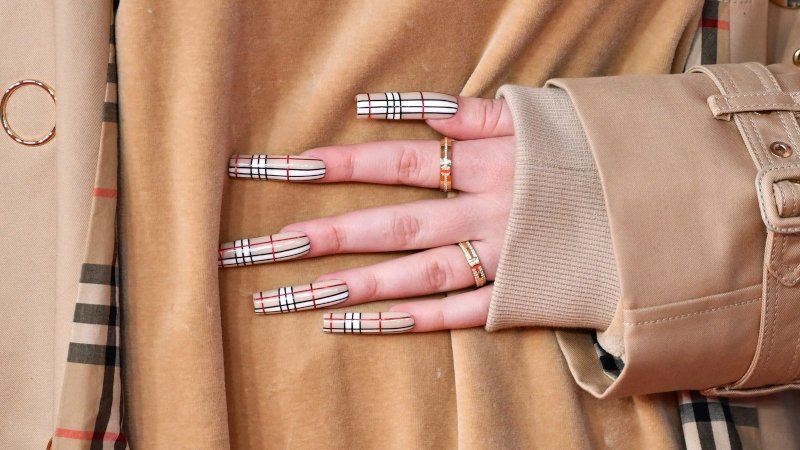 How are Acrylic Nails Created?
To create acrylic nails, you need to combine acrylic polymers and monomers. This causes a reaction that hardens, giving the nails strength and thickness. You can also add length and shape to them. Acrylic paints look feminine and can brighten up your manicure, but there is a little work to be done before doing them. First, your natural nails need to be in decent shape so they can handle artificial extensions. It would be better to do research to make sure you choose the safest formula and supplement to avoid unnecessary complications. While acrylic looks great and will last a few weeks, it does require some maintenance. This is another reason why being able to make them at home is beneficial because it can save you time and money. It is also advisable to take a break between manicures every three to six months.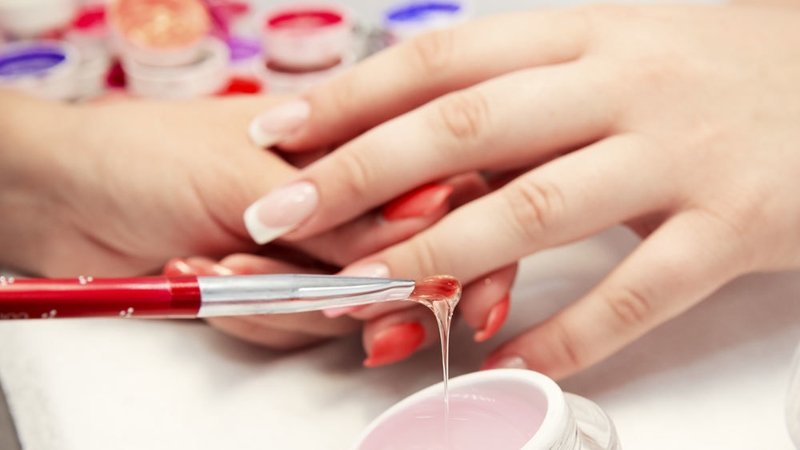 Best Acrylic Nail Kits
Mia Secret Professional Acrylic Nail Kit for Beginners and Students
If you are tired of going to the salon or can't due to restrictions, then you can start doing your own manicure. Nail kits are a great way to update your manicure from the comfort of your own home, and the Mia Secret Professional Acrylic Nail Kit is a great place to start. It is easy to use and great for beginners and professionals alike. It contains all the tools you need, including nail files, liquid monomer, no-fired acid-free primer, nail molds, acrylic powder, nail art powder, and more. If you're wondering what nails are, this is a great way to start!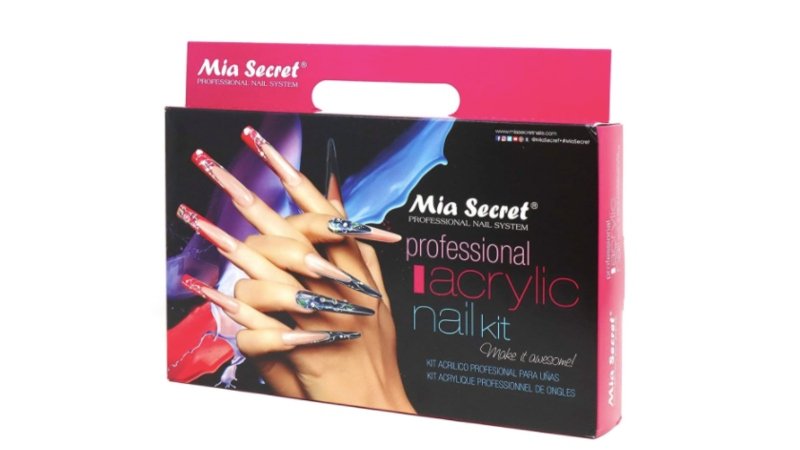 Coscelia Acrylic Nail Kit and Liquid Set
Well-groomed nails can give a woman confidence, but creating different looks can also be fun. If you love sparkly nails and want a bright and bold manicure, the Coscelia Acrylic Nail Kit has everything you need. The kit includes 12 glitters, 1000 rhinestones so you can dazzle your nails however you want, and white french style false nails. It takes some practice to learn how to create acrylic nails at home. However, chances are that this is something you will enjoy and save you time and money in the future.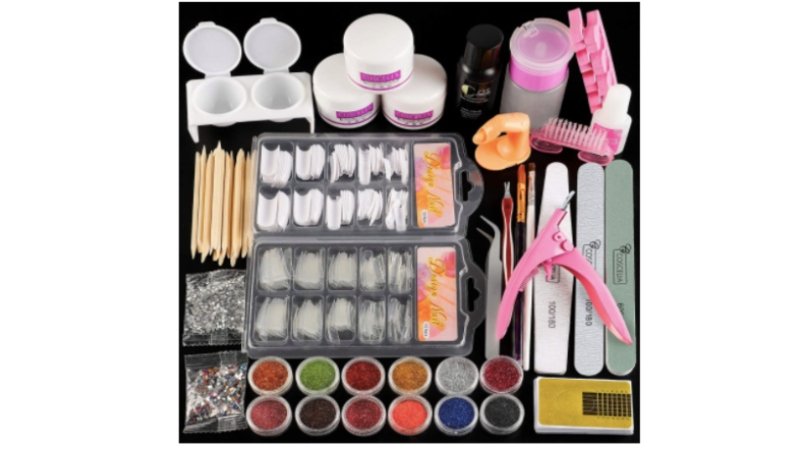 Fashion Zone Acrylic Nail Art Kit
Fashion Zone has created an acrylic nail set that will completely transform your manicure. Acrylic nails are made from a mixture of liquid and powder, resulting in nails that are strong and durable. The set includes everything you need to get started, plus a wide selection of colors, rhinestones, and beads to experiment with different looks. Before buying any kit, it's always a good idea to do your research to know exactly what you need and how to properly apply and remove them. This will help you learn more about nail design and prevent damage to your natural nails.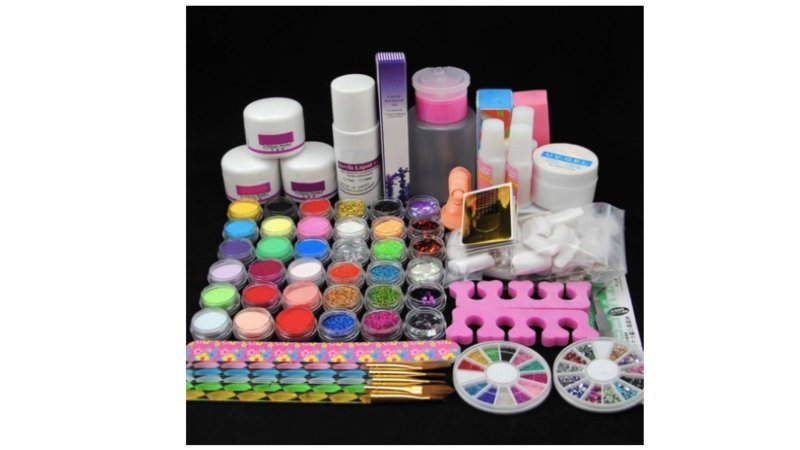 Creamoon 42 in 1 Nail Art Set
The Creamoon 42 in 1 manicure set is ideal for home manicures. You can create beautiful, long lasting nails in different colors, experiment with length by adding a little more to elongate your fingers, and have fun designing your nails. This is one of the cheapest kits on the market, which is especially useful if you're on a budget. The low cost can also make it a great gift for family or friends interested in nail art, or for those who simply don't go to the salon due to restrictions or quarantine.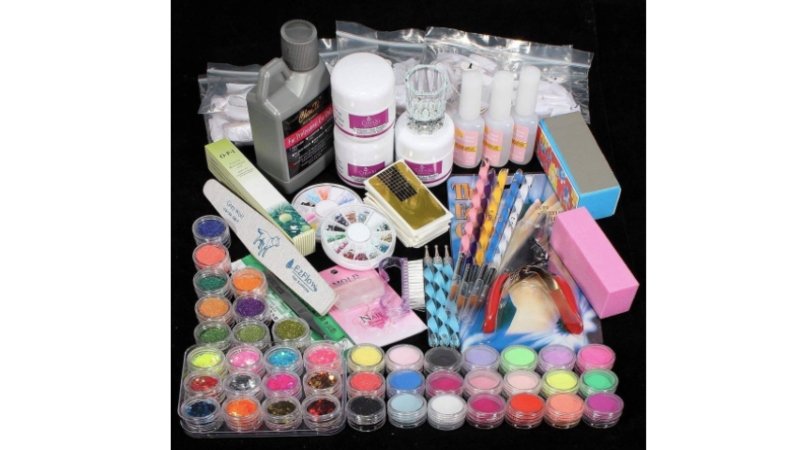 Morovan Glitter Acrylic Powder and Liquid Monomer Set
Fashion and beauty brand Morovan has created a great set for home use. It includes acrylic powders, cleaning and acrylic brush, buffer block, nail shaping guide and more. The variety of colors and rhinestones is also so attractive because you can create so many different looks. Whether you want to opt for a metallic finish or get creative with 3D colors, there's nothing stopping you from getting a homemade manicure that looks expensive and classy.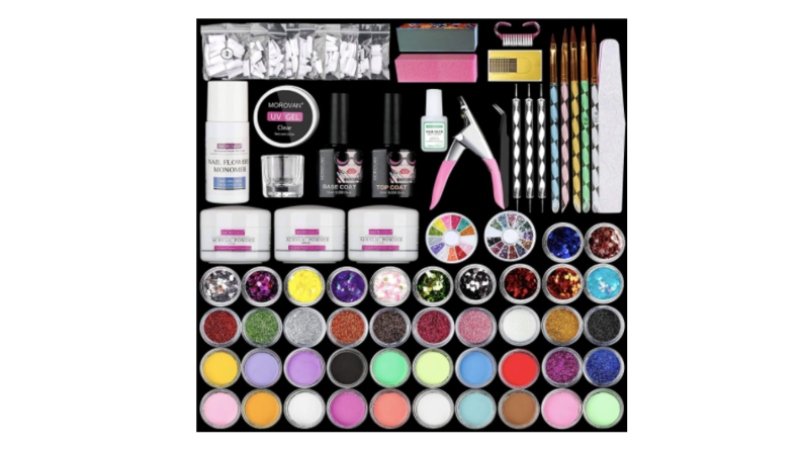 Anlome Acrylic Nail Kit Set
If you are looking for a nail kit that will help you achieve strong and durable nails without the frills, then the Analome Acrylic Kit is a good choice. The collection contains essentials; MMA-free monomer, nail tips, base coat, top coat and a formula that includes UV inhibitors to prevent yellowing. As a bonus, the packaging is very cute!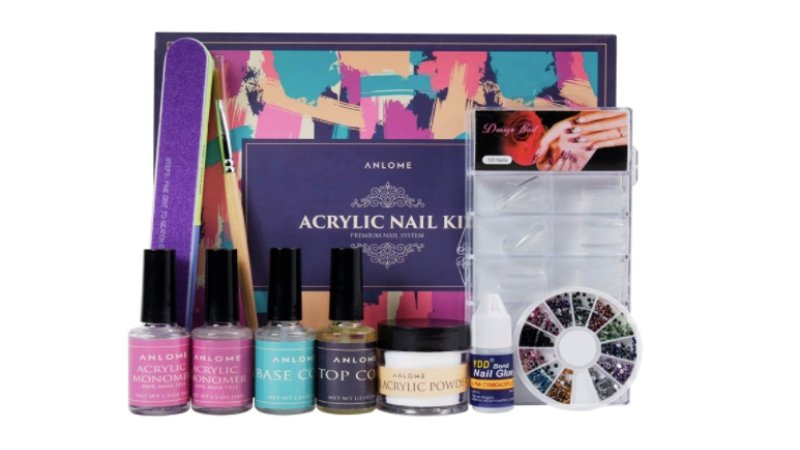 Cooserry 115 In 1 Acrylic Nail Kit
The Cooserry Acrylic Nail Kit really has it all because it comes in 115 pieces. It comes in three colors of acrylic powder and one acrylic liquid. It includes 200 false nails and tools to help you with manicures and eventual acrylic removal. However, the best part is probably 48 different glitter colors to choose from, giving you creative freedom and plenty of choice. Whether you're a pro or a beginner, there's something for everyone in this set. In addition, all this has a surprisingly low price, which makes a DIY manicure even more attractive.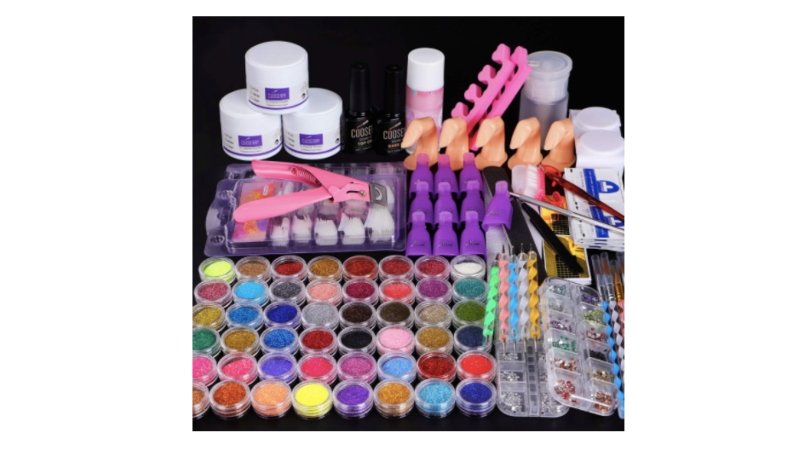 Sunbelee Professional Acrylic Nail Kit Set with Everything
If you're just discovering the wonders of home manicure, you need a nail kit that has everything you need to practice. The Sunbeee Acrylic Nail Kit provides you with everything you need to get started with your DIY manicure. It includes, among other things, a nail brush, three acrylic powders, false nail tips, a gel brush, nail shaping stickers, a cuticle pusher and a practice finger. The kit is at the bottom of the price range, making it ideal for beginners.
Teamyo Acrylic Nail Kit
There are many things to consider before purchasing an acrylic nail kit and for some, the color options are one of the things that draw them to the product. The Teamyo Acrylic Nail Kit is certainly not without options, and in the package you will find 18 colored nail powders that are light and easy to use. There are also 12 glitter options, and for even more detailed nail art, it comes with glitter. Make your choice by trying the latest trends for your nails and have fun!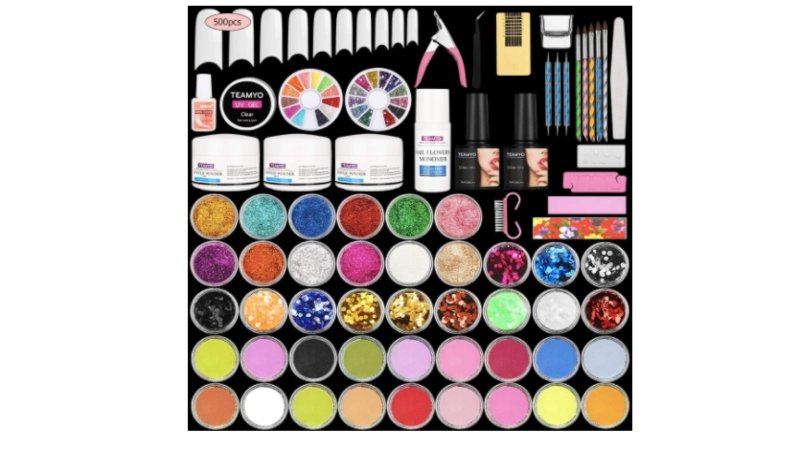 Una Gella Acrylic Nail Starter Kit
The beauty of the Una Gella Acrylic Kit is that it includes products to help you learn how to improve your manicure. Some highlights include three basic acrylic powders in clear, white and pink, a liquid monomer, a complete set of wrinkle-free and bubble-free nail tips, and a practice nail. You are also spoiled for color and design with 37 nail decoration options. There are a total of 73 items in the set, and a complimentary travel storage bag is included for added convenience. What more could you want for a DIY manicure? The answer is not very good.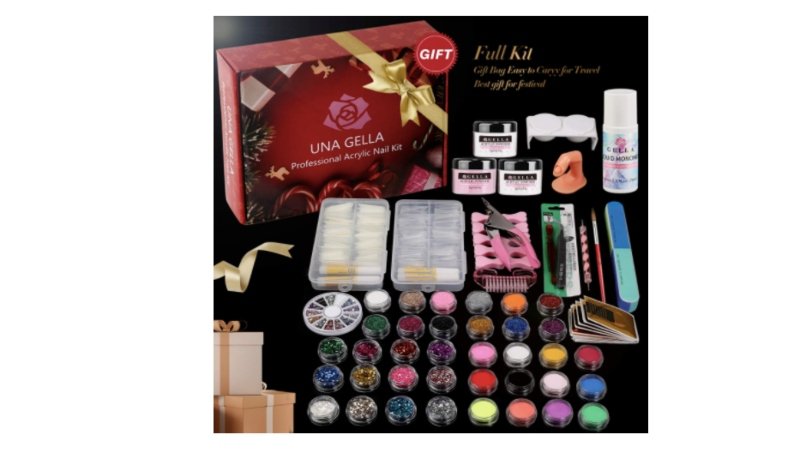 KISS French Acrylic Sculpture Kit
One of the most attractive features of nail kits is that you can get them done from the comfort of your own home and for a fraction of the cost of a salon. The pandemic has also changed the way many of us shop and feel about beauty, so if you're looking to learn a new skill, the Kiss French Acrylic Sculpture Kit has everything you need. This includes white and natural tips, acrylic primer, acrylic liquid, nail glue and nail molds. It has plenty of nail tips and practice products, and reviewers called it beginner-friendly. This will allow you to refine your look and move on to something more in the future.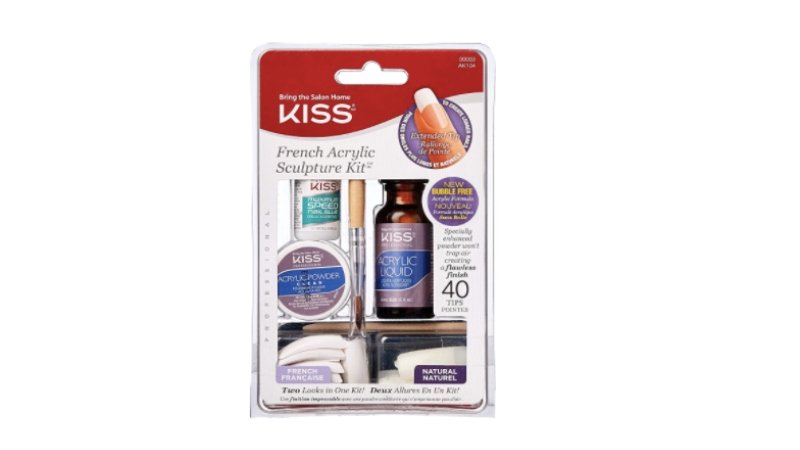 TONGYE Acrylic Nail Kit
Acrylic nails are great because they can add a durable finish to your natural nails. They allow you to play with length and shape to create the perfect look for your arms. When choosing a nail set, it can be difficult to pick the right one since there are so many on the market, but if you're just starting out and want something that includes everything, consider the TONGYE set. It comes with several acrylic powders, practice nails, nail tips, clippers, nail glue, a brush, and even a glass, among other things. Plus, all the colors, nail art tools, and embellishments a girl can dream of. This is one of the highest rated kits based on reviews, so you won't be the only one who thinks it's great.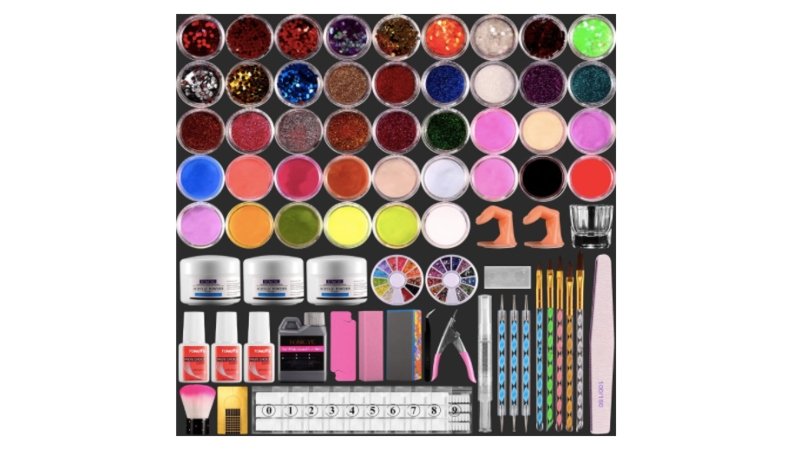 Pure-Hoo Nail Kit Set Professional
There are so many nail kits on the market, but not all of them are attractive. The Pure-Hoo set will interest you because it is cheap and contains everything you need. You get the tools you need to prepare and create an image. These include clippers, cuticle pushers, nail files, buffers, a good selection of different colors of glitter, three acrylic powders, false nail tips, and nail shape decals to help you achieve a salon-approved manicure. Before doing nails at home, it is always advisable to research what you need; this will help you determine which set is right for you.