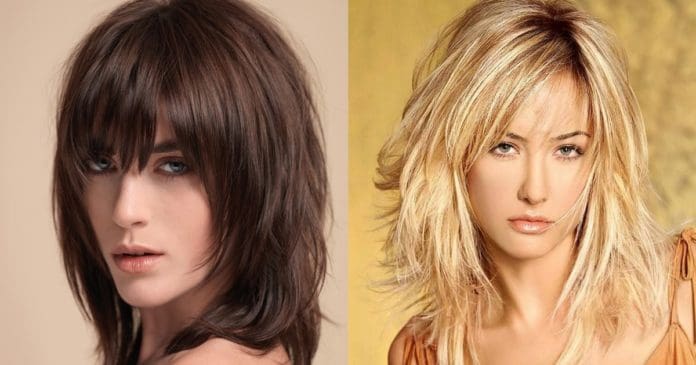 Due to the hectic rhythm of modern life, women who want to look feminine and well-groomed have to pay more attention to the practicality of our everyday hairstyles. Read this article, and you'll be surprised at the diversity of medium layered haircuts that can be performed on practicality. And, certainly, a few simple rules you'd better grasp to look chic every day.
Whom do Layered Medium Haircuts Flatter?
A layered haircut flatters all women: Girls with luxurious thick mane achieve ease and lightness; Ladies with fine hair gain the desired volume and thickness; Women with curly hair can easily structuralize their curls.
Layered Haircuts & Face Shapes
A layered haircut can maximally bring every face shape to the ideal oval: For round faces, the layering for the face-framing locks elongates it visually; For long faces, straight bangs, skimming your eyebrows, and out-flicked locks around your face will go fine; For oval faces, whatever type of layered haircut will look gorgeous.
Styling Tips for Layered Haircuts
A layered haircut is easy to style as you can do it yourself at home. It looks its best when you make an accent on the tips, curling or flat-ironing the ends of your tresses with a curling iron or a straightener. Today's most stylish layered haircuts feature volume at the roots gained with a blow-dryer. Romantic locks slightly fixed with hair-spray are wonderful for special occasions.
The following are 20 fabulous examples of medium layered haircuts. Just scroll through, and you'll come up with a range of unexpectedly gorgeous looks you most likely haven't tried before.
#1: Chic Medium Shag
The shag haircut has always been the most versatile hairstyle. It offers possibilities that will work perfectly on your hair whatever its texture may be. The chic medium shag also doesn't require too much time or effort.
#2: The Perfect Bedhead
The bedhead is a perfect medium layered haircut for brunettes. Layers can add volume, depth, and texture to your hair, giving you variety without sacrificing the length. Subtle highlights are always a nice touch for medium brown tones.
#3: Sensitivity
A collarbone bob haircut usually doesn't require much layering, but with some distinct layering, it will look smarter like this Sensitivity hairstyle. The front tresses and side bangs frame the face. The back strands stick to one length, making your hair look sleek.
#4: Contrasting Medium Layered Cut
The contrasting medium layered haircut works perfectly on women with warm complexions who also want to wear warm hair tones. This amazing hairstyle won't make you look too orange and at the same time gives you the overall desired effect.
#5: Sahara
This Sahara hairstyle is basically a classic layered haircut with cropped ends. The light blonde highlights against the dark roots add volume, depth, and texture. The side bangs as well as the layers sitting on the shoulder frame round the face to an ideal oval. This refreshing summer girl haircut will look most impressive on naturally fine locks.
#6: Layered and Winged
The layered and winged hairstyle is one of the winsome medium length haircuts for fine straight hair. It's a throwback to the side swept style of the 1970s. The longer side-swept bangs give a bit more height to the top, and the layers with very light blonde highlights are quite dazzling.
#7: Stairsteps
Actress Eva Longoria often appears on the red carpet with stunning hairstyles. This medium length Stairstep is a fantastic hairstyle for middle-aged women who want to acquire a fiercely tempting appearance! This haircut features a warm brunette hue streaked with caramel highlights.
#8: Choppy Medium Layers
The medium layered hairstyle is wonderfully spiced up with flicked, choppy ends. Layers add interest to all haircuts, but choppy ends work especially well in creating a quick rough blow-dry styling. Choppy layers also give your hair thickness, lightness, and movement.
#9: Layered A-Line with Razored Ends
For medium bob haircuts, the layered A-line is a beautiful style that can use layers to a stunning effect. The razored ends that fan out and flip up in the back look just amazing. The layers in the front frame the face and balance out the cropped back.
#10: Layered and Flipped
The layered and flipped haircut is an ideal style for mid-length hair that looks heavy. It's also perfect for women with long hair who want to make it a little bit shorter. The multi layers of stacked pieces create a bouncy and adorable hairstyle with volume and movement to spare.
#11: Layered Style for Thick Hair
A layered haircut is deeply beloved by women with thick hair. Layers add some much needed movement to an otherwise blocky look, so it holds especially well with thick and textured hair. You can accomplish this fresh haircut by creating layers with a razor.
#12: Medium Length Cascade
The medium length cascade looks soft and sweet. Plus it won't take long to style or maintain. The cascade takes on a two-tiered hairstyle with the layers beginning at the chin level. This cut also pumps the top part and shows off fun feathers of the bottom section.
#13: Medium Beach Waves
Beach waves are perfect for girls without enough stresses of styling who also desire a medium layered haircut. The sassy waves grazed with the platinum blonde highlights boost the volume of the hairstyle.
#14: Passion
This medium length layered haircut is an awesomely beautiful frame for this lovely face. The layering begins at the chin level, and nothing could distract attention from facial features like this. Plus the very faint, illusive highlights create an absolutely natural sun-kissed effect, complimenting her beautiful mane.
#15: Windswept Layers
This hairdo is actually not windswept because it's far too neat and polished. But it's still a windswept look that results from a quality blowout styled on the base of a layered haircut. The eye-catching layers with very light blonde highlights create a bright and bouncy look.
#16: Divine
This soft medium length bob haircut is beautifully enhanced by its reverse ombre. The flattering chin-length layers with very light balayage highlights frame the face shape to the ideal oval. The Divine cut is absolutely adorable, and it's color, texture, and length couldn't be better!
#17: Medium Brunette Style with Blonde Tips
Brown is a very versatile color, and with just a little bit of extra color, it can look very glamorous and dynamic. This medium brunette style with platinum blonde tips is just a prime example. This natural cut gives off a soft and sultry vibe that is easy to rock.