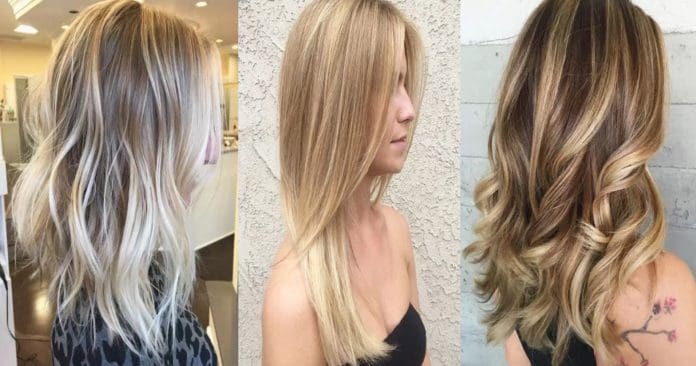 A great interest to blonde hair can be explained by the fact that every other brunette wonders what it is to be a blonde and tries a blonde hair color at least once. Today thanks to balayage and ombre color techniques, a border between blonde and brunette palettes is blurred. The lighter and darker, cooler and warmer shades are blended so expertly that we can enjoy a whole host of new hair colors you can choose your own solution from and stop looking like someone else.
Blonde Hair Color Ideas for You
A new blonde or bronde hair color will lift your spirits every time you take a quick peek in the mirror. The gallery below will help you to realize which direction you want to move – darker or lighter, warmer or cooler, softer or more dramatic.
#1: Buttery Blonde Hair
Source
Here is an inviting buttery shade of blonde that seems to have come from under the California sun. It looks dimensional and very attractive to the eye, simply because it instantly awakes associations of blissful hours by the ocean.
#2: Pearl Blonde Highlights
Healthy and natural-looking flaxen hair with pearl blonde highlights is a beautiful solution for girls who want to brighten up their dishwater blonde locks and get a new sophisticated hair color that won't be too outlandish or yelling.
Source
#3: Brown Blonde Balayage Lob
Today's hair ideas are endless because of the richest variety of hair shades you can mix in different proportions and get new looks even with your basic haircuts and hairstyles. Dimensional ribbons of brown blonde hair are always impressive whether your locks are long or just grazing your shoulders.
Source
#4: Medium Blonde Balayage
This medium shade of blonde will be a good choice for brunettes who do not want to stick to very light blonde hair but would rather prefer a low maintenance balayage that still offers the look and all the perks of blonde locks.
Source
#5: Brown Blonde Layers
As stated earlier, one of the main things to remember when rocking blonde is to be mindful of your complexion and what hues complement it. For olive tones, dark blonde hair with streaks of light brown and lighter blonde will work great and won't be hard to update when the roots grow out.
Source
#6: Caramel Blonde Hair
Caramel blonde is the sweetest and warmest reddish blonde hair color. It will make a beautiful frame for a face with the lightest skin tone and blue or green eyes. Very subtle blonde babylights and a few richer red streaks add to the complexity and uniqueness of the final result.
Source