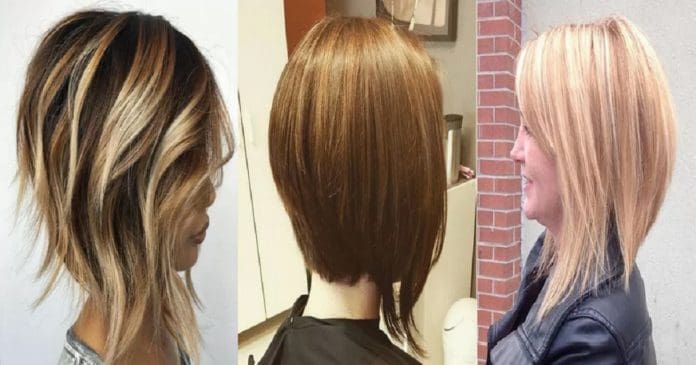 Bobs, bobs everywhere, but no one ever stops to wonder what the difference between all the various bob styles is! What is an inverted bob, anyway? What sets it apart from a classic A-line bob, for instance? The main difference lies in the actual technique used for achieving this style. If you're wondering how an inverted bob is cut, know that it's all about stacked layers at the back, and slightly curved lines extending towards the front. You can even let your frontal strands reach the shoulder length, for an ultra-dramatic statement. Here are some awesome ideas on inverted bobs, which will be inspiring if you're after a low-maintenance, yet modern haircut.
Popular Inverted Bob Haircuts
The curved horseshoe shape of the nape area makes this kind of bob stand out from its counterparts. Speaking of terms, an inverted bob and a graduated bob are the same things.
#1: Shaggy Inverted Bob
Source
We were particularly keen on showing you this inverted bob from the back, because we love how simple it is to style. Go messy chic, add a pea-sized dose of texturizer or moose for a bit of a wet look and enjoy fun days out in the sun with it!
#2: Full and Fiery Haircut
This cut is referred to as a stacked bob because the layers from the crown of the head to the nape of the neck are stacked on top of each other. An inverted bob keeps the back shorter and the front layers longer. This is ideal for women with fine hair, because this cutting technique creates fullness.
Source
#3: Long Inverted Bob with Layers
See how layered this style actually is? And it works like a charm with longer hair, since all those feathered layers highlight the model's facial features. As an added bonus, this is possibly the easiest look to maintain for hair that's grown past one's jawline.
Source
#4: Curly Bob for Fine Hair
When your inverted bob is looking limp and you don't have time to make an appointment with your stylist, one of the best ways to boost volume is with curls. A curly texture gives instant results with added fullness and thickness.
Source
#5: Fringed and Feathered Inverted Bob
Here's another inverted bob with bangs, but this one's far more demure. In fact, the middle parting and drape-like fringe add a touch of retro elegance to this look. This makes it just as appropriate for Zooey Deschanel wannabes, as well as for your mom or middle-aged co-worker.
Source
#6: Golden Blonde Balayage Curls
A long inverted bob is more often styled straight or wavy. Many women shy away from big curls because they may seem too heavy or overwhelming. The key is to use color strategically to break up the thickness and make your locks look more lightweight.
Source
#7: Sunset Strands
There's a reason why people are drawn towards the allure of the rising sun—the beautiful colors! Accenting orange hair with highlights of pink and red creates a wash of blended shades similar to the jewel toned sunrise. It's perfect for a female with a bit of imagination.
Source
#8: Long Bob with Bangs
If you feel that your long bob is overpowering your delicate face, ditch the side part for something that will frame your visage without covering it up. Fringe bangs are perfect for drawing attention to your eyes, so accent them with tons of mascara or extensions.
Source
#9: Lush Inverted Bob Hairstyle
Though the model in the photo has gorgeous, thick dark hair, this is one cut that also works wonders for fine hair, because the style itself manages to add volume. To get the look, you need a medium length hair as a base for the haircut, plus a bit of courage for the dramatically angled bottom line that this style proudly features.
Source
#10: Short Red Bob with Undercut
Although the angle is less sharp on this inverted bob haircut, it still has the same lengthening effect. A bold color like this is exciting and brightens warm complexions. This is a straightforward and flattering style that will look attractive on many women.
Source
#11: Textured Blonde Lob
When all you want is a classic and uncomplicated look, you can't go wrong with this shoulder length hairdo that hits all of the right style notes. The shaggy layers are effortless, and the thin blonde highlights are super cute and harmonious. This cut is perfect for a mature lady who wants to look youthful yet age-appropriate.
Source
#12: Tousled Bob for Thin Hair
If you love the look of long flowing locks, but don't want to commit to the time it takes to maintain them, this inverted bob haircut is the pick for you. The loose waves are still romantic and alluring, but they don't weigh you down like longer styles.
Source
#13: Sleek Angled Haircut
From the front this may look like a regular angled bob, but the back view tells a different story. It's a stacked inverted bob with a few long pieces in the front for an enticing twist on the standard cut; a great way to set yourself apart from the rest.
Source
#14: Wavy Bob in Auburn and Blonde
The quality of the cut is important for your new short inverted bob, but that doesn't mean you should ignore color as an opportunity to elevate your look. Pairing auburn red with a cool blonde tone creates a visually exciting hair color that is flattering without being over-the-top.
Source
#15: Voluminous Short Hairstyle
As the saying goes: "the higher the hair, the closer to God;" women who believe bigger hair is better will have no issues with this wavy chin-length cut with mega volume. It's sky high for a major impact, but the colors remain conservative.
Source
#16: Edgy Bob with Bangs
Fancy trying on a classically Parisian look? Add short finely chopped bangs to your bob. They'll instantly take you to the top of sophistication charts. And whenever anyone asks how you style this look, simply shrug and say "Oh, I got out of bed looking like this". And you'll be telling the truth!
Source
#17: Inverted Cut for Brunettes
This style will work with a business-casual look, but it will also take you out on the town, in your most glamorous mini. Note that the side parting seen in this style makes it one of the best inverted bob hairstyles for round faces, as it does a great job of framing the wearer's face.

Source
#18: Sharply-Angled Bob with Bangs
There's a hefty dose of vintage charm to this look, from its straight blunt fringe to its curved line, and inwardly curled pointy tips. Pair it with peeptoes and a waist hugging dress and go paint the town red!
Source