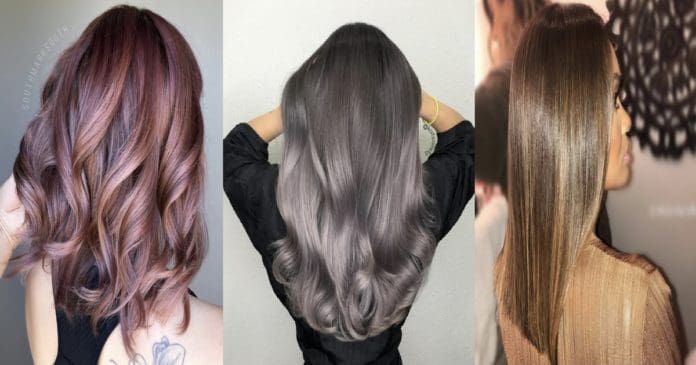 It's time to kiss your winter look goodbye, ladies. Apologize to your bank account for the pricey highlights, or ask your hair-guru best friend to come over and work her magic on that box color. But whatever you do, don't let your roots grow out anymore. Our predictions for spring hair color trends range from sultry and sexy highlights to bold, daring colors. And if you're sick of going blonder come May, keep reading. You'll be pleased to know there are other spring color options for us non-blondes.
Sun-Kissed Ends
This blended version of dip-dying turns a dull winter color into a glowing summer shade.
Bronde
Bronde (blonde + brown) hair is a popular spring choice but is still incredibly versatile. You can go blonder, or more brunette if you want, and still achieve the classic beachy look.
Strawberry Blonde
There are so many variations of red hair trending right now, so you really can't go wrong if you choose to add some strawberry color to your locks. Whether you go for an all-over color or test out more subtle highlights, we have a feeling you'll keep going back for more.
Subtle BalayageÂ
Calling all brunettes…You don't have to go blonde, you know. In fact, if your winter color was a rich brown or chocolate hue, we'd love to see you add some glistening balayage. The sun will love it.
Colored Roots
Choose a sassy color to seep from your roots. Somehow even the brightest of colors blend with the rest of the hair.
Hand-Painted Hair
Ever wonder how some women end up with flawlessly blended, dimensional highlights? Traditional foiling can get the job done but hand-painting tends to produce a softer, summery highlight and is used to create balayage.
Brunette with Babylights
There's no need to get a full highlight this time of year, or ever for that matter. These face-framing babylights brighten up dull shades left over from winter, giving you a subtle change for the spring.
Golden Blonde
This color is not quite as blinding as the light blonde highlight we're used to seeing in the spring, but the warm hue is charming and will only lighten up more as you soak in the sun.
Buttery Blonde
Warm weather and blondes just go together, don't they? If you choose to go this traditional route when transitioning from your winter shade, try out a warmer, buttery blonde with yellow undertones.
White-Blonde
When they said go blonde in the spring, did they mean this blonde? Who cares, we love it…so much so that we wrote an entire guide to coloring your hair white. It's fun, fierce and can be switched up by throwing in dark roots or silver undertones.
Rosy Pink
Icy blues and lilacs were trending for a while, but the spotlight is on pink, now. And because it's not terribly far off from strawberry blonde, it is becoming more and more normalized.
Barely Pink
Maybe all-over pink wouldn't mesh with that business suit you wear Monday through Friday. We're not trying to get you fired, but we're not letting go of this flirty shade, either. Try shy highlights that blend beautifully with shades from light blonde to caramel. Plus, this rose gold fades nicely and rather quickly, so it's a perfect shade to try out if you're not sure about bold colors.
Smokey Gray
We've seen more gray hair this season on twenty-somethings than on older women, and we can't get enough of it. This gunpowder-esque hair color is bold and elegant, so don't be afraid to try it out at any age.
Dainty Highlights
Keeping your dark locks dark in the spring is not a sin, but if you're looking to change it up a little, add some copper or caramel strands.
Burgundy
Depending on your base color, this rich shade could process into a brighter burgundy if you're blonde, or a more subtle mahogany if you're processing darker hair.
Copper
Where ever your winter color was on the spectrum, you can transition to this spunky copper.
Reddish Purple
What if you can't decide which spring hair color to choose? Choose them all! This blend of copper, purple, and rose gold is gorgeous.
Green
Green never really got its chance when bright colored hair blew up, but this emerald shade is so exquisite it almost makes us forget about the how the upkeep or fading will be.
When you finally choose which shade to go, pair your new hair color with any of these adorable short haircuts to make spring styling easier than ever.