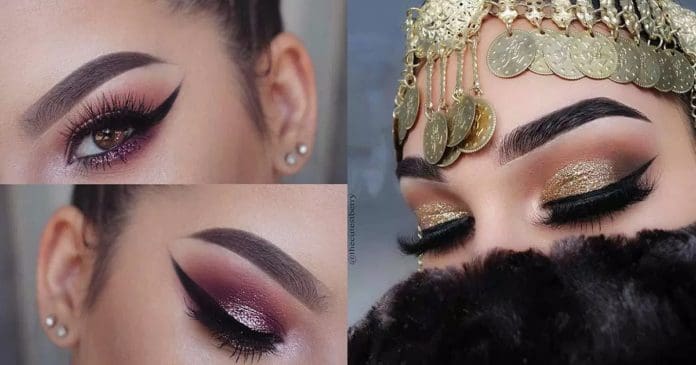 If you have brown eyes, you're lucky! There are so many ways in which you can make your eyes sparkle by making smart makeup choices, and that's what we've decided to bring you 19 coloured eye makeup ideas for brown eyes. It's definitely a topic we've found ourselves Googling a few times over the last few weeks. We've been playing around with some new eyeshadow palettes, you see, and we've been trying to work out which ones we can work with our brown eyes. If you need a helping hand understanding the same thing, help is finally at hand.
19 Colored Eye Makeup Ideas for Brown Eyes
1 – Cobalt Blue
Blue eyeshadow and brown eyes work together really well, despite what you may have heard. If you're going to go bold, such as this bold and bright (but dark) cobalt blue look, you might as well do it with style. You should look for eyeshadow that's pretty well pigmented. This is not only to ensure your look is finished with style, and even too, but also so that you know it'll last the night. You will also want to consider using a good makeup setting spray when you're finished with your artistic touches.
Source: kaushalbeauty
2 – Gold + Glittery
Gold and glittery looks go hand in hand with brown eyes, and that's why we felt it definitely needed a spot on the list of 21 coloured eye makeup ideas for brown eyes. It's one of the easiest looks you could go for, mixing darker brown shades in the outer corner of your eye to create a smokey eye effect, before adding more brighter, light-reflecting gold shimmer effects on the main bulk of the lid, particularly the centre. Add lashes and liner and you're good to go – another look that would look amazing with red lips!
Source: thecutestberry
3 – Blue-Toned Silver
It's blue, but it's also kinda silver, and we're totally okay with that. Aren't you? It's a look that you probably would have reserved for those blue-eyed babies, but you brown-eyed beauties can rock the eye makeup style too. Keep cheeks and lips relatively nude and neutral to help make the look easier to wear. Adding a big and bright lip might make you come across more Rocky Horror Picture Show than you may have anticipated.
Source: desiperkins
4 – Flaming Sunset Makeup for Brown Eyes
Are you feeling fiery today? How about creating a bright sunset look with your coloured eye makeup ideas for brown eyes? It's all about blending together bright reds with oranges, and adding a touch of shimmery yellow-gold. Go later in the outer corner, lighter in the centre and brighter / more light-reflecting towards the inner corner and you're basically on to a winner.
Source: cierahmua
5 – Green + Blue Makeup for Brown Eyes
Here's a very simple look that you can definitely recreate in five minutes or under! Simply add mermaid-tastic shades of blue and green underneath your eye, replacing your upper eyeliner completely. We know that you probably feel a little naked without that thick line of black eyeliner that you're used to rocking, but this look is much brighter and more colourful for the summer. Weren't you looking for colourful eye makeup ideas for brown eyes anyway … ?
Source: sabrinabeauty.la
6 – Mermaid Vibes
Speaking of mermaids (and we usually are), how do you feel about these mermaid vibes? As far as coloured eye makeup ideas for brown eyes go, it's definitely one that caught our attention. Add a bright green shimmery pop to the inner corner of the eye, and then blend that into that beautiful fiery red shade, adding some black liner and then some glitter to really bring the look to life. It's bright and bold and we love it. How about you?
Source: cierahmua
7 – Red Eyes + Nude Lips
Plum and deep red shades work really well if you have brown eyes, both complimenting them and highlighting them all in one. With more of an earth-like feel than other shades, they work well when incorporated into a subtle smoky-eye effect, and especially during the cooler, autumn months of the year. Just make sure you keep your lips relatively neutral with a nude lip, (time to shop for a Kylie Lip Kit!) and you're on to a winner. It's pretty and dramatic all in one, and that's just one reason why we love it so.
Source: wiitchbiitch
8 – Pink + Glittery
You are generally told to avoid light pink shades when you have brown eyes, but when you're looking at coloured eye makeup looks for brown eyes, you can play around a bit. Remember that we said plum shades work really well? Incorporate that into your pink eye look, using a combination of a darker pink eyeshadow with a lighter pink glitter, adding contrast and depth to your eye makeup. Plus, contrasting lighter pops of glitter over a darker shade definitely helps to bring it all to life.
Source: cierahmua
9 – Multi-Smoky Eye
Gold in the inner corner, your brown / dark smoky eye shade in the outer corner, and a touch of dark green in the middle … Blend it all together and you have a mixed smoky eye look that we think looks dramatic and glam, all at the same time. You'll need a good fluffy blending brush for this look, and make sure you've practice your blending skills too. The idea is to have all three of the shades blended together so that they aren't sharp blocks of colour.
Source: audreystylesxo
10 – Shimmering Silver
You more commonly see gold shadows with brown eyes rather than silver shadows, but this look shows you how to break away from that trend with ease. The trick is to keep the main bulk of your eyelid with that stunning silver shade, blending it into a much darker grey, or even a black or dark brown, to help make things easier. Just don't forget to add that little white shimmer to the inner corner of your eyes to help you make look more awake and alert.
Source: pinkperception
11 – Black, Black, Black + a Hint of Silver Glitter
What goes great with black, black and even more black? A hint of silver glitter, that's what, and that's what we think brings dark coloured eye makeup ideas for brown eyes like this one to life. When you use dark colours around dark eyes, you can often find that they get a little lost, but just the right amount of that contrasting shimmer prevents that from happening. In this look, a double liner look has been used to incorporate the two – silver glitter liner over the black liner, but double the thickness rather than layering them up.
Source: salma_khanbeauty
12 – Renaissance Palette for Brown Eyes
Peach palettes are another great choice when you're looking for coloured eye makeup ideas for brown eyes, as shown by this beautiful look. Lighter and shimmering shades are left to the centre of the upper eyelid, darker and richer peach and almost orange shades towards the outer corner, completing it all off with the lighter shimmer on the inner corner and those luscious lashes. Lashes often make a look, we think, even though we admit we're not great at applying them ourselves!
Source: marieappelt
13 – Dramatic Shimmer Cut Crease
Cut creases are a hot look right now. So hot, in fact, that we featured them in a post all of their own. 
This dramatic shimmering look has been wonderfully created by layering up silver and lilac pops of colour. Highly pigmented shadows are the best thing to use when you're in the market for a rich and dramatic finish, or you could even consider using gel shadows instead.
Source: shivangi.11
14 – Purple + Gold for Brown Eyes
Purple can be worn by all eye colour shades, so you should definitely play around with this range of shades in your palette if you're looking at coloured eye makeup looks for brown eyes. Because purple and brown are on the opposite ends of the colour spectrum, they work so well against each other, and you are advised to pair with either blue shades, or a gold one, to compliment brown eyes perfectly. This is why this purple and gold look for brown eyes works so well.
Source: Pinterest
15 – Artistically Blue
Did you know that brown was basically made up of all the original primary shades – red, blue and yellow. This means that you can get away with all three of those shades when looking at coloured eye makeup ideas for brown eyes, and also why we've chosen to show you this artistic loo. Combining yellow with blue together, it's definitely a look that stands out from the crowd, and there are a hundred and one ways you could customise it and make it more YOU too!
Source: dracvlina.mua
16 – Lovely Lilac
Didn't we say that purple works so well with brown eyes? Here's another look that proves this point perfectly, and it has been kept very simple with a slick of black eyeliner and plenty of lashes. Remember to add that slick of white pencil liner on the bottom lash line too – this helps to open it up. If you find that your lilac doesn't pop enough on the eyelid, which can often happen with slightly cheaper, lower quality products, you can deepen the colour by wiping some of that white eyeliner over your eyelids first. It helps to give the purple (or whatever shade you're using) a blank canvas to bring the shadow to life on top of it.
Source: lustrelux
17 – Pretty in Dusky Pink (and Glitter)
A quick dash of highlighter used underneath the outer section of the eyebrow can really help to open the entire eye area up, so make sure you add this whatever coloured eye makeup looks for brown eyes you're recreating. This pretty in dusky pink look really ticks all the boxes for us, incorporating lots of our favourite things. The colour pink, for example, plus lots of liner, and then a little touch of glitter, just to bring some sparkle to the whole occasion.
Source: shivangi.11
18 – Green n' Smokey
Just because someone says you shouldn't try a certain eyeshadow colour because you have a certain eye colour, doesn't mean you need to follow those rules. Sometimes it pays to think outside the box, particularly when it comes to makeup, and definitely if you want to stand out. Bright greens work really well with deep brown eye colours, but people are often wary. The trick is to wear whatever you're wearing with confidence. If you don't have confidence in your makeup, other people won't either. As long as YOU are happy, that's all that matters. We bet you wouldn't have thought about trying this look before, but now you've seen it on someone else, aren't you half-tempted to give it a try for yourself?
Source: lustrelux
19 – Black + Silver Double Liner Over Berry Red
The double liner trend has been a big one for a while now, and there's a good reason for that – it adds maximum impact with virtually zero extra effort. It's just a case of following your original black eyeliner line with a thin line of silver shimmery / glittery liner, as is the case with this pretty look. Add that berry flushness to the outer corner of the eye, well-blended into the lighter shade carrying over onto the bulk of the upper eyelid, and you have a look that is as pretty as it is sexy, and can be worn for a whole host of events and occasions.
Source: audreystylesxo