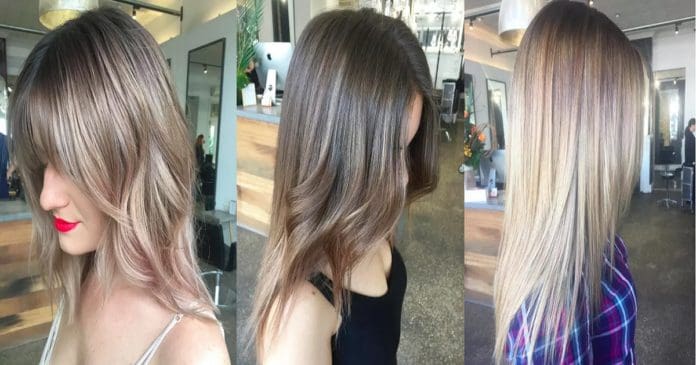 19 Layered Haircuts for Medium Hair
1 – Brilliant Blonde Medium Hair with Subtle Highlights
Layers might NOT be for you if you're not a fan of styling your hair. You will often find that even the lightest of layers will require some styling time the morning. This look, for example, will have been dried using a blow dryer, before a wide barrelled curling iron is used to add those large and textured waves. It won't have quite the same shape if you don't do this styling. Layers are not always the best choice for those girls who like to wake up, wash n' go.
Source: maxwellmathson
2 – Smokey Coloured Balayage Layers
While you're playing with layers, you could always play around with colour too. This smokey, balayage look has just a few peekaboo lowlights of colour shining through. They're very subtle, but they definitely make an impact. If you're bored of your regular layers, rather than look for new ones to cut in, you could always look at different ways to 'dress them up'.
Source: rubydevine
3 – Layered with Blonde Blends
There are many things that will affect how layer she look on your hair. Curly hair will deal with layers differently to straight hair, and whether you have fine or thick hair will also have a big impact. We would always recommend sitting down and having a consultation with a hairstylist before making a final decision. He or she will know whether or not the image you've brought in to recreate is achievable. You should listen to what your stylist says too. (Many women don't!)
Source: tealhairchick
4 – Blended Soft Layers & Bangs
You can have bangs with layers (or a fringe if you're one of our wonderful U.K.-based readers.) Light and wispy bangs, for example, work really well when they're blended in with light layers framing the face. That's even more so the case when light highlights have been thrown into the mix too.
Source: hairbymelissamelbourne
5 – Choppy Layers with Blonde Highlights
If you have medium-thickness hair, it is wise to remember that your hair will be more likely to hold its layers and wavy shape when it is not *too* long. The thicker your hair is, the more it will weigh. The longer your hair is, the more it will weigh. The more it weighs, the higher the chance the locks won't hold a shape or style at all. If you want your layers to really stand out on medium-thickness hair, opt for something that is medium-length, adding slight, light highlights to give them extra dimension.
Source: dawntraceyhair
6 – Bangs, Blends & Layers
If you have quite fine and thin hair, the right hair length for you is one that falls to the shoulders. Try not to go for longer than this if you are adding layers too. Fine hair tends to have quite a hard time supporting lots of layers on long hair, and you will find that you need much more styling time (and many more products) to keep it in shape.
Source: hairbymelissamelbourne
7 – Face Framing Highlights & Layers
The placement of your layers will change the shape of your hair entirely. If you have shorter layers towards the top of the hair, for example, that's where the fullness will be left. This look combines different layers, starting quite short — around Eye-height — and working their way down to the ends. Layers at the end of your hair help to add movement and texture.
Source: nadia_mejia
8 – Ashy Dimensional Layers
Coarse and curly hair is easy made more manageable with the right layered cut. If your hair is one length, you will often find that it tends to fall in the shape of a pyramid, almost fanning out from the very top of your head. Layers cut in will help to change the shape, making it more manageable too. The layers in this look have been thrown in all over, but make sure you're having the layers you need to give you the look you want. This isn't the kind of thing you're going to want to guess at home. It has a VERY high chance of going wrong.
Source: itsjerryanthonyhair
9 – Like Ice Lovely Layers
Straight hair can be given much more shape with clever layering tricks. The top hairs left shorter, with shorter layers, will help to add shape at the top. This look has a curved shape at the top, coaxed in with the layers that start just at the nape of the neck.
Source: hairbyjessica_
10 – Layered Up, Bright, Blonde & Medium Length
The pros of layers are plentiful. They help to add movement, something we have already discussed. They can also be used to frame your face, working with your face shape to give you something flattering and feminine. If that's the look you're going for, obviously. The right layers can help to compliment your face shape, which is why it's important to get the right ones for you. Finally, they can help to add volume. These layered haircuts for medium hair really are like a magical, fix-all solution, right?
Source: hairbyjoellel
11 – Silver Shaggy Long Layers
Layers make your locks somewhat chameleon-esque. You can make the finished look shaggy, choppy, and messy like you can see here. Or, you could a different way. If you were to straighten this look, perhaps adding some smoothing crime, wax, or oil over the top, and you have a professional look that even comes across as a brand new style completely. No one would ever know they stemmed from the same layered cut.
Source: hairbyedwin
12 – Straight & Layered
Although wavy locks work really well with layers, especially when it comes to adding volume and movement to your hair, straight hair with layers can work really well too. The layers are right at the end of these bronde-blonde locks, almost not noticeable at all. Even the tiniest of layers can make the biggest impact on your hair.
Source: hairbymelissamelbourne
13 – Shorter Choppy Layers
Layers are perfect for when you want to grow out a shorter, choppy style. This could easily have started out from a cute, pixie crop, and it could still be grown into a wonderful and layered medium-length style too. It's starting to look like layers are the answer to every question. Plus, we really, really love this look!
Source: nadia_mejia
14 – Tapered Layers & Textured Outline
Taper your layers towards the front of your face, keeping those sections longer, if you want to opt for a shorter style, but without cutting your hair. We know that doesn't make sense, but we also totally relate to it. We all want to go for something cool, modern and short from time to time, but the thought of actually cutting our hair fills us with dread. This look makes for a great compromise. You still have a lot of the length to work with, but the hair is still choppy and short.
Source: hairbyedwin
15 – Lightly Layered & Highlighted
There are a few cons to consider when you're looking at layers, sadly. Don't you hate it when it's not all good news? There is usually quite a lot of maintenance with certain layered haircuts for medium hair. Straightening or curling the layered ends so that they don't misbehave and flick out all over the place is one factor to consider. Do you have time for that in the morning?
Source: hairbymelissamelbourne
16 – Bronde on Layers
Hair doesn't always grow at the same speed, which can give you another problem. Layered hair can sometimes quite noticeable grow through at different rates, meaning that hair salon trips more frequently will be necessary. Regular trims — have you got the time for them? If you haven't, you may wish to reconsider your layered inspiration.
Source: sadiejcre8s
17 – Pure Silver Shorter Layers
This stunning silver and layered look is utterly adorable, and, when you wear it down like this, is easy to style. You simple tousle your fingers through it, add some product, and you're good to go. At the same time, however, you may find that you miss the long length if that's what you had before. You can't just throw your hair into a braid without hassle. Layers, especially when they are all over your locks, will often spring out of your braid in all directions. A smoothing product and a baby toothbrush can help to sort that out, but it's one more thing that you'll need to allow for when styling your locks in the morning.
Source: itsjerryanthonyhair
18 – Brilliant Blonde & Light Layers Short-Medium Hair
Really long and fine or straight hair doesn't always work with layers. In fact, if your hair is really long, you might not even notice the layers at all. You'll need to spend ages styling them, and then use products to keep your styling to hold, and even then, it'll all fall out within a few short hours. Layered haircuts are great, but they aren't for everyone. Medium length hair tends to be the hair that's reaping the most rewards from this look.
Source: rubydevine
19 – Rose Tinted Layers
Layers can be used to really help you fall in love with a slightly shorter 'do than you're used to. There are plenty of reasons why you'll cut your long locks even though you don't want to, and split ends, damaged hair, plus more are all reasons why a good cut is a great idea.
Source: sadiejcre8s