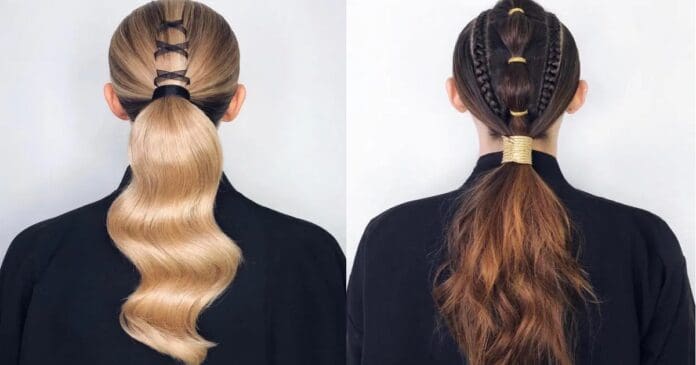 A ponytail is not trivial anymore. This hairdo is one of the simplest, yet most versatile styles, and there is a huge amount of ideas about it. The ponytail has been popular for decades already, and its famousness among women of different characters and ages confirms its practical and aesthetic value. Keep reading for creative ponytail hair ideas you can save for special events!
#1: Infinity Braid
This hairstyle comprises two elements – a plait (braid) and a side braid, which look great together. Little knots make the hairstyle much interesting and don't interfere with the whole image. You can use mousse if you want to make sure the ponytail doesn't go anywhere. As a result, we get a hairstyle suitable for a self-confident and strong-willed girl.
View this post on Instagram
#2: Pearl Crown
How about adding some pearls to your style? This is not just a decorated ponytail; the idea is to lay emphasis on the regality of its owner. The pearls are placed like a crown, something that would make your appearance really majestic.
#3: Stitched Thread
A simple ponytail is a nice object for experiments. If you want to change it up, you can use a needle in your hairstyle! The front tail gets intertwisted with the right and the left spikes, and then a needle is used to fix this with a thread.
View this post on Instagram
#4: Black Bow
You might think a bow is a well-known and banal hairstyle feature. Well, that may be true, but you can't deny that it works quite harmoniously with a ponytail! A black bow adds some gentle femininity to your image and looks just fascinating with long hair. A great choice for festive events!
#5: Halo Ponytail
There's a golden rule of making a jaw-dropping female appearance. If you add some element of weaving to a usual hairstyle, it will play out in fresh colors. Have you ever seen a halo around the sun? Why not try to compose your own natural halo, which would make your image even more delicate?
#6: Double Plaiting
Dividing your ponytail into two parts and covering them with a masterful weaving may be a nice idea. This resembles a natural clasp fixing your hair. Charming weaving is held with mousse and creates a feeling of glamor and style.
View this post on Instagram
#7: Strong Braid
You should try this ponytail if you want to look awesome and self-confident. The hair that spikes from all sides are put back and weaved into a strong ponytail. Two parts are reliably interlinked and make your finished look really eye-catching.
View this post on Instagram
#8: Ponytail with a Strict Clasp
Speaking of creative hairstyles, they basically mean a variety of styling, which is created through unusual weavings, combs, decorative ornaments and unique texture. Let's consider a ponytail with a clasp. It can emphasize your style and goes well with different images; besides, it reflects your decorum, accuracy and neatness.
#9: Graded Ponytail with a Butterfly Clasp
Long hair is the natural wealth of a woman. Being set to a ponytail, it may be graded for an even better look. Two principal knots make the hair wavy, and a butterfly-like clasp is an elegant feature, which creates a wow-effect.
#10: Chain Ponytail
When it comes to hairstyle, chains are not a symbol of captivity, but that of elegancy! This kind of ponytail requires a chain and three hair slides. Your hair should be slightly pre-curled and treated with a texturizing spray. The floppy chaos on your head turns into a fascinating hairstyle!
View this post on Instagram