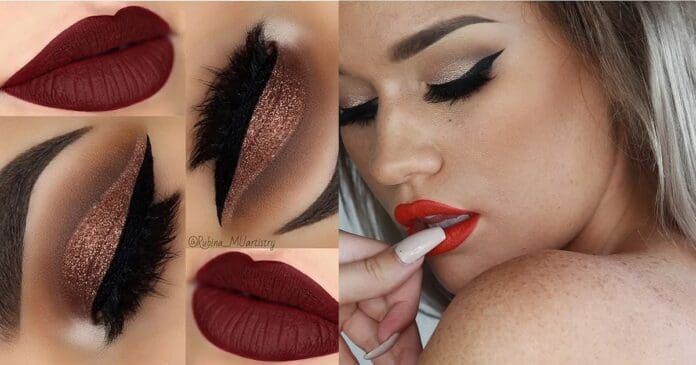 Red lips are such a classic look, favored by all of the Hollywood greats, but the look is one that we feel like we've used a thousand times. It's our fallback look – the easiest one to master. Simply add some black eyeliner, red lips, and lots o' lashes, and you're basically good to go. But we're running out of eye makeup for red lips ideas.
What if you're looking for something different? What about if you're looking for eye makeup for red lips with a difference? We think we can help with that, as it's something we've been pondering over a great deal lately. We've been in the market for some new ways to wear our favorite looks, and we think we've found a few that you might just love!
21 Eye Makeup Looks With Red Lips
1 – Red Lips + Cut Crease
Red lips and cut creases go so well together, we're actually kicking ourselves for not learning this clever makeup trickery sooner. The cut crease is quite an intimidating look, renowned for being quite difficult to master, particularly for the beginners of the makeup world.
There are plenty of tutorials on YouTube that you can watch to get a good grasp of what you need to do, and we'd definitely recommend checking a few out. That's how we learned most of our makeup tricks here – tutorials found on YouTube and Instagram!
2 – Simple + Fresh
Just for the record, this total babe is one of our Instagram LOVES right now. We're obsessed with her posts – makeup, fashion, and travel included, and every time she releases a brand new tutorial on a brand new makeup look, we can't wait to get started and give it a go for ourselves. Posting both complicated and simpler looks, this one is the latter – a simple way to wear red lips that won't take too long in the morning.
Simple keep your eyes bare, adding a touch of mascara to make you feel less naked than you do without it, and make sure your brows are on point. A touch of blusher, and only the hint of contouring, and a slather of red lippie later, and what do you have? A red lipped look that won't take forever, and that's just fine by us!
3 – Hollywood Glam n' Sparkle
Isn't this look really something? We certainly thought so, and the process of putting it all together is actually much simpler than you first may have thought. Throw your base on, whatever works for you right now, and add a regular Smokey eye look, as you usually would. Once you're done though, don't head straight for the red lips to finish. Throw some real sparkle in the inner corners of your eyes. This beauty has used gold, but you could go with silver also. It adds a little something new to a look you've probably already worn a hundred times over. It's cute too, right?
Just for the record, we're a little bit in love with the Jane Iredale 24Karat Gold Dust. It literally makes you feel as though you are wearing true gold. What more could you want from your makeup?
4 – Red Gloss Lips + Brown Eyeliner
For those days when black liner just feels a little too severe for your mood, how about throwing some brown to the mix? Brown adds a softer finish than black liner does, and works really well as a daytime makeup look.
It's not something you'll probably have considered when looking at eye makeup for red lips, but as you can see, it does work really well. Perhaps try switching black for brown next time you're getting ready in the morning. Count how many compliments you get! 😉
Just for the record, if you don't have brown eyeliner to hand, you can achieve the same effect by using a damp liner brush and your regular deep brown shades in your eyeshadow palette.
5 – Red Lips + Gold Eyes
Red lips and gold eyes just work. Okay, that's the end of the story. The two just work really well together, especially for special occasions. Whether it's Christmas, Valentine's Day, your birthday, or just date night, we think this makeup is suitable for almost any occasion. With a bit of practice, it's actually easier than you may have first thought to put together too.
You work with a Smokey eye, but you don't go too Smokey. Keep the smokiness to the outer corner of your eyes, and add a beautiful gold shimmer to the inner corner, working its way into the center. Using a fluffy blending brush, blend the gold and brown together so that you don't have a harsh and sharp line between the two. Add a whiter, lighter shimmer right in the inner corner to help widen your eyes, and make you look more awake too. Then add your red lipped finish. It's a classic for a reason – it just works!
6 – Red Lips + Freckles
If you have freckles, don't work so hard to cover them over. Most girls [without freckles] would kill for those little marks, and there are even tutorials on how to FAKE them on YouTube! We know because we've seen them, and we've tried it for ourselves. Okay, we'll admit it. We're the girls who wished they had freckles …
7 – Red Lips + Red Lashes
Bold, right? We know! We couldn't work out if we loved or hated the look when we first saw it. Sorry, but we're just being honest about that. It was only after we tried to "ignore" the look, that we realize we were more than a little intrigued by it. We tried it, adding a hint of red mascara to the mix, just to see what happens. Go figure, we got a bunch of compliments over our brave new look, and one of the CherryCherryBeauty den even got a date … on the same day! We're not saying she got the date because of the red lash look, obviously, but it is pretty coincidental, don't you think? We like to think so. Either way, we're now a really big fan of this look.
8 – High Gloss Red Lips + Smoky Cut Crease
There's that smoky cut crease again. We promise you that it is a look you will learn to put together eventually. It's not that difficult once you've learned the blending side of things, and it really is a beautiful look. It packs a punch. This look definitely does!
9 – Red Lips + Double Liner
How do you feel about the double liner trend? Have you heard all about it yet? Just in case you hadn't, it's  pretty much as the name suggests – a double helping of eyeliner.
The idea is to use a different color eyeliner to add a secondary shade to the thicker line. With this look, classic black eyeliner has been added first. On top of that, the silver liner has been added. It really doesn't add a little something different to makeup looks you've probably already worn a few times the same way.
10 – Ombre Red Lips + Barely There Nude Smokey Eye
When you're going all-out on the lips, with a big and bold red shade, for example, you may find the look easier to wear if you keep your eyes relatively neutral. This is most definitely the case if you would consider yourself a beginner to the world of older and braver makeup. This barely-there, nude Smokey eye is a good one to take inspiration from. It's definitely a look we've created and loved!