11. Dine-in at Bellingen's Qudo Cafe and Sake
Indulge in a really cool dining experience at Qudo Cafe and Sake. Located in a beautiful and nostalgic 107-year-old Masonic Lodge, this restaurant serves a delicious fusion of Japanese and Australian cuisine. The menu changes regularly but features dishes such as sushi, karaage, tempura bowls, and seared salmon salad. Plus, they have an incredible sake menu, which is the perfect accompaniment to Japanese food. If sake's not to your taste, they also have a good selection of beer, wine, spirits, and soft drinks. You can dine indoors, outdoors, or on the lovely balcony overlooking the grounds. It's a peaceful escape with delectable food.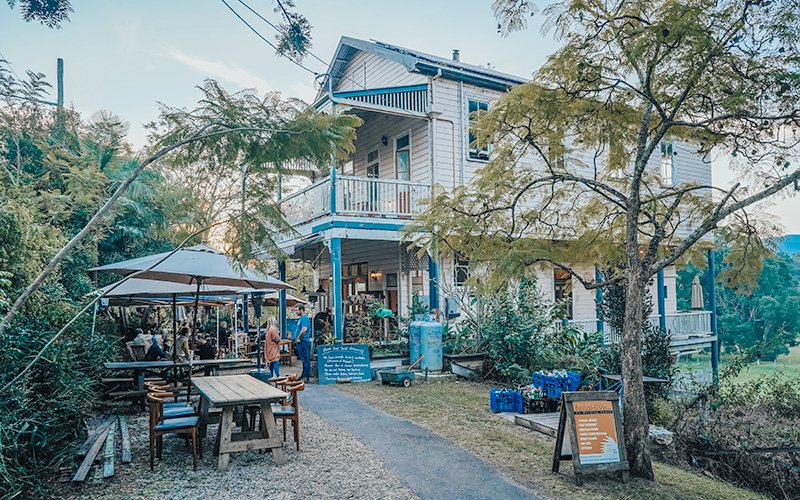 12. View Bellingen from Point Lookout
Point Lookout is a must-see in New England National Park. The walking track follows the edge of the Great Escarpment, which is 1500 meters above sea level. It only takes 20 minutes to complete the 500-meter walk, and the first 100 meters are wheelchair accessible. There are several lookouts along the way, offering panoramic views of this World Heritage Area. On a clear day, you can even see 70-kilometers out to the Pacific Ocean. You'll wander through bush comprised of spectacular snow gums, and other native Australian flora. In summer, you'll also be able to see the bright red foliage of the flame trees further down the valley. If you're into birdwatching, make sure to pack your binoculars and keep a keen eye out for spine-tailed swifts and grey goshawks.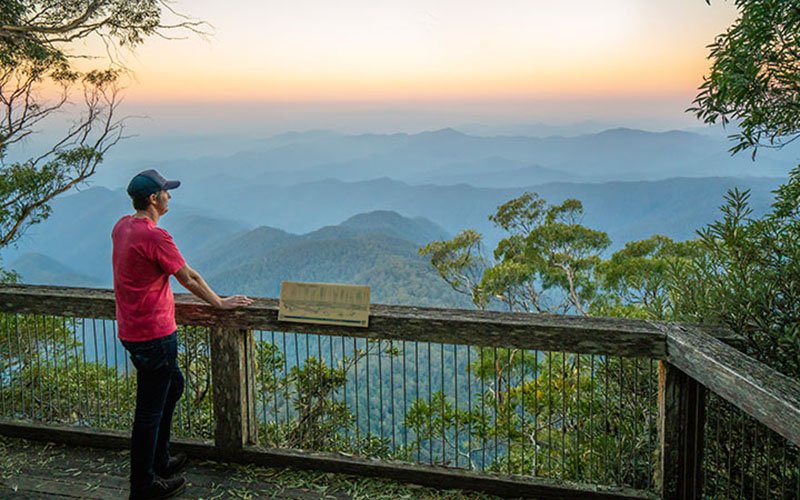 13. Listen to Live Music and Eat Pizza at The Bellingen Brewery
The Bellingen Brewery is a quirky little bar, in the center of town. Like many craft breweries, the venue is basically a tin shed with a fabulous rustic ambiance, using reclaimed timber and salvaged material in the construction. They brew their own beer and ginger beer onsite and also have a great selection of organic, bio-dynamic, and preservative-free wines. If spirits are more your thing, then try one of their unique cocktails that are inspired by the tastes and sights of the local area. When it comes to food, there's a menu of delicious wood-fired pizzas, with classic flavors like Margherita and spiced salami. Finally, the regular lineup of live music will keep you entertained and staying for one more round.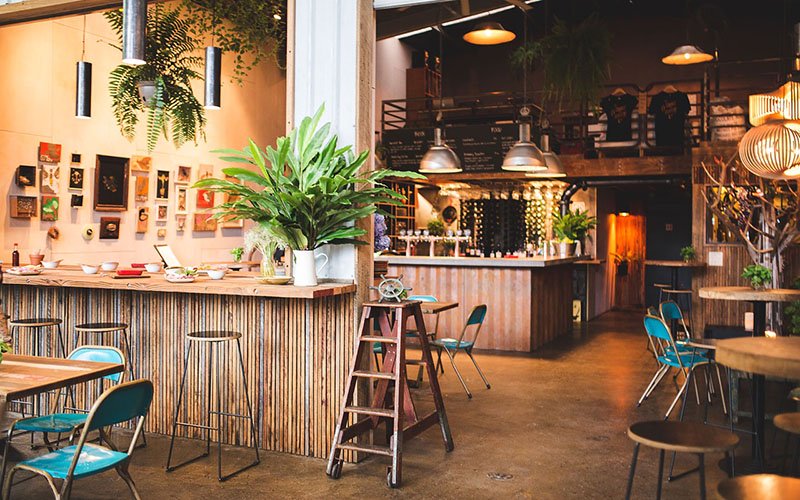 14. Go Horse Riding at Valery Trails
Explore the majestic forest, creeks, and rivers of Valery with a horseriding adventure. The 400-acre farm is located about halfway between Coffs Harbour and Bellingen and makes a great day trip. Valery Trails offer one and two-hour guided rides, which are suitable for everyone from absolute beginners to veteran cowboys. The tours depart at 10 am and 2 pm daily, so it's easy to fit into your vacation itinerary. They have 40 horses, all with friendly temperaments, as well as three dogs who love a game of fetch. Non-riders can walk or cycle some of the closer trails, or simply hang out by the pool.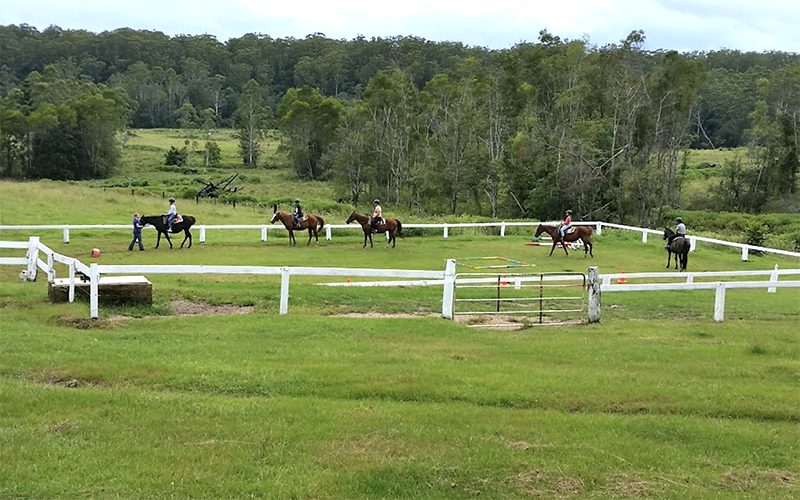 15. Visit Bellingen Community Markets
If you love a good community market, then Bellingen is the place for you, as there are two in town. The showgrounds play host to the Bellingen Grower's Market each Saturday from 7.30 am to 11:30 am. Here you'll find an incredible array of locally grown fruit and vegetables, fresh bread, honey, and health products. It's also an excellent opportunity to grab a cup of coffee and have a chat with the locals. Just make sure to get there early, as the farmers regularly sell out of their produce. Then, on the third Saturday of each month is the Bellingen Community Markets. Discover a world of handmade products, arts, crafts, soaps, jewelry, pottery, and upcycled creations. Indulge in a delicious snack from one of the many food stalls, and enjoy live music from 10 am to 2 pm, which adds to the festival feel of the market.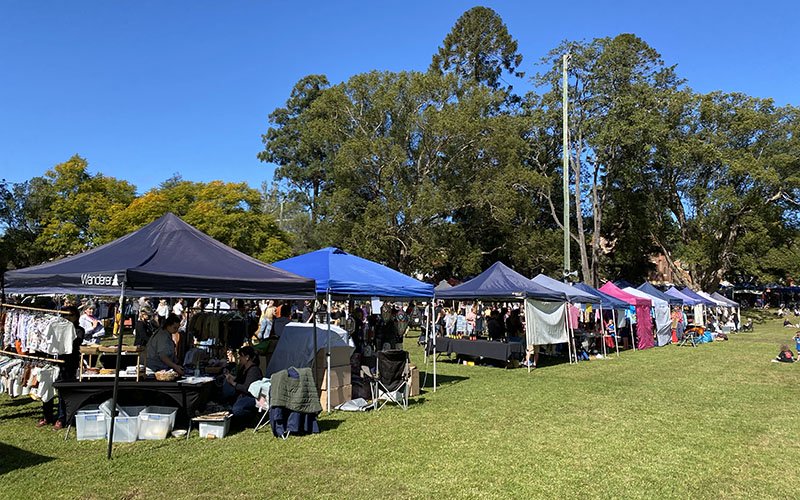 16. Discover the Old Butter Factory
Originally built in 1906, The Old Butter Factory on Doepel Street has had a varied history. From butter production to a private home, nowadays, it serves as a tourist attraction with shops that showcase local wares. There's Cargo Lane, which specializes in furnishings, home decor, and gifts. The Nexus Community Gallery displays artworks, sculptures, and paintings from local artists, and the exhibition schedule is full for the next three years. Take in the wonderful smells of the Woodcraft Gallery, which sells timber products made by local woodworkers and craftspeople. Then, continue with good smelling gifts in the AWL Leather store, where you can pick up leather shoes, art, bags, wallets, holsters, and whips. Finally, you can soothe away any aches and pains at Robins Massage. Once you're shopped out, enjoy a delicious breakfast or lunch at the idyllic Old Butter Factory Cafe.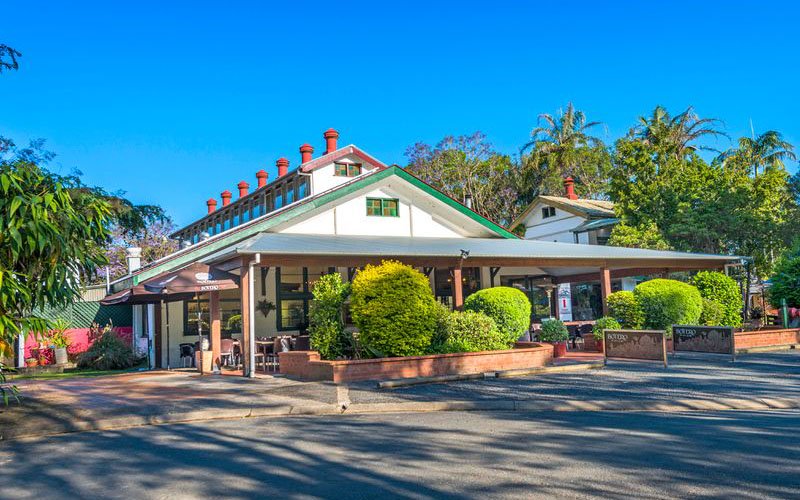 17. Have a Picnic at Griffith Lookout
If you're traveling along Waterfall Way, make sure to stop in at Griffith Lookout. It's located on the opposite side to Dorrigo National Park, down on Mountaintop Road. Once you're there, you'll be rewarded with incredible views of the Great Dividing Range to the south and the Coffs Coast to the east. On a clear day, you'll even be able to see the Pacific Ocean. The lookout has an interpretive display so you can learn more about the area. Plus, there's a picnic area with tables, so pack a snack and a blanket to soak in some sunshine along with the views.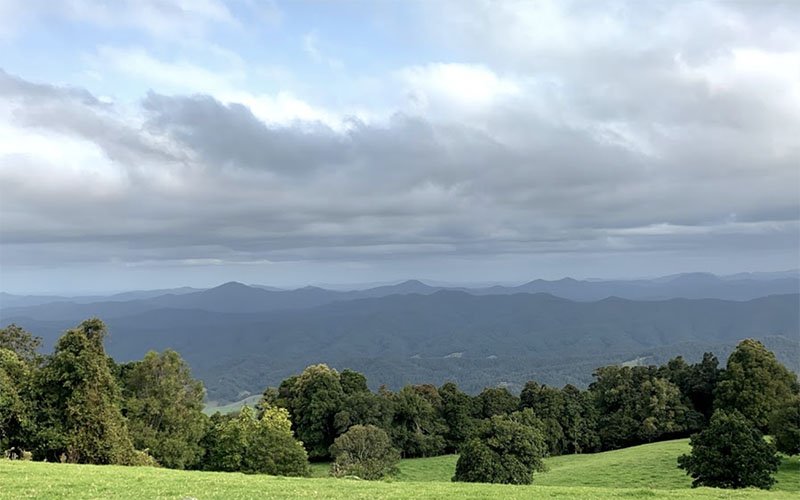 '
18. Visit Wollomombi Gorge
The Wollomombi Gorge is home to the incredible Wollomombi Falls, one of the highest waterfalls in Australia. You can explore the edge of the gorge by taking the grade three Wollomombi track, which is a four-kilometer return walk. Allow two hours to give you plenty of time to admire the falls from the lookout, as well as spot wildlife and take in the rugged wilderness. You can spot wedge-tailed eagles surfing the gorge thermals or see paddling platypus and Eastern grey kangaroos as your cross the Wollomombi River. Once the mountain air has cleared your head and you've worked up an appetite, head back to the picnic area and enjoy a bite to eat under the shade of the red gum and yellow box trees. You'll find the gorge in the Oxley Wild Rivers National Park, which is part of the Gondwana Rainforests of Australia World Heritage Area.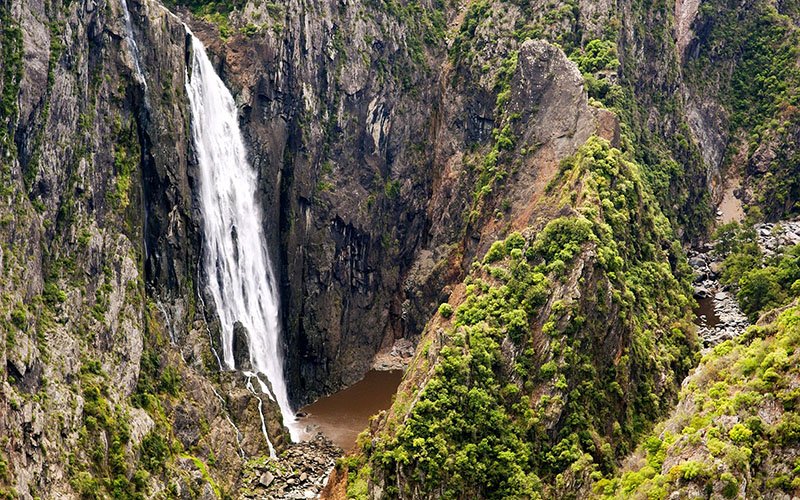 19. Drive to Sawtell and Relax on the Beach and Rockpools
The small coastal town of Sawtell is just a half an hour drive from Bellingen. Here you'll find an idyllic getaway complete with stunning beaches, great cafes, and a beautiful national park. Sawtell Beach is the main beach, and it stretches from Bonville Headland to Boambee Head. You can relax in the sun, go for a swim, or even catch a wave with excellent surf conditions a regular occurrence. Just south of Bonville Headland is the Sawtell Memorial Rock Pool. It's well protected from the current that runs out of the Bonville Creek and is the perfect way to cool off from hiking over the headland. If you've worked up an appetite, the town itself has an excellent coffee and cafe scene, as well as cute boutique stores and a thriving arts scene.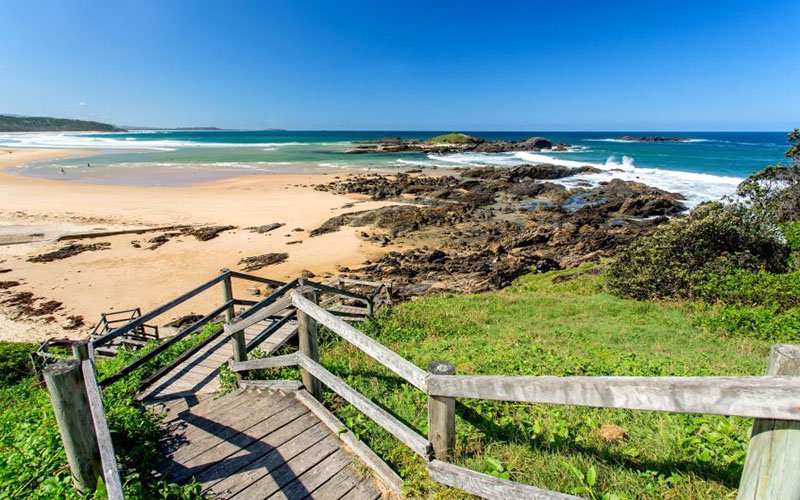 20. Discover Armidale
Take the 2-hour drive from Bellingen to discover Armidale in the New England High Country. This elegant regional town is lovely to visit year-round and has so much to do. Nature lovers will enjoy outdoor adventures such as bushwalking, mountain biking, fishing, or kayaking. Meanwhile, foodies will appreciate the cool-climate vineyards that dot the countryside, as well as the abundance of local produce, including fruit, lamb, and other gourmet delights. Much of the local produce ends up on the plates in local restaurants in true farm-to-table style. Then, get a taste of the local culture with a stop at the New England Regional Art Museum, or visit the Aboriginal Cultural Centre and Keeping Place to learn about Indigenous arts and culture. Finally, explore the European history of the town on a self-guided heritage tour, which takes in the many cathedrals and colonial buildings.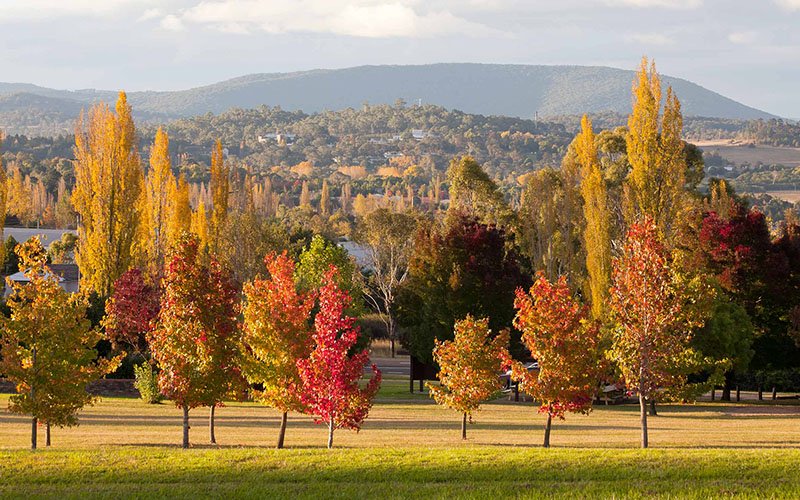 21. Hike at Cathedral Rocks
Get out and about among nature with a day trip to Cathedral Rocks National Park, just an hour and a half drive from Bellingen. The tracks in this park are more challenging grade four and five walks, which are best suited to seasoned bushwalkers with bouldering experience. However, anyone who does take them on will enjoy the sights of wildflowers, idyllic creeks, and the iconic granite tors, which are especially alluring in the late afternoon. Hike to Cathedral Rock, an enormous stone perched upon a 200-meter-tall pile of granite rocks. Alternatively, Woolpack Rocks, another large rock formation, are accessed via an 8-kilometer return track, which starts at the Native Dog campground. If you like birdwatching, pack your binoculars because you might spot black cockatoos, wedge-tailed eagles, or even the endangered turquoise parrot. The Warrigal walking track is particularly great for bird watching.