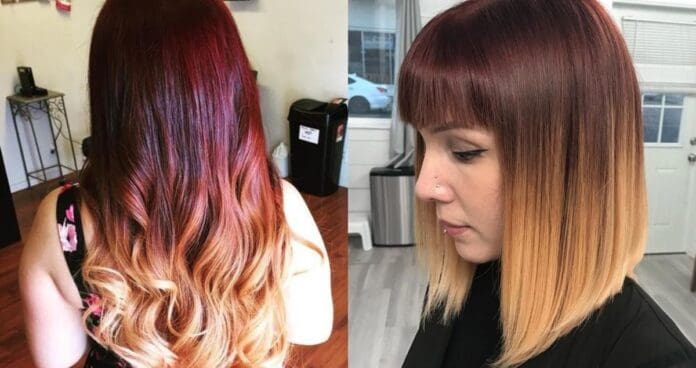 When we are considering trying red ombre, we usually either want more attention or simply wish to add a fresh stylish quirk to our daily hairstyles. Whatever your reason is, red ombre can be uniquely beautiful, vivid and impressive. Besides, it suits almost everyone.
Red Ombre Hair Solutions
Here you will find different ombre ideas, depending on your basic hair color and personal preferences.
#1: Colored Blunt Cut
So many styles rely upon angled cuts and wispy strands to look relevant, but with this style, a choppy, blunt cut is where it's at. Start with a burgundy and work it down to a honey caramel hue. Or, try black and red ombre or blonde to red ombre if you want to mix things up.
#2: Multiple Shades of Beauty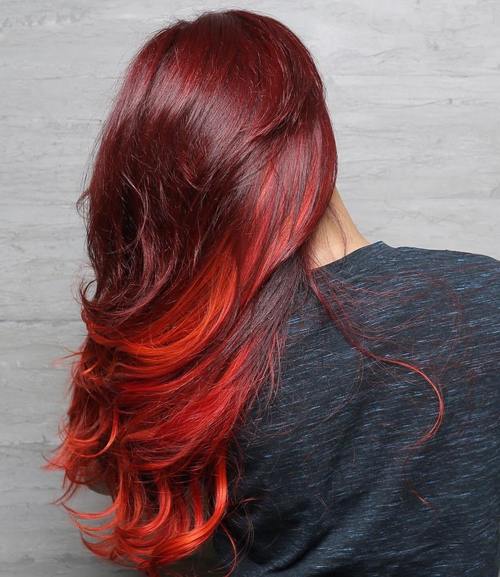 Go for a multidimensional hair color job that includes both dark burgundy and bright red. The result is stunning and memorable. The longer and more layered your hair is, the better it will look.
#3: Natural Ombre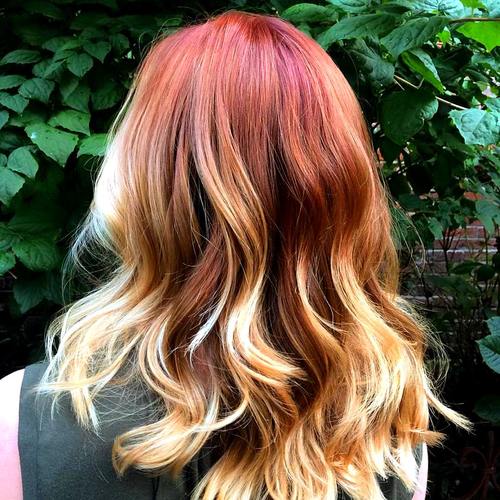 Looking for something a little less dramatic? Go for natural red ombre hair that quickly fades into a homegrown color like honey brown or blonde. This look will still draw attention without getting you expelled from school or skipped over for a job promotion.
#4: Natural Hues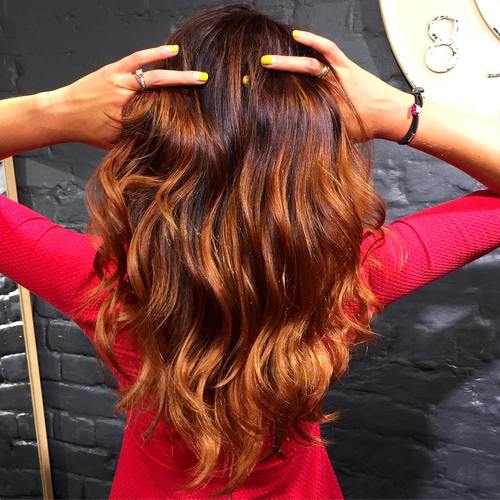 Not crazy about red? Go with a honey colored hue that glows. While it will still brighten up your strands, it isn't unnatural and positions you in a perfect spot to sport color at the office or in other professional environments.
#5: Bright Bottomed Beauty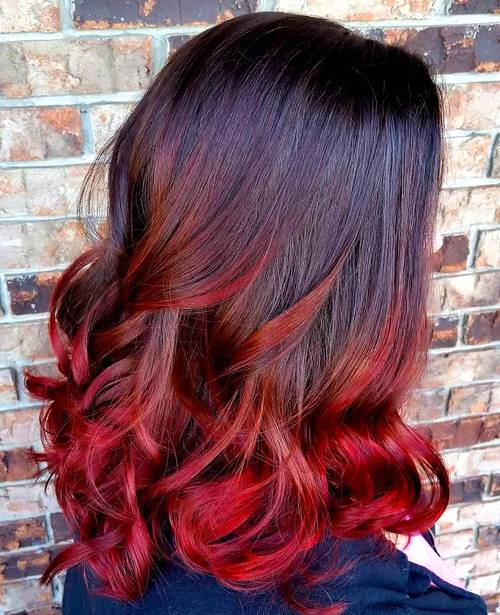 Ombre red hair comes in a variety of hues, but bright is often better. If you have dark hair, curl it and allow red dye to twist and turn through your locks for a creative look you'll love.
#6: Red and Blonde Ombre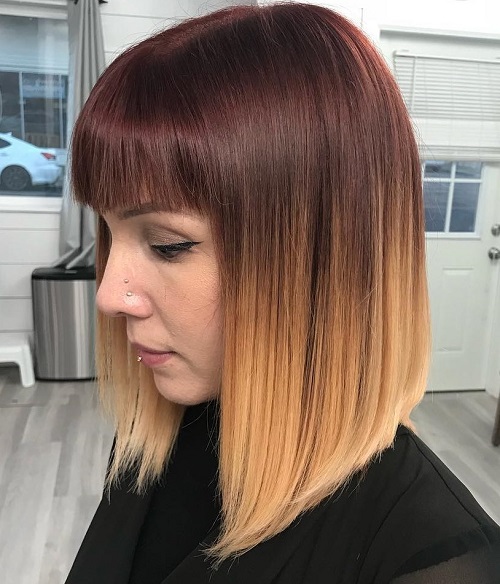 When you start with red, there isn't really anywhere else to go on the color spectrum other than pink. If that feels a bit too girly for you, go with a shade of blonde instead. Straight across bangs can also give your style a brand new personality.
#7: Ombre Hair with Accents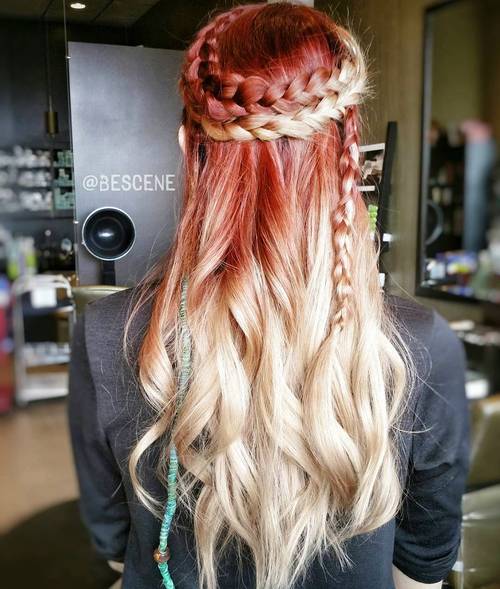 If you are nervous about having all-over red hair, ombre can be an in-between step that provides you with a whole new kind of beautiful. Get a half of your hair from the roots covered with a fire engine red and then go for a fade into a more natural color. Through braids and twists, you can position and showcase your new color in a variety of ways.
#8: Light Burgundy Ombre Hair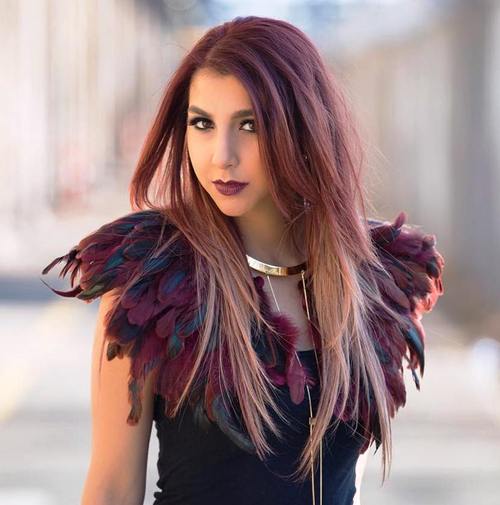 Red ombre hair doesn't have to be bold and bright – it can be subtle and descend into a gentle gold. The longer your hair, the more beautiful this will look – especially when paired with chunky jewelry and dramatic makeup.
#9: Brown and Burgundy Waves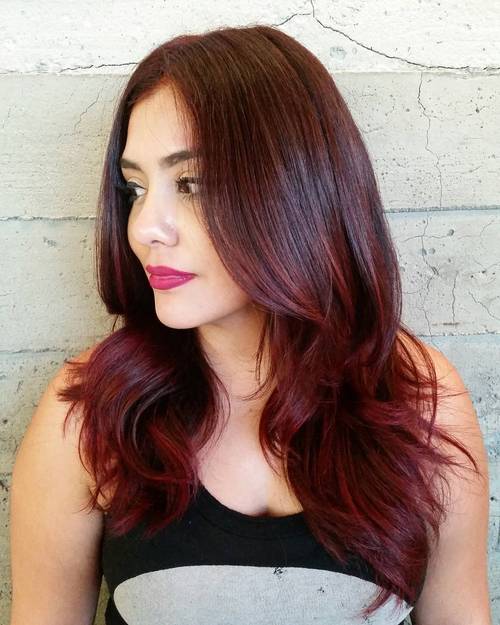 Sometimes color isn't meant to be the star of the show. If you want to add some shine and dimension without making a huge statement, try a dark red hue that is close to your strands' current color.
#10: Bursts of Red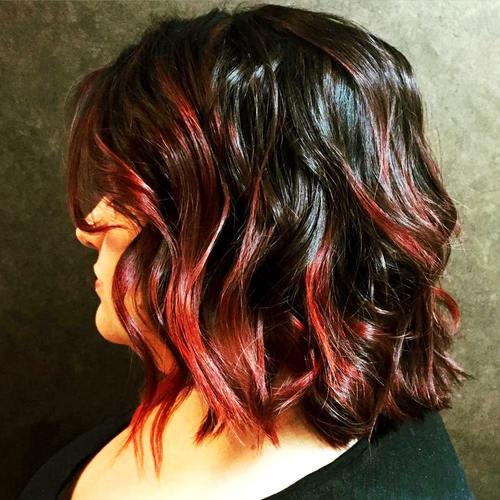 An ombre red style is sometimes best worn as random bursts of brightness against dark strands. If your hair is black or dark brown, invest in a cherry red that works its way through the hair in a cute pattern.