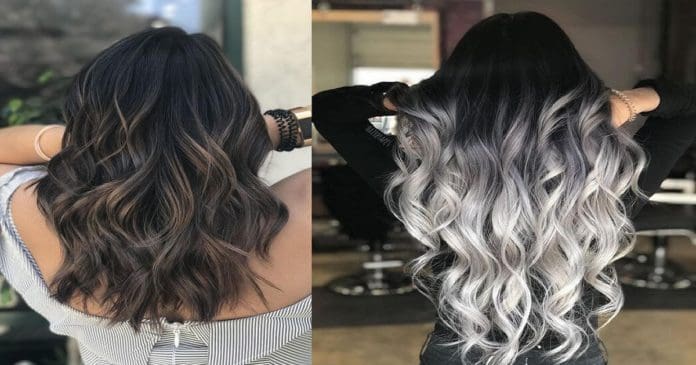 Whether you have long or short black hair, there are many ways to style it. Nowadays, many girls opt for techniques like balayage, ombre or simple highlighting to give their hairs an upgrade.
If you are interested to see more on how you can upgrade your hairstyles, and how girls with a warm black hair do that, scroll down to find many different and unusual hairstyles for inspiration.
Imagine your hair in a shade of dark coffee. Isn't that wonderful?
Shades of ash on the hair ends look more than fantastic. They add perfect cold vibe to your warm black hair color.
Dark black color match with dark skin tones. However, nothing costs you to try it no matter which skin tone you have.
Black chocolate on your hair – no problem! We can only say it will fit perfect all hair lengths.
As you can see, warm black hair match with every other color, you decide to wear. And we all know it is important, right?
Any silver hair accessory in your black hair will be absolutely stunning and highlighted.
There is something magical and fairytale alike in gold hair accessories and black hair combination. We couldn't agree more.
Balayage is a known technique that many girls adore. You can see how it looks when you get caramel shade and black hair combined.
Long warm hair is not only looking beautiful, but it is also simpler for maintenance.
Dark brunette shade on the hair ends looks absolutely fabulous. As you can see, brown and warm black combination is tested-and-proved.
Short hair and waves are the perfect mixes for everyday wear. The color will highlight hair ends.
Chestnut brown complements with black. Partial highlights will make you look fresh and your hair renewed.
Highlight parts of your hair with light brown shade. The rest of your hair should be in a dark and warm black tone.
Warm black hair tones help your hair looks thick. If you have a short bob, opt for this color.
This girl knows that black hair color suits her skin tone. She adds a bit of makeup and voila!
Short bob in combination with black hair looks pretty amazing. Somehow you can always count on this kind of hairstyle.
For elegant events, make waves and throw over your hair over one side. When it comes to makeup, stay natural, with brown shades – they match perfectly with warm black.
Long beach waves are perfect for everyday wear. You can either style your hair casually, or throw it over one side of the face.
Chic and casual – two words that can describe both makeup and hairstyle. This girl is ready for a nice summer day outside.
Partial balayage will give your hair a subtle and beautiful look. Let this be a notable change of your standard warm black hairstyle.
Since black is consistent and natural color of hair, it matches pretty well with everything. Think about doing a rainbow-toned highlights – unique and fancy trend in hairstyling.
Cold highlight tones such as blonde or light brown with grey pigment will make your hair look perfect for all occasions.
Grey partial balayage is undoubtedly a thing of the moment! If you want to try it, then don't hesitate.
Make a perfect contrast on your hair by highlighting your black hair with white and grey shades.
Silver ends will make your hair eye-catching and gorgeous. Try curling your hair for the best results possible.