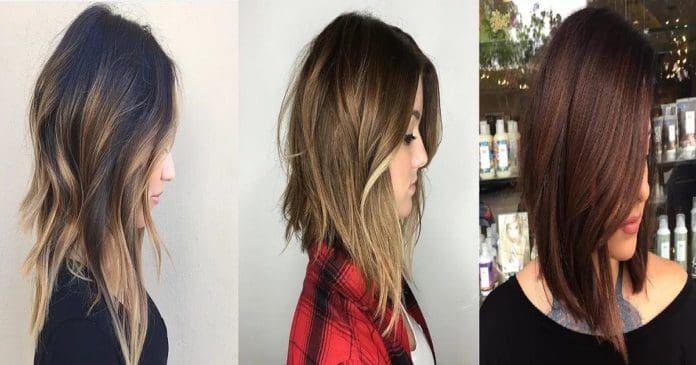 A lob is just the right cut if you're after a medium length hairstyle that shows some serious versatility. Don't be scared of this hairstyle change – it will look super awesome on any type of hair, no matter what your challenging angles may be.
Let's Do the Lob
Ready to get a 'happy medium' cut? Check out the following lob hair styles and get inspired to lose a few inches. (Or more.)
Lobs with Waves
Source
A choppy lob provides texture and exciting movement. This wash and go cut can be styled with hot rollers, a large barrel curling iron, and texturizing spray for waves that live on for days.
Whether you're growing out a short hairstyle or shedding some inches for the sake of change, a lob is a happy medium that can provide endless styling options and achieve everyone's ultimate hair goal – a variety of looks.
Read all about this trendy hairstyle and you'll see why a lob makes the cut for those seeking a change without losing their mane.
What is a Long Bob?
Remember bobs? Bobs were at the height of hair fashion in the 20s. Worn by free-spirited flappers and women who were embracing their independence, their freedom to vote, play sports, and get a job – the bob hairstyle defined women's participation in the feminist movement. It was a new style that became the signature look of the era!
While this traditional cut has never ceased to be popular, change inevitably comes to everything. In the hair world? Enter the lob.
A lob is a popular hairstyle that essentially means a long bob hair cut. Ideal for many hair textures and types, this timeless look can flatter a variety of face shapes and be dressed up or worn casually, depending on the occasion.
There are many different styles of a lob to suit everyone's tastes! For example, A-line bob (long in front, short in back), inverted, graduated or swing bob (same as an A-line except with stacked layers in the back), asymmetrical (one side in the front is longer than the other) or a more dramatic blunt bob (straight cut).
Pros of a Lob Haircut
There are many advantages to opting for a lob hairstyle, but before you march to the nearest salon to get a lob cut, consider whether a lob is a good cut for you.
A lob haircut is ideal for mostly everyone. Long layered bob haircuts are easy to take care of and versatile. They can be customized to fit your personality with side-swept bangs or short and cute choppy bangs – or even a little framing around the face. When you're having a bad hair day you can simply tie a lob up into a ponytail and your hair problems will be easily taken care of (something you'd never be able to do with a pixie bob!). The options to wear it up or down aren't something that you get with a traditional bob – lob's length means that you can still rock a lovely ponytail!
4 Best Advantages of a Lob Cut Hairstyle
Quick to style.

Whether you blow-dry your hair or let it air dry for a 'beach-babe' look, medium length hair is manageable and can be quick to style – regardless of your hair type. You can freshen up your lob with a

dry shampoo

, or add volume and movement with texturizing products when you're in a hurry, and when styling with a blow-dryer isn't an option. Dry shampoo will help your lob look awesome for days!

Color versatility.

Hair color is damaging, and can make achieving long hair styles difficult due to breakage. A lob is an excellent choice if you need to freshen up your ends and get rid of a few inches so you can show off beautiful, healthy hair. You can freely explore a variety of

ombre coloring

styles and all the long bob blonde hairstyles you want. A lob is also known as a chemical haircut, which means the cut will form its own shape and texture after breakage from over-styling, so nurture those ends. As your lob takes a shape of its own, it can be a little wild and unruly.

Flattering.

Lobs work on most

face shapes

and are flattering because they're still feminine. You'll have length that allows styling versatility and you can adjust the bangs to fit any face shape. Even ladies with long faces – as well as round faces – will be able to rock a lob! For a perfect example of an oval face rocking a killer long bob, just think of Kim Kardashian, and her beautiful black hair in a blunt, Cleopatra-inspired lob! You can wear a lob haircut in an updo and this medium length hairstyle can be blow dried to achieve the desired volume and texture.

Works with most hair types.

From straight to curly, a lob can be modified to work perfectly with different hair types. For naturally wavy hair, you can easily create a shaggy lob, while for thin hair – a stacked lob will be an ideal hairstyle choice. Using different styling products you'll achieve a variety of hairstyle looks. Smoothing serums work best for a shiny and polished style. Mousses and

texturizing sprays

should be used to achieve a desirable hair shape.
When a Lob May Not Be a Great Hairstyle Choice
While this cut is flattering and ideal for many hair types, a lob is not for everyone. People with square jawlines may be concerned that a lob will define this feature. Curly hair lobs may end up looking too triangular because the weight of this style will be at the bottom of the cut. Consult your stylist to minimize these concerns, and help you find a version of a lob that suits your look as well as your personality, and that flaunts your beauty!
Lobs According to Texture
Wavy.

A wavy lob is similar to the infamous hairstyle worn by Kelly McGillis in the movie

Top Gun

. Her perfectly wind blown longer bob reminds us that wavy medium length cut can be hot as hell – and it can take your breath away!

Straight.

Don't forget to pack your straightener! A chic and sleek lob style flatters most face shapes and can add instant glam to your look. Smoothing and

anti-frizz products

work best when styling your hair with a bit of

chic

in mind.

Fine.

The more the better. Tresses can get weighed down, and if you want the illusion of thickness – thickening creams, wider diameter styling tools, and a lot of styling product can transform a lob and create the foundation of most looks with a bit of an

'oomph'

!

Curly.

A curly long bob haircut can also weigh down your hair. If you want a playful style and you have curly hair, you should ask a trusted stylist to add some balance and flattering height to your long bob cut with layers on top. Seek the advice of a professionalist stylist in your area who knows your curls can sometimes live a life of their own! Curly-Q can wear a lob hairdo… It's true!
Lobs are beautiful in any texture – straight and sleek or wavy and messy. You can wear your lob as a downdo, or lift your locks up in a sort of updo or half-up hairstyle – so many options and there's always a quick and easy styling method, depending on your hair type.
#2: Asymmetrical Long Bob
This long bob gets its edginess from the front pieces that are quite a bit longer than the rest of the layered strands, about two and a half inches. The peekaboo blond highlights that frame the face and lighter ends make this not only trendy, but incredibly flattering. Keep hair soft and touchable with smooth styling creams.
Source
#3: Graduated Long Bob Cut
When styled straight, a graduated lob cut gives an illusion of a grown out bob that happens to look so effortlessly chic. To take the minimalistic 'do to the next level, keep tresses dyed in a solid color or try a very subtle balayage.
Instagram / @anhcotran
#4: Long A-line with Ombre
Styles with uneven length are so fun to rock. You get the ease of short hair, while still having it long enough to tuck behind your ears. What's more, you'll have an air of mystery. The ombre effect is expertly done. Not only are the transitions on point, but the tone is just right.
Source
#5: A-Line Lob for Fine Hair
A long bob haircut can really flatter women with fine hair. When cut as an A-line style, locks not only appear longer, but they also seem fuller and thicker! Ask for cute extra long pieces at the front to achieve this whimsical wispy effect.
Instagram / @rafaelbertolucci1
#6: Textured Lob with Highlights
Here's an embodiment of today's most popular style— a textured longer lob with babylights and highlights a few tones lighter than the base color. This 'do makes your mane feel healthy and fresh, your complexion appear brighter and warmer and you, overall, look trendy and stylish!
Instagram / @maeipaint
#7: Long Bob Cut with Chunky Layers
Many ladies prefer layered cuts to uni-length ones because they bring more movement and texture. Choppier lob hair appears fashionably piece-y, complementing alternative and edgy wardrobes. To take it a step further, go for an icy color like silver or white.
Instagram / @mizzchoi
#8: Bob of Colors
Love to be blonde but enjoy the easy maintenance of brown hair? Get the best of both worlds with this two-toned lob that brings texture and fun to otherwise mundane hair.
Source
#9: Medium to Long Style
Keep your medium to long length hair tousled and modernly messy with the help of a haircut that provides plenty of shape and body. This is especially important if you have fine hair – this cut will beef it up without going overboard.
Source
#10: Smooth Cinnamon Bob
A lob haircut is a great way to let a solid color shine. Because simplicity is a huge element of this cut, all-over color coupled with straight locks becomes very chic. If you have medium skin tone and freckles, please, oh please, try this color. It's…yes you guessed it…everything.
Source
#11: Midnight Black Lob with Waves
The all-over black color can be a tad bit harsh for day-to-day wear, especially when it's paired with long, straight locks. But when dark, midnight hues meet textured long bobs, that harshness is automatically replaced with pure edginess. We suggest loosely wrapping strands around a large barrel with no clamp to achieve the messy effect.
Instagram / @hairbyedwin
#12: Long Balayage Bob with Blunt Bangs
Incredibly low maintenance, this stylish long bob with a balayage is a deal for individuals looking to ensure their color lasts. What's more, the bluntness of the bangs contrasts with the choppy waves of the overall style, providing a messy (but still refined) appearance.
Instagram / @styledbylizsustaita
#13: Burgundy Lob Cut
Why not color your long bob cut a bright trendy hue? Burgundy is mystical and makes green and brown eyes pop! Whatever hair hue you choose, make sure its undertone, warm or cool, flatters your skin.
Instagram / @valloveshair
#14: Voluminous Brunette Bob with Layers
One of the most common (and misunderstood) aspects of bobs with a long length: they are depth-less. With the proper styling tools, products and layered cut, lobs (such as the one pictured here) can look as sexy and voluminous as a full blowout.
Instagram / @mizzchoi
#15: Inverted Lob with Platinum Highlights
An inverted lob is similar to an a-line, as both have the longest hair at the front. However, the difference is that inverted cuts have stacked layers at the back. Lob haircuts with platinum highlights are perfect for cooler months, or just for ladies who lean towards ashier tones.
Instagram / @hairbymai
#16: Long Bob Cut with Balayage
Playful, sweet and oh-so-natural, this ombre balayage lob uses soft, subtle tonality and a carefree cut to achieve that just-got-out-of-bed tousled effect. To style, we suggest spritzing locks with a light texturizing mist and finishing with a styling tool, paying extra attention to the pieces in the front.
Instagram / @prettylittleombre
#17: Honey Blonde Lob with Layers
Lobs are commonly seen colored dark brown or platinum blonde, but let's not forget sweet and delicious middle hues! This hairstyle is so pretty in honey blonde, oozing warmth and softness into the cut that's typically seen as sharp. Long layers also soften up the whole 'do.
Instagram / @saidhenriquegyn
#18: Blonde Lob with Gentle Lowlights
The best part about any long bob haircut is that effortlessly messy – and undeniably sexy – vibe it oozes. One rule of thumb: the longer the pieces are in the front, the more undone the overall appearance you get. This soft honey hue with gentle lowlights helps to give strands even more depth and dimension.
Instagram / @kccarhart
#19: Long Bob with Ombre for Thick Hair
Thick hair can be particularly tricky when it comes to longer bobs. Cut too short, and you risk to finish with an unflatteringly poofy hairstyle. Keep the bob too long, and you lose out on shape. This style moves past both of those extremes, using varied lengths and light-catching bleached pieces to give hair life.
Instagram / @bevasconcelos
#20: Textured Crop with Partial Balayage
Here's a trendy variation on the lob hairstyle. It's textured through the ends and touched with a subtle color. A long bob with bangs frames your face nicely. Both dense and wispy bangs suit this style.
Instagram / @hairxjojo
#21: Lob with Super Long Front Pieces
Long bob hairstyles can sometimes get extra long, but they don't lose their sexy shape and inimitable appeal. This adorable extra long lob proves just that, mixing sweet, face-framing balayage highlights with a wavy texture within a long asymmetrical style.
Instagram / @maria_hairtease
#22: Long Layered Bob for Thick Hair
Older ladies and working professionals should consider a long bob with layers amping up the crown section. If you're someone who doesn't like to go too short, this style allows you to keep length while still appearing classy and mature.
Instagram / @mygypsyhairstylist
#23: Layered Angled Lob Cut
Now, for those who want an anti-age 'do, a layered angled lob is sure to cut years off your appearance. The inverted nature of this long bob hair style is youthful and contemporary; it looks particularly modern when rocked in solid colors.
Instagram / @hairxjojo
#24: Straight Lob with Gentle Babylights
Sleek, posh and structured, this long bob cut with gentle babylights is the perfect transition style for any individual looking to go shorter while still enjoying a manageable length. It curls at the ends just like the classic bob, but the length lets you wear it both loose and in different chic updos.
Instagram / @saidhenriquegyn
#25: Textured Lob with Blonde Streaks
Besides trendiness and modern appearance, the popularity of long bobs is also attributed to how versatile they are in terms of styling options. Worn pin straight in solid tones or textured and highlighted, this cut appeals to all hair types.
Instagram / @hairbynoora
#26: A-Line Brunette Long Bob
The best part about any longer A-line brunette bob with layers is its versatility. The cut and color combination can look modern, messy and undone, as this model exemplifies. Or with the help of a hot styling tool, you can achieve a sleek professional hairstyle or even a curly vintage 'do.
Instagram / @hairbyedwin