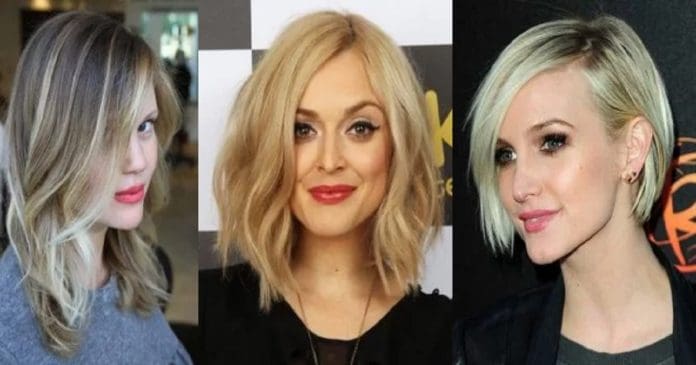 For women with thin hair, finding a style that looks great involves striking a delicate balance between the way hair is cut, colored and styled. While many women believe that the best way to make the most of their thin hair is to cut is as little as possible, the best haircuts for thin hair are often on the shorter side, or involve strategic layering when left on the longer side. If you're tired of your thin hair falling flat, check out these 30 fabulous haircuts for thin hair that we've compiled.
1. Blunt Lob
This blunt cut is styled with underneath layers curving slightly out, and top layers curving slightly in, to create texture in the hair without actually cutting away at thin hair.
2. Classic Blunt Bob
For women with stick straight hair, the classic blunt bob is a sophisticated style that exudes confidence and power.
3. Mid Length Cut With Long Layers and Highlights
For women who aren't a fan of the blunt look, this mid length cut features long layers that give texture at the ends without taking away from the overall volume of hair. Darker roots and highlighting that's concentrated at the ends help to add the illusion of thick hair.
4. Boy Cut Pixie
Anne Hathaway's pixie cut is kept very short on the sides, while longer layers on top sweep softly across the brow. This may seem like a dramatic change for women who are used to wearing their hair longer, but it's surprising how much thicker hair can appear when it's kept in a perfectly cut pixie.
5. Beach Blonde Lob
This lob style is cut at a fairly uniform length besides a few longer pieces in front. Besides how it's cut, this style uses strategically placed highlights to create added depth.
6. Pixie Tucked Behind Ears
Women with thick hair often have trouble executing a style that's tucked behind the ears, but for women with thin hair, this type of pixie style is easy to pull off.
7. A-Line Bob
Gradually increasing in length as you move from back to front, this style adds interest for thin haired women who aren't excited about blunt cuts. Highlights are concentrated at the ends to make them look full and thick.
8. Tousled Bob With Center Part
Some sleek styles can make thin hair look flat, but this shoulder grazing bob uses slightly messy styling to give hair some extra volume. The best part about this tousled look is that it's intentionally disheveled style doesn't take long to achieve, so you'll be out the door in record time.
9. Long Angled Cut
This longer style features layers along with an angled cut that's much shorter at the back. Keep in mind that layers are best kept towards the front of the face, where hair is longer and more prone to looking stringy, while the back of the head can be cut more bluntly.
10. Thickening Balayage
The perfect combination of cut and color, this style is cut with face-framing layers and finished off with balayage highlighting. The end result is thin hair that falls beyond the shoulders without looking limp or lifeless.
11. Romantic Bob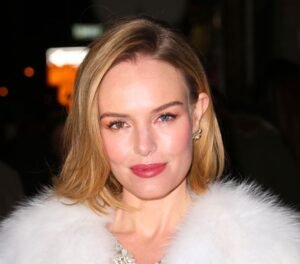 Rather than flat ironing your hair to be perfectly straight, try a bob style like Kate Bosworth's that features soft movement in the hair. A style like this creates the illusion of added volume without relying on too much product or heat styled curls.
12. Side Sweep Pixie
This demure pixie with side swept bangs is the perfect way to wear thin hair in a sophisticated style.
13. Soft Layered Bob
Layers are kept long in this cut, and are mostly concentrated at the sides of the head. Strategic waves begin almost half way down hair, for a soft and easy look that won't make hair look flat or stringy.
14. Sleek Bob
This sleek cut features long face framing layers that help the style from looking drawn and flat, while highlights on the top layer give added brightness when compared to the darker hair underneath.
15. Side Sweep Bob
Straight blunt cuts with centre parts are great for everyday wear, but you'll sometimes be looking for ways to spice the style up. By changing where you part your hair, instant volume is created by sweeping hair in the opposite direction than it's used to. This side sweep also creates the illusion of bangs without actually having to cut into your hair.
16. Curly Bob
If your thin hair has natural texture, it's always a good idea to embrace it rather than trying to style it into submission. Curls are an especially good way to make hair look more voluminous, so if you've got them, show them off. If your naturally fine hair is also straight, try experimenting with different curling methodsto find the one that works best for you.
17. Long Layers With Waves
Thin hair in shorter lengths usually looks best in blunt cuts where hair is mostly of one length, but in longer styles it's best to add some layers to keep hair from looking stringy and drawn. Sienna Miller's style here combines layers concentrated around the face with soft waves that add some volume to this easy, beachy style.
18. Super Short Pixie
When Emma Watson chopped her long locks after filming of the Harry Potter series wrapped, she became the most recent incarnation of the short haired It-Girl. With so many women attached to their long hair, this style is much coveted but not often tried.
19. Asymmetrical Bob
This blunt bob is cut shorter on one side, making for an intentionally uneven style that makes thin hair look thicker while remaining sleek.
20. Uneven Parted Bob
The key element to this tousled bob is the uneven part that adds volume to the crown. Try tousling hair and let it mostly air dry before finishing styling with a blow dryer and texturizing product.
21. Long Hair With Soft Layers
It's a general rule that short to medium length cuts are the most flattering for women with thin hair, but if you love long locks there are still ways to make it work. Cameron Diaz pulls off a long style with her thin hair by having layers in her cut that are mostly concentrated towards the front.
22. See Through Bangs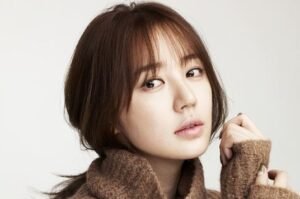 Bangs are generally not recommended for women with thin hair, as they remove hair from other areas, but these see through bangs are the exception to the rule. See through bangs are cut very wispy using only a small amount of hair, and can be used to frame the face of thin haired women who wear their hair long. Another perk to these bangs is that they're easily hidden amongst the rest of hair on days when you feel like wearing a bangs free style.
23. Blonde With Dark Roots
Extending your time between trips to the salon for color touch ups is healthy for your wallet, and can make your thin hair look thicker. This mid length blonde blunt cut gets an extra boost at the roots thanks to darker hair color, proving that thinner haired women should stay away from coloring hair directly to the scalp.
24. Chin Length Bob
This short bob style features some layers, but not as many as the stacked bob, a style that's best attempted by women with thicker hair. Relatively thin hair is easier to tuck behind the ears, and looks edgy and fun when cut to this length.
25. Bob With Ombre Ends
Thin hair looks great with highlights that add dimension, but if you prefer a darker look overall, try a slightly lighter ombre just at the very ends of your hair. This lighter color draws attention to the ends of your hair, making them look full instead of stringy and limp.
26. Soft Bob With Side Bangs
These long side bangs create face framing appeal, but aren't actually much shorter than the rest of the hair. You can part hair in the centre on days when you don't want the drama and glamour of these side bangs.
27. Layered Color Bob
In this style, roots and the underneath layer of hair are left darker, creating an illusion of depth that enhances this collarbone grazing blunt cut.
28. Beachy Blonde Bob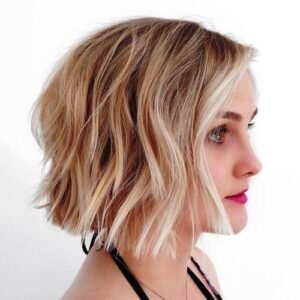 Blonde highlights are layered throughout this bob, adding dimension to this summery style that makes hair look endlessly thick, while some layering gives the cut texture without robbing it of precious volume.