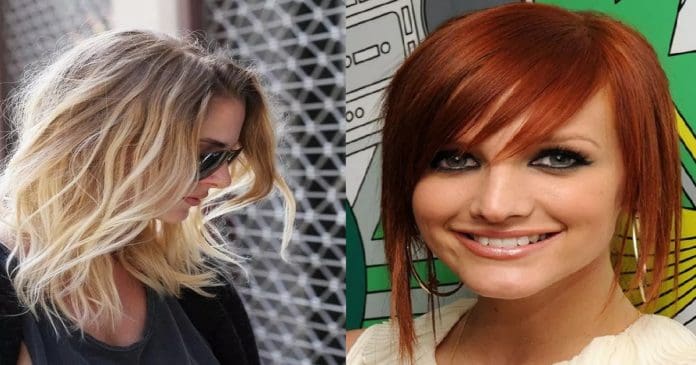 29 Exclusive Medium Length Hairstyles for Women
A-Line Bob
Welcome the electrifying hair trends with an A-Line Bob. Make sure that the haircut is until the shoulder level and also keep your hair straight in order to highlight the haircut. Nothing can be more fascinating than cutting your hair for a brand new look. So go get yourself this a-line bob and glam your look.
Brown Balayage Shaggy Bob
Gain a mesmerizing outlook through a brown balayage shaggy bob. Make sure to give the layers a shag cut so they can lay emphasis on the highlights offered by the brown balayage and let the hair look bold. Shaggy shoulder length balayage bob is suitable for every face cut.
Brown Balayage Shoulder Length Hair
It doesn't matter what your age is or what your hair length or hair type is. You can appear equally enchanting with a brown balayage shoulder length hair. Make sure to highlight your hair with brown balayage and let your hair flow till shoulders. create this amazing and voluminous finished style to flaunt your ultimate style.
Center Parted Medium Hair with Low Waves
Jessica Szohr wore this shoulder length locks for Cosmopolitan's 50th birthday celebration. So elevate your charm by having a center-parted medium hair with low waves. Make sure to part your hair in the middle and create subtle waves in order to get a casual look. You may tuck the hair behind your ears to highlight the center parting.
Choppy Graduated Bob
Gather a youthful appeal with a choppy graduated bob. You have to make sure that the chopped layers are unevenly spread to create volume. The choppy graduated bob is a classic cut that will never go out of trend. So wear it and glam it.
Copper Balayage Medium Wavy Hair
Enhance your style quotient by donning a copper balayage medium wavy hair. See that there are subtle waves created in the layers of your hair and are highlighted with copper hues for a futuristic look. The copper and brown shades work together so perfectly that you can have the best look with it.
Dark to Light Medium Ombre Haircut
Amy McDonald wore this gorgeous and dazzling hair in such manner that you can't ignore this style. Let your hair be a visual treat by going for a dark and light medium ombre haircut. Make sure that the ombre color has a fading effect from the top to the bottom by changing from black to blonde or grayish white.
Layered Balayage Lob
Gain an adorable appeal with a layered balayage lob. You have to emphasize the layers with subtle balayage highlights so that their texture looks more definite. Medium length haircut with layers perfectly goes for any face shapes.
Layered Messy Wavy Medium Hair
Get the benefit of having a lovely fullness of hair through a layered messy wavy medium hair. Make sure to have many layers in a messy texture with a wavy shape so as to create a thick and voluminous look. You can wear medium length hairstyle in various style but this one is very cool to wear and glam your look.
Medium Blonde Shag Haircut
If you are tired of your boring hair than try this cool and charming style. You can have one of the most popular looks in the fashion industry by selecting a medium blonde shag haircut. The shaggy cut, when paired with shades of blonde will add sharpness to your hair and it's also very easy to handle.
Medium Hair with Caramel Blonde Hig
hlights
Appear elegant and ethereal by selecting medium hair with caramel blonde highlights. Make sure to add the caramel blonde highlights in such a way that they are clearly visible when the hair is either flicked backward or inside towards the front. It is an ideal hairstyle for medium length hairs, and if you want to wear the same, do not miss to try this out.
Medium Hair with Red Edgy Bangs
Ashlee Simpson has rocked her look by wearing this ultimate and dazzling hairstyle. Steal the thunder wherever you go by sporting medium hair with red edgy bangs. Let there be wavy bangs with red colored edgy highlights to meet the latest trends.
Medium Length Beachy Waves
The great way to bring life into your fabulous medium hairstyle is by adding gorgeous wavy layers. So get an extremely entrancing look with the medium length beachy waves. Make sure to use deep conditioning treatment on regular basis to maintain the softness of the waves.
Medium Lob with Layers
Medium length hair has lot of options to make because of a variety of layers. So get a fashionable outlook by choosing a medium lob with layers. Make sure that the lob cut has a subtle angle and comprises lots of layers with uneven textures to add bounce.
Medium Ombre Hair
Make your own style statement with medium ombre hair. The vibrant hues of ombre will provide a refreshing look when you make sure there are lots of layers. Glam this fantastic medium ombre hair with luscious curls.
Medium Ombre Hairstyles with Layers
Appear astonishingly alluring in medium ombre hairstyles with layers. You can either have subtle layers or go for shagged layers that are accentuated with ombre highlights. These hairstyles will give you nice movement and volume. Ombre will work amazingly on the shoulders with a right cut.
Medium Sleek Ponytail Hairstyle
You can achieve a formal look that keeps you ready for work anytime by going for a medium sleek ponytail hairstyle. Make sure to straighten your hair and tie it into a high ponytail for a professional appeal. You can't go wrong with a pony. So wear this style and rock your look.
Medium Straight Hairstyle
If you love to be simple and look graceful then you must select the medium straight hairstyle. Just straighten up your hair and add a shine serum to brighten up the strands. This look is a very simple to achieve and look the same like Thandie Newton.
Messy Medium Length Hairstyle
Flatter and frame your face with a messy medium length hairstyle. You can create the messy look with the help of bangs of varied lengths spread into different layers. This messy style is very stylish and it suits any face shape.
Messy Medium Wavy Hairstyle
Let your hair pop up and get everyone's admiration by choosing a messy medium wavy hairstyle. Do not hesitate to create beachy waves on your hair by wrapping a few strands around thick barrels at a medium heat.
Ombre Bob with Layers
Let your hair be filled with bounce and boldness by going for an ombre bob with layers. This look will beautify your face as well as the back of your head once you make sure to fill the bob with ombre-highlighted layers.
Ombre Medium Wavy Haircut
Gift your hair a fun-filled look through an ombre medium wavy haircut. Make sure to blend the waves with the highlights and undertones provided by the ombre to brighten up your hair. Believe us this ombre style is one of the most copied hair in trend.
Rachel McAdams Medium Blonde Wavy Hair
Get the look of a Hollywood celebrity with Rachel McAdams medium blonde wavy hair. Make sure to create large waves from the mid-length of your hair until the end so as to add bounce to the sides. This medium length hairstyle is super stylish and it's easy to maintain.
Shoulder Length Blonde Wavy Hair
Bring out the beach beauty side of yours by choosing shoulder length blonde wavy hair. Make sure to create edgy and piece-y waves and brush out the waves for a spectacular appeal. This is a really cute shoulder length hairstyle to glam your look.
Shoulder Length Wavy Hairstyle
Let your hair look thick and strong with a shoulder length wavy hairstyle. Make sure to have loose barrel curls that begin from the mid-length of your hair and continue until the end. This is a great medium hair style that suits any face shape.
Side Parted Medium Wavy Hairstyle
You can pull off an effortlessly chic look very well with the selection of the side-parted medium wavy hairstyle. Create a side part on your head and make sure that the hair swept towards the side is provided a nice wavy shape.
Side Swept Medium Haircut with Bangs
Judy Greer has glam her look by wearing this cool hairstyle. So get a classic style that will offer you a refreshing look by selecting side-swept medium haircut with bangs. Ensure that you provide slight waves or curls to the bangs at the side for an added movement.
Side Swept Medium Hairstyle With Curls
Set the style bar high by having a side-swept medium hairstyle with curls. Simply comb your hair in one direction and make the curls on that side in order to boost the volume and give you a youthful look.
Side Swept Medium Length Hair
Gain a bold and comfortable look with side-swept medium length hair. Simple sweep most of your hair towards one side and add thin layers to create some volume.
Choose from among these flattering hairstyles in order to look better than the rest.