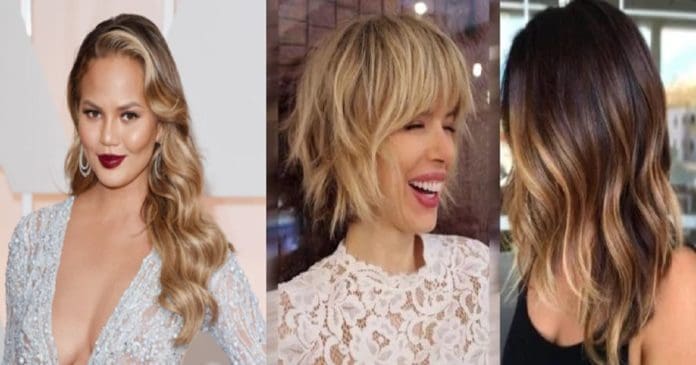 33 New Hairstyles To Try Out This Year
Your new year's resolution has probably long been given up on, but that doesn't mean it's too late to try out a new hairstyle this year. Whether you're looking for a minor update on your current style, a new color technique, or a complete hair makeover, there's a hot new style to fit your hair's length and texture. Check out 35 of our favorite looks!
1. Tie One On
If you haven't worn a bow in your hair since your mom was still in charge of your style decisions, this year is the perfect time to revive the look. Besides being seen on tons of runway models this year, bows offer up a practical way to tie your hair with more flair than a simple elastic.
2. Edgy Cropped Pixie
Short hairstyles aren't going anywhere this year, so if you've been dancing around making the change for the last few seasons, take the plunge with something edgy and platinum.
3. Beach Waves Perm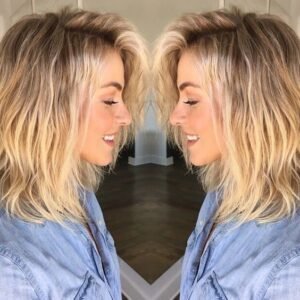 If you haven't heard, perms are back and better than ever. Replacing the crazy curls of the '80s are much softer looks like Julianne Hough's incredible beach waves perm.
4. Contourage
It's hard to keep up with all of the new ways to highlight your hair, but contourage is perfect for playing up long locks worn in waves or curls. In this specific balayage style, highlights are concentrated around the face where light would naturally fall, adding an incredible glow to the wearer's face.
5. High Messy Ponytail
This high ponytail adds some tousled texture to make it more sultry looking than an everyday updo.
6. Laid Back Braids
Intricate braided hairstyles have their place in your hair arsenal, but we love the softness of Zendaya's laid back look.
7. Glow in the Dark Hair
If you've already worn every pastel and jewel tone hair color under the sun, glow in the dark hair represents the next frontier in crazy color styles.
8. Shaggy Bob
Shag hairstyles are continuing to be popular this year, and we love this bob style for ladies who want to add some serious shag texture to a shorter style.
9. Pastel Underlights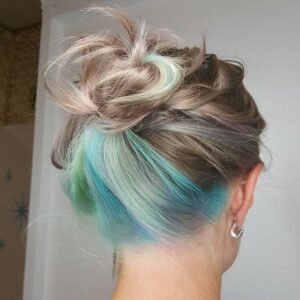 Feel like you missed the boat on the pastel trend thanks to a stuffy workplace or hair commitment issues? This underlights style lets you try out a little taste of pastel that you can show off or hide away depending on how you wear your hair.
10. Peach Ombre Bob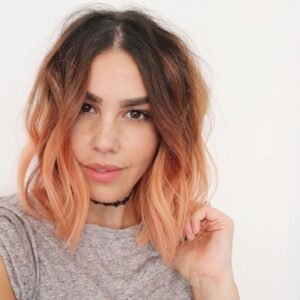 If you're looking to try a new hairstyle that mixes a gorgeous pastel shade with a natural base, this long peach ombre bob is the perfect blend of fun color and a trendy silhouette.
11. Raw Twisted Updo
Take your updo game to the next level with buns twisted into tight shapes. Unlike traditional updos that are either soft and sleek or romantic and wavy, you can debut this style with a daring outfit on a Saturday night.
12. Tiger Eye Hair
This bold tiger eye color style uses a dimensional color technique to create a look that's full of warm golden browns and blondes. If tiger's eye is your favorite gemstone or you've been channelling your inner Rocky Balboa, this is the fiercely bold hairstyle you have to try this year.
13. Rainbow Curls
There are so many different ways to wear rainbow hairstyles, but you may have been holding off on wearing curly hair in such a bold color palette. Whether you dye your natural locks or go for a crochet braided style, keep strands of different colors thin to help accentuate your curls.
14. Gray Blonde Waves
Granny grey and metallic silver styles have had lots of popularity in the past few years, but gray blonde hairstyles are quickly becoming a new favorite. If you're looking to slightly tweak your existing platinum color, this gray blonde shade is the perfect addition to any length of hair.
15. Short Bangs Bob
An ear length bob can be tough to pull off, but this year's wide embrace of a huge variety of styles feels like the time to go for it. Short rounded bangs match perfectly with the rest of the hairstyle, and will leave everyone in awe of your chic, daring hair.
16. Nude Hair Color
Like the no-makeup makeup look but for your face, nude hair utilizes a hair color that matches your natural skin tone. Cara Delevigne's long locks almost perfectly blend with her face, while darker roots add some depth and dimension to the style.
17. Textured Blunt Bob
Textured bobs with softness at the ends have been popular over the last few years, but you can step this style up by going for a more blunt line in your textured look. This is an especially good choice for women with thin hair who want to add texture to their look without sacrificing volume.
18. Pure Platinum Color Melt
Cheap looking platinum color might not do your skin tone any favors, but this platinum blonde color melt is will lighten your locks and brighten up your face.
19. Avant Garde Locs
Willow Smith has been a star for so long, it's hard to remember that she's still only 16. Lately she's been offering tons of inspiration for avant garde dreadlock styles that will look amazing with your edgy fall fashion.
20. Springy Waves Bob
If you're still styling your hair in big springy curls, these lazy S waves are the texture you need to try this year. While bobs can be tough tough to style in curls without leaving you looking like a little kid, creating these S waves with a flat iron is an easy way to add some sophisticated texture to your bob this year.
21. Straight Center Parted Hair
It seems like the last few years have been all about loose lazy waves and soft texture, with very few straight styles in sight. Whether you've got long Cher hair or a collarbone grazing cut, try bringing back silky straight texture for an edgy, glam look.
22. Crimped Texture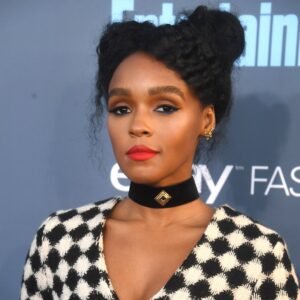 Try adding a little or a lot of crimped texture to any of your hairstyles this year. Janelle Monae's crimped bangs add an extra level to her double bun updo, but are subdued enough to not look like an '80s throwback.
23. Khaleesi Inspired Style
Channel the Mother of Dragons with this double headband updo that will work whether you're a hardcore fan getting ready for cosplay or just looking for new ways to wear your long hair.
24. Raw Buzz Cut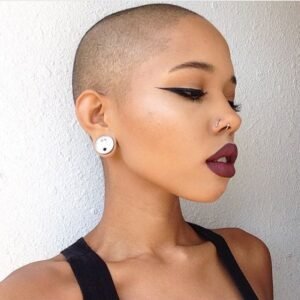 More women are jumping on the buzz cut train, making this the perfect time to try going for the ultimate hair cut. Although the style is gaining in popularity, your freshly shaven head will still turn a lot of heads, and shouldn't be taken on unless you're prepared to consistently stand out in a crowd.
25. Boho Fishtail Braids
Embrace the less finicky approach to braids by adding some messy fishtails to your hairstyle instead of making them the star of the show.
26. Pink Shadow Roots
With hair color trends like ombre and balayage still dominating the landscape, a shadow root hairstyle gives you a different way to experiment with two-tone hair color. This pink and platinum shadow root style is gorgeous and unique, but be prepared for a lot of color upkeep.
27. Glitter Braids
It might not be an everyday hairstyle you'll wear to work, but enhancing your braids with a touch (or a ton) of glitter is one of the most fun ways to dress up your hair for a music festival or summer party.
28. Chocolate Mauve
If you were dying to try the rose gold hair trend but it seems like too much of a leap from your dark brunette base color, this chocolate mauve color offers up a darker, richer way to mix purplish pink shades into a natural base color.
29. Modern Shag
This mid-length shag cut with two distinct layers is the perfect way to look retro and modern at the same time. Complete with bangs, this is a great choice for your hairstyle this fall.
30. Ultra Long Braids
Take your box braids to the next level this year with a style that extends well past your waist.
31. Smoky Brunette
For natural brunettes or women who prefer darker palettes to hairstyles with bold blonde color accents, this smoky brunette look offers up rich but subtle color.
32. Sophisticated Undercut Pixie
If you're looking to add some maturity to your undercut pixie, this style keeps hair much shorter at the sides without being completely shaved. The result is a sophisticated style that has tons of body and movement.
33. Choppy Mid Length Texture
Soft textured bobs have been some of the hottest styles of the last few years, but we're loving this longer, choppier haircut as an evolution of that look.