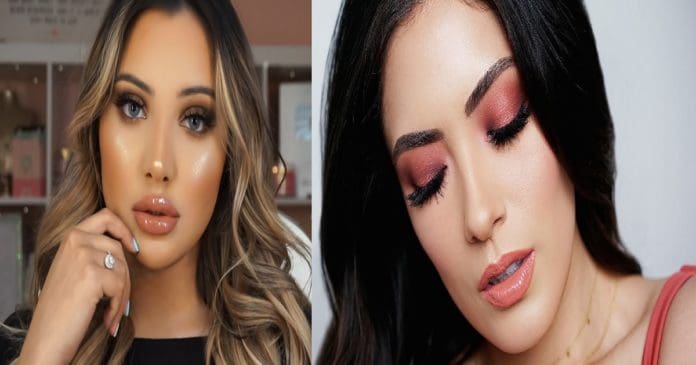 Soft glam makeup works for just about anything — whether you're rocking an everyday look or dressing up for a special occasion. It's a step below full glam but still looks put together, making it a go-to for Youtubers and makeup enthusiasts everywhere. Soft glam looks often have flawless, highlighted skin, neutral lips and eyes and well-defined lashes. It's an easy look for makeup beginners to try and leaves room for your outfit or hair to shine. With that in mind we've rounded up our favorite soft glam makeup tutorials ahead. Watch, save and copy.
A Winter Lewk
In this tutorial, Michelle Tapia shares an easy winter slay, complete with toasted brown eyes and ultra-glossy lips. We're also obsessed with her dewy, highlighted skin, making this a look we want to copy all year round.
All About the Eye
The shimmery rosy pink look ahead is perfect for any occasion, and thanks to Teni Panosian, you can follow her steps to get the look.
The Instagram Baddie Look
A "quick and easy" beat, this look by Giorgina Juanita practically screams 'Instagram baddie'. It features a sultry brown eye and a neutral matte lip (she wears NYX Professional Makeup Soft Matte Lip Cream in Abu Dhabi like it was made for her).
This Spicy Fall Eye Makeup Tutorial
MELISSA ALTORRE FOR UD – NAKED HEAT PALETTE TUTORIAL
Start by priming eyelids with Urban Decay's Primer Potion in Eden.
Next, sweep Sauced from your Urban Decay Naked Heat Palette across your outer to inner crease, this will be your base and transition shade.  Also work this color onto your lower lash line, and don't be afraid to smoke it out.
Next, pack He Devil onto your inner and outer corners, and also work it down onto your lower lash line as well.
After blending out He Devil, buff En Fuego out onto the same places where you applied your first two colors: on your outer and inner corners, as well as on your lash line. 5.Repeat this step once more with Ashes, and blend blend blend these out.
On the center of the lid, pack on Scorched to highlight that area, and buff out the rest of your shadows once more.
Next, Melissa uses Lumbre to highlight the inner corners of her eyes.
To amp up the look, add Urban Decay's 24/7 Liner Pencil in Alkaline to your waterline.
Complete the eye makeup look with Urban Decay's HBIC Babies Lashes, and add a coat of the Urban Decay Perversion Mascara.