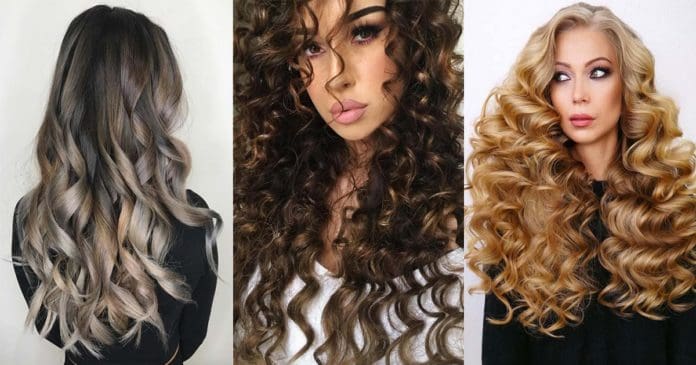 Are you looking for feminine magic? A hairstyle that can seem effortless yet glamorous? If that is the case, long curly hairstyles are the perfect choice.
Whether your hair is stick straight, wavy, or tightly coiled, I can assure you that curly hairstyles for long hair can work for you. Curly long hairstyles are the go-to choice this year (and let's be real, every year) for all the parties and special events.
What Do Different Kinds of Long Curly Hairstyles Convey?
Are you going for a more innocent look, or do you want to turn on the retro femme fatale seduction? Different kinds of curls convey different vibes, so keep that in mind before you grab that curling iron.
Bottleneck curls are perfect for a more innocent look, since they are usually associated with Shirley Temple characters.
For a look that is a little more wild and carefree, tightly coiled curls will actually work really well. If you naturally have wilder curls, simply take good care of them and let them do their thing, if, on the other hand, your hair is naturally straight or wavy, you can use a smaller curling iron, curl the strands in every direction, and then tease the hair a little bit when you are done. Make sure to start the curling as close to the scalp as possible (but be careful not to burn yourself!)
For a really unique look that has a bit of a retro vibe, use a medium-sized curling iron, and curl all of your strands in the same direction. You can add to that a bit of a dangerous femme fatale edge by giving this hairstyle an extreme side part.
Lastly, for long curly hairstyles that are simply classy, timeless, and a little fancier, use a medium to large curling iron, and curl your hair in alternating directions. You can even start the curls just above the ear – this looks especially nice with an ombre hair color. This tends to look especially lovely when paired with a semi updo.
How to Style Long Curly Hairstyles?
If your hair is not naturally curly, you will definitely need the help of a curling iron. First, you must choose the correct curling iron. If you want bigger, luxurious curls, you need a bigger curling iron.
For smaller and wilder curls, opt for a small curling iron. Another option is to alternate different sizes of curling irons, for a ton of texture and interest in the curls.
Once you've picked your curling iron size, you can get started:
Step 1: Start with fairly clean, dry hair. If your hair has a very hard time holding a curl, however, it is best if it's not freshly washed. Make sure it is also brushed, and that there are absolutely no tangles.

Step 2: Turn on your curling iron. If you have more delicate hair, turn the heat on to about 320F. If your hair is stronger and tougher to curl, you can turn it up as high as 430F.

Step 3: Prep your hair with a heat protection spray. A heat protection spray will both help protect your hair from heat damage, but it will also help your hair hold the curl better.

Step 4: Split your hair into sections. Simply separate your hair into thick strands, and clip them back with a hair clip. It is best to start with the bottom layer of the hair.

Step 6: Choose a section of hair, and twist it into your curling iron. Remember, the bigger the strand of hair you choose, the looser your curls will be, and the smaller the strand, the tighter. Additionally, depending on the direction you choose, and how you twist the hair around the wand, you could achieve different kinds of curls going in different directions.

Step 7: Once your hair is curled around the curling iron, hold it for about ten to 15 seconds.

Step 8: Gently pull the curling iron away from the strand, and move on to the next section of hair. As you finish curling one section of hair, you can slowly release the next section, and continue curling.

Step 9: Once you have finished curling your hair, you can do a little bit more styling. For looser curls, you can run your fingers through your hair. For waves, you can even brush your hair out. Alternatively, you can pull your hair into an updo or semi-updo.

Step 10: Once you are perfectly happy with the styling, finish your hair off with a spray of hairspray, to guarantee that the curls will stay in place for the whole day!
@negin_mirsalehi
Hair Curling Hacks for Long Curly Hairstyles
The step-by-step guide above is pretty clear, but here are a few additional hacks that might make your hair curling adventure easier!
For tighter coils, twist your hair before wrapping it around the curling iron.

To turn your hair curling iron into a curling wand, simply remove the iron attachment by unscrewing the little screw at the base of the tool.

To help your curling iron along a bit, and make sure its curls last a little longer, clip the hair in its curl after removing the curling wand.

The closer you curl to the roots of the hair, the more volume your hair will have and the longer your curls will last.

If you are in a serious rush, pull your hair back into a ponytail, and start curling. You'll get some lovely waves, although they won't last as long.

Holding your curling iron vertically will give you really tight curls, while holding it horizontally from your hair will give looser curls.

With a bit of practice, you can actually curl your hair by wrapping it around a straightening iron.
Long Curly Hairstyle Ideas
There are so many ways of curling hair, and there are so many different ways of styling curly hairstyles for long hair! If you are having a hard time deciding, don't worry, we have some gorgeous examples coming up of all of the best long hairstyles for curly hair!
1. Dark Chocolate and Caramel Long Curly Hair
The great thing about long curly hairstyles is that they do an excellent job taking the edge off of an ombre. In this dark chocolate and caramel ombre, the lighter, bottom half of the hair is volumized with loose corkscrew curls.
@mimiikonn
2. Semi Pulled Back Long Curls with Sombre
This lovely warm toned sombre of brown and blonde is a little messy, and shows how great long hairstyles for curly hair work, when you pull back just the hair at the crown. Below it the hair hangs in a cascade of waves and curls.
@claudiafagadar
3. Chocolate Curl Explosion
This is a beautiful example of how curly hairstyles for long hair can look when the hair is naturally curly, and also extremely healthy. The hair here is full, long, and features a modern center part, for just a hint of a '70s groove.
@armineisajan
4. Loose Curl Balayage
This is a much more sleek, controlled curling, with a larger iron. When paired with this gorgeous balayage, the effect is like of melted caramel – rich, warm, and inviting.
@negin_mirsalehi
5. Ash & Bronze Long Curly Hair
Long curly hairstyles can also make it easier to blend cool and warm colors all into one balayage, like in this cool ash and warm bronze example. The ultra thick and sleek curls are simply astounding.
@chitabeseau
6. Beachy End Long Curls
This is another example of long curly hairstyles, where the curls start a little lower, near the shoulders, providing a soft transition from the top brown color to the summery blondes. This sexy effect can be achieved easily with a larger curling iron, or hair rollers.
@chitabeseau
7. Violet and Lavender Bun Curls
Long curly hairstyles are already fun, but when you add two semi buns right on top of the head, and then go the extra length to dye the hair really fun shades of purple, you end up with something impossibly adorable and whimsical.
@lo.reeeann
8. Dual Toned Girlish Long Curls
This incredible color painting technique pairs metallic purple with baby pink, and they go really well with the curling technique that allows for really lush spirals, with slightly wispy ends. It's an expertly colorful take on curly hairstyles for long hair.
@lo.reeeann
9. A Touch of Whimsy on Tightly Coiled Hair
Natural, tight curls like these are simply gorgeous in long curly hairstyles, and in this example a touch of bright pink and purple hues ups the playfulness factor.
@chitabeseau
10. Autumnal Loose Waves
Is there anything that screams autumn more, than loose long curly hairstyles in fallen leaf shades of burnt orange? Doesn't seem like it. The symmetrical waves in this look are pretty cool as well, and go well with the cozy balayage.
@alennmj