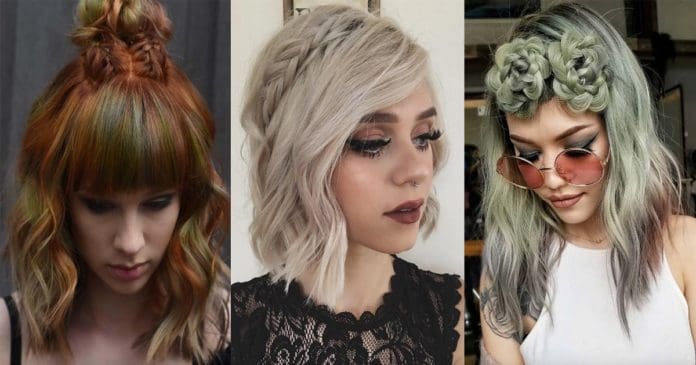 Winter is here, and it's the perfect season for short braided hairstyles. Getting all of the layers off is already cooler, but braids for short hair will help keep strands away from your face and will keep you feeling cool and looking super chic.
Many people think that braids don't work when the hair is too short, but we're here to prove you wrong! This summer, we can see braids on all kinds of short hair, including on long bobs and short bobs, not to mention on pixie haircuts and even short undercut hairstyles!
Whether you opt for French braids, Dutch braids, cornrows, fish braids, or just twisted braided styles, we've got some ideas for you. Some braided hairstyles for short hair are more sporty while others are ultra-feminine, and there are also some edgy braids for short hair that sit somewhere in between. No matter your mood or the occasion, you are sure to find some excellent inspiration here for all kinds of short hair braids.
1. Fringe Floral Braids for Short Hair
One super cute way of dealing with a fringe is by crafting floral braids for short hair. This look was created by simply twisting and pinning two messy braids, and it pairs wonderfully with this layered, multi-color hairstyle.
@bescene
2. V-Shaped Box Braid Buns with Top Bun
Talk about a cute and sporty way of doing braided hairstyles for short hair! The two box braids start at the front of the hair, and come out in a V-shape that really highlights the top bun, while allowing the rest of the hair to sit in luxurious layers.
@hairbyamandaackerman
3. Side Cornrow Punk
Embrace the punk edge of short braided hairstyles, by getting side cornrows. They give you that cool look of a shaved side of the head, without the actual shaving. It is a great way of spicing up a bob haircut.
@_wildfern
4. Mother of Pearl Loose French Braid for Short Hair
This is an ephemeral way of styling braids for short hair, since part of the beauty comes from the looseness of the French braid. It adds an organic touch to an otherwise more severe hairstyle, and with a bit of hairspray you might even be able to keep it in place for more than an hour.
@twyllajane
5. Pool Party Cornrow Duo Braids for Short Hair
Pastel pink hair begs for fun hairstyles, like these short hair braids. Two cornrows gather a lot of hair together, bringing it into two adorable braids that are perfect for poolside occasions.
@lolaliner
6. Pinned Baby Side Cornrows
Pins are a great way of adding a touch of interest to your short braids. These two side-cornrows actually come straight down and behind the ear, which is already a unique look that perfectly compliments the messy graduated bob.
@alex_haircraft
7. Side Dutch Braids for Short Hair
Thick Dutch braids for short hair are a great way of interjecting your look with a lot of romance. This braid starts at the temple and goes along the sides to add beauty and texture.
@kimwasabi
8. Rainbow Short Hair Braids
Rocking a short, loose side braid and a top bun with a short bob is a great way of feeling casual and playful, especially when you're trying to celebrate awesome rainbow hair.
@theconfessionsofahairstylist
9. Pull-Through Semi Updo Braid
The pull-through style is great for short braided hairstyles, because it gives an incredible amount of lush volume to the hair. In this style, we see it as a semi updo on a long bob that is simply enchanting.
@thehairstandard
10. Double Box Braid Galaxy
Showing off unique hair colors becomes super easy with box braided hairstyles for short hair. The two box braids, which are essentially just very tight cornrows, help to show off the galaxy colors while also lending a sporty feel to the look.
@hairlizard
11. Pixie Cornrows
Pixie haircuts are not usually associated with short braids, but these days with one of the most popular haircuts being shaved sides and a longer top, you can actually do some braiding! These two cornrows are a way of making pixie haircuts extra feminine but still casual or sporty.
@salirasa
12. Cornrows with Asymmetrical Bob
Here we see a take on braided hairstyles for short hair that is super elegant and sleek, simply because this sophisticated asymmetrical bob is straightened. The side cornrows lend a bit of an edge, while also taking some hair away from the face.
@alex_haircraft
13. Glittery Top Braid for Short Hair
A dusting of glitter instantly turns short braided hairstyles into something whimsical and magical! Here we see a top French braid that ends in a cute top knot.
@lorietherrien
14. French Blue Grown Out Pixie
There is so much going on with this fun twist on short braids that I don't know what my favorite part is! Perhaps it's the dark roots on this blue dyed look, or it might be the way the lovely French braid sneaks down the side of the head.
@littlefenu
15. Royal Dutch Braid for Short Hair
Dutch short hair braids can do a magnificent job of revealing these kinds of layered hair dye creations, where the inner part of the hair is one color and the outer part is a different one. This style was achieved with a thick, horizontal Dutch braid that surrounds the crown of the head.
@taylorrae_hair
16. Autumnal Short Hair Braids
Browns, oranges, and greens give the image of a lush forest in autumn. The short braids are unique, as we rarely see such tiny French braids, and it is certainly rare to see them start behind the bangs, but it's fun especially as the whole look ends in a top knot.
@caitlintyczka
17. Flying Through the Cosmos Double Dutch Braids
This is a really playful spin on the very traditional look of Dutch braids, thanks to bright galaxy colors and the shaved back of the head. Otherwise, these are just two large Dutch braids at the side of the head, which are beautiful but also traditional.
@hairlizard
18. Angled Cornrow Phoenix
This is a very unique take on braids for short hair, as the cornrows start on an angle near the temple, and come down diagonally behind the ear, perfectly showing off a unique and fiery way of doing colormelts on curly long bobs.
@caitlintyczka
19. Boho-Casual Pixie Braids for Short Hair
This is one of those messy braided hairstyles for short hair that are perfect for chill summer days. A small Dutch braid on each side perfectly complements this asymmetrical pixie haircut.
@ezmiabascom
20. Opalescent Woven Braid for Short Hair
By taking hair from different parts of the crown, you can create lushly textured and unique braids for short hair that work especially well with longer bobs, and complement unique pearl hair colors perfectly.
@elissawolfe
21. Dutch Braid Faux Hawk
Dutch braids are absolutely perfect for creating faux hawks, especially if you already have the sides of your head cropped a little shorter. It's one of those short braided hairstyles that look simultaneously punk but also soft.
@hairlizard
22. Dutch Flower Crown
Even with short hair, braids can make you feel like a princess! Having a Dutch braid wrap around your head like a crown, with curls cascading below is a quick way to feeling pretty and royal.
@thehairygodmotherr
23. Three Braids the Charm
This is another sporty take on short braided hairstyles, as the three cornrows help keep hair away from the face, and end in a cute little ponytail. Just a bit of hair is left down, but it doesn't get in the way!
@chloenbrown
24. Fiery Cornrow Braids for Short Hair
Cornrows right at the top of the hair are a definite trend for short hairstyles, as they do a great job of showing off fun hair colors, and they are a great sporty way of keeping hair out of the face.
@alex_haircraft
25. Pixie With a Braided Fringe
Even with a super short pixie, you can find creative ways to achieve short braids. Here we see an ultra-feminine take with a delicate braid woven into the bangs to beautifully frame the face.
@salirasa