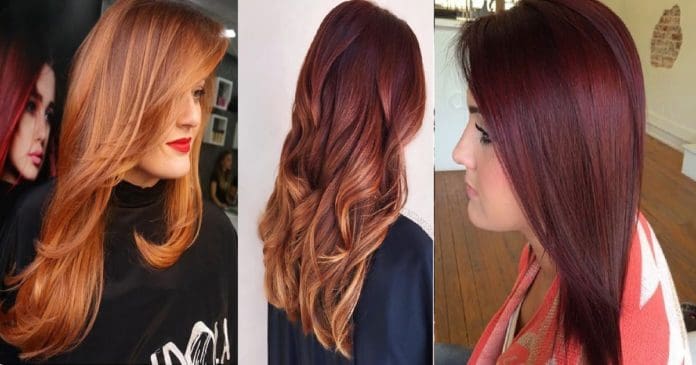 Being a redhead is an extraordinary thing. It's the kind of color that immediately draws the eye because it's not a color we see as often as say a blonde. If you are looking for a fresh new change then why not add some red with highlights. There are so many different options for red; there are dark shades and light shades. There is dark fire engine red tones or copper tones. There are also a lot of many different options for highlights, some dark as well as some light ones. Red hair can make some outfits really shine, blues and greens look so much better. It's also a good idea to check your complexion as well as to make sure red hair will suit you. Talking to a stylist is a great way to get a good idea of whether the color red will suit you. Spring is right around the corner and it's a great time for a new look if that's what you're going for.
Red has been growing in popularity for years and when it comes to the dye market, it has so many different hues that you can choose from. The sky is the limit on the colors that you can choose from not to mention the different highlight choices for you. You will love your new shade and it will make you feel like a new woman. There are warm shades of red as well as darker tones too. Add a few thin baby highlights or some thicker bolder ones. We have many choices for you to check out and see what color is best for you.
Check out these 70 Stunning Red Hair Color Ideas With Highlights:
Striking Red
This is a great example of a warm shade of red. These tones will light up your complexion.
A Touch of Red
There are light and dark tones of red in this gorgeous style.
Dark Red
This is a dark red base with lighter red highlights throughout.
Add Some Blonde
Of course, you can have blonde highlights with red hair.
Bright Red
These gorgeous bright highlights are stunning and really stand out.
Fire Engine Red
If you are looking for a bold new look, then try out these red-hot highlights.
Copper Tones
A gorgeous style that is light and copper tones.
Light Highlights
She starts off with a darker base and then adds lighter highlights.
Hot Copper
These hot copper highlights look amazing against the dark red colors.
Different Colors
These gorgeous highlights come in many different colors. Pink and purple look amazing with the red.
Blonde Highlights
A stunning blonde set of highlights that look great with copper tones.
Warm Copper
If you want a color that is going to warm you right up, then copper is always a great color to go with.
Dark Styles
There are only a few baby highlights with the style, but it allows the dark red to really pop.
Hot White Highlights
These white hot highlights are really great with red colors. It really makes the overall style really stand out.
Bright Red
This short style looks amazing in dark red.
Warm Copper Tones
This copper tone is as warm as the son. We love these bright shades.
Stunning Red
A stunning shade that looks amazing with lighter highlights.
Light Styles
Geri was part of the Spice Girls and she rocked this bright red style all through her singing career.
Stunning and Bright
Wow, we love the bright red against the black. These colors are so stunning that it's breathtaking.
Warming Shades
A great red shade that is both warm and light. It starts off dark red and gets lighter at the bottom.
Bold Colors
Blonde always looks amazing with a darker shade of red. These two colors look great as a combination.
Bright Red Tones
Bright red highlights look incredible with this darker shade of red. It's a fire engine red tone and we love how bright these highlights look.
Brown and Reds
This actress has a great warm tone. There is a lot of brown in this red style. It's a warm shade and also one that looks very natural. If you want a subtle change, then this is it.
Ombre Style
A stunning style that shows a color that goes from red to blonde. It's striking and would be a great color for summer. It's another shade that has a fiery aspect to it.
Auburn Shades
Here we have a brown base and she has added some gorgeous auburn highlights to warm up the whole hairstyle.
Bold and Bright
This is a dark hairstyle that has some gorgeous bright highlights. We love the bright reds. This is a great shade that you can wear during any season.
Long Styles
A stunning long style is made even more striking because of the darkening red shades. There are a few different shades with this style and they all go great together.
Multiple Shades
A great style that looks amazing with multiple colors. We see red, blonde and brown all together.
Beautiful Shades
Another great example of blonde and red together. This short style looks extraordinary with these shades. You are sure to enjoy these colors all year long.
Dark Reds
Add thick blonde highlights to make your red pop.
Dark Copper
Black looks really great with dark copper highlights. If you want to change up your dark style then adding light highlights is a great way to do it.
Fiery Hair
If you want your hair to look like fire, then this stunning color is what you want. It's a warm and inviting color and one that you will love during the spring and summer months.
Bold Styles
The bright red in the front really makes her face light up.
A Glowing Red
You won't find a more gorgeous color than this one, it practically glows.
Stunning Hair
This long hairstyle looks great with the brightening red highlights.
Bright Highlights
This black style has some peek-a-boo highlights throughout.
Bold and Beautiful
This red style looks amazing with some blonde highlights.
Fiery Highlights
This fiery look is bursting with red flames.
Dark and Light
There is a lot more blonde in this style than red.
Orangey Red
A hot and fiery red that is sure to turn heads.
Bold Purple
Add some purple to your red and really spice up your look.
Darkening Styles
Add some blonde to your dark style and open up the color.
Shocking Red
If you want an edgy look, then you will love this style that has black, red and white blonde together.
Sexy Red
This warm style is a very sexy red.
Lighter Designs
Light highlights look truly great with red.
Bold and Red
It's cool to mix up different shades of highlights for your style.
Short and Bold
Another great color for short hair.
Maroon Shades
If you like dark reds, then marron is a great shade.
Red Warmth
Another great color that is sure to warm up your complexion.
Hot Shades
These red highlights are so light they are almost pink.
Celebrity Style
Bryce Howard has always shown off a brilliant red style.
Try Blue
Put red and blue together to get this amazing style.
Soft Tones
A light shade that you are sure to love.
Dark Bright Styles
One solid color that is a deep red.
Bold Styles
A great style with few highlights.
Medium Tones
A great style that has a warm tone to it.
Brown and Red
We love this shade; it's a little bit of red and brown.
Dark Warmth
A stunning shade that is sure to turn heads.
Light Coppers
If you are looking for a great summer look, then this is it.
Stunning Designs
A great style with many highlights.
Auburn Styles
Emma Stone is a stunning redhead and she rocks the auburn color.
Light Styles
This long style looks amazing with light copper elements.
Curly Styles
We love these stunning red styles because there are different shades.
Bold Red
Red and black always look great together.
Shocking Shades
We love light copper highlights; it really makes the look pop.
Darker Highlights
Darker highlights can be just as great as light ones.
Low Highlights
A short style that has some light highlights.
Bright and Shining
This is a striking red color that is bright and beautiful. We love this gorgeous style. The bottom looks like flames.
Deep Red Styles
A deep red looks are so amazing with some lighter red highlights. We love this style.
Highlights of Fire
A shock of red highlights that resembles the lick of flames.