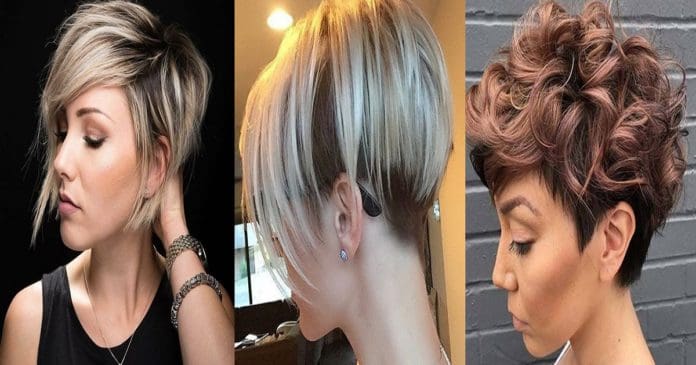 If you are looking for a new style then why not think about cutting your hair? We love new short hairstyles, especially now that spring is right around the corner. There are so many new and interesting ways that you can cut your hair. If you are looking for the kind of hairstyle that isn't going to take a long time to manage in the morning, then why not try out a beautiful pixie bob. They are some of the most beautiful styles and they won't take you forever to style in the morning. These days we want quick and easy styles because we are busy. We want to be able to style our hair and still have time to eat breakfast in the morning. With a pixie bob, you will find you are complimented all the time? The style is cute and free-flowing, a style must for anyone.
By having a pixie bob you don't have to worry about your hair being too short. A full pixie can scare some people, but bob isn't that short. Many celebrities also have the hairstyle and they are rocking it this season. It's a sophisticated style that will make you feel elegant. These hairstyles are great for casual settings as well as formal ones. We have plenty of styles for you to choose from. Check out these 85 Stunning Pixie Style Bob's That Will Brighten Your Day:
A Touch of Elegance
A stunning style with a wave to it. This one is quite elegant. She look windblown which can be a very sexy style. Messy hair is always popular and if it's not your style to be polished then don't be.
2. Celebrity Styles
This is a sexy and much shorter style and Kaley is rocking it. It's an edgy style that is going to make you feel cool this summer. Many people were shocked when she cut off her hair, but she looks amazing in her new style. She has been rocking it ever since.
3. Long Styles
There are some wisps here around the ear that give this pixie bob an entirely different look. We love different styles and this one is eye-popping for sure.
4. A Wispy Bob
This wispy pixie bob is great for people with thin hair. It's the kind of style that can be pulled together or made messy. You can change it up every day if you want.
5. Long Side Part
A side part can make a big difference on how your style looks. There is a lot of volume with this hairstyle which is always a good thing. She has a long side bang that helps with the extra volume. A gorgeous style for any age.
6. Choppy Styles
If you are looking for an edgier style, then you can't go wrong with this pixie bob. It has a lot of different choppy layers to it. There is no rhyme or reason to this style and that's what makes it so amazing.
7. A Sexy Style
We just love this style because it's so sexy. If you want to turn heads wherever you go then this is the style for you. We love a bold style that is so sexy as well. You will love the style as well.
8. The High Back
We love this style because it's really unique. The front layers are much longer than the back. These angled styles are always cool looks to have.
9. Rainbow Colors
These long layers are pulled forward creating a stunning style mixed with colors that you are sure to love. This rainbow coloring is very popular right now. These soft colors are perfect for spring and summer.
10. Make it Blue
This choppy style is made more magnificent by the striking blue coloring. We get to see the style for many different angles and that really makes the style stand out. You will know what you are getting into with this edgy look.