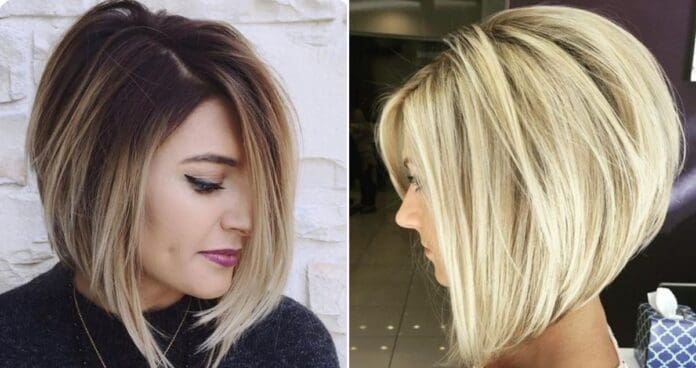 Bobs are one of the most popular hairstyles available; it doesn't matter what season you are in. You might not be aware that there are many different ways of style a bob. If you are looking for a fresh new style for your bob then why not try an inverted style.
If you aren't sure what an inverted bob is then you are in for a treat. It's not the A-line bob it's a very different technique that is used to create this inverted style. When your stylist cuts your hair, it's done in stacked layers and that's how they achieve such a unique style. If you are looking for a more dramatic style in your life, then this is the one for you. There are many styles to choose from when it comes to the inverted bob and we have lots of different looks to show you.
The inverted bob has a curved horseshoe shape at the nape are, it's what makes the whole look stand out.
Check out these 80 Popular Inverted Bob Hairstyles For This Season:
Plenty of Volume
This is a classy style that has a ton of volume to it.
Inverted Style
There are two different styles and we see one is curly and the other is straight.
Sleek Styles
It's a stunning style that is polished to the max.
Sexy Styles
The inverted bob always looks amazing with curls. It gives it a messier look to it. We also love the bright coloring.
Stunning Shape
We love that the style is perfectly aligned. It's an amazing style.
Longer Styles
Bobs can be any length that you want them to be and this one is a little longer than most.
Classic Styles
You will love this classic style this summer. It's a fresh, new look.
Red Styles
Sometimes a new color is all you need to freshen up your look. This inverted bob has a much shorted back then we have seen so far.
Stunning Colors
Look how amazing these vibrant colors look when they are hidden underneath the blonde. Because the hair is cut in a stacked fashion, you can use colors to your advantage.
Lighter Styles
You can really see the difference in the stacked layers with this hairstyle.
Sharp Styles
These bob look sharp and classy.
Curly Styles
If you have naturally curly hair, you can still try out an inverted bob. The edges just won't be as sharp as they would be with straight hair.
Short Styles
The shorter the hair you have, the fewer layers you will end up with.
Gorgeous Styles
If you have thick hair, then this style would be perfect for you.
Thin Hair Styles
People with thin hair, just need a few more layers to create the body in the hair.
Blonde Styles
A great style that is sure to turn heads wherever you go.
A Rounded Look
The inverted bob always looks very rounded in the back.
Messy Styles
You can still have a bob and keep it messy if that's the style you like.
Wavy Styles
This is a gorgeous style that goes amazing with this type of bob.
Long Styles
If you don't want to cut your hair too short, then you should try this long style.
A Long Bob
If you want a really dramatic look, then keep your hair long and just invert the back like in this style.
Simple Styles
As you can see here, the style is generally very low-maintenance.
Bold Styles
The back is super short in this style which gives it an edgier look.
Bright Styles
Bright blondes are always perfect for a new season.
Sexy Styles
These sexy styles are really easy to put together.
Simplistic Designs
A great style that you are sure to love no matter what you do.
Stylish Looks
Another great example of a polished bob.
Choppy Styles
The more layers you add to your look, the choppier the style will be.
Sexy Waves
Waves always look good with this kind of style.
Stunning Blonde
The cut is great, but the color is exceptional. We love this amazing look.
Polished Styles
There are so many great ways to style a polished inverted bob.
Sexy Bobs
A sexy style that you are sure to love to show off at the next party.
Sleek Styles
If you like a sophisticated and classy look, then this is the one for you.
Long and Sleek
This long look is quite chic.
Extreme Styles
This inverted bob is very extreme. If you are looking for a dramatic style then you are sure to be intrigued by this one. It's cut quite short all around the head and the back has been shaved.
Classy Looks
A simple style that you can wear anywhere.
High Styles
Another dramatic style that has a little more edginess than the rest. This bob is lower on the bottom, but it's cut quite short in the back.
Golden Styles
A simple style that looks great with a golden blonde.
Shaved Back
We can't help but love this shaved style. The back is quite high and you can see it's been shaved.
Long Waves
This style is less dramatic than most of them.