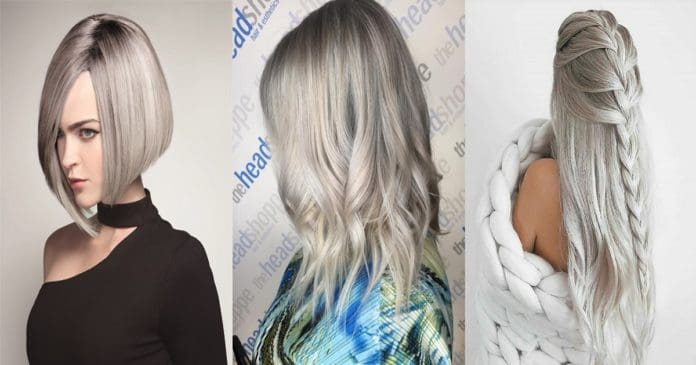 Being a silver fox isn't anything to shy away from anymore. The trend of the silver hair has come around and it doesn't look like it's leaving anytime soon. It's a gorgeous style that is going to make you wish you would have transformed into a silver fox a long time ago. If you are looking for a whole new hair color, one that is going to turn heads wherever you go, then you can't go wrong with the silver color. It's elegant and glamorous, a trendy style all rolled into one. Having silver hair can change your life and make you feel more gorgeous than you ever have before. Many women are growing older and just allowing their hair to grow into gray and they find it extremely liberating while others are just dying their hair that way. It's doesn't matter how you go about it, as long as you find it liberating as well. You will wish that you did it many years ago.
Sure, maybe silver hair isn't for everyone, it all depends on your personality and sense of style. Depending on your natural hair color it will require just as many touchups as a blonde style would. See if being a silver fox is right for you with these photos.
Check out these 99 Stunning Silver Fox Hairstyles:
The Look of a Queen
Tell us you wouldn't feel like royalty with a hairstyle like this in a silver fox sheen.
2. Long Locks
A gorgeous look at what silver is like on long hair.
3. Short Styles
If you are interested in an edgy style, then you really can't go wrong with silver.
4. Medium Lengths
A great style like this one can be worn casually or for a formal event.
5. The Gothic Style
It doesn't matter what style or personality you are, you can still rock this style flawlessly.
6. Bold Styles
Combine this color with some amazing makeup and you can practically walk on the runway.
7. Darker Styles
Just like with any hair color there are many different hues to choose from with silver.
8. Celebrity Style
This silver is so light that it's almost close to a white blonde.
9. Add Some Blue
This silver shade has a blue tinge to it and we love it. If you want a rocking style, then try this one out.
10. Trendy Styles
Another glimpse of the short style from before but from another angle.
11. Model Styles
This shade is a very popular color right now and we love it.
12. Rainbow Colors
This extraordinary style has a rainbow going through the silver locks. We love it.
13. Bold and Bright
A unique style that will have heads turning all night.
14. Glamorous Styles
This sexy style is one that you can wear out to your next party.
15. Grey and Glorious
A stunning shade that you are sure to love during these warm months.
16. Ombre Shades
If you love the ombre style, then you are sure going to want to try it with a dark silver color. We love the transition from black to silver.
17. Creative Styles
Braids are one of the most popular styles out there so why not try them with silver.
18. Stunning Bob
This style is so chic with the sleekness of the bob and the awesome color.
19. Bright Colors
There is a burst of brightness to this silver color and it really makes her eyes pop.
20. Elegant Styles
A fishtail braid is a great way to showcase a new color.
21. Blossoming New Looks
Another great example of a very light shade of silver.
22. Popping Style
We're not sure what the best part of this style is, the amazing curls or the stunning color.
23. Dark Designs
If you want to keep your style dark then why not try out a dark grey shade.
24. Shining Styles
The color here really does just sparkle in the sunlight.
25. Darker Shades
Another great example of a shade that has a medium tone to it. Boy, do we love those curls.
26. White Lights
A bright shade like this one will make you feel brilliant as a blonde.
27. Two Tone Styles
A gorgeous style that starts off dark and ends with a brilliant light shade.
28. Cascading Styles
These long styles always look amazing with waves.
29. Bright Lights
The lightness of this silver is breathtaking.
30. Shiny Styles
Regardless of your eye color, silver will always make your eyes pop.
31. Gorgeous Layers
A stunning style that has the combination of remarkable layers all of the hair and a bright new shade. Try them both out.
32. Neutral Shades
It looks like they have added some beige tones to this grey.
33. Sophisticated Looks
If you are looking for a grey that is classy and sophisticated, then you found it here.
34. Silver Styles
Another awesome example of the silver shades available to you.
35. Floral Elements
A stunning style that goes from dark to light. The floral elements are a wonderful touch.
36. Formal Styles
This is a gorgeous style if you are looking for something for a formal event.
37. Silver Highlights
Silver highlights can be combined with any color of hair. We love these gorgeous styles.
38. Blue Lights
There are some blue highlights in with this silver style.
39. Shaggy Styles
This would be a cool cut and color for the summer months. It's sure to keep you cool when it's hot.
40. A Touch of Silver
It looks as if there are silver highlights against a light brown or blonde color.
41. Great Braids
These are some pretty spectacular braids, a goddess style that you should totally try out.
42. Silver Spikes
This great short style has a pretty cool color with it.
43. Silver Waves
This casual style would look amazing at the beach this summer.
44. Short and Stylish
This is an amazing style for any age. We love the bouncy curls.
45. Long Braids
A gorgeous long style with a great color.
46. Grey Dreads
Give your dreadlocks the color they've been asking for.
47. Shocking Styles
You need a lot of hair to complete this style.
48. A Cropped Style
Make your cropped style a little edgier with a silver shade.
49. Stunning Colors
Another example of a bright silver for the summer.
50. Different Tones
There are lots of different blues and silvers with this style.
51. Stunning Blue
This gorgeous silver style has a hint of blue throughout.
52. Wide Fishtail
A great style that you are sure to love for its elegance.
53. Simple Bun
As you can see, the silver color looks great with virtually any style that you can think of.
54. Bold Braids
Two stunning braids that totally complete the look.
55. Wavy Looks
Another great look that has style for days.
56. Edgy New Looks
A great style that you are sure to love.
57. Short Waves
A bold new look is exactly what you need for this year.
58. Subtle Highlights
Add some subtle highlights to your existing color and it will change your whole look.
59. Super Curls
Let your greys come out naturally and embrace them.
60. Romantic Braids
What a great braided hairstyle to showcase your silver locks.
61. Partial Braid
A great style that has many tones of grey in it.
62. Sparkling Silver
A stunning shade that is going to look really great in the sun.
63. Flattering Styles
This unique look only has the silver in the front of the hair.
64. Stunning New Looks
A great color that goes from dark to light in a flash.
65. Bold New Looks
We love this medium length style with all the gorgeous waves.
66. Short and Choppy
If you are looking for a big change this year then why not go with a great cut and color.
67. Natural Look
It's a great time to embrace your age and your natural look.
68. White Styles
There are many silver shades that are so light they are almost white.
69. Great Style Choices
This is a great style that can be worn to casual places or formal ones.
70. Warm and Cool
We get the benefit of warm browns and beiges in this style as well as some cool silver shades. It's a great combination.
71. Slate Grey
The sky is the limit on the many shades that you can choose from for your hair.
72. Braided Looks
These braids are a great way to protect your hair and you can get them in silver shades as well.
73. White Buns
This is an edgy style that combines lights and darks together.
74. Grey and Silver
We have many different shades of both grey and silver with this style.
75. Purple Hues
You can't go wrong with a style like this one, the hue of purple will be perfect for spring.
76. Add Some Colors
This combination of blue and silver is awesome. This is a great style choice for a new season.
77. Bold Choices
The roots are dark while the rest is light, it's an edgy style that you are sure to love.
78. Darker Blues
These dark greys and blues together are really amazing.
79. Shimmering Styles
It looks like there is blondes as well as silver in this hairstyle. If you want something that's going to glow, then this is the color choice for you.
80. Beautiful Silvers
There looks like there is black as well as dark grey and silver with this style.