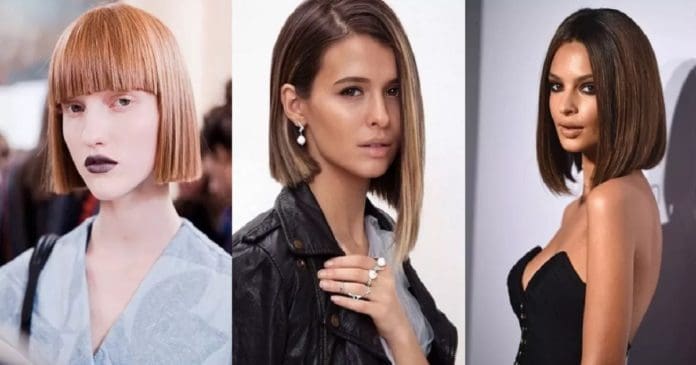 The beauty trends for spring-summer 2019 aim to turn the page and give the hair a new life. You had a long hair a life, but suddenly wanted a drastic change? By the way, this is very useful in the new season, because short hairstyles are a must-have of this season. The main motto of the year is "simple and beautiful". Therefore, we do not create a complex hairstyle on our head and we do not use styling products (various sprays, foams, gels, etc.). We opt for naturalty: the best decoration is clean, healthy, and shiny hair.
Haircuts for short hair
The first place in the top of this year's beauty trends is the garcon haircut. What is the fundamental difference from the fashion of the previous years? Rule no. 1 – the absence of any order: there are no smooth strings along the sides or at the back. Mess is created using different hair lengths. A prominent advantage of this elegant haircut is ease of care: neither the pillow nor the wind nor the rain can damage it. The worst enemies of a hairstyle are now true friends. In addition, you can forget about the styling: after washing the hair, dry it with a hair dryer with a difusser, pre-distributing it with your fingers.
Curly Bob
Lately, this haircut is very common, especially among celebrities. Although it will also be shortened by a few centimeters, bringing some beautiful advantages: an accentuated and elongated neck and an elongated face. In addition, this haircut is simple and unpretentious in care. If your hair is naturally curled, apply a little bit of mousse on your hair, twisting it with your fingers – the result should look like yesterday you had some Hollywood loops that, after sleep, rumbled a bit. In the case of a straight hair, the situation is a bit more complicated: the curling iron is indispensable. But do not forget: the effect should be barely visible, no doll curls!
Haircuts with bangs
The diversity of bangs in the new season is very impressive: straight, short, long, thinned and asymmetric. Even if you are not ready to cut your long hair, but you still want to change something, then the bang is an ideal option. The podium dictates trends for the long bang that completely covers the forehead. Neither the thinned bang does not stay out of focus, and it perfectly complements the slightly messy hairstyles and curly hair of any length. The trend of the spring-summer season 2019 is the long, smooth, side bang.
Smooth hair
Smooth and long hair is fashionable in spring-summer fashion in 2019 due to Kanye West's famous wife, Kim Kardashian: her hair, when she comes out on the red carpet, shines like an expensive diamond! Such a haircut is the best compromise between long hair and short hair: if you say goodbye, then do it competently and gradually. The main condition of the smooth haircut is the perfectly straight hair of the same length (oriented along the shoulder line). If after previous hair experiments you did not succeed in getting such an effect, you may try a less relevant option – the elongated smooth bob.
How to get that ideal smooth hair without costly procedures? We will have to work hard for some tricks to be included in the daily routine! While washing your head, do not forget the conditioner, and to give your hair a healthy glow, use serum or special oils (you can use both natural oils for masks – coconut, burdens and others, as well as special cosmetics based on oils , which do not require washing).
Haircuts for long hair
Measure thrice and cut once – this principle, of course, is important. Hair is the richness and luxury that makes it difficult for you to say good bye. Well, why do not you do it if a professional stylist can always suggest some haircut ideas that will give your long hair a new look. So if the scissors have not touched your hair, but you want to refresh your look, you can experience the waterfall haircuts. This can be a waterfall with layers along the entire length or with a gradual effect: the shortest length have the hair strands that frame the oval of the face and their gradual elongation.
Wet hair effect
I have already said that the leitmotif of the spring-summer season 2019 is naturalness. So you will have to give up a time from the lush curls and plenty of gel on your head. However, we still don not say goodbye to the wet hair effect, but everything should be in moderation. Simply apply a bit of wet hair styling products (for a more natural result, use mousse with a more intense fixation), distribute with your fingers or tighten your hair using soft curls in the form of zigzag. Dry hair with hair dryer and enjoy the result!
Short messy curls
There is such a paradox among women: straight hair owners will want to have curly hair, and those with curly hair on the contrary will want to have it straight. If nature has given you very loose curls, you can tame them with a short, elegant haircut, with the effect of a little mess on your head. This may be short bob haircut or pixie. Arranging them at home is very easy and will not take too long. It is enough to have a hairdryer with a diffuser nozzle and a hair spray with a weak fixation.
As you can see, you can look elegant regardless of the length and natural hair structure. Even if it is difficult to take a step in favor of the shortest haircut, do not forget that there is always a compromise!