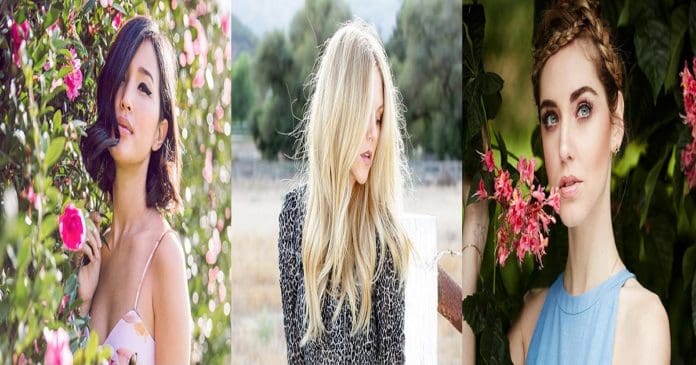 Today, personal style bloggers are so successful, inspirational and influential in the world of fashion and style that they can easily compete with A-list supermodels and celebrities with their fame. Some really successful fashion bloggers have an army of followers, who constantly check out their blogs and social accounts to get their daily dose of inspiration in terms of stand-out everyday and special occasion looks. When saying looks, besides gorgeous garment combinations we, of course, also mean beauty and to this end hairstyles play a great role. From the most stylish 'dos of the moment to signature hairstyles, popular it girls manage to come up with creative hair styling ideas every time. So, we have gathered together the most astounding fashion blogger inspired cute hairstyles here, which can serve as a brilliant source of inspiration for your effortless day-to-day looks, as well as wow-worthy special occasion ones!
Textured and Wavy Loose Hair
This is perhaps one of the most popular and stylish hairstyles that most fashion bloggers often wear. Whether you have long or medium-length tresses, styling them into textured and wavy locks you can easily create an effortlessly chic style, ideal both for everyday looks and for special occasions as well. Famous Italian stunner Chiara Ferragni and Kristina Bazan from Kayture are some of the beauties, who seem to be loving this hairstyle. Shea Marie from Peace Love Shea also knows how to rock this trend, quite often styling her blonde hair into romantic Californian waves. On the other hand, Nicole Warne from Gary Pepper Girl adds a Hollywood inspired textured and wavy touch to her stylish bob, looking no less spectacular and cute.
Straight and Chic
Well, who doesn't love straight hair? We all do, and so do the fashion bloggers. For a minimalistic and elegant style, you can look to the center-parted straight hairstyle of Shea Marie, while for a more romantic style check out Kristina's back-combed look embedded with a simple black headband. Kristina can be quite often spotted wearing her straight long hair with a wet effect too, or just with a little texture on the front part.
All The Possible Styles of Braids
Perhaps the cutest and girliest hairstyle of all the 'dos available is any look involving braids. Braided hairstyles always manage to add a whimsical allure to the wearer's look, no matter she wears a simple side braid or a complicated braided updo. If you are also a fan of braids, you can get inspired from the side braids of Kristina Bazan and Annabelle Fleur from Viva Luxury, or opt for the super-long fishtail braid with face-framing wavy flyaways Chiara Ferragni sported for attending one of the fashion shows in New York. For more intricate styles, go for the braided bun with sleek finishes of Kristina Bazan, or any of the gorgeous textured braided updos of Chiara. Chiara's another unique look represents a perfect blend between braids, a punk style and side-swept locks that really make a big statement.
Buns, Knots and Updos
They love playing with any type of updo hairstyle too, be that a simple top knot for casual looks, a classic bun or a romantic updo. Thus, Chiara Ferragni has been spotted wearing a faux-bob resembling textured updo and a fab half-undone one with side flyaways. On the other hand, Kristina Bazan loves to occasionally wear her signature back-combed bun either with sleek or textured finishes. Annabelle Fleur's romantic loose updos are also worth mentioning as totally bewitching hairstyles to go for!
Timeless Ponytails
So if you have long or medium-length tresses, you may like to gather them high or low into stylish ponytails, just like fashion bloggers do this. Thus, in case you want to wear a ponytail for important occasions, you can get inspired from the side-parted sleek low pony of Kristina Bazan or the back-combed sleek style of Chiara Ferragni featuring three bands on different levels. Chiara's side textured ponytail can be a perfect style to wear for romantic dates with your beloved one!
Let's agree that it's really great to have these really cute and stylish fashion bloggers in this world, since with their well-groomed and beautiful looks they always encourage us to look gorgeous every single day. So follow their advice, stick to these cute fashion blogger inspired hairstyles and bring out your beauty to the full!