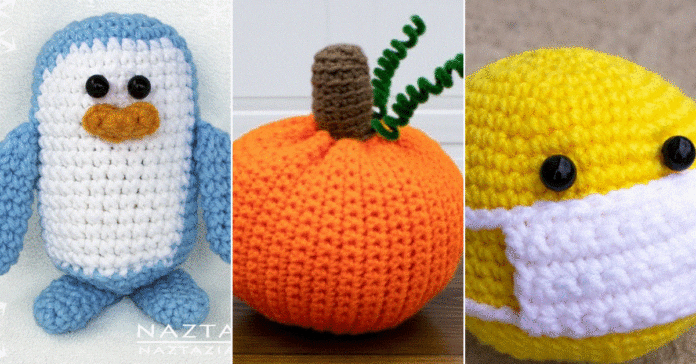 In this article, you will find three easy crochet tutorials:
How To Crochet a Pumpkin
How to Crochet a Baby Penguin
How to CROCHET FACE MASK EMOJI
1. How To Crochet a Pumpkin
You'll learn how to crochet pumpkin in this free pattern and video. This crochet pumpkin is great for the autumn season or any time of the year. You can add facial features to it to turn it into a Halloween jack-o-lantern too!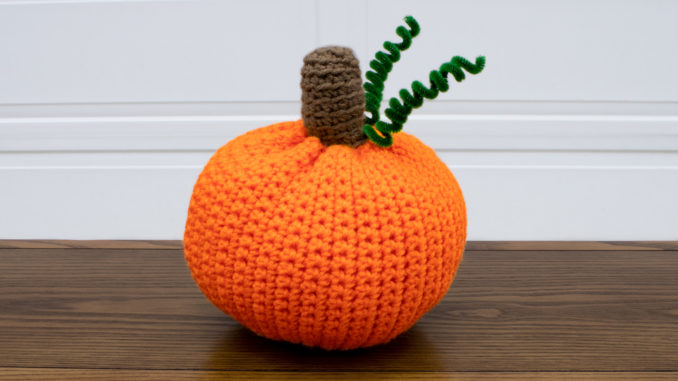 Yarn Used in this Project
For this project, I used a combination of Michaels Craft Smart yarn and their Impeccable yarn. Both are 100% acrylic yarn types that work perfectly for this pumpkin.
I chose a traditional orange color for my pumpkin with a soft taupe color for the stem. However, feel free to get really creative and use any color from their extensive yarn collection. Personally I think a rose-colored pumpkin would look great!
I'm also using a size G 4 mm (or 4.25 mm) crochet hook. I happen to like working with aluminum crochet hooks with acrylic yarn. Acrylic isn't very slippery, so you almost need a slicker hook so the yarn slides off. However, when working with soft silky yarn, I happen to like bamboo crochet hooks instead. The wood-like texture grips onto the yarn a bit so it doesn't slip off the hook.
You'll also want to keep a pair of scissors handy as well as a yarn needle. I would highly recommend taking a look at Michaels selection of yarn needles. They have different materials (metal, plastic) and shapes and sizes to suit your needs.
Other Supplies for the Pumpkin
This pumpkin would be classified as amigurumi, mainly because it is a cute item that is crocheted and stuffed with a fill. The pattern produces a nice 3D object. With this in mind, you'll need 100% polyester fiberfill for the inside. I'm also using 2 green chenille stems. By the way, we used to call them pipe cleaners back when I was young.
How To Crochet a Pumpkin – Video
2. How To Crochet a Baby Penguin
How about making a cute crochet baby penguin for this upcoming winter? This little guy is adorable and relatively easy to make with worsted weight yarn and a size F 3.75 mm crochet hook. You can crochet this stuffed toy quickly. The head and body are one piece and made with two different colors of yarn. The two flippers and two feet are made from the same pattern. And the bill is sewn on along with the eyes. A little bit of polyester stuffing to serve as filling and he – or she – is all set!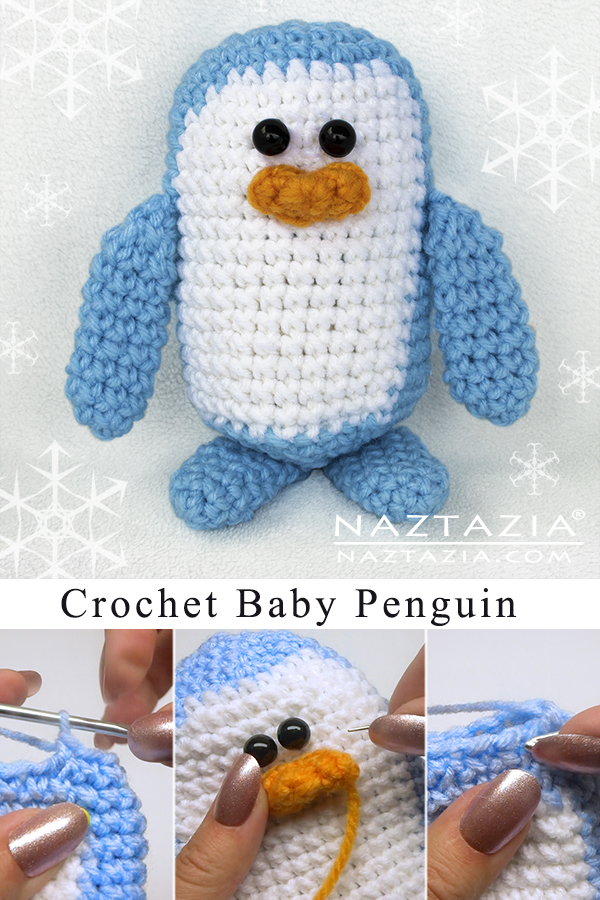 For this baby penguin I'm using small amounts of worsted weight yarn, specifically Red Heart Super Saver along with an F 3.75 mm crochet hook. The written pattern and video provides a listing of other supplies as well.
Stitches used in this pattern include the chain (ch), single crochet (sc), and the single crochet two together stitch (sc2tog). As you might know, working with single crochet stitches in the round oftentimes causes them to slant to one side. This becomes really apparent when doing color changes. The video shows how a yarn under (yu) in the first part of single crochet, as opposed to yarn over (yo), keeps the color changes relatively straight from round to round.
Pattern Details: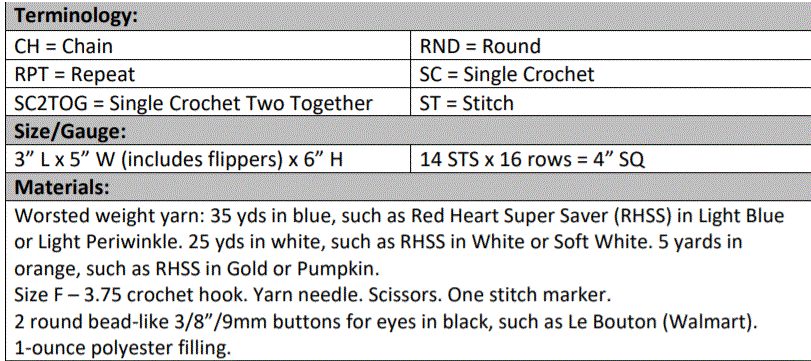 How To Crochet a Baby Penguin – Video
3. How To Crochet Face Mask Smiley Ball Emoji
Crochet a face mask smiley ball emoji to help you get through this time! Plus this amigurumi is a good reminder to take your face mask out with you!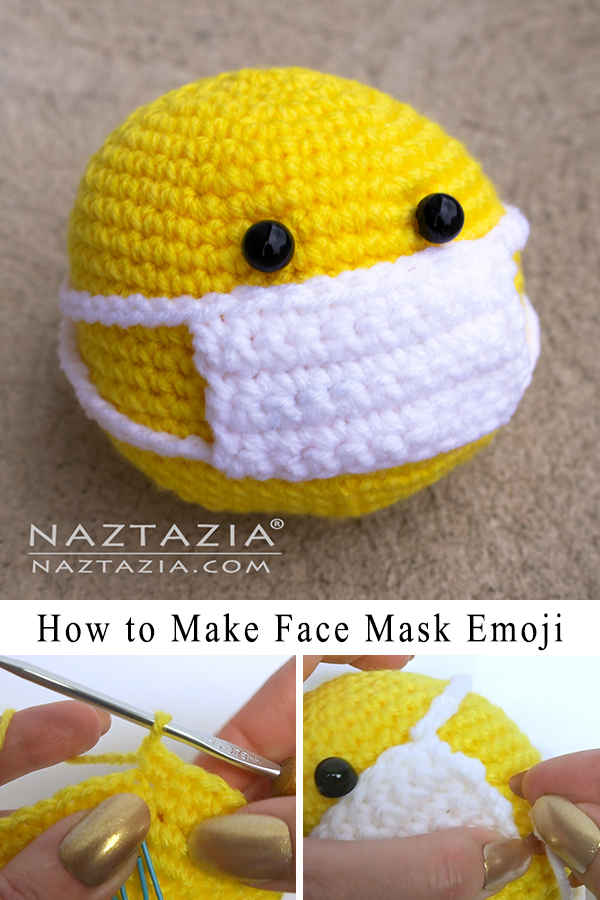 How to Make
The written pattern instructions for our little smiley ball emoji below will have detailed information on making this little guy, or girl. Overall, we'll start with a magic ring, and then single crochet stitches in the round. We'll increase the stitches every round. At one point we'll just continue working in a spiral round. Then we decrease stitches every round.
Next, we'll add eyes to our smiley ball emoji and stuff it with polyester fiberfill. Then we'll add simple crochet covering to our stuffed toy.
Supplies Needed
I am using Red Heart Super Saver yarn for the smiley ball emoji and his mask. It's a 100% acrylic yarn in worsted weight. Although it sure feels a slight bit more on the Aran weight if you ask me! I tend to like a stiffer acrylic yarn for amigurumi. The reason why is you need them to hold up and keep their shape.
With regards to the crochet hook, I like to use a hook that is smaller than I normally would. Actually I tend to use a size 2 sizes smaller than I normally would for that yarn. You want your stitches tighter and smaller so the stuffing doesn't come out. Plus tighter stitches help the smiley ball keep its shape much better.
I'm also using polyester fiberfill as the stuffing for our smiley ball emoji. You can use scrap ends of yarn as a filling if you do not have the fiberfill. If you have 2 small black buttons, that would work well for the eyes. They could either be flat or have a shank in the back.
Pattern Details

How to CROCHET FACE MASK EMOJI – Video