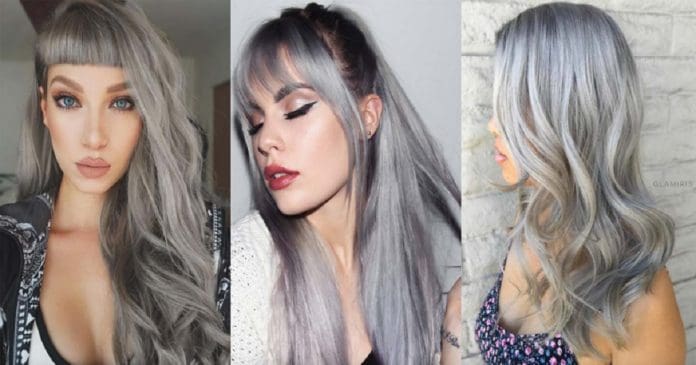 1. Metallic Gray to White Lob
This wavy metallic gray long bob features a bit of a gradient, with darker roots, and nearly white silver hair at the tips.
2. Gunmetal Baby Doll
These darker grey hair colors have a dramatic effect, so it can be fun to contrast them with feminine styling choices like these baby doll bangs and long, lush curls.
3. Braided Black and Silver Ombre
Bohemian braids lend a soft touch to what would otherwise be a very severe take on grey hair colors. This black to silver ombre, with different styling, would look edgy and tough.
4. Soft Silver Curls
These gorgeously soft, retro curls pair well with lavender-tinted silver hair colors. Note the decision to leave the roots dark, for ease of maintenance.
5. Silver and Ash Balayage
This is a great way of rocking gray hair colors without bleaching every single strand of hair. Most of the hair is naturally black, with some strands dyed a cool silver, with a hint of warm ash.
6. Lavender Silver Ombre
The striking transition from dark black roots to lavender silver hair is made doubly unique thanks to the warm blonde transition shade.
7. Silver Blue Braided Balayage
Hand painting with different shades of cool and platinum silver hair colors creates a really high dimension effect, accentuated by extra texture from a crown braid.
8. Feathery Grandma Lob
The blend of dark roots and a more matte take on gray hair colors ends up looking more similar to how hair looks when it naturally turns gray, so the youthful, feathery long bob is a mandatory style to prevent the color from aging one's look.
9. Cool Silver Mermaid Hair
The gleaming undertones of lavender and blue in this gray hairstyle are breathtaking, as is the contrast of the dark roots. Long, wavy strands ensure that this look be worthy of a mermaid.
10. Romantic Grey Curls
High shine silver hair colors (even with contrasting dark roots!) can be extremely feminine and romantic, especially when they're styled into loose curls.
11. Platinum Silver Pin Straight Hair
This bright silvery white take on gray hair colors is on the edgy side thanks to pin straight styling, and dark roots that add a sense of mystery.
12. Bedroom Grey Hair
Tousled waves, healthy roots, and pale, metallic silver hair colors – what's not to love about this grey hairstyle?
13. Lavender Dipped Platinum Silver Hair
It is really easy to add more colors to silver hair, because it is already so light. These dip-dyed lavender tips are a great way to spice things up.
14. White Silver Dream Curls
Shiny bottle curls lend a dreamy and romantic effect to this nearly white take on silver hair colors.
15. Slate Blue Curls
This is an ultra cool, and fairly dark take on grey hair colors. It's an edgy shade of gray that is softened by big curls.
16. Cool Grey Bob
This curly angled bob is a breezy way of rocking these cooler shades of grey hair, into which darker roots blend seamlessly.
17. Silver and Ash Balayage Lob
These gorgeous silver curls are accentuated and deepened with hand painted spots of ash. This is one of the most elegant ways of wearing grey hair, and it looks quite natural, too.
18. Ice Queen Curls
Dark roots, and a wash of blue over the crown and on the outer part of the hair give a multidimensional wintery feel to this icy silver hairstyle.
19. Silver and Violet Color Melt
The untamed effect these wispy curls create pairs beautifully with this metallic color-melt of violet, blue, and silver hair colors.
20. Retro Silver Wave
It's the risky choices that pay off best. Styling silver hair in this retro curled bob could have looked dated, but instead it looks impossibly chic and sophisticated.
21. Dark Princess Gray Hair
These darker roots and slate gray hair colors, especially when combined with this layered, blow-dried style, have a darker, Gothic effect that is still classy.
22. Casual Gray Half Ponytail
With all of these classy curled looks, it's easy to forget that grey hair colors also look incredible with more casual styling. This style is also a great example of how nicely silvery hair pairs with grown out roots.
23. Stormy Gray Balayage
This perfect blend of black and cool gray hair colors is incredibly textured, and simply projects stormy, dark movement.
24. Frosted Tips Balayage
For those with nearly black hair, a silver hair balayage provides the most extreme contrast in a unique yet maintainable way.
25. A Wave of Frost Balayage
This gorgeous balayage features a seamless blend of lavender, silver, and grey hair colors that are made all the more beautiful by a retro style of hair curling where all the hair is curled in the same direction.
26. Ash and Silver Balayage
Cool and warm shades of gray hair work together to create a fascinating dimension in this lightly curled silver balayage.
27. Undercurrent of Lilac
Bright colors stand out beautifully against silver hair colors, so adding them in a subtle way can create interesting moments, like this undercurrent of lilac coming from the roots.
28. Gleaming Silver and Pastel Balayage
This high shine balayage is not easy to achieve, but it is well worth the effort. The cascade of silver and pastel lavender shades is almost magical.
29. Blue Tinted Slate Balayage Bob
Darker balayages are totally possible with grey hair, and here it was event amped up with a touch of blue! This is one of the most chic color options for a bob haircut.