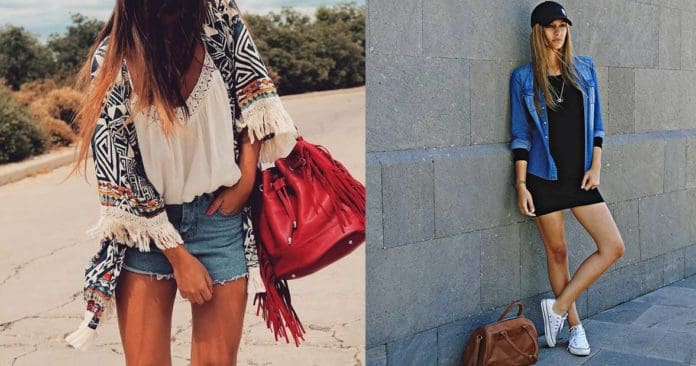 Coming up with a casual outfit idea can be hard.  From experience, I know that sometimes-evening outfits can be easier to put together than our daily casual outfits and this is crazy.  You tend to have to think about your day casual style because it might end up being your day and evening outfit, so it has to be appropriate for both.
Do you need a little inspiration for easy and stylish, casual outfit ideas?  Now we are in spring, sometimes it takes us a while to adjust to dressing for warmer seasons.  Pushing your winter clothes to the back of your wardrobe and replace with your spring and summer clothes is what many people do.  Instead of having a clear out, this is sometimes a better solution.
When choosing your casual outfits, you want to look stylish and cool.  There's no point in not liking what you're wearing because it will affect your mood all day.  You need to feel comfortable and sexy. We have come up with 21 casual outfit ideas for you to think about.  We have a variety of different styles from pencil skirts to denim shorts, we are sure you will find an outfit you love on here.
1. CUTE CASUAL OUTFIT IDEA
Everyone needs a pair of denim shorts.  Denim shorts go with absolutely anything and are perfect for daily or evening wear.  This outfit is very boho inspired and we love the longer kimono with the short denim shorts.  Always have a few loose vests in your wardrobe. These are always useful for warm days and look stylish but casual with denim shorts. Another tip for this season is that fringe bags and tops are trending so keep a look out for this style.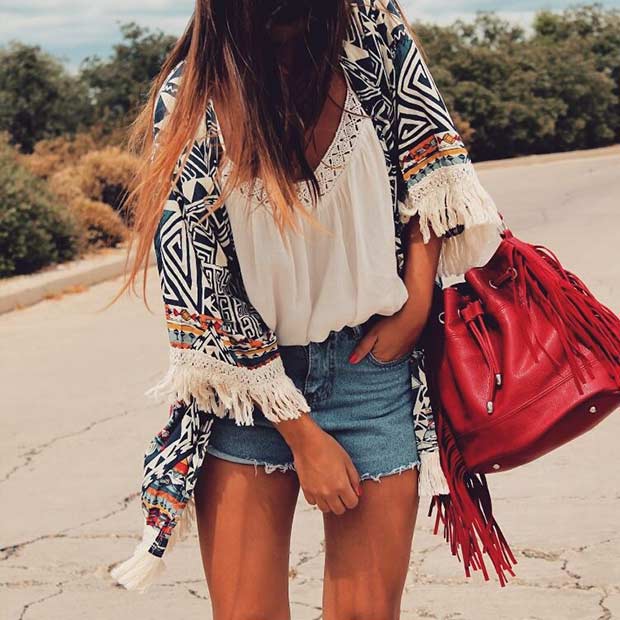 Source: @littleblackcoconut
2. CASUAL OUTFIT FOR SUMMER
Think simple for summer. Sometimes less is more. A simple tee and high-waisted denim shorts are always a good look.  It shows how stylish you are and it will keep you cool. When we do tend to overthink things, it can look a bit too put together and neat so just go simple option.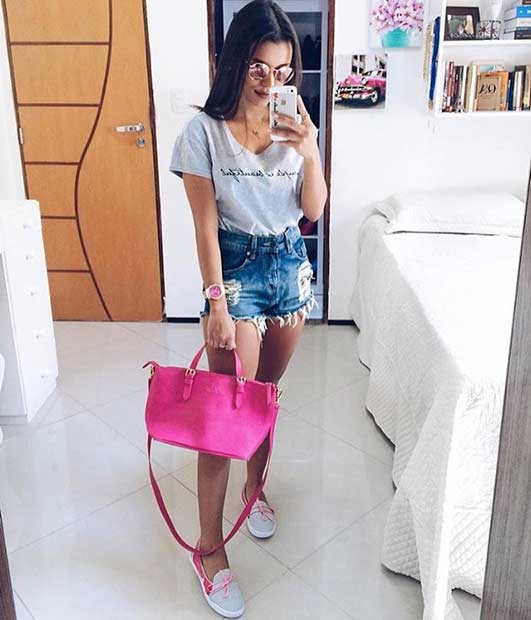 Source: @meninasdegrife
3. DENIM SHORTS + ESPADRILLES
Every girl should have a pair of espadrilles in summer!  They are comfortable and stylish. These denim shorts look fab with a pair of espadrilles.  You can opt for a black pair and maybe think about getting another colour later. Black will go with anything and any colour you wear so this would be the perfect choice for your first pair.  You can always add colour to your outfit with your accessories.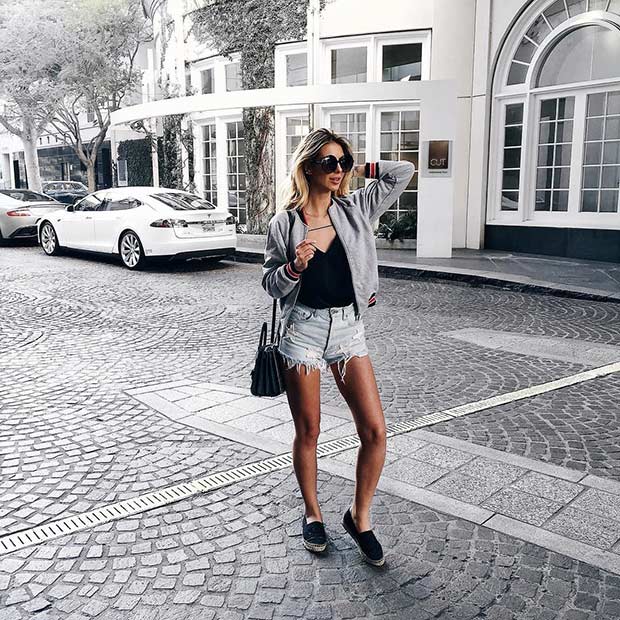 Source: @zorannah
4. STYLISH MOMMY OUTFIT
If you are a mum and want to keep your style going, this is a casual and comfortable outfit for you.  We know you want to feel stylish, on-trend and casual, so why not wear this. A white simple vest which you can tie in the middle to add your style and a long easy-wearing pencil skirt.  Wear a pair of causal fashionable trainers to finish the look and to keep your feet happy all day. It is practical for your daily life and you will feel great.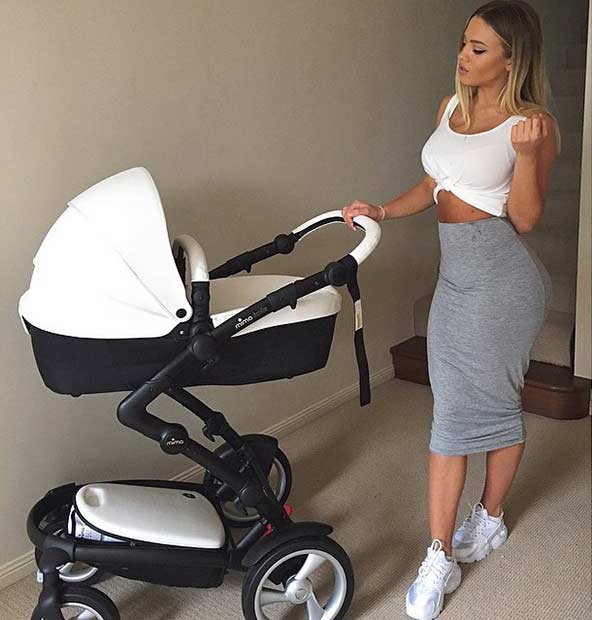 Source: @tammyhembrow
5. BOMBER JACKET + MIDI SKIRT
Bomber jackets are still stitching around. These sexy little jackets can be worn with any top and any bottoms.  This outfit shows how good a colourful red bomber jacket can look with a pencil skirt and trainers.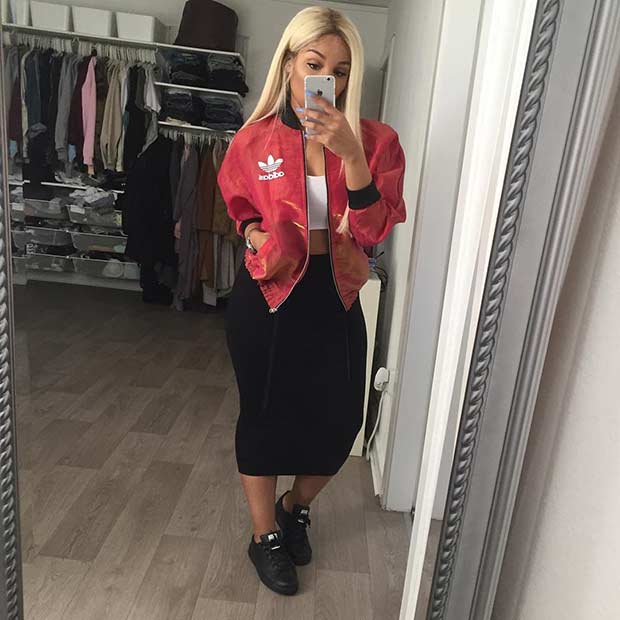 Source: @sherlinanym
6. TWO PIECE + SNEAKERS
Two pieces are huge right now.  They tend to be matching colour or print but you can mix and match to your liking.  This casual outfit looks amazing. Team with a pair of trainers to finish the look.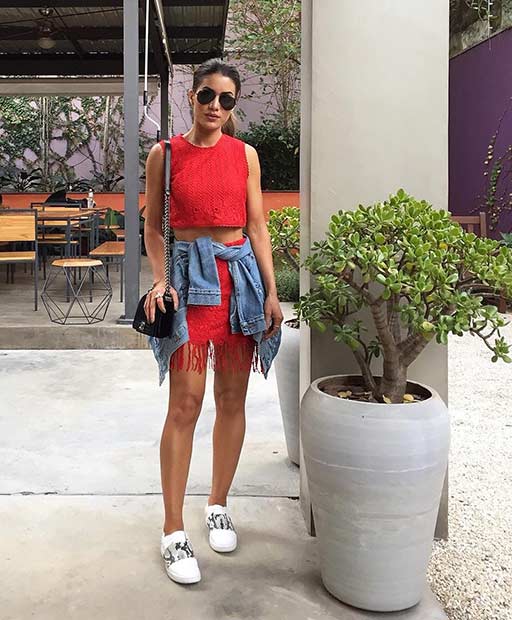 Source: @camilacoelho
7. COMFY BLACK AND WHITE CASUAL OUTFIT IDEA
Black and white are two classic colours that everyone loves to wear. You might not like wearing colourful outfits even in summer and we understand that.  You might even be bored of wearing bright colours so you are opting for black and white for a change. If you are looking for the perfect black and white casual outfit, then opt for a pair of black leggings, a black and white cropped top, a black bomber jacket and a fresh pair of white trainers.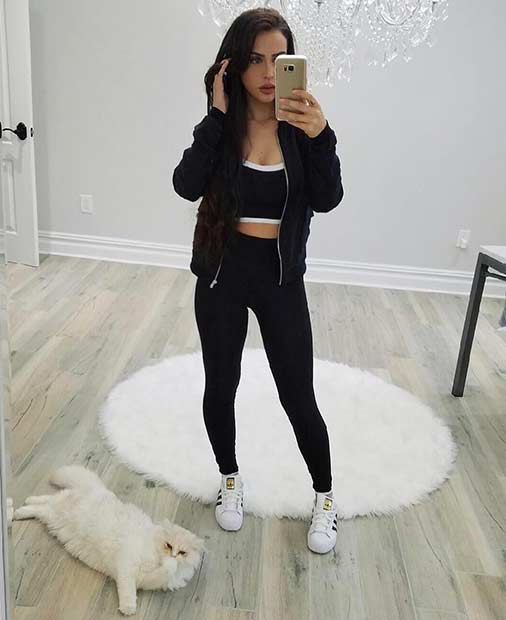 Source: @thefashionbybel
8. LBD + DENIM SHIRT + BASEBALL HAT
Every girl needs a little black dress in her wardrobe. Your LBD can be made into a casual outfit too.  It's not just for the evening evenings out. Team yours with a denim shirt, casual trainers like these white classic Converse and a baseball cap.  Perfect!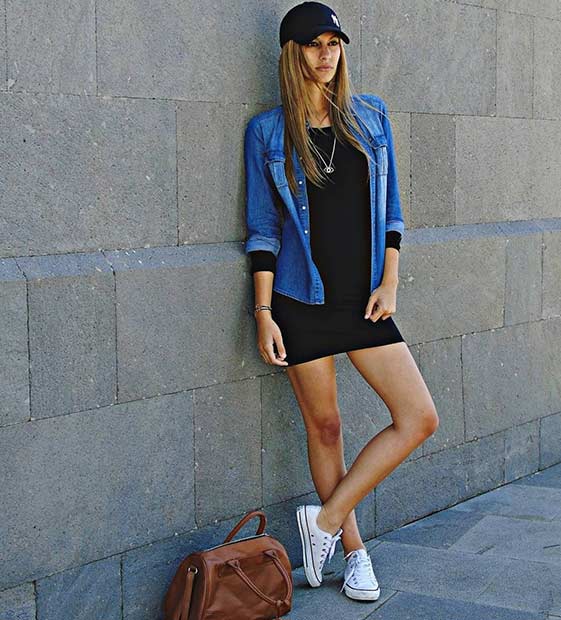 Source: @cireneablog
9. CASUAL ALL WHITE OUTFIT
This is the time of year when all the all-white outfits come out of the closet.  OK, summer is all about colours and wearing light colours. This is an easy and stylish all white outfit.  A white tee with white ripped jeans and white Converse is a winner with us!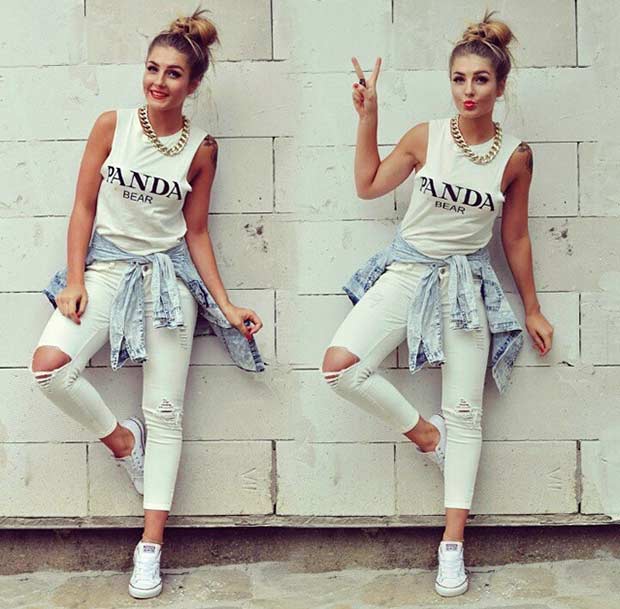 Source: @sstyleev
10. JEANS + BLACK T-SHIRT + RED BANDANA
Jeans are great for casual outfits. Wear a pair of blue classic jeans, ripped or not whatever your style and team with a black tee.  To add colour to any outfit, think about accessories. Wear a colourful head bandana. It will keep your hair off your face throughout the day and you will look fab!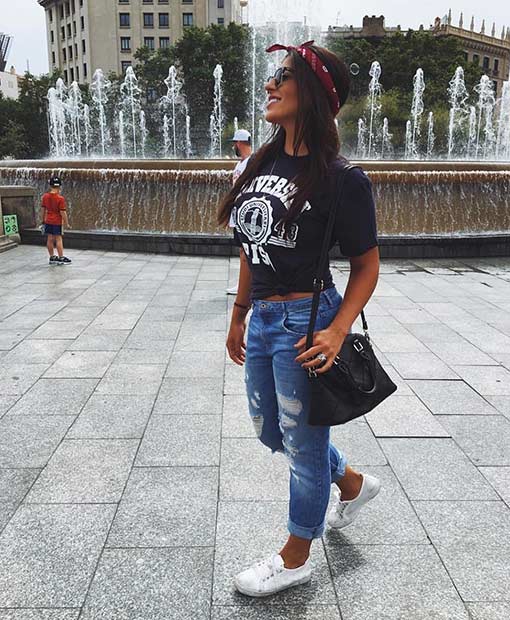 Source: @segredosdegrife
11. BLACK JEANS + DENIM JACKET CASUAL OUTFIT IDEA
Here is a double denim casual outfit for you. Wearing double denim is a little scary for many people but the difference with this double denim outfit, is that the jeans are black and the denim jacket is blue.  It is still double denim but not the same colours and many people will love this.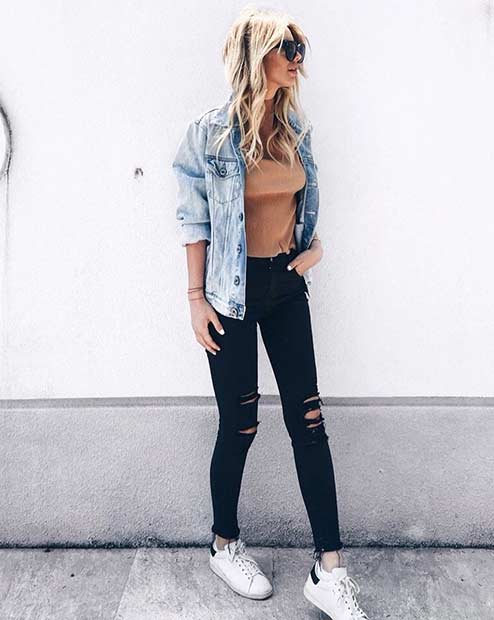 Source: @zorannah
12. CHIC SUMMER OUTFIT
Wear a colourful printed top for the summer vibe.  A casual tee looks stunning and shows off your figure when tucked in a pair of high-waisted denim shorts.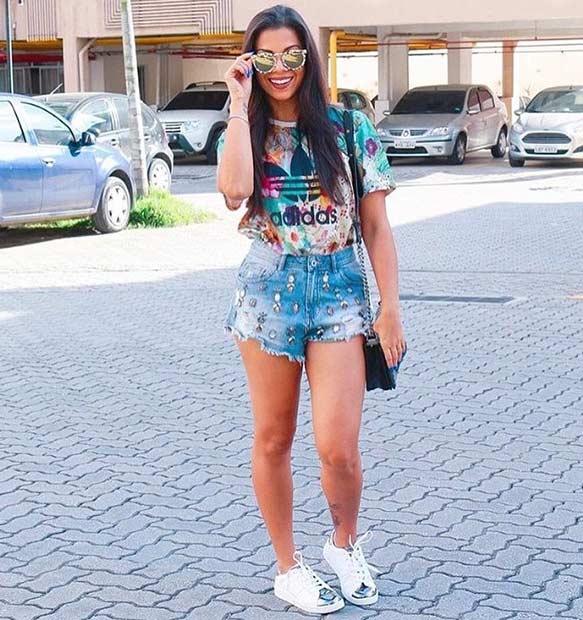 Source: @meninasdegrife
13. GRAY SKINNY JEANS + LEVIS T-SHIRT
Everyone loves retro looking tees and here is one of them.  A Levis tee and grey classic jeans looks great. It is casual yet shows off your fashionista trending, retro side.  Rock your retro tee this summer.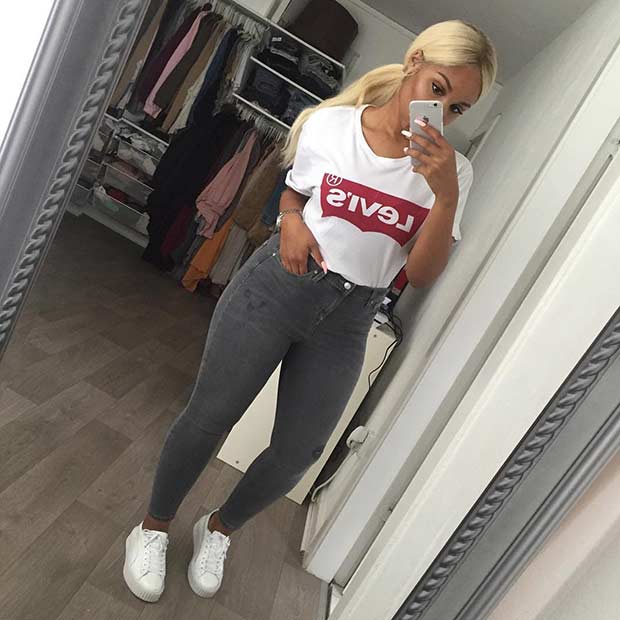 Source: @sherlinanym
14. DENIM SHORTS + PASTEL PINK JACKET
Pastel pink is always a great colour to wear especially in the summer.  This is a girly pastel pink lightweight jacket teamed with denim shorts.  This is ideal for a day to evening look. You can take the lightweight jacket off and wear when it gets a little cooler.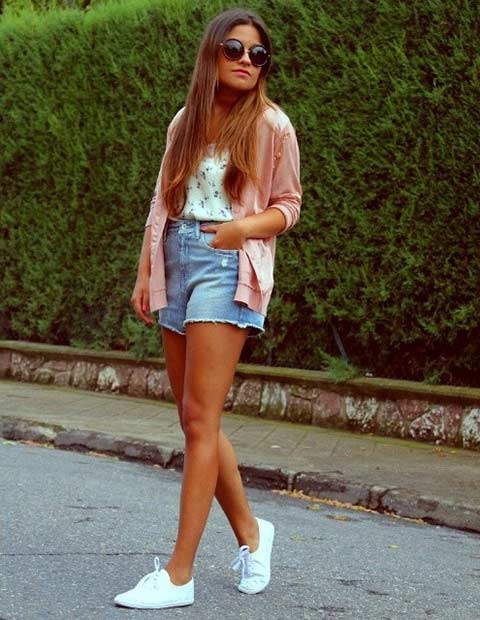 Source: @littleblackcoconut
15. MATERNITY CASUAL OUTFIT IDEA
Just because you are pregnant doesn't mean you can't be stylish, right! Being pregnant doesn't stop you from being stylish and cool.  This is a super casual outfit but we think it looks amazing! It will keep you comfy all day and the beige and pastel pink, work so well together. Leggings with a baggy tee are the perfect casual outfit.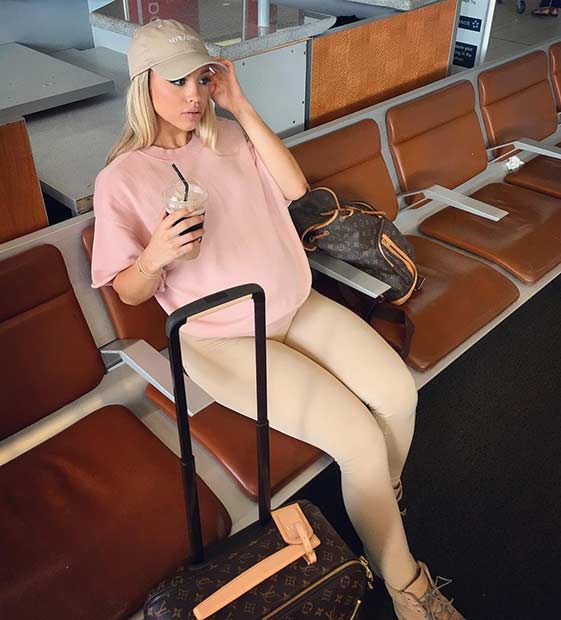 Source: @tammyhembrow
16. GRAY TWO PIECE + ADIDAS SNEAKERS
Here is another two-piece outfit that we think you will love. If you want an outfit to show off your sexy girly curves, this one is for you.  It is a grey two-piece with long sleeves and a tight pencil skirt. As you can see, you don't need heels to look sexy! Match yours with a pair of Adidas classic trainers.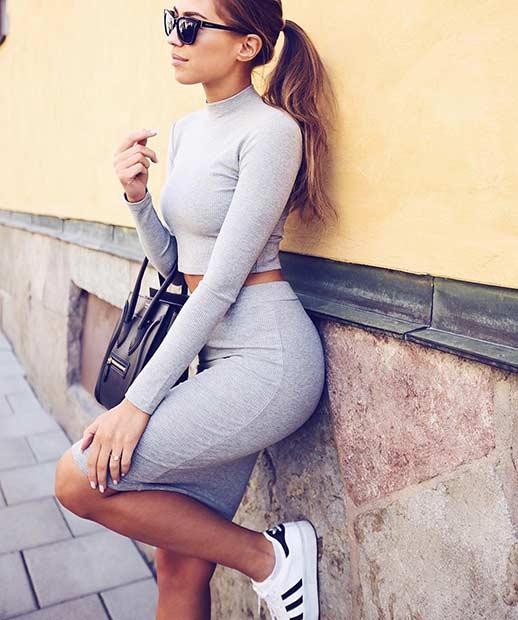 Source: @kenzas
17. GRAY T-SHIRT + RIPPED JEANS
This is a classic and timeless casual outfit. A simple t-shirt with black ripped jeans is a lovely causal outfit.  Make sure the tee isn't too tight and the jeans are tight. This way you will still show off your figure whilst looking great!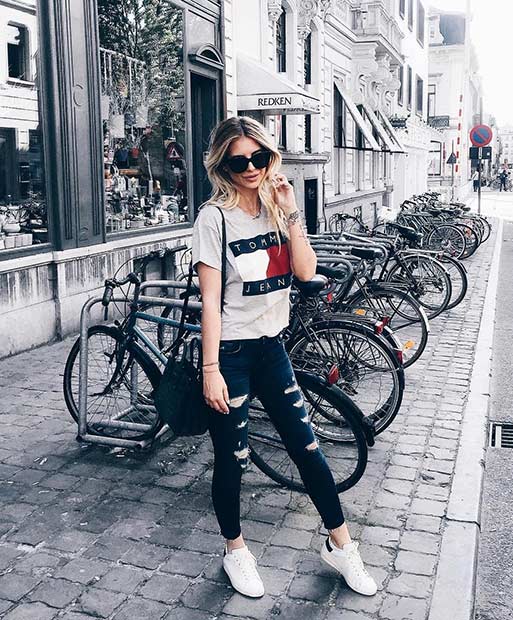 Source: @zorannah
18. FLORAL JUMPSUIT + WHITE SNEAKERS
Jumpsuits are cool, causal and sexy. Wearing a light colour printed jumpsuit will look perfect for a summer day.  If you want a printed jumpsuit, floral prints are a good choice. White trainers work best with lighter, floral prints and colours.  Plus it's summer so you don't have to worry about getting them dirty.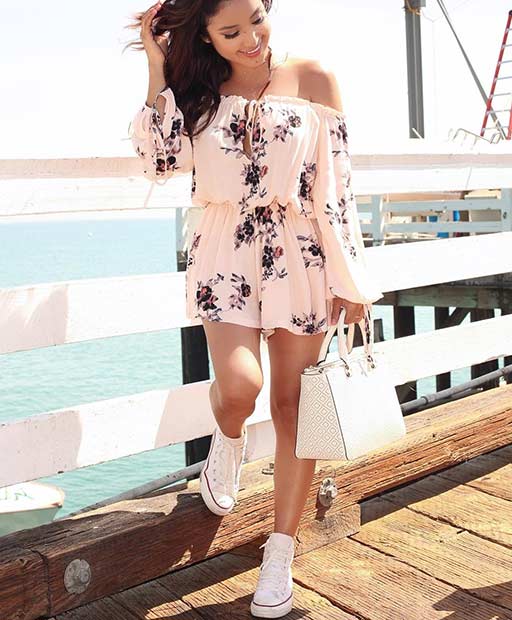 Source: @dulcecandy
19. CAMO JACKET + YEEZY SNEAKERS
Camo jackets have been trendy for a few years now and they are the perfect casual jacket for your casual outfit. We love the camo jacket and they go with anything you fancy wearing.  They are easy to wear, tend to have lots of pocket space for your makeup, phone etc and look stunning with Yeezy trainers. As they are similar in colour, they seem to complement one another.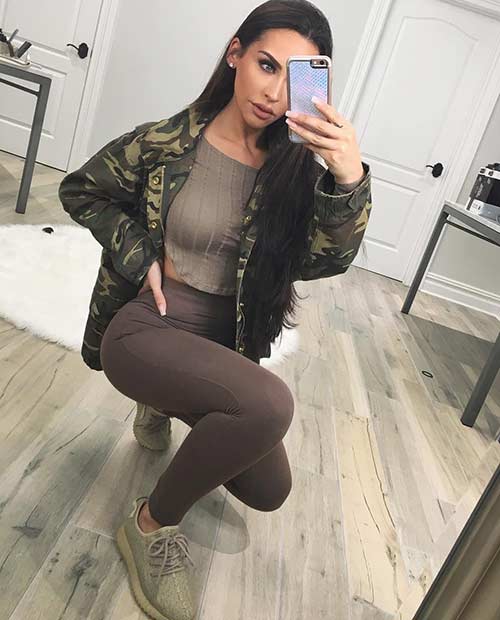 Source: @thefashionbybel
20. CROP TOP + HIGH WAISTED JEANS
A crop tee and high-waist jeans are the perfect summer, casual outfit. If you are a little unsure about showing off too much flesh, team your crop tee with a long army coloured shirt.  It will show your style and you still get to wear your crop top.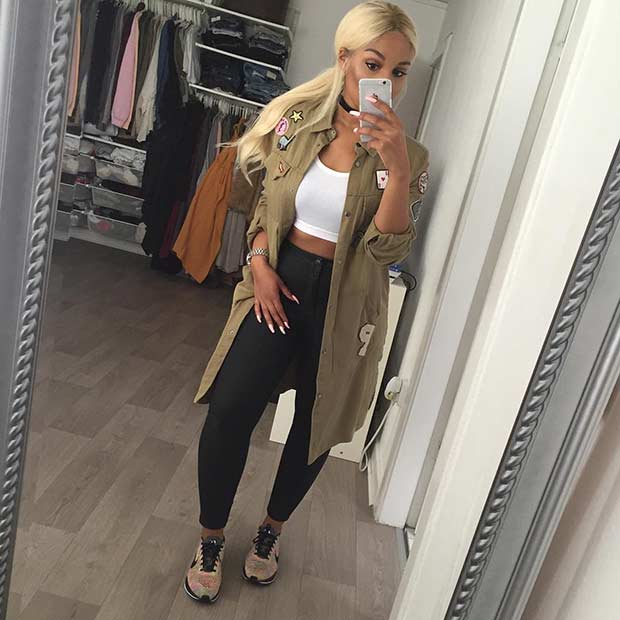 Source: @sherlinanym
21. DENIM SHORTS + PLAID SHIRT
Plaid, check shirts are a must have for any girls wardrobe.
.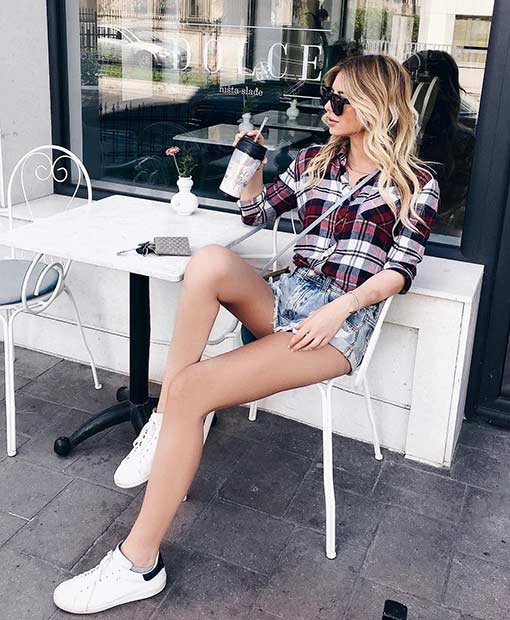 Source: @zorannah
They are super cool, versatile, stylish and you can roll the sleeves if the weather changes.  Denim shirts will keep you cool and sexy. You can always wear your plaid shirt open with a vest or tee underneath.  If you get too hot, tie it around your waist.