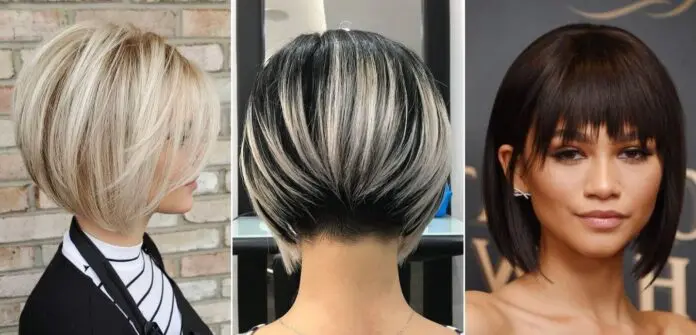 Bob styling is becoming very popular and trendy. It is loved and followed by many actresses and celebrities. Bob hairstyle suits mostly all face types such as oblong, elongated face, oval, square, or round shape faces. It can be carried on both straight and curly hairs. As there are many styling options that you can go for, and sometimes it depends on the type of styling you chose will go well with your looks, face type, hair type, or not. Bob styling is one of the very easy and simple hairdos. So if you don't want a frequent visit to the salon, they are perfect for you. Yes, you may consult with your hairstylist about products for your hair maintenance. A huge number of women's population goes with this bob styling, but they get confused between which one to choose. So for clearing this confusion, here are 23 gorgeous bob hairstyles which you can try in 2022.
23 Bob Hairstyles 2022
Middle Parted Short Bob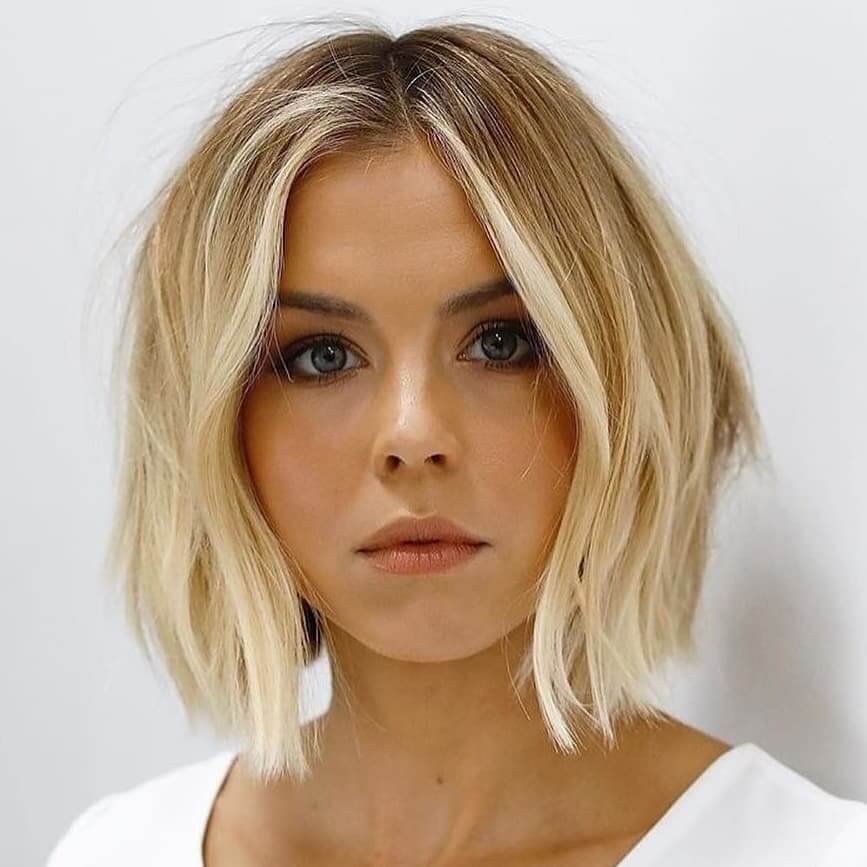 This bob hairstyle is going very popular. The back hairs are short above the neck, the front hairs are parted from the middle, and the hair goes below the chin. It is perfect for those who want an elongated look. So, if you have a round shape face or chubby face, you can go for this short hair middle-parted bob style. It is best for straight hair. The ends are not smooth; they look rough. The style looks great on the blonde hair; in this, it goes from dark to light. The hair roots are of natural color, and as it reaches the ends, the color starts to get light. This gives a cute and cool look to the one who wears it. So this season, go with this bob style.
Short Choppy Wavy Haircut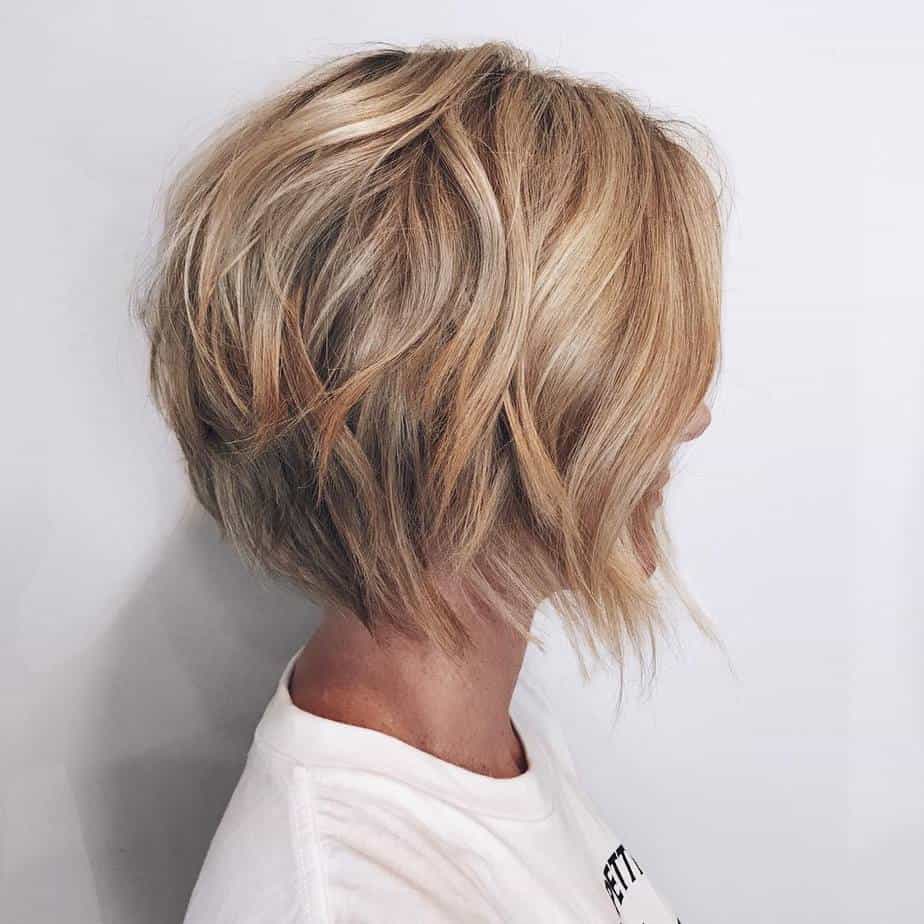 This looks a new upgraded version of the classic bob. In this style, the long hair is there on the top with short tapered sides. There are spiky layers and undercuts. If you want to go with a tomboy look, then you can easily pick this pixie cut. While going through this bob cut, you may lose your long hair, but in return, you will get a short easy hairstyle. A pixie cut is about half an inch to 3-inches in length with longer hair at the top and short hair at the back. It also helps in adding volume to your hair. This is a modern style to go with. It gives you a cool tomboy look. For maintaining the look and layers, you can use hair spray.
Short Layered Haircut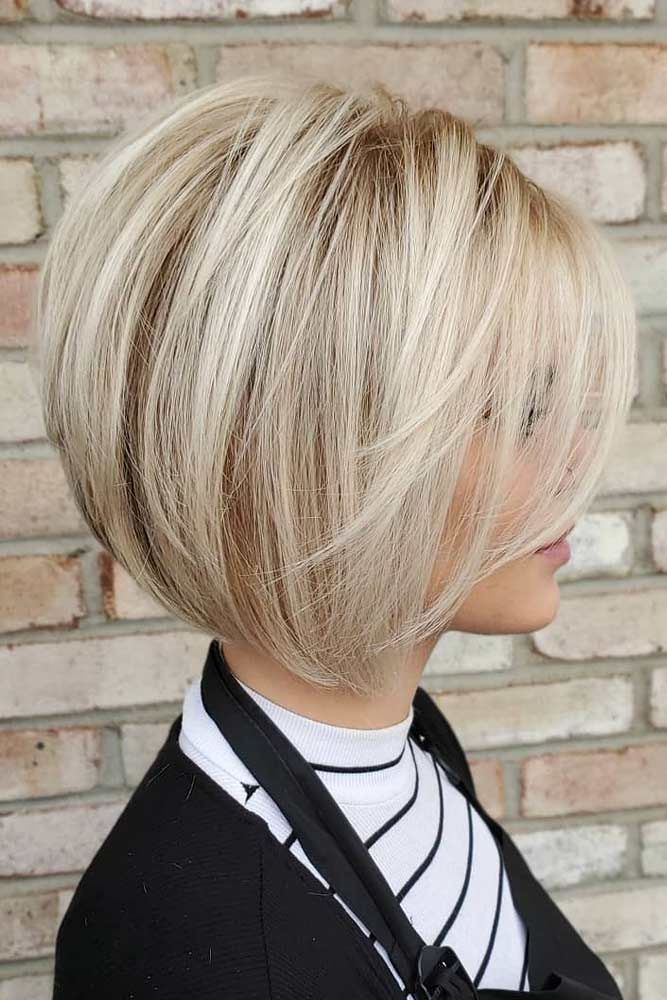 It is a haircut where different layers can be seen—short layers on the top over long hair. The hairstyle looks awesome, and the layers help increase the thickness and the volume of the hair. This bob style is a trend and is followed by many young girls and women. The front hair is short, and it increases your appearance when it falls on your face. Just like other bob styles, the hair is short at the back and longer at the sides. This bob style looks great if your hair is straight. It suits best on the round or oval shape face. This bob style is very simple and easy to maintain; you can do this style independently. You don't need to visit the salon regularly. So style your hair with this stunning and gorgeous bob cut.
Sophisticated Short Hairstyle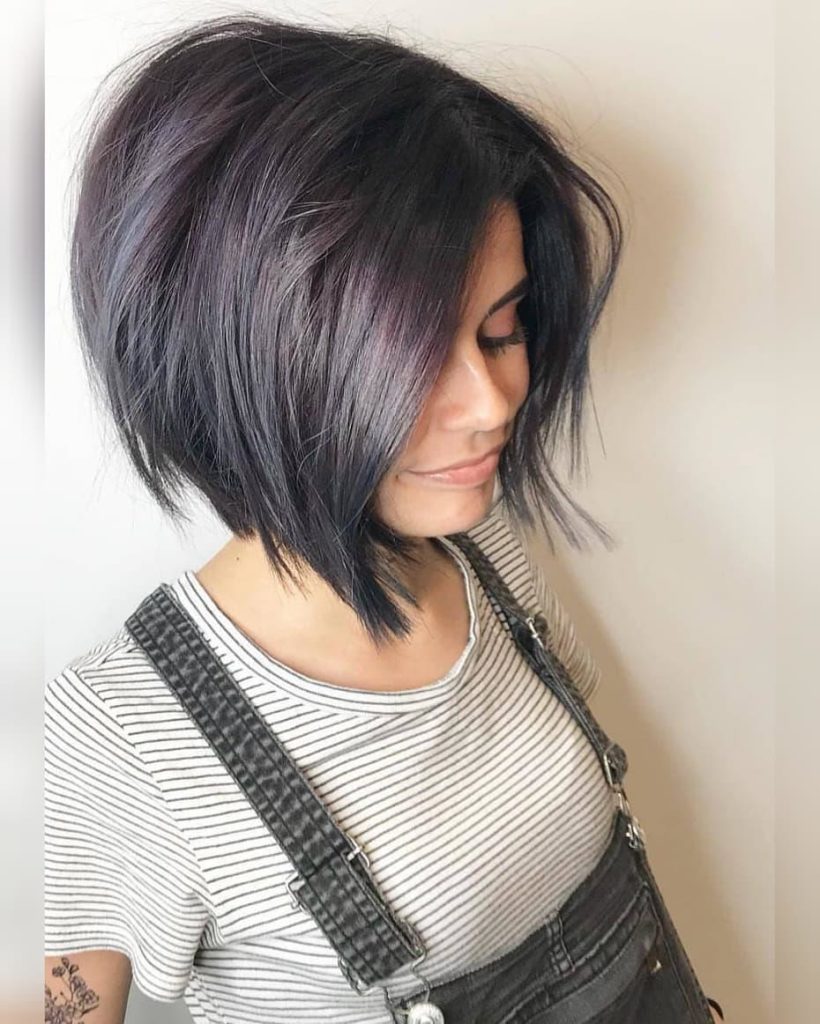 If you have thick, clean, and groomed hair, this hairstyle is perfect for you. This hairstyle is one of the fancy hairstyles. The hair is chopped short at the back and longer at the front sides below the chin. In short, it gives a tomboy look at the back and is middle parted and longer from the sides. This sophisticated short hairstyle looks best on straight and smooth hair. It suits the small round shape face and gives you an elongated look. To giving your hair a perfect volume, you can use hair spray. The back ends hair is inward, and the front end hair is straight. If you love to carry a short hair look and to do experiments on your hair, then you can definitely go for this short hairstyle. This short hairstyle gives you a funky and sexy look.
Razor-Sharp Bob Hairstyle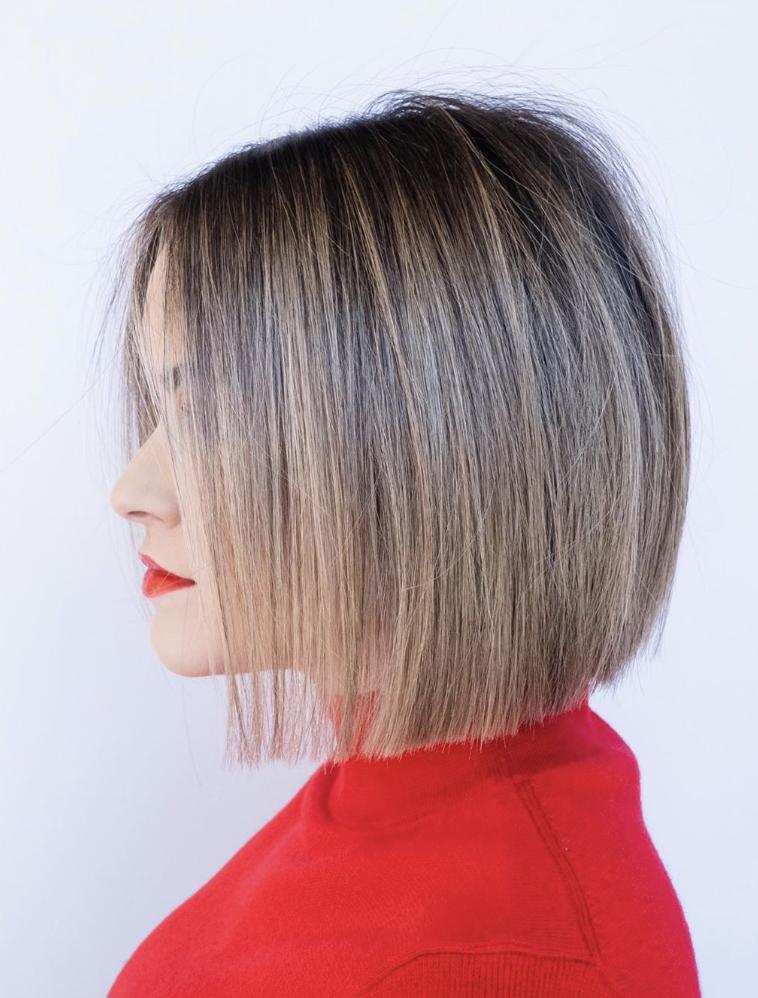 The hair in this style looks evenly sharp and fine. All are shaped in one frame by giving a straight hair look in the front and are a little curved at the back. It is a face-framing bob style mostly followed by the young generation who love to do experiments with their hair. This style smoothly goes with straight hair and suits a small round shape face. This style covers your side areas and helps you to provide an oblong face. The hairstyle is very easy; you can do this at your home; it is simple and low maintenance. It gives you a relaxed look and perfect for working-class women and college-going girls. This style doesn't require thick hair, so you can go with this bob style if you have thin hair. After style, spray any good hair spray.
Casual Bob Haircut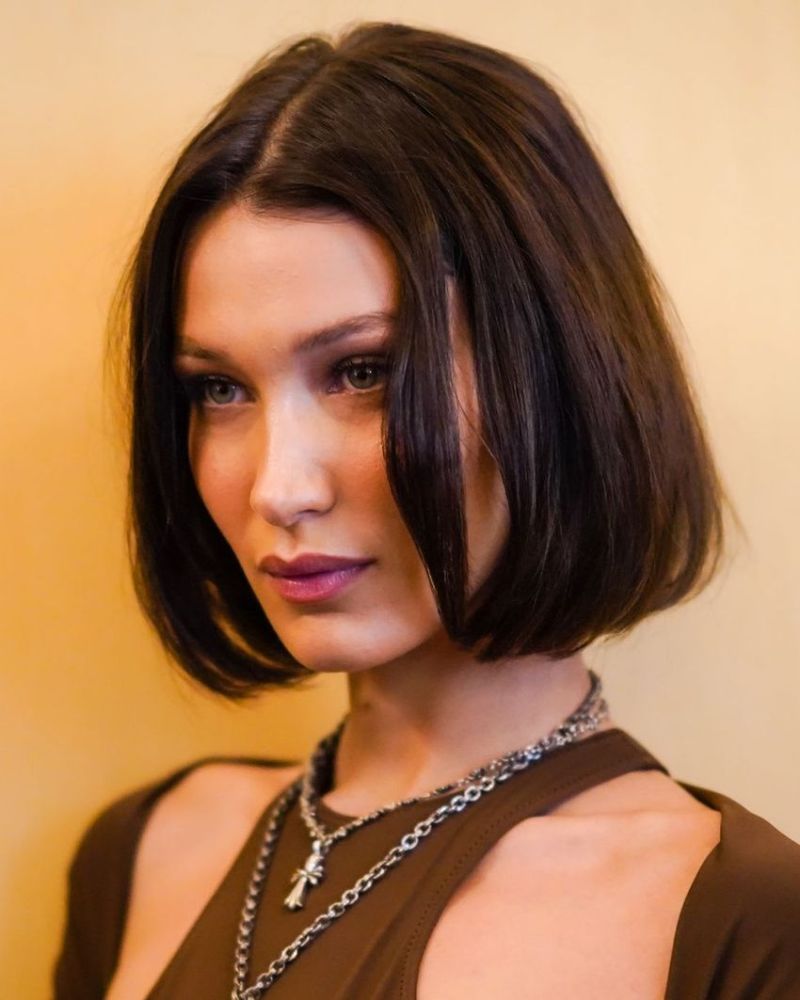 It is one of the easy and convenient hair cut. The hair is chopped off the same size at the back and is slightly longer at the sides. The cut perfectly goes with the straight hair giving a reserved look. It mostly suits the round shape face, and its ends are smooth, but they appear as rough. The cut looks better on the blonde hair. The hair roots are of natural hair color, but as it goes down, the color starts to get light, and when it reaches the ends, it becomes lighter. This modern bob style is among the popular hairstyles and is loved by women. It will give you a reserved and professional look. If you are working women, you can easily wear this style.
Chopped Haircut with Platinum Blonde Hair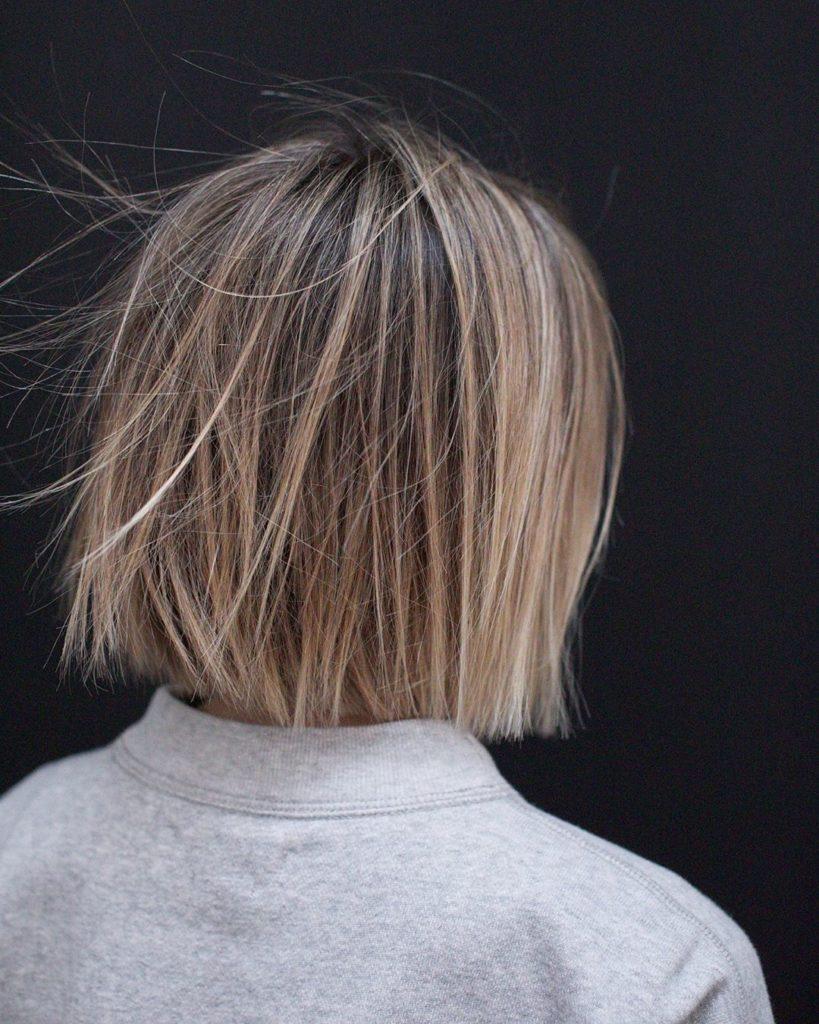 Another popular hairstyle when it comes to bob styling. It became more popular and trendy when an American model Isabella Khair Hadid carried it. The hairstyle is very beautiful and gives an elegant look. The hair length is below the ear and above the neck; in short, the hair covers the ear. It goes well with thick and straight hair and suits all types of face shapes. The ends of the hair are curled inwards, which gives them an awesome look. The hair is parted from the middle and pops out eyes, nose, and lips perfectly. For curling the ends, you can use a normal hairbrush. This bob style is very easy and simple. You don't require much effort in styling your hair. This gives you a gorgeous angelic look. so flatter your personality by wearing this new sexy bob style.
Elegant Bob Cut with Long Fringes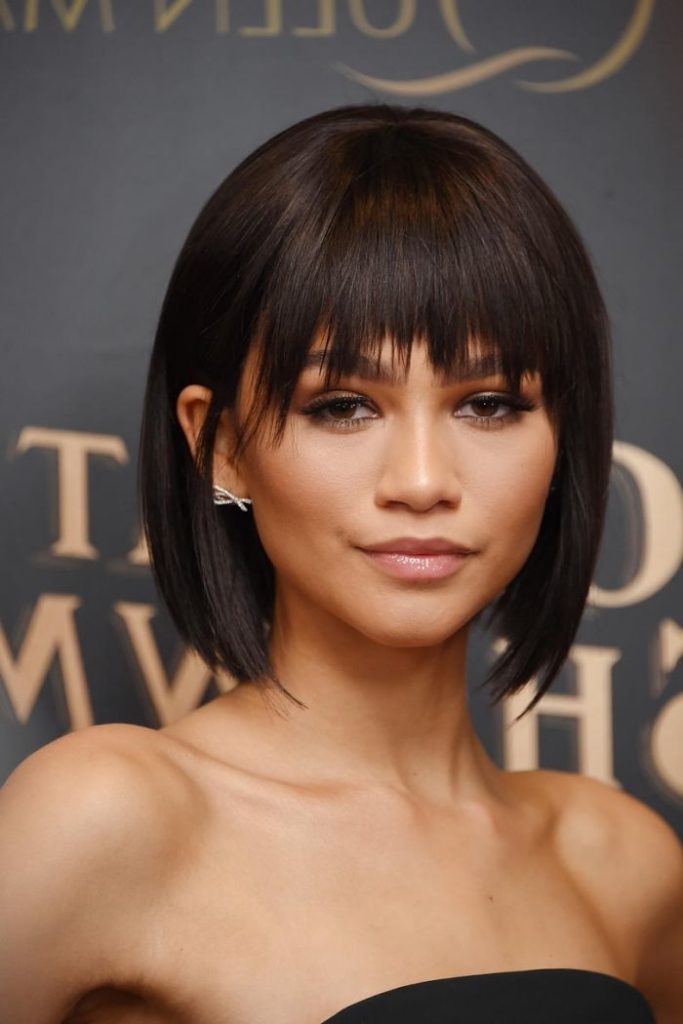 In this modern world, elegant bob cut with long fringes is one of the popular and trendy hairstyles. The hair at the backside is short length above the neck and is longer at the sides up to the neck. This bob styling is done on straight hair and looks perfect on all face types. The fringes on the front are chopped very professionally and give a very stunning look. The hairstyle frames your face perfectly. This hairstyle looks very easy, but it is not, so I would recommend visiting your nearby salon and letting your hair be done by any professional stylist. The hair gives you very different and beautiful. You can carry this bob style on both casual and formal looks.
Choppy Layered Haircut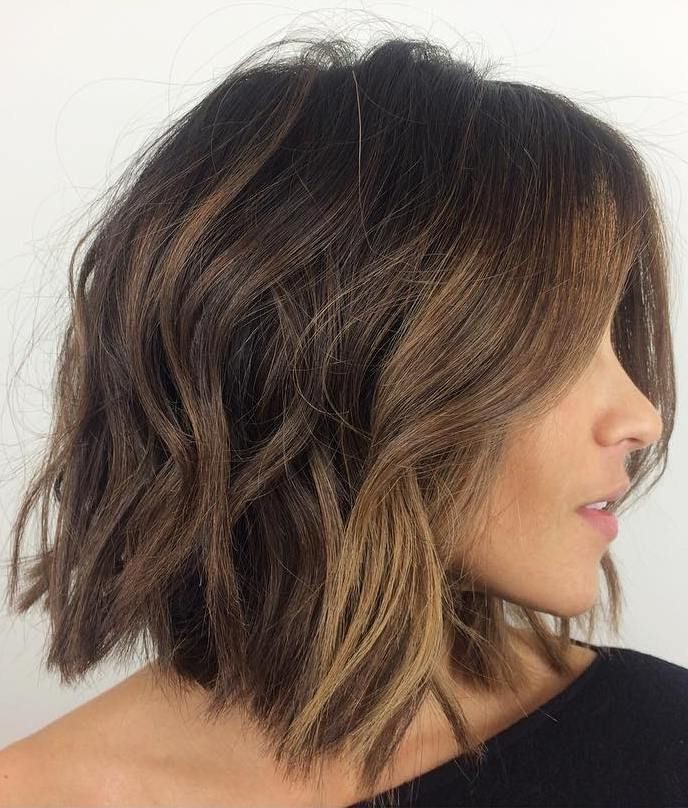 In this choppy layered haircut, the hair is cut in many short and long layers, helping to provide movement to your hair. The hairstyle gives a messy and frizzy look. The hair is parted from the middle giving an oblong shape to your face. The hairstyle goes well with all face types and does perfect face-framing. If you have frizz straight or little curly hair, you can go for this bob style, but if you have only straight hair, you can use a hair straightener to make them frizz. To get movement to the layers and create hair volume, you can use hair spray or hair creams. It is an easy and effortless hairstyle; you don't require frequent visits to salons. So this season, if you want to carry a messy and cool look, you can go for this choppy layered hair cut.
Choppy Colorful Bob Haircut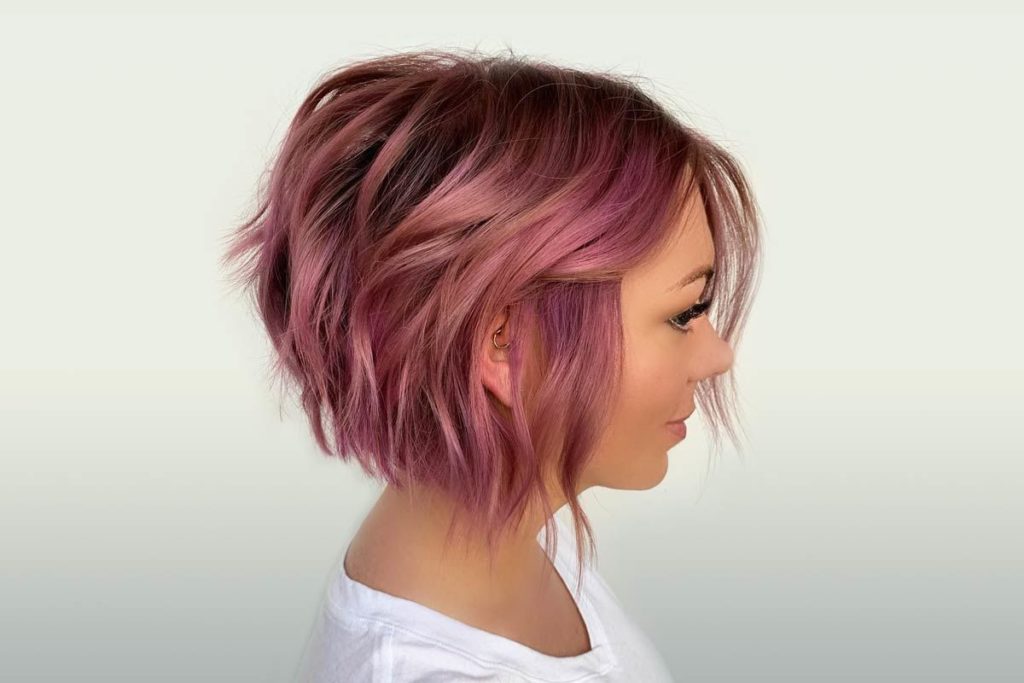 This is a short undercut hairstyle, which gives you a tomboy appearance from the back and a leading lady effect from the front side. The hair is cut straight, the back hair is short, the side hair is slightly longer than them, and few long hair strands fall on the face. This hairstyle is very different and gives a unique look. The layers have a smooth movement. It goes well with both straight and curly hair and is very simple to do. If you have a round or square-shaped face, then you can wear this bob style. This bob style is not for thin hair, so if you have thin hair, you can go for some other bob style. For maintaining the movements of the layers, apply hair cream on your hair.
Layered Medium Bob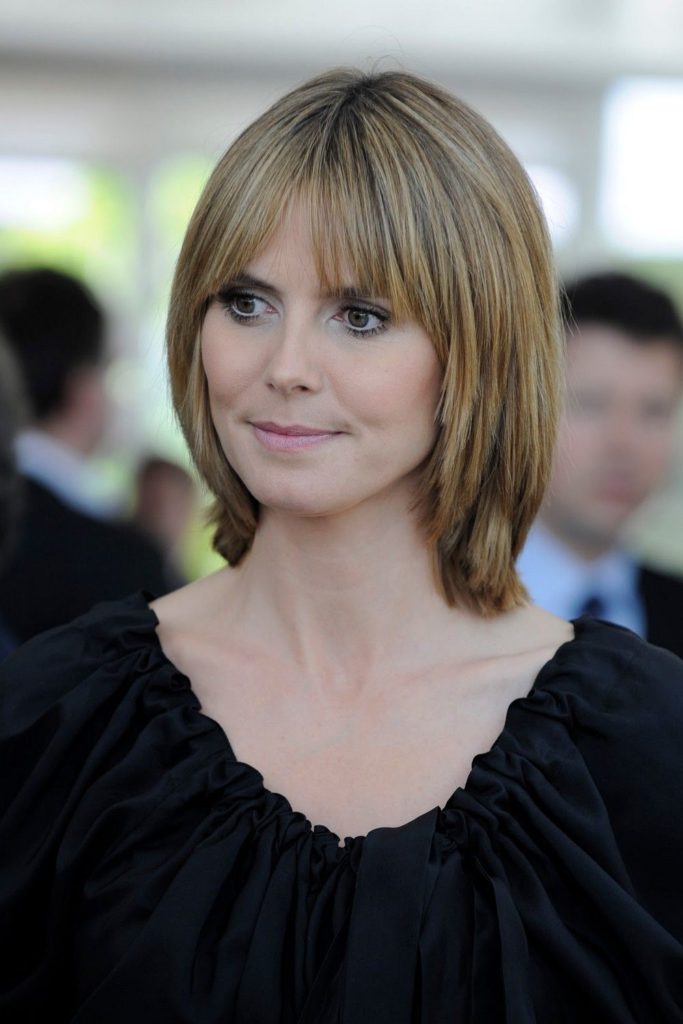 Simple yet trending hairstyle you can go for in 2022. The hair length is up to neck .i.e., medium length. There are many different layers in this hairstyle, which gives your hair a wavy look. The fringes on the front are up to your eyes, and covers are your forehead area. It goes well with all types of hair and looks better if you do this on an elongated face. The layering in this bob style helps in increasing and decreasing the volume of your hair. Its maintenance is very low, and it is very easy to do; you don't have to go to salons for hair check-up. It gives you a very modern and perfect look to carry.
Chic Short Haircut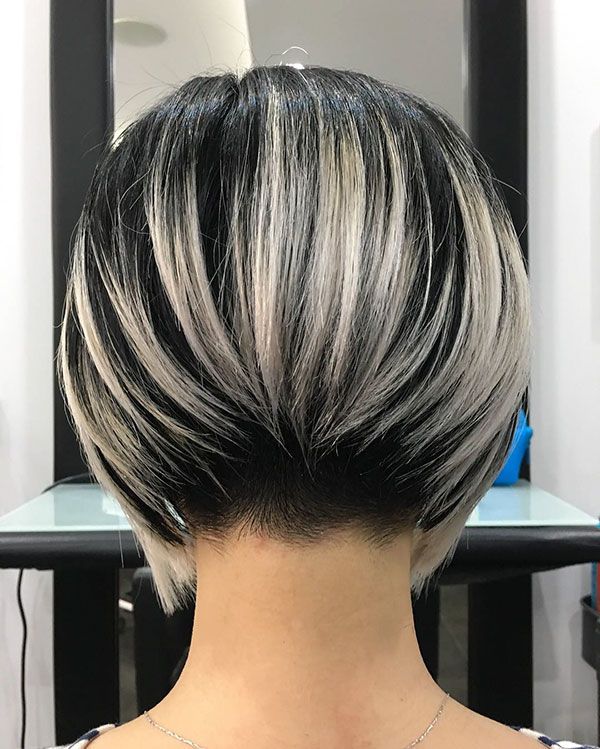 Chic short haircut is very short undercut at the backside, and few long strands are there at the front. The hairstyle is very popular and trending, so you can go for this style in the upcoming year 2022. The hair is blonde and has a shiny, smooth look to your hair. This hairstyle goes well with straight hair and best suits the round and oval shape face. To make the style to bestir on their place, you can use hair spray. It is perfect for the one who wants to carry short hair and craves for trying new hairstyles. This hairstyle gives one a very sexy look, and it looks super amazing on blonde hair with a dark base.