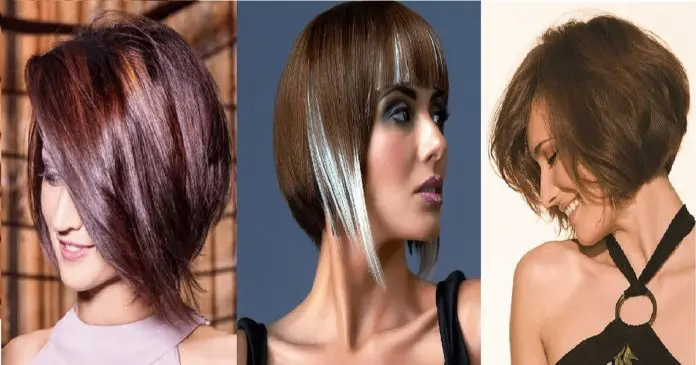 Beautiful Short Stacked Bob Hairstyles
No matter what color, type or length your hair is, a short stacked bob hairstyle will make it look fantastic. This haircut is easy to care for. It requires almost no styling. You can experiment with the front part as much as you like, while the back will always stay neat and stylish. There are many different ways to create a stacked bob, so we are offering you a list of popular short stacked bob styles for women. Choose the option which strikes you as perfect and give your stylist a chance to make your hair truly beautiful.
1. Asymmetrical bob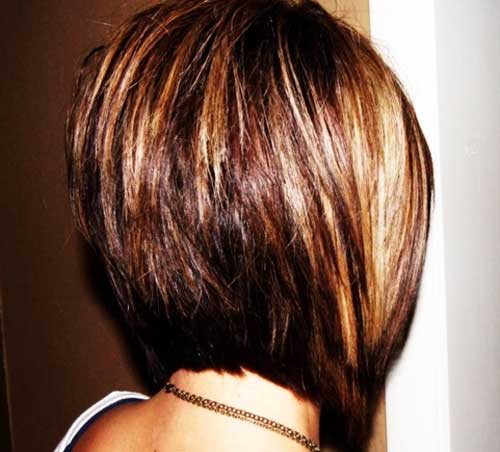 Asymmetry looks amazing on all bobs and short stacked ones are not an exception. While the back part is neatly stacked up, the front ends are made asymmetrical. Experiment with different colors to create the asymmetrical impression.
2. Short stacked bob for thin hair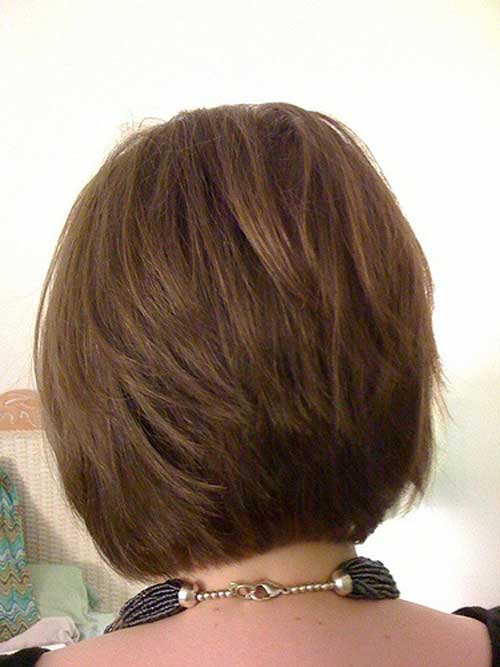 Stacked bobs are real saviors for thin hair. They can make even the finest mane look voluminous. So, if you are dreaming of volume, go for such bob, which ends in the middle of your neck. Make sure to brush it regularly in order to avoid a messy look.
3. Thick and high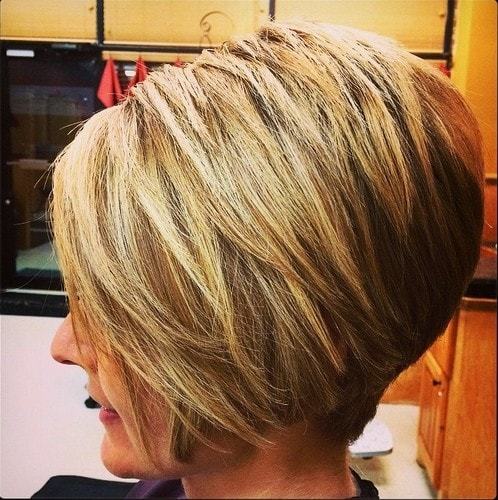 Women with thick hair can go for a short & high stacked bob. This is one of the very fashionable variations of this hairstyle. The bob ends at the top of the neck, while the frontal strands reach the chin. Such hairstyle will look great even if you forget to brush it.
4. Blond and beautiful
Layered bobs look great on blond hair. Light hair color makes them seem even more voluminous. Add some bangs to the blond bob to make it look even more special. Bangs can vary from short to eye-covering.
5. Violet streaks
If you want to diversify your stylish bob, go for violet streaks. They look so unexpected, that you are sure to get a lot of attention. This is the easiest way to make your hairstyle different, without much change.
6. Ombre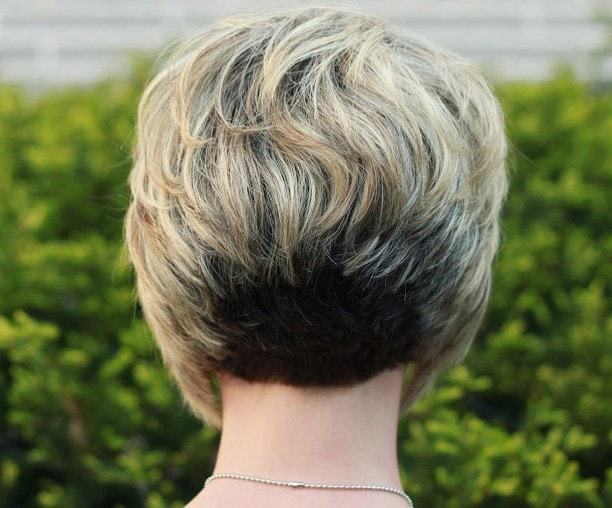 Ombre is the latest hit that is becoming more and more popular. So, why not try it on your bob? Ombre will look fantastic if the lower layered part of your bob is dyed brown or black, while the top part is blond.
7. Angled bob
This neat angled bob hairstyle is hard to make and might be a little complicated to keep neat. But doesn't it look amazing? The back part is neatly stacked to create a smooth transition to the thin blunt layer on your neck. The frontal strands are long enough to tuck behind your ears.
8. Ombre splash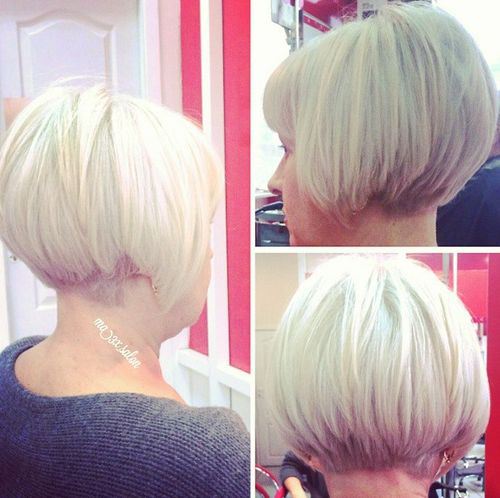 Like the way it looks? Don't try it at home. An ombre splash can only be a trusted to a professional. It is achieved by carefully dyeing the lower and under part of your hair. Make sure to keep your hair brushed, otherwise the splash effect will be lost.
9. Very short and truly stacked
This short stacked bob hairstyle is perfect for women with thick hair, who are trying to avoid excessive volume. It is created by making short and blunt layers, each one of which is visible. The hair in front reaches cheekbones.
10. Short and shaved
If you are going for a very short haircut, such as this, don't forget to deal with the lower part of your neck. High bobs look fantastic, but the hair on the bottom might ruin the look. Make sure to shave the neck to make your hairstyle look neat.
11. Stacked and angled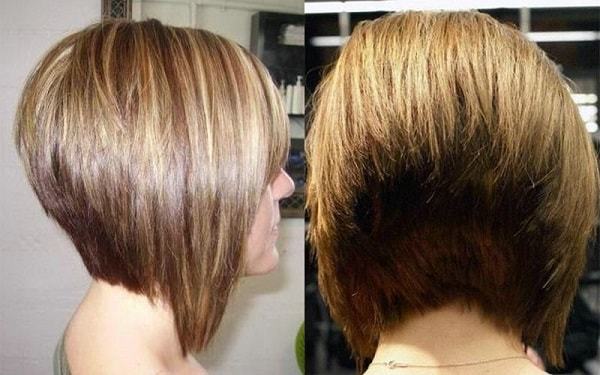 Layered bob will look even more fantastic if you add angles in front. They can go for short and neat to long and asymmetrical. Take your pick. Any angled style in front will become a great addition to the stacked cut in the back.
12. Office style
This is a light variation of a stacked bob. The layers are not too obvious, while the result is the same – more volume. This hairstyle is perfect for an office look. It fits businesswomen as well as teachers or doctors.
13. Round bob
Women with triangular or square face shapes should take a look good at this bob. Its circular form will do wonders for making the face seem more rounded. Make sure to style the frontal strands to encircle your face.
14. Color experiment
Short stacked bobs look fantastic when you experiment with colors. If you are not ready for bold violet strands or ombre splashes, go for regular highlights. This will add your hair even more volume and give you a fresh and new look.
15. Ear shape
This truly unique way to style your bob should be tried by women who are ready for a change. While the hair is stacked in the back, the front becomes a real experiment. One side is trimmed around the ear and another is left long. Give it a try!
16. Wavy stacked bob
Layered bobs look fantastic with wavy hair. While such hair is often hard to manage, the bob will make it look very stylish and easy to maintain. If you go for a side part, make sure the hair is still the same length on both sides.
17. Straight and angled
Women with thin and straight hair should go for angled bobs. The long angled part will look fantastic in front, while the stacked back will add straight hair some volume. This is a great hairstyle choice for Asian girls.
18. Platinum auburn mix
Platinum-auburn mix is a great idea for a short stacked bob. Take a look at the way the hair is dyed on a photo. The back and the middle is colored auburn while the sides are platinum blond. The overall appearance is fantastic.
19. Short side swept bangs
Short side swept bangs are a great addition to any bob. They look especially well with the stacked hairstyle. Make the bangs short enough not to get into your eyes. This hairstyle outlines any fringe very well.