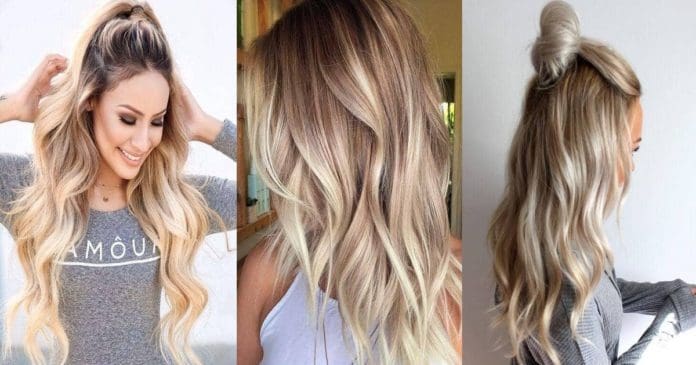 Tired of wearing the same blonde hair colors? Looking for a new hairstyle to make you look young again? The good thing about human hair is that it can always be changed. Unlike skin color and eye color, head hair can be changed to resemble any design or color your heart desires. Sometimes you need a new hairstyle for blond hair to fit in at work or look fabulous at a party. Maybe a new hairstyle will have you looking 21 again.
1) Stunning Shoulder-Length Wavy Blond Hair
This is a great hairstyle for someone who likes medium to long hair. This style is designed to sit right below the shoulders, and the hair is swept to one side to drastically emphasize the length of the hair. The waves in this style create a messy look that is a bit flirtatious as it flows over the shoulder.
2) Shoulder-length straight blond hair with a curly texture at the end
This is an ideal shoulder length style that really looks great with any type of blond hair. There are long waves flowing along the lower lengths of the hair that is subtle, and with this style parted on the side, it creates a wispy long bang along the side of the face that gives the face a delightful border.
3) Wavy blond hairstyle down the sides
This is another great style option for blondes who enjoy shoulder length hair that gives them a look that is professional and flirtatious at the same time. The curls in this style start at the top of the head and are emphasized on the sides as they fall into a loose curl as the hair flows onto the shoulder.
4) Messy blond hairstyle
Curls can be difficult to maintain throughout the day, but having a shoulder-length hairdo that can work with little effort is ideal. This blonde style starts out straight at the top of the head, but by the time the hair reaches the shoulders, there are a few sexy curves at the bottom that are sure to turn some heads.
5) Brushed straight down the back
This is a look that uses volume to create something new and bold that will look great for a night out on the town. The back's relatively straight, going down slightly past the shoulders, while the sides have a loose wave. This style is ideal for hair that is darker at the roots so that the curl is emphasized.
6) Wavy hair behind the head
Long hair is often considered to be for younger individuals, so why not rock a look that pulls the hair up out of your face and feel young again? This hairstyle takes the top layer of hair on the crown of the head and puts it into a ponytail to create a half updo with wavy lengths.
7) Medium sized mysterious side brush
This sunkissed hairstyle is another great option for individuals who have long hair. It's a style that is simple to create and easy to maintain. Simply brush the hair down each side of the face with a part in the middle. The wavy look that hides the sides of your face creates a look that is sassy and sophisticated.
8) Long wavy blond hair
Nothing looks more flirtatious than a windblown hairstyle like you see here. This look works best with hair that's slightly past the shoulders and layered in the front so that the long waves on the sides of your face can create a frame that looks stunning. Sweeping the hair to one side will give the look more life.
9) Shoulder length wavy hair brushed to one side
Not everyone who has blonde hair likes a hairstyle with a straight part. This style is messy, wavy, and sassy, and to create it all you have to do is brush it back and allow the strands of hair to fall into place. The hair closest to the face should be shorter so that it frames your face.
10) Young blond long mop hairstyle
This long layered look is great for anyone who wants to create a more sophisticated look for themselves. This look is best for shoulder length hair that is perfectly straight so that you can create about three to four lengths without going too far up the hair. If you have straight hair, the look is quite simple to maintain.
11) Free flowing blond hairstyle
For those who have a natural wave in their hair, this shoulder-length style is a great option for you. Simply brush all of your hair back behind your shoulders, and you will see that the hair falls into place and creates a bed-head look that is rather sassy. If you need to tame the curls a bit, you can.
12) Straight hair with bun
Another great style to consider if you have shoulder-length hair is this one. It is a style that requires you to have straight hair or to straighten your hair, but the feather-like layers are great if you are looking for a professional look. You can even switch it up a bit by changing the location of your part.
13) Long crazy blond hairstyle
This long wavy style creates a mysterious look that hides your eyes from the side. The hair should be brushed to the side with this style so that it creates long and lustrous layers, but it will also work if you brush it straight back. This style is ideal for hair that already has a bit of a wave.
Other awesome blond hairstyle ideas:
14) Messy and Stylish Bed Hair
Have you ever noticed that hair tends to separate as the day goes on, especially with slightly wavy hair? Well, this style emulates that look by giving you a messy, bed head from the start of the day until the very end. This style even falls on your face slightly to make it looked lived in, not freshly styled.
15) Highlight the Shades of Blonde
Having long hair can make the style options that you have available to you for a down hairstyle more limited. This style is a great option for someone who has different shades of blonde in their hair because you can create long waves that emphasize the highlights and bring the different colors of your hair to the light.
16) Curly Tips
One thing that you can do to create a look when your hair is down that will wow your friends is to curl up the tips of the hair to make the layers of the hair stand out more. This works best on shoulder-length hair because longer hair may not hold the waves as well as short hair can.
17) Sunkissed Blonde Style with Messy Bun
This sunkissed hairstyle is a great option for getting the hair off of your face. The top layer of hair is put into a messy bun that has strands going in every direction while the bottom remains straight on your shoulders. The half up hairstyle is great for the summer when you want more air on your skin.
18) Luscious Blonde Hairstyle
Really luscious hair with a lot of volume is difficult to maintain, but if you have long wavy hair like this, you can easily find the look that you want. Change the location of the part in your hair to mix it up a bit as well so that you can decide which part of your face is revealed.
19) Shoulder-Length Straight Style
Long flowing hair is something that many people with straight hair strive for, and this style with the long layers along the side of the face is great. Ideally, the hair should be a little longer than shoulder–length so that you can get enough steps in the layers to properly frame your face with a professional feathered look.
20) Sophisticated Long Curls
Having long curls in your hair may seem easy, but this look requires you to create the curls individually so that they lay perfectly on your back and create a cute look that is rather sophisticated. Try to curl the hair in different directions as well to create a more unkempt look that is great for a night out.
21) Look Professional and Fun at the Same Time
When you have straight hair that does not always want to work with you, creating a slight wave near the nape of your neck when you have hair that is about shoulder length can create a look that is both professional and fun. If you are into highlights, this style will really make them stand out in the sun.
22) Make Dirty Blonde Interesting
Hair that is dirty blond can feel dull during the winter months of the year, so if you are looking for a new style, try highlighting the strands of hair that are closest to your face. You can also trim them a little bit so that they are shorter than the rest of your hair when it is down.
23) Go Simple and Sexy
A lot of people put their hair behind their ears when they need to push it back from their face, but this style is designed to move your hair out of your face by intertwining it with the hair behind your head. This works best with long hair because it creates a loose style that is simple and sexy.
24) Perfect for Any Occasion
When you have full hair, there is something about brushing it all to one side of your head that creates a flirtatious look that looks fantastic for any occasion. This wavy style is one that works best with mid-length hair because you want the lengths of hair to stay behind your shoulder so that the light hits your face.
25) Subtle Waves with Different Shades
A lot of people are not sure how to style their hair to create a younger look. This style, which is a simple down do, is a great option that uses subtle waves and highlights to add more depth to the hair. You can add lighter blonde highlights or some red highlights into your hair to add some variation.
26) How to Add Volume to Flat Hair
Long hair is beautiful, but if you are tired of flat hair, then this style is a great way to add some volume to your hair. With this style, you will part your hair in the middle, and the wavy long lengths that go halfway down your back can be highlighted or colored to give your hair more depth.
27) Be Ready for a Hot Day
When you have long hair, sometimes you want to get your hair off of your neck. This style is great for a hot day, and all it requires is for you to give your hair some waves, put it in a ponytail, and leaving some short flyaway strands out of the ponytail to create a frame around your face.
28) Half Updo with a Touch of Dark Hair
Nothing makes blonde hair more interesting than finding a style that lets some dark hair show through the blonde that's on the surface. A lot of the time, this type of look can be created by simply pulling the hair back in a half updo that comes together in the back of the head with a beautiful clip.
29) Add Extra Colors for a Sassy Look
A blonde with perfectly straight hair often has issues finding ways to change up their hairstyle. When you add some color to part of your hair, it can really help create a sassy new look that is great for business and pleasure. The ends of the hair should be angled towards the center to pull the whole style together.
30) Curly Strands with Interesting Highlights
Hair that falls on the top of your shoulders often offers a sophisticated style, but when you add some waves and some highlights into the mix, you get a whole new look that's quite stunning. Curl the strands of hair near your face inwards, and continue doing this until you have loose curls the entire way around your head.
31) Luscious Waves
Some people pay a lot of money to get luscious waves in their long blonde locks, so if you have the hair already, create a style that is stunning. With this style, you are going to want to have a few long layers near your face and to part your hair on the side to help create some volume.
32) Blonde Hairstlye with Darker Shades
This style is one that incorporates sunny blonde color with darker shades of blonde to create a stylish look. The hair's colored in such a way that it almost appears to be striped vertically, and the waves in the long lengths really make the hair glow, especially on the tapered strands of hair that are close to the face.
33) Honey Color with Sun-bleached Tips
This honey blonde hairstyle that is kissed with sun-bleached blonde tips is a great look to try out. If you can create waves in your hair at the point where the color changes, your color swap will seem more drastic. This is a style that is best with semi-long hair because you want a decent amount of each color.
34) Sunkissed Blonde Roots with Icy Blonde Tips
This style is great for anyone who has long hair. The hair that is closest to the roots should be a warm, sunkissed blonde, but you will want the tips and the lower portion of your hair to have an icy blonde coloration to harden your look. Create a half-up style with a messy bun to see both colors.
35) Messy Style for Medium-length Hair
Rose gold hair is a color option that puts a new, vibrant twist on the traditional blonde. This messy style is great for hair that's medium-length, and you will want to part your hair on the side with this look. The more waves that you have, the more you can see the rose and the gold shine in the light.
36) A Combination of Rose Blonde and Darker Gold
This style of hair is great for anyone with a short hairdo that is only slightly longer than your chin so that is can frame your face. The look combines a rose blonde coloration with a darker gold color, which really looks great with darker colored clothing. The hair will curve in towards your face with this parted style.
37) Long and Curly Locks
When you have long hair, keeping it in place can be a challenge, which is why this hairstyle seems to work so well. The long curly locks are held in place with a cute little braid that is positioned at the crown of the head. If you have highlights in your hair, this style will also bring them out.
38) Ombre Style with Natural Color
The next style utilizes an ombre hair trend that uses your natural color at the crown of your head and the lower half of your hair is dyed a different color, which is a sunkissed blond in this case. You will want to have a lot of waves near the ends of your hair to emphasize the color swap.
39) Honey-colored Blonde Style
This style's designed for medium-length hair because the color will gradually change to a brighter, more sun-kissed color the further from your scalp it gets. Here, you can see that the style transforms the brown hair to a honey-colored blonde to a sun-kissed blonde. The more waves that are present, the more the color changes will stand out.
40) Playful yet Sophisticated Look
The next hairstyle features a playful, yet sophisticated look that is great for shoulder-length hair. It is an up style that is wrapped up in a tight bun, but the hair going into the bun is a bit messy. The rest of the hair that is not in the bun is a flirtatious mess of waves that adds character.