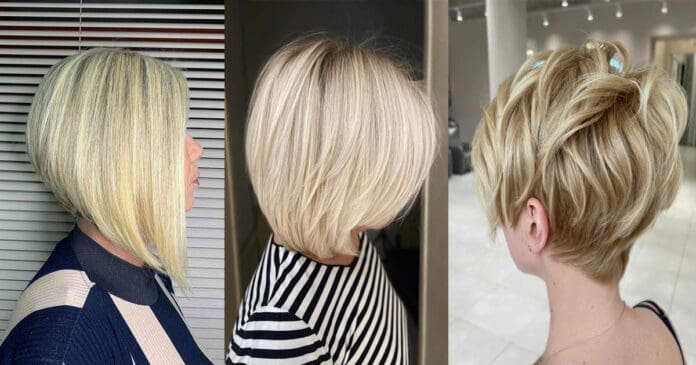 Short blonde hair is when hair is cut short and colored a shade of blonde. There are many short lengths to choose from such as a short pixie to neck-length. There's also a wide range of blonde shades to add as either a full-color dye, highlights, or ombre. Some of the best short hair ideas add a shade of blonde hues that will make the hair color pop even more. There are two keys to success with considering a short blonde hair idea. The first is to choose a hairstyle that fits or balances your face shape. Second, a hair color that enhances your complexion. "Trust the process," says stylist Abby Born of Columbus, OH. "It's not easy to achieve a bright blonde in the first session with your stylist. It can also compromise the condition of your hair, so the slower you take it, the better your hair will feel," she adds. Make sure the stylist you go to is confident in doing blonde. It's harmless to double-check. This hair trend entails a commitment to maintenance. You have to see your stylist more often than not to keep a full bright blonde, highlighted look. For a more grown-out or rooted finish, it requires fewer sessions with your stylist. "I usually recommend all blonde women to come in at least six weeks to freshen up their toner," says Born. "It ensures less damage in the long run." Born stresses the significance of using the right products for colored hair. "Purple shampoo is a must for blondes to help brighten and keep the hue looking fresh," she points out. Any product with repairing properties like a hair mask is also recommended. It helps bring back some moisture to the hair. Born loves using Kevin Murphy's repair line. Check out these inspiring images of short blonde hair ideas for your next salon visit. Stay radiant!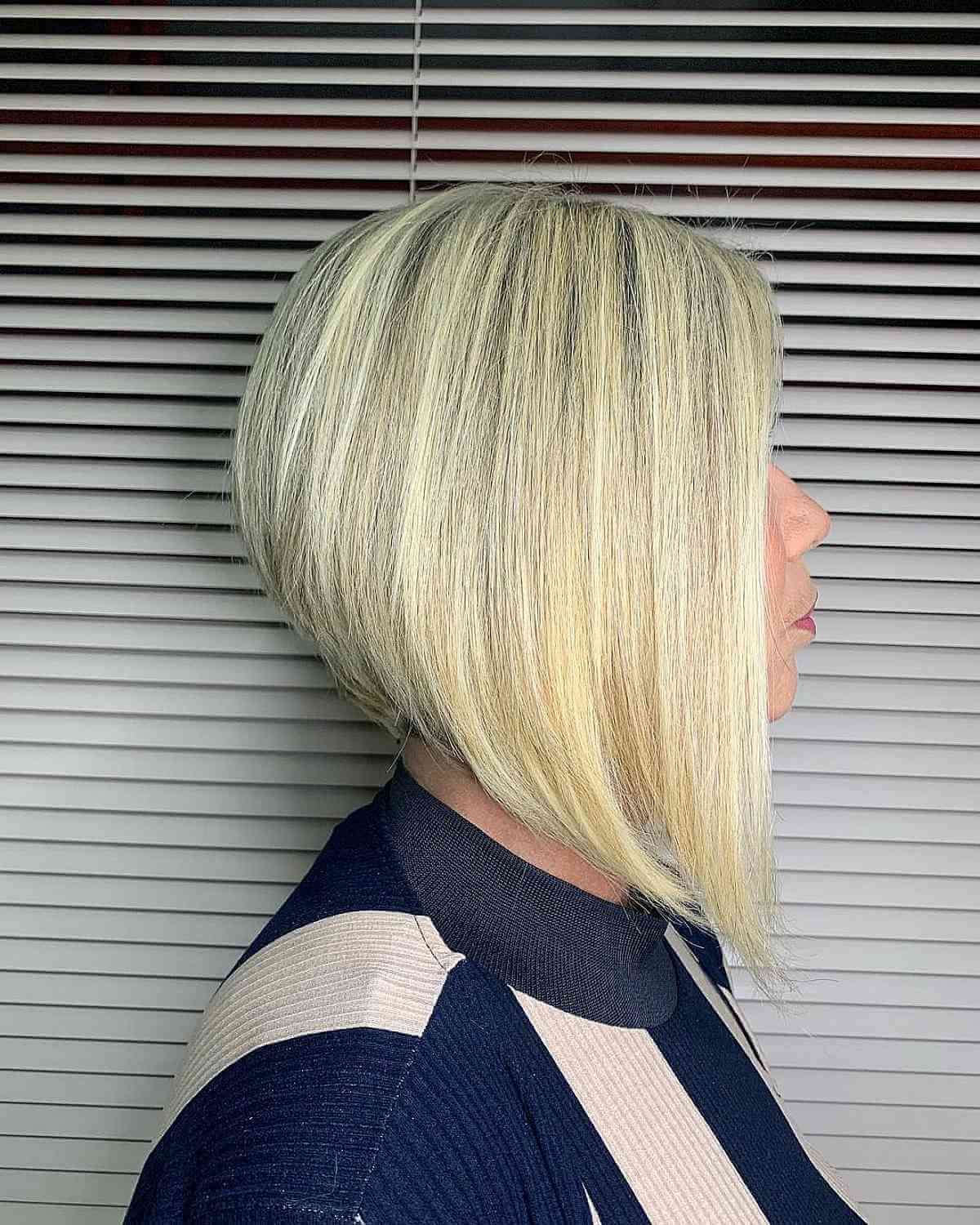 #1: Short Inverted Blonde Bob Cut
Try an inverted bob cut if you want a fierce new blonde hairdo. The steep angle from the back to the front will give you an edgy look!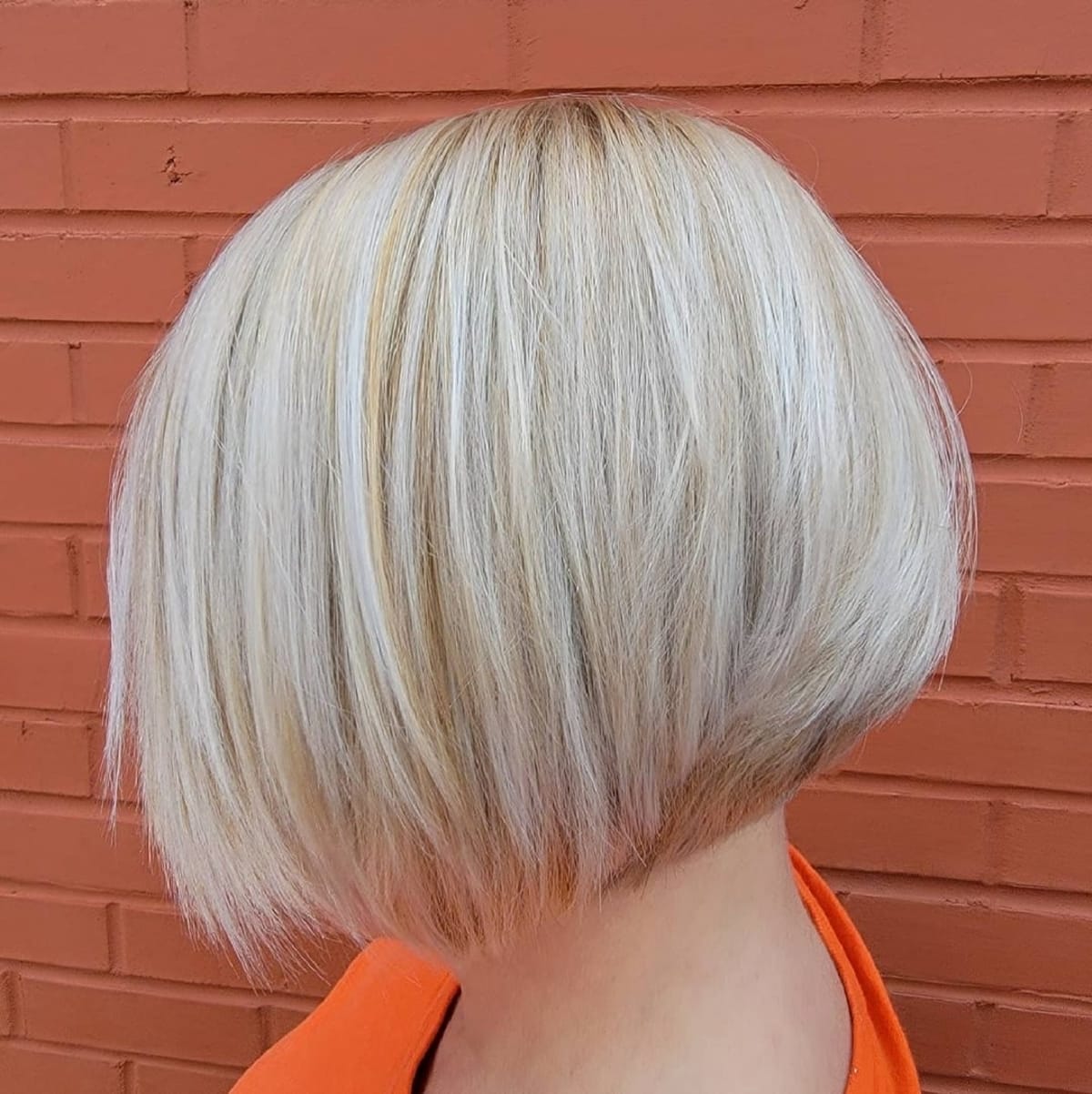 #2: Super Short Razored Blonde Bob
A super short razored blonde bob is easy to style and would only require a trim every two to three months. Look creator Katherine Pope of Dublin says it works on any hair density. It adds volume and layers to thin hair and also removes extra bulk from thick tresses. To create this short blonde hair bob, Pope says, "I chose a textured 45° angle cut. The hair is naturally straight, so the texturing part gave the look some volume where it's needed it."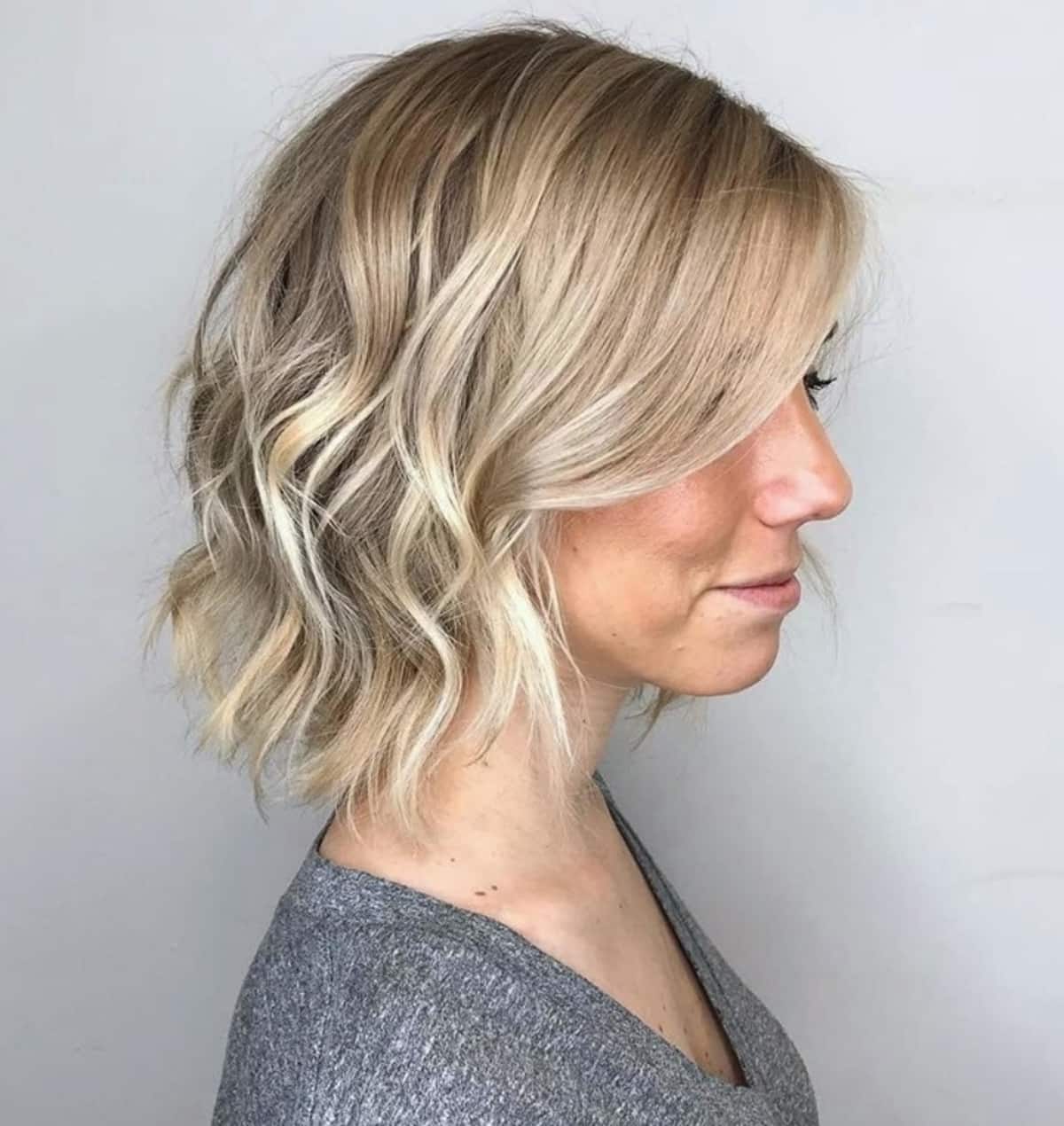 #3: Short Blonde Thin Hair
When it comes to color trends, short blonde thin hair looks super cool with a bob length cut, giving a fuller structured baseline to the hair. Try adding some blonde highlights to contrast against your natural color to give dimension and texture to finer hair, this makes the hair pop and appear thicker.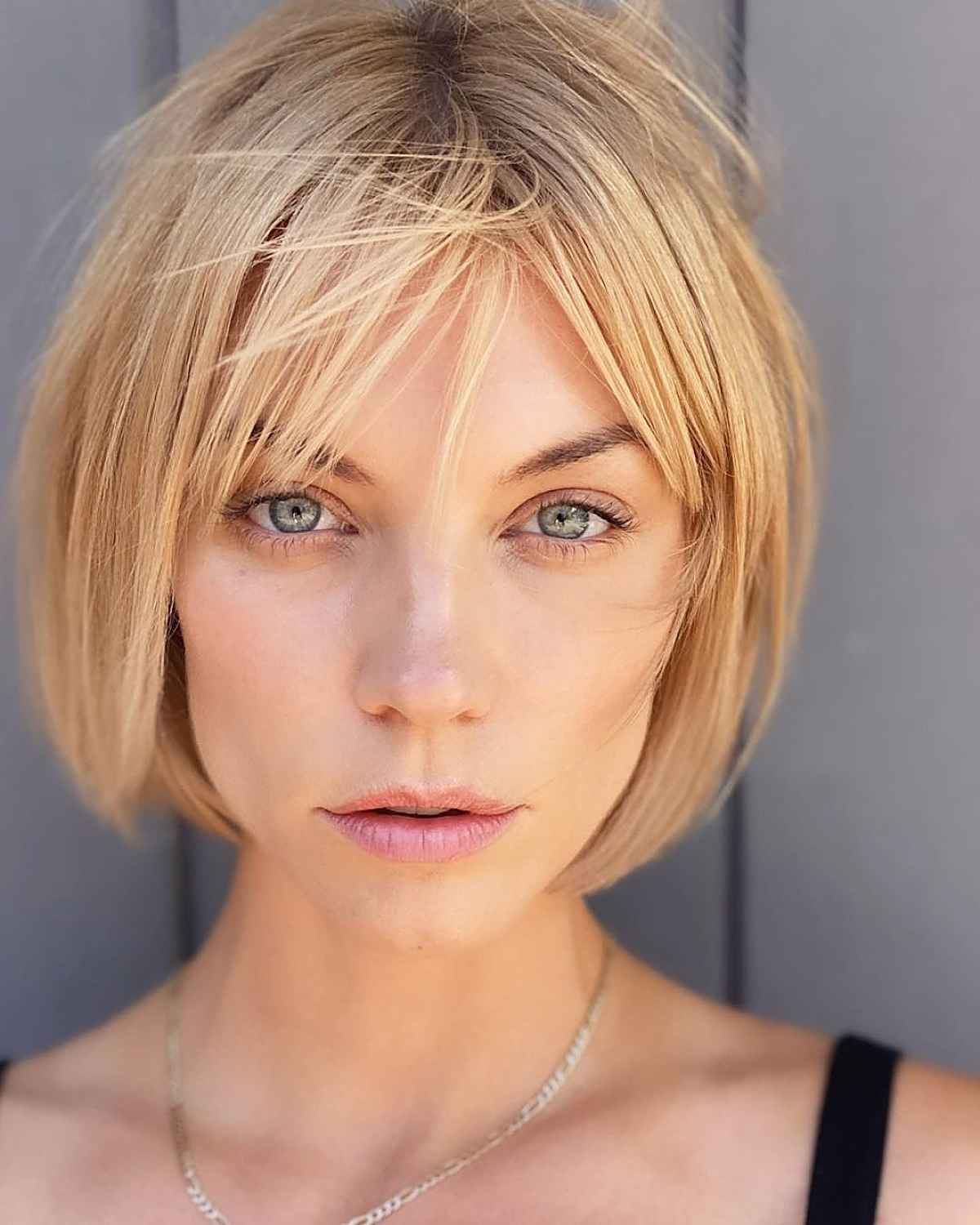 #4: Natural Short Blonde Bob
The most popular short haircut for women with natural blonde hair is a chin-length layered bob. This lovely short blonde bob hairstyle can be flattering on any face shape, depending on how you style or highlight it.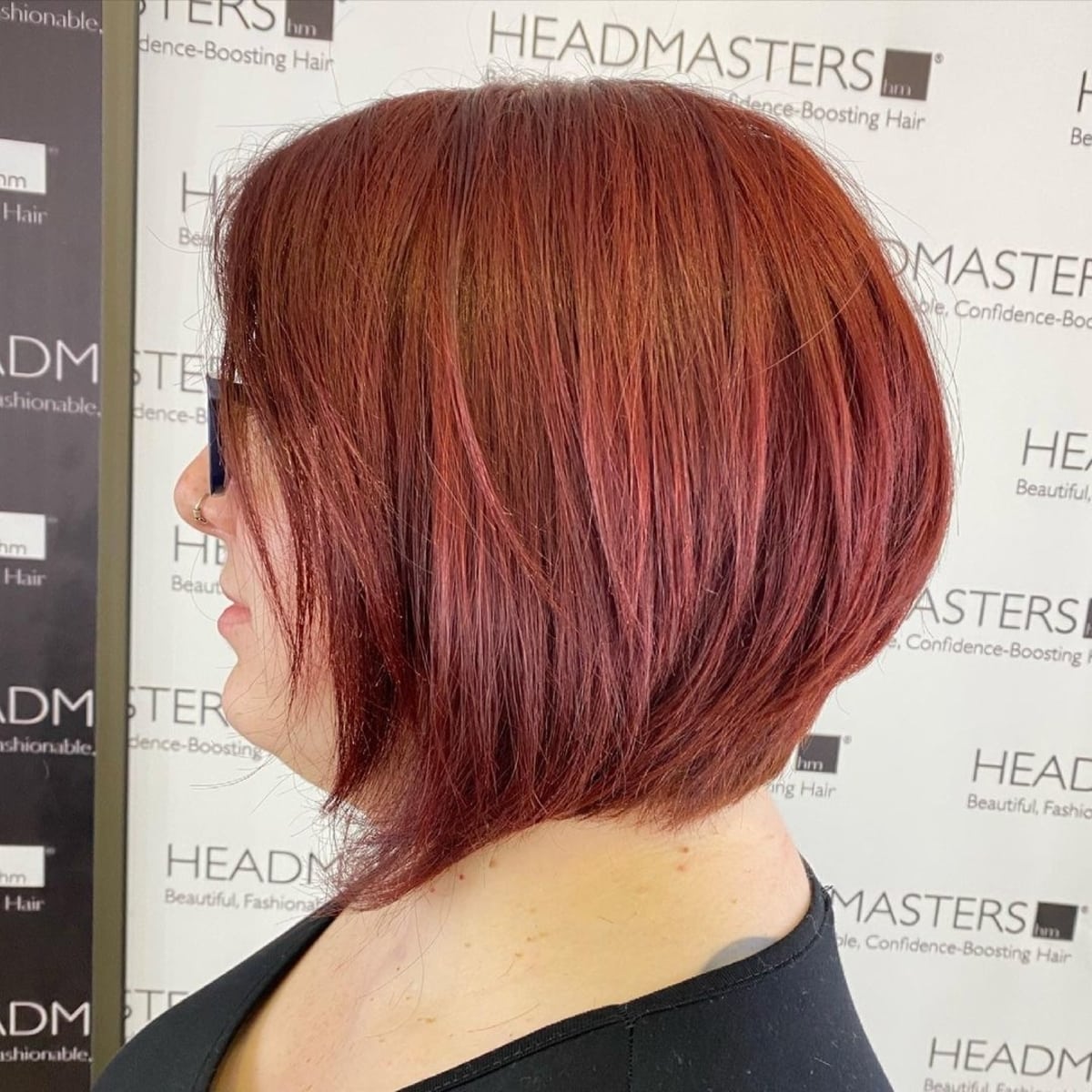 #5: Blonde and Burgundy Blend for Short Hair
Blonde and burgundy blend for short hair is great for women who want to try out red tones. To get this blonde short hair color, ask your hairdresser for some red-toned color all-over and a bob haircut.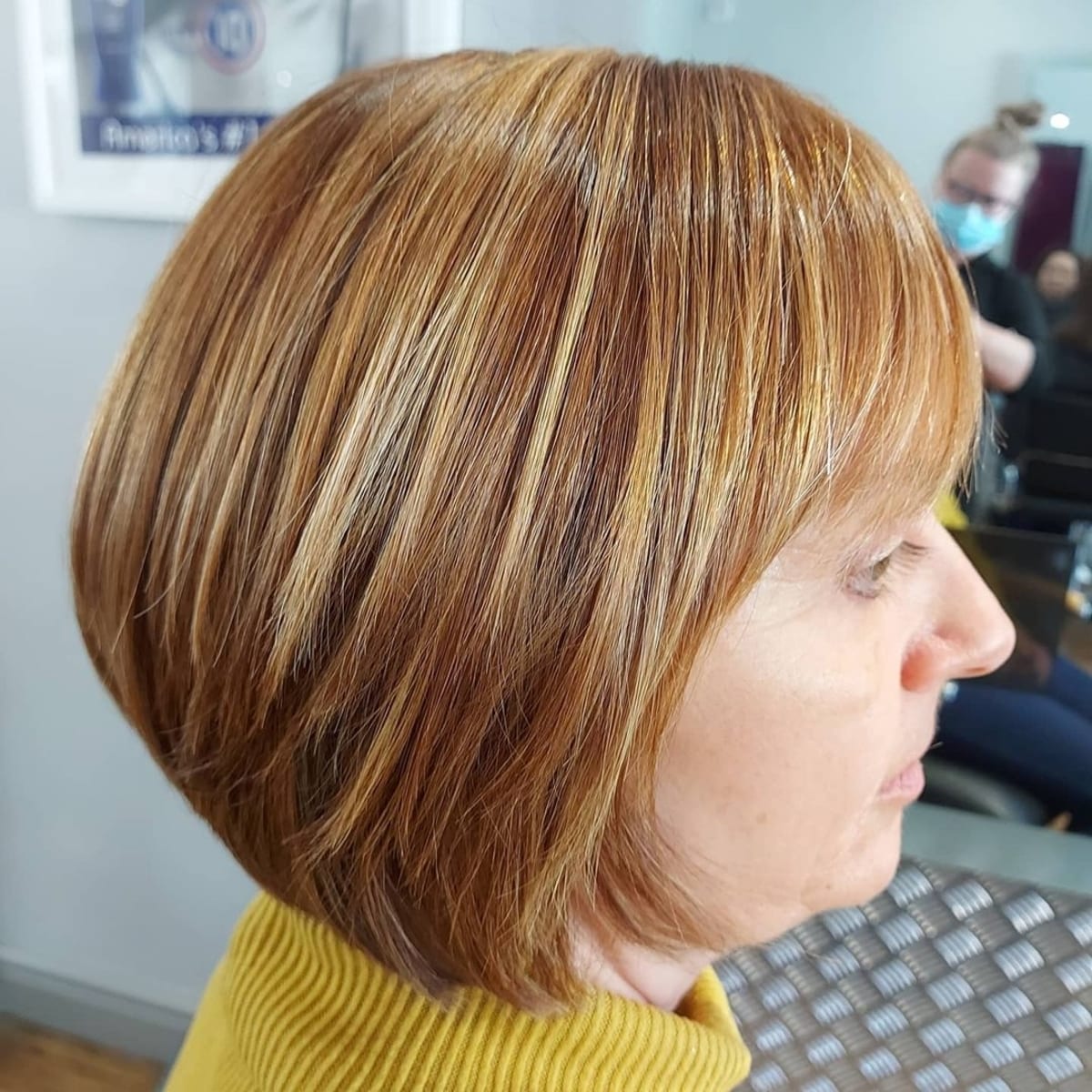 #6: Caramel Blonde Bob with Bangs
A caramel blonde bob with bangs has softer, warmer tones that look stunning on blonde short hair. The rich tones contour the face with the bangs while the short length gives softness to the entire face. The color looks natural like it's your tone, giving an added glow to the skin tone. Add few-dimensional highlights to give a natural look to your short tresses.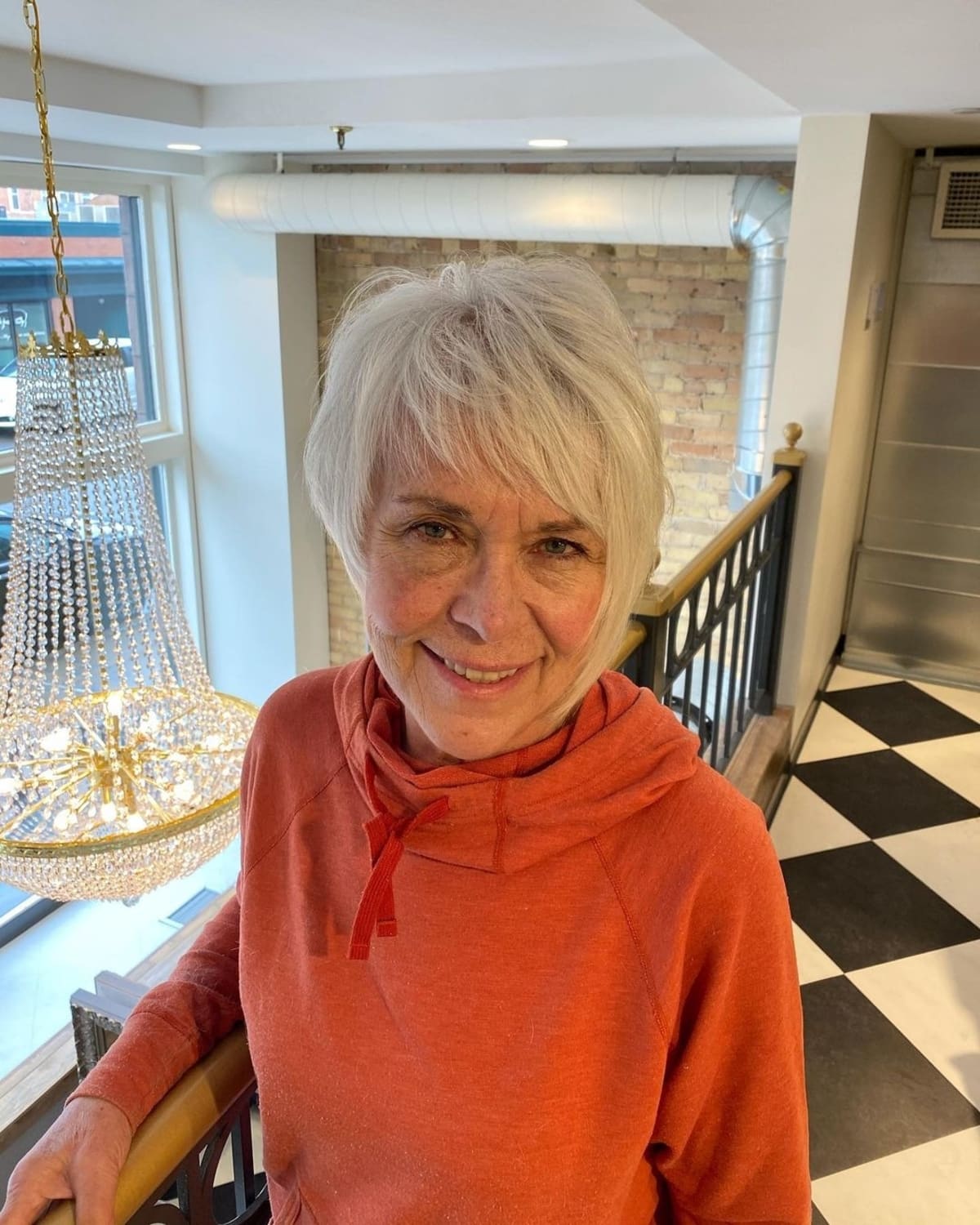 #7: Asymmetric Blonde Bob for Women Over 60
An asymmetric short blonde bob for women over 60 is a trendy and youthful cut. The peaked layers around the face provide lightness to the overall appearance.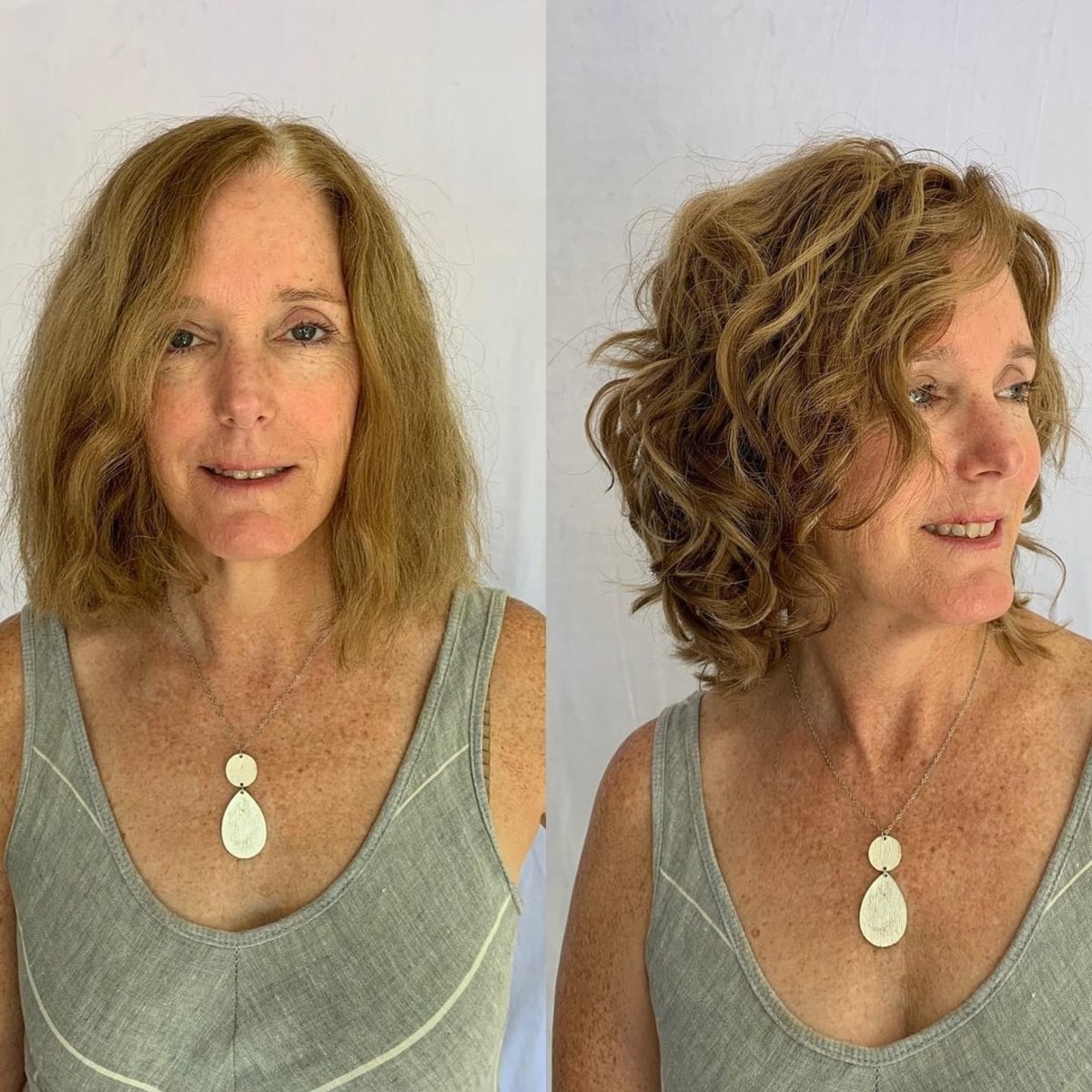 #8: Curly Blonde Hair for Older Women
Curly blonde hair for older women is a great way to blend any gray hair. It adds a subtle facelift to show off the natural texture of the curls. It's a low-maintenance approach for women without having to step foot in the salon once a month. Pro Tip: Try Be-Curly Curl Enhancing Lotion by Aveda to create frizz-free waves. Style it with a diffuser on low heat and with low intensity to form the perfect waves in your short blonde hair.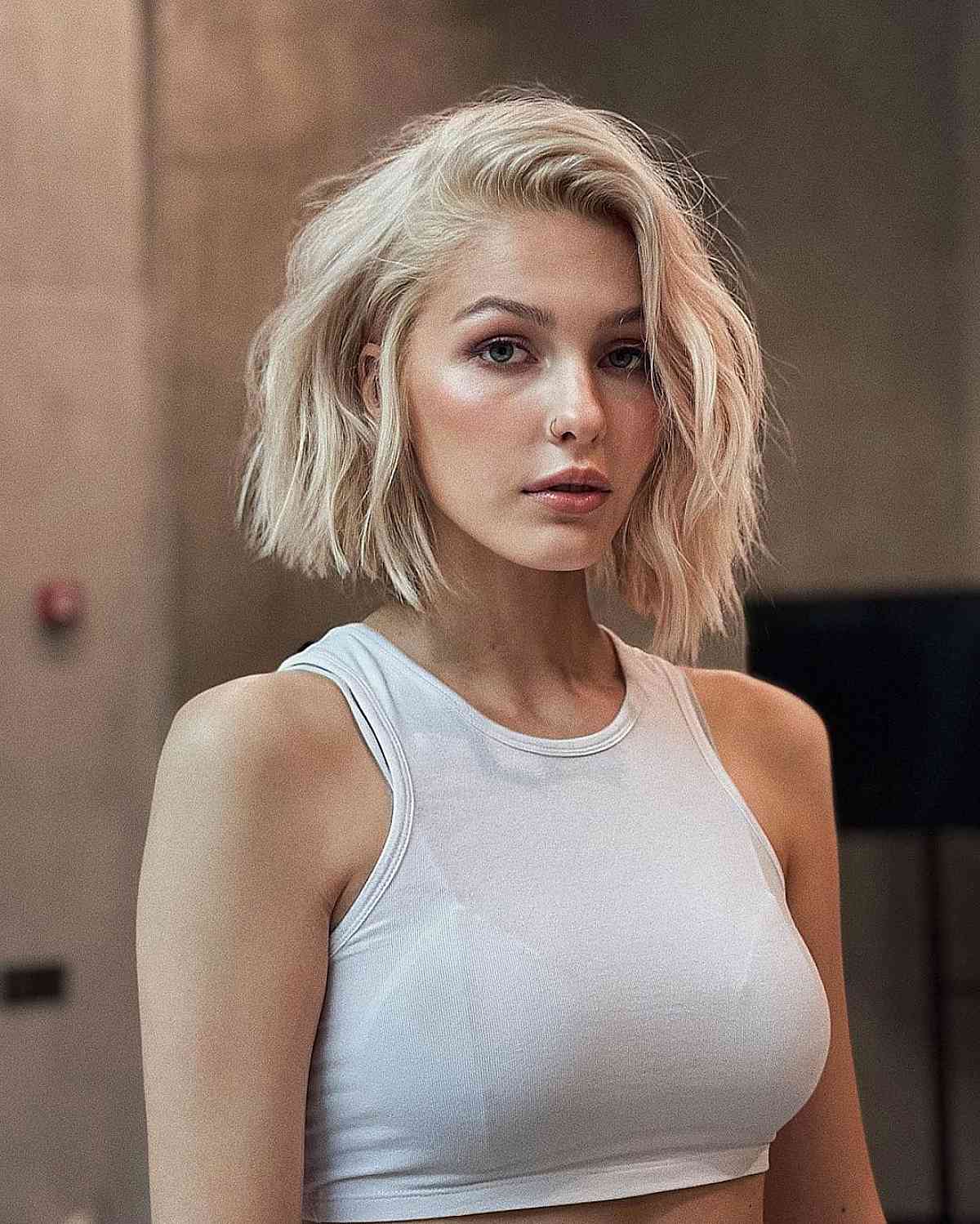 #9: Platinum Blonde for Short Hair
Short platinum blonde hair with a chin-length bob is a trendy short hairstyle right now. This high-maintenance blonde color suits cool undertones perfectly and will need the right home care routine.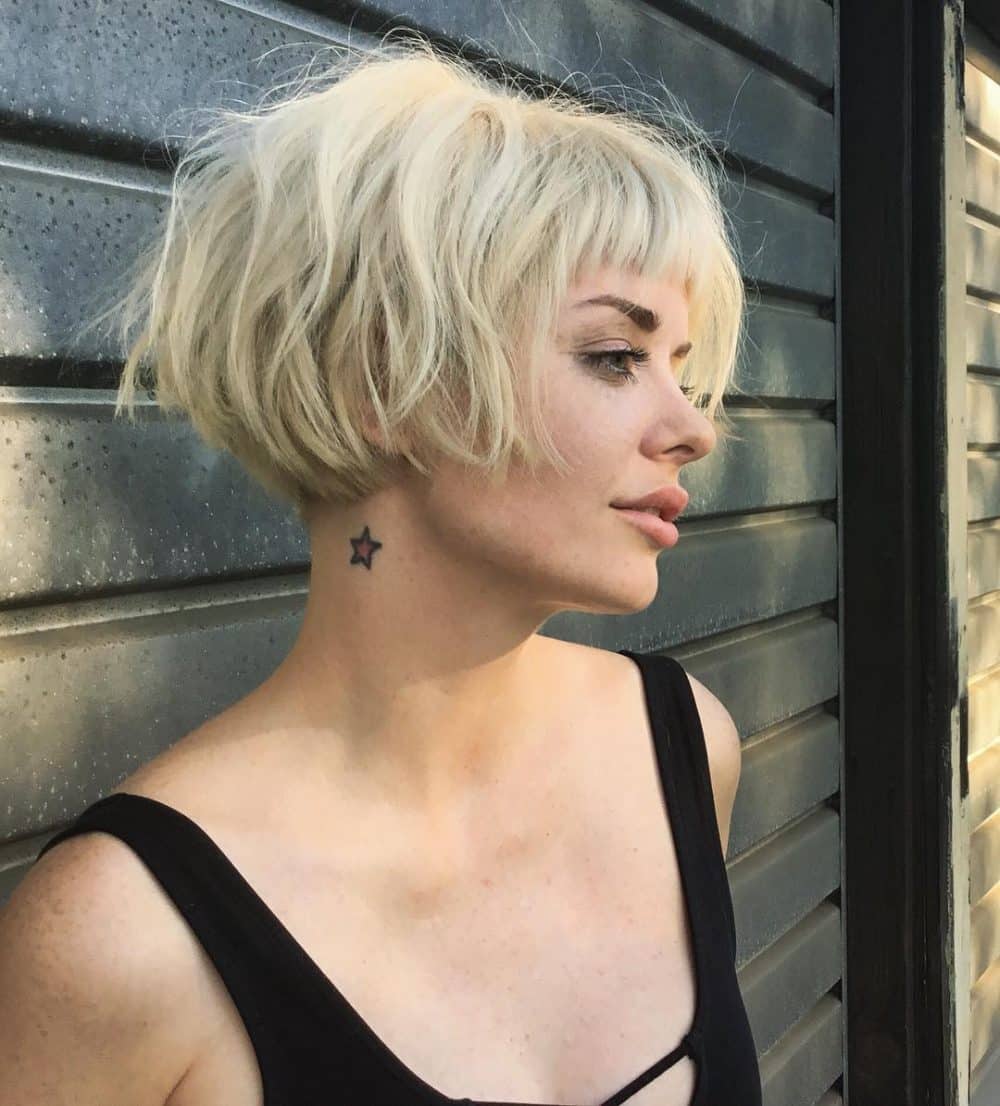 #10: Honey Blonde Ear-Length Bob with Bangs
A short honey blonde ear-length bob with bangs can look edgy with a choppy fringe and a lot of texture. This blonde messy bob also has a soft, graduated undercut at the nape that shows off some textured bits at the neckline.