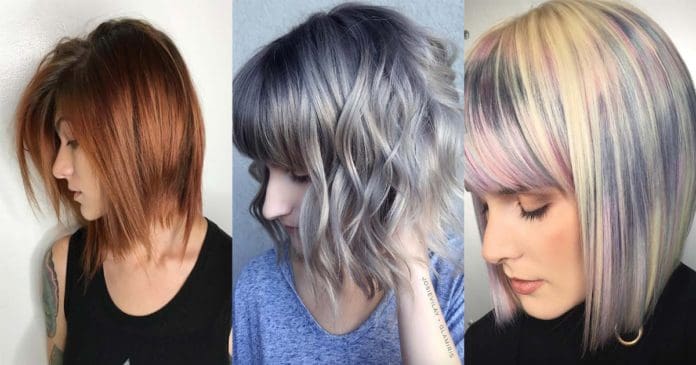 While long hair has its own romantic beauty, there is something undeniably adorable yet edgy about short hairstyles with bangs. Often, for women, it's tough to take the plunge and cut out hair short because it feels masculinizing – however, there is nothing more feminine than girlish straight across bangs. Cute pixie cuts or short bob hairstyles with bangs are a great way to take off a heavy weight of hair off your shoulders, while still keeping things stylish. In this post I'll show you some of the best pictures of short bob hairstyles with bangs, but first here are some things to keep in mind.
How to Choose Short Haircuts with Bangs
Switching to short hairstyles with bangs can be a great way to completely change up your look. Different kinds of bangs can have a big impact on the shape of your face, and as long as you choose the right kind of bangs for your face shape, they will be very flattering. You have a few fringe options:
Straight Across Bangs
Straight across bangs are the first thing that comes to mind when one thinks of hairstyles with bangs. They remind us of Bettie Page, or Vidal Sassoon's 5-point haircut – stylish, feminine, and a little retro. There are some things you should keep in mind, before getting short hairstyles with bangs like these:
They look best on oval, rectangular, and diamond shaped faces, or in other words, medium and long faces.

They will make round or square face shapes look more square.

They are a great trick to hiding a large forehead.

They require frequent salon visits, lest they start impeding your vision.
Variations include: peekaboo bangs and asymmetrical bangs.
@kthestylistb
Side-Swept Bangs
Side-swept bangs don't quite convey the same powerful effect as straight across bangs, but they are an excellent choice for those wanting to try short haircuts with bangs for the following reasons:
Side-swept bangs will flatter almost any face shape.

They allow for very versatile hair styling. You can sweep them into either direction, or pin them back nicely.

As they start to grow out, they blend easily into the rest of the hair without causing an annoying "grow out" stage.
@kazarinov_stylist
Wispy Bangs
Wispy bangs are a very popular hair cutting choice, nowadays. They are a much softer version of the straight across bangs. They are much less in your face than straight across bangs (quite literally), but they still frame the face nicely. Here are some reasons to consider short haircuts with bangs on the wispy side:
They give the same femininity as straight across bangs.

They are a very modern take on the bangs.

They can hide a high forehead, but without making the face appear too short.

In fact, they are excellent for most face shapes.
Baby Bangs
Baby bangs are the look for anyone who really wants to stand out. Depending on the hair color and styling, they might seem more rockabilly, high fashion, punk, or retro-futuristic. Here are some things to keep in mind about them:
For most people, they are not very flattering.

They definitely show bravery and a unique style.
@kazarinov_stylist
How Short Should You Go?
Pixie
Let me be the devil in your ear, who asks, "what are you afraid of?" Short pixie hairstyleswith bangs are actually ultra cute and feminine, and fantastic for summer time. Do you get headaches a lot? A pixie haircut will totally fix it. In my opinion, everyone looks good with a pixie haircut no matter their face shape, but if you're nervous, leave your fringe longer and sweep it to the side, and it'll frame your face in a very flattering way.
Bob
I didn't manage to talk you into the pixie? Well, a bob is also an excellent choice. If you keep bob hairstyles with bangs curled, they'll be lovely and soft, but you can also straighten them for that high-fashion takes on prisoners, Anna Wintour look.
Long Bob/ Lob
It's undeniable that long bobs have been super popular in the past few years. They require fewer salons visits than the pixie and the bob hairstyles, and they're definitely the safest choice for anyone who is feeling nervous. For a bit of a '70s vibe, pair them with straight across bangs, or stick to side bangs for a more modern look.
55 Ideas for Short Bob Haircuts with Bangs
And without further ado, here are some short haircuts with bangs for you to consider!
1. Sassy Blonde Pixie
This is a really fun yet wearable way of doing short hairstyles with bangs. The side bangs are excellent for anyone with an oval or round face shape, and the blonde with dark roots is incredibly modern.
@hairbykathynunez
2. Platinum Side Bang Bob
This lovely platinum bob is feather light, and the wispy side bangs definitely help keep it fresh and flattering. A hint of brown at the roots cools down the platinum locks.
@nothingbutpixies
3. Violet Silver Fox with Baby Bangs
This look is a really creative way of doing short bob haircuts with bangs. A violet baby side cut, paired with metallic violet baby bangs is certainly not for everyone, but it's very memorable.
@rebeccataylorhair
4. Summer Balayage Lob
The baby-doll bangs make this fresh summer long bob cute and young. Keeping the bangs dark, and then using balayage technique to dye the rest blonde creates a really summery, flattering effect for brunettes.
@hairbynoora
5. Metallic Rose Curls
Curly bob hairstyles with bangs are to die for! The dusty mixture of metallic pink and rust colors goes beautifully with the wispy curls.
@hairbynoora
6. Java Frost with Side-Swept Bangs
This haircut is like a delicious Starbucks frappuccino. The curls have a lot of volume and texture, the color is rich, and the bangs can be styled in a lot of different ways. I'll have the grande!
@hairbynoora
7. Garnet Goddess Lob
Pairing ombre touches with short hairstyles can be an excellent choice. Long side bangs blend beautifully into the garnet curls, and the darker roots keep this look easy to maintain.
@hairbynoora
8. Lavender With an Edge
It's undeniable that no one does coloring like Guy Tang, but I would be remiss not to point out how exquisite this sleek bob with side bangs is. Lavender and silver dyes keep short bob haircuts with bangs extra frosty.
@guy_tang
9. The Future is Baby Bangs
While normally baby bangs bring to mind retro style icon Bettie Page, some short hairstyles with bangs break the mold. Super sleek locks, and a violet and silver balayage bring this look a century into the future.
@guy_tang
10. Pink Hair Don't Care Balayage
This warm pink and ruby red balayage is quite the head turner, and the wavy curls certainly help. The side-swept bangs are super flattering and versatile in this bob, as well.
@hairbyelm
11. Ginger Summer Lob
Bob haircuts with bangs are the perfect summer choice! The side-swept fringe gives a playful touch, and losing all the extra hair is a massive relief and a literal weight off of your shoulders.
@hairbyelm
12. Dark Elfin Fringe
Channel your level 12 Dark Elf with this gorgeous cut! Short bob hairstyles with bangs can be made ethereal with a lot of wispy feathering, and the dark blue shade with frozen tips is certainly fantastical.
@salsalhair
13. That '70s Shag
If you really want to rock one of those short haircuts with bangs, but are a little nervous about looking too young, keeping the fringe long and wispy can be a great way to bridge the gap. The waved long bob and extra volume near the top give this ombre a groovy '70s vibe.
@salsalhair
14. Peekaboo Bangs
Long bob? Check! Dark brown to caramel ombre? Check! Messy curls? Check! This look could have been a typical take on longer bob haircuts with bangs, but that peekaboo slit in the bangs breaks the mundanity and adds a touch of uniqueness.
@salsalhair
15. Voluminous Metallic Lob
This metallic violet long bob is such a great take on bob haircuts with bangs, thanks to the model's voluminous and almost otherworldly hair. It just emanates power and nerve.
@guy_tang
16. Wispy Bangs and Golden Ombre
This dark brown to blonde balayage is totally yummy, and the long wavy bob with wispy bangs is so light and airy that it just makes you want to go frolicking in a field.
@salsalhair
17. The Modern Redhead Shag
These bright red locks totally pop, and those wispy bangs with a peekaboo slit are a great non-traditional fringe. Overall, this is a great modern take on longer bob haircuts with bangs.
@salsalhair
18. Short Voluminous Bob
Teased, voluminous bangs are quickly becoming my favorite addition to short hairstyles! The rich chocolate coloring and big messy waves in this bob are stunning.
@salsalhair
19. Ice Blue Balayage Long Bob
Really cold, metallic colors can be nicely softened with lovely curls. This long bob proves that short hairstyles work really well with side-swept, wispy bangs.
@bescene
20. Textured Short Blonde Bob
Wispy short bob hairstyles with bangs swept to the side are just charming, and so easy to style! This blonde short bob has dark roots, which ensures that frequent salon visits won't be necessary.
@buddywporter
21. Pastel Tie-Dye Bob
The tie-dye effect in this hairstyle is totally revolutionary. The awesome pastel effect works really well with sleek bob haircuts with bangs, which in this case are cut straight across.
@rebeccataylorhair
22. Highlighter Bob with Bangs
The adorable baby-doll haircut was taken to a whole new level here. Some stylists really know how to bring magic to short haircuts with bangs – in this case it was done with a beautiful rainbow highlighter style dye job.
@rebeccataylorhair
23. Vivid Blue Bob
This bright, attention-grabbing blue is a great unusual color option for anyone with cool undertones and a lot of nerve. Straightened long bob haircuts with bangs, as usual, only improve funky colors.
@shurie
24. Smoky Emerald and Navy Balayage
I love the combination of serious, smoky hair colors with sassy short bob haircuts. The bangs in this haircut are really fun and wispy, which has a soft, modern effect.
@shurie
25. Cotton Candy Long Bob
The cotton candy colors remind me of a summertime excursion to the amusement park! Not to mention the textured, side-swept bangs that go so well with long bob hairstyles.
@shurie
26. Platinum Punk Bangs
There is a definite '90s punk vibe to this haircut. The platinum locks are curled in a spiky way that shows off the grungy dark roots really well. This is a fine example of short haircuts with bangs.
@jeffreyrobert_
27. Winter Queen Bob
Short bob haircuts can go really well with accessories, like this gorgeous quartz crown. The short, straight across bangs, granny silver hair color, and textured straight hair bypass all the trends and create something unique and completely stylish.
@jeffreyrobert_
28. Midnight Balayage with Uneven Bangs
If you really want to play with conventions, consider getting a little messy with the scissors. As long as your black blue balayage, makeup, and top bun are as on point as in this long bob, you could probably get away with it.
@chemically_electric
29. Messy Auburn and Pink Bob
I love messy, piecey short hairstyles that look like you just rolled out of bed. The streaks through the bangs, which were cut to look a little wispy, give the whole look a lot of brightness and lightness. The pale pink streaks through the auburn also deserve a mention.
@jacobhkhan
30. Black and Silver Ombre Long Bob
The effect when ombre short hairstyles with bangs keep the bangs one color, and dye most of the rest of the hair, the result is really striking. Thanks to the straight lines and the contrast between the black silver, this look is doubly striking.
@nothingbutpixies
31. Granny Curls and Bangs
Silver hair is the hair color trend of the year, and pairing it with short bob haircuts with bangs is a super fun way of combining a really young style with a more mature color. By keeping the roots darker you can keep your hair healthy, and not worry too much about maintenance.
@glamiris
32. Ash Brown Curls and Side-Swept Curls
This ash blonde and brown balayage is oh-so-subtle, and the piecey curls are fun yet sexy. I love short hairstyles with bangs that incorporate the side-swept curly bangs into the rest of the hair.
@glamiris
33. Sun-Kissed Long Bob
Dark tresses were accented with just a touch of copper and blonde, making for a really lovely contrast. The messy long bob with bangs that are kept feathered is fresh and summery, to go with the bright color contrast.
@glamiris
34. Purple Rain Braid and Bangs
The alternating streaks of magenta and lavender provide a lovely contrast to this softly curled slanted bob. The crown braid in this look is also lovely, and shows that you can get creative when styling short haircuts with bangs.
@glamiris
35. Punk Rock Copper Balayage Long Bob
This super textured balayage shows that bangs can have a serious edge. Razor cutting the ends of short haircuts with bangs swept to the side is super stylish, especially when paired with such a clean and healthy looking color.
@nothingbutpixies
36. Textured Autumn Bob
This soft brown and caramel balayage complements these lush, textured bangs, giving the hair a warm feel that's completely appropriate for fall. The beautiful curls look as though they've been slightly mussed by the wind.
@nothingbutpixies
37. Ocean Queen Silver Green Bob
Setting aside the gorgeous shell crown for a moment, this is a badass example of short bob haircuts with bangs. The baby bangs are hard to pull off, but if you have the face for them, they'll keep your image sharp in everyone's mind, especially when paired with such an extraordinary color.
@nothingbutpixies
38. Sakura Slanted Bob
This straightened, subtly slanted bob with straight across bangs is a classic look. It's a little bit editorial, but still adorable – especially when paired with such a gorgeous blend of pink and dark brown hair colors.
@steviescissorhands_
39. Forest Green Punk Balayage
Short haircuts with bangs go super well with punk hair colors and styling. Smoky and lime green contrast in a way that is very messy and grunge, especially when the styling and the side-swept bangs are also stylishly messy.
@steviescissorhands_
40. Neon Sunset Rockabilly Bob
Usually, my first thought when I see bob hairstyles with bangs is "rockabilly", and this look certainly fits the bill, despite the extreme colors. Speaking of, orange and purple is one of my favorite color combinations, since it reminds me of the sunset. If you want to break the mold, try this hairstyle out; just remember the maintenance will be intense.
@jeffreyrobert_
41. Thick & Textured Side-Swept Bangs
I gotta admit something – while we've seen a lot of short haircuts with bangs so far, some more on the girly side, and others more edgy and mature, this one is my favorite because it manages to strike the perfect balance. The blonde and caramel highlights, and textured waves look lush and touchable, and the length of the hair and side-swept bangs are sure to flatter almost any face shape.
@nothingbutpixies
42. Bombshell Blown Out Bob
The verdict is in: red is the sexiest hair color. This voluminous long bob proves that even straight across bangs, when paired with the right shade of dye, a teasing comb and a blow dryer, can look smolderingly hot.
@nothingbutpixies
43. Raspberry Swirl Bob
The great thing about short hairstyles is that sometimes a touch of texturizing spray and a rapid shake of the head are all you need to look effortlessly messy. A great layered bob, expertly dyed with warm shades of red and orange, also makes everything easier.
@nothingbutpixies
44. Vivid Sunset Layered Balayage
Allowing just a touch of vivid colors run through the ends of the hair is a great way of playing with unusual colors, while keeping most of the hair natural. I also totally love these longer, layered side-swept bangs that go oh-so-well with this asymmetrical long bob.
@elissawolfe
45. Rose Gold Swirl
This rose gold textured bob keeps the roots darker for easy maintenance. The side-swept bangs and gentle waves are ultra flattering, for any face shape.
@hairbykristinamarie
46. A Touch of Pumpkin Spice Bob
Running some orange strands through an otherwise blonde textured bob is a great way of getting short hairstyles with bangs ready for autumn. You can achieve this kind of piecey curls with a thin curling iron.
@shelleygregoryhair
47. Painted Fire Long Bob
This layered long bob is on fire! Bright orange streaks offset by natural dark roots keep things bright and playful, but sleek side-swept bangs and classy layers make this haircut wearable by anyone.
@shelleygregoryhair
48. Redhead Pixie Bob
Short hairstyles with bangs can be extremely feminine, even more so than some long haircuts, if styled the right way. By keeping the straight across bangs just above the brows, the eyes stand out, while keeping the front of the bob a touch longer and curled inwards has a pretty 1950s charm.
@shorthair_love
49. Orange Creamsicle Balayage With Side-Swept Bangs
Long bangs, swept to the side over one eye, exude mystery and intrigue. Side bangs are also quite flattering, especially for rounder and square face shapes. Paired here with a pastel orange, this look is flatteringly out of the ordinary.
@joeltorresstyle
50. Ash & Copper Ombre with Airy Bangs
The copper ombre added to ash brown hair here gives a lot of warmth. Wispy bangs are also a great option for anyone who wants easy styling for short haircuts with bangs. They're airy and light, and don't shorten the face the way fuller bangs might.
@kazarinov_stylist
51. All That Jazz Bob
With this take on short haircuts with bangs, I immediately picture Catherine Zeta-Jones killing it on the stage in the film Chicago. You could easily channel your inner femme fatale with this black bob with curled in ends.
@anniksas
52. Antique Mauve Graduated Bob with Bangs
Graduated bobs are a way of rocking short hairstyles with bangs, without actually looking like your hair is actually that short. Pin straight locks and a metallic mauve keep this look chic and modern.
@spectraltones
53. Old-School French Bob with Bangs
This elegant, snow-white haircut will have you feeling like a cosmopolitan flapper, sitting at a swanky Paris cafe in the '20s. This is one of those short hairstyles with bangs that are simultaneously retro and modern.
@salsalhair
54. Curly Bangs with Green Tips
This is adventurous styling for short haircuts with bangs, but it is perfect for a '50s themed party, with an edge! Tightly curl both your bangs and hair ends, for extra bravery, pair it with colorful tips.
@cherise_cheveux
55. Box Bob with Feathery Bangs
Ombre that starts right where the bangs end is a lovely choice for short haircuts with bangs. Additionally, the bangs here are quite feathery, which takes away some of the severity of a traditional box bob.
@alyssazamboni
Photos courtesy of Instagram