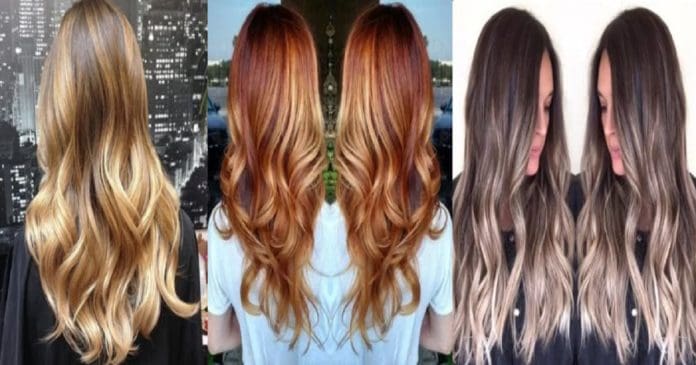 Blonde Balayage Highlights And Looks
As the subtle, more sophisticated sister of ombre hair color, balayage highlights have been one of the most popular trends in hair color for the past several years, and with good reason. Applied using a hand painted technique that mimics natural highlighting, balayage highlights are a step up in sophistication, and can vary from subtle to bold. Whether your hair is an ashy brunette or warm auburn, blonde balayage highlights can instantly elevate your one-dimensional hair color, and instantly make your style brighter looking in time for warmer weather or a special occasion. Having an experienced colorist give your hair the blonde balayage treatment will ensure the correct placement and color choice, but once these highlights are in place they don't require frequent touch ups, and you can let them grown out for as long as you'd like. Get ready to get a little (or a lot) more blonde in your life after you check out our favorite blonde balayage hair color ideas.
1. Buttery Blonde Balayage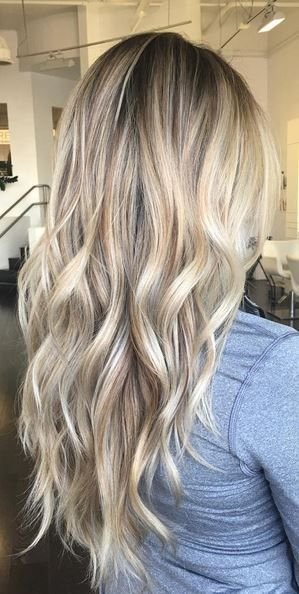 With a buttery blonde balayage applied liberally over darker blonde hair, this hairstyle strikes the perfect balance between trendy and natural looking.
2. Toffee Blonde Balayage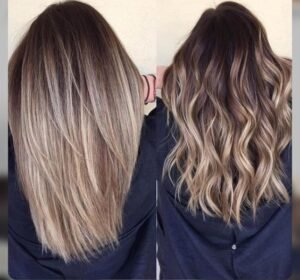 If you're looking for a blonde balayage color that won't contrast too boldly against your natural medium brunette hair, try a darker shade of toffee blonde. These two colors together look good enough to eat, and make a nice warm style for cooler seasons.
3. Balayage Blonde On Red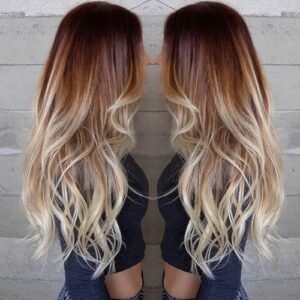 Looking for a two-toned hairstyle with tons of visual impact? Brighten up red locks with blonde balayage highlights that take your autumn colored hair to a sunny summer shade.
4. Golden On Auburn Balayage Highlights
More than just a hint of blonde, this golden blonde balayage creates a rich looking style when worn over natural auburn hair. These balayage highlights grow out nicely, making them easy to wear with long periods of time between touch ups.
5. Blonde Balayage Auburn Lob
A bold blonde balayage helps to accent the thick waves that have been styled into this auburn lob, and make for an extra playful addition to your dark red lob.
6. Golden Waves Balayage Highlights
Featuring balayage highlights in a golden blonde shade over a darker, natural looking blonde, these golden waves make for a sunny style that will have you looking ready for a California summer no matter where you go.
7. Silvery Ash Balayage Highlights
Cool things down by layering this ashy silver blonde shade over brunette hair that's equally ashy with no red undertones. The end result is a hair color that's trendy and polished but with a little edge, perfect for ladies with cool complexions and light colored eyes.
8. Winter White Balayage Highlights
Look like a perfect frosty snow queen with this icy combination of ashy roots and wintery white blonde balayage highlights. We love this look for porcelain skinned beauties who aren't interested in going brunette, and this style definitely proves that colder weather doesn't have to mean your hair gets darker.
9. Natural Warm Balayage Blonde
Looking to warm up your hair color in an easy, low maintenance way? Keep it low-key and natural with this warm blonde balayage that's only a few shades lighter than the rest of your hair.
10. Butter On Auburn Balayage Highlights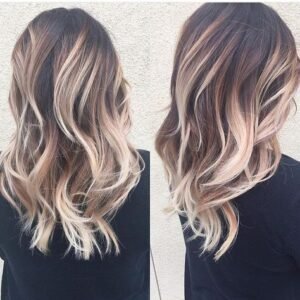 Going for a bold contrast between colors like these deep auburn and buttery blonde shades can be a bit of a hair color risk. What makes this style work are the matching warm undertones in each color, that help to make this look pop on warm skinned women, especially those with green eyes.
11. Strawberry Blonde Balayage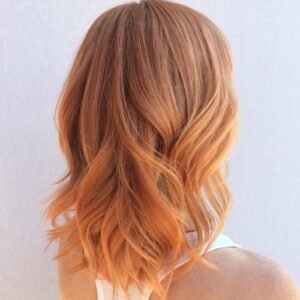 If you're looking for a blonde balayage hair color that's a little more unique, try this sweet and sunny strawberry blonde style that's a natural looking addition to anyone who was born a redhead, or with brunette hair that has red undertones.
12. Warm Blonde Over Natural Brunette
With quite a strong contrast between a dark natural brunette and the warm blonde balayage highlights, this multi-tonal style looks best on women with medium or deep complexions and warm undertones.
13. Dramatic Balayage Blonde Bob
Although balayage highlights tend to be seen most often on longer hair, they work with shorter styles too. A dramatic blonde balayage helps to elevate this long bob style from similar haircuts worn with one dimensional color.
14. Golden Toffee Subtle Balayage Highlights
Warm and mellow like a toffee flavored latte, this golden balayage color fits perfectly with a muted natural auburn with subtle hints of red throughout.
15. Ashy Platinum Balayage Highlights
If you like your blondes without any hints of yellow, try this ultra light shade of ashy platinum for your next set of balayage highlights. Worn over a darker brunette root, this balayage style reaps the rewards of going for a bold look.
16. Rich Golden Blonde Balayage
If beachy hair won the lottery and bought a mansion, the result would be this rich golden blonde balayage style. This creamy, dreamy look is one of the most mature and expensive looking ways to get glowy summer hair, and is perfect for put together women who are well past their basic blonde stage.
17. White Blonde Balayage
Whether you call it white hot or icy cool, this ultra light blonde balayage is the result of a trained professional stylist working their magic. If you're looking for equally impressive white blonde highlights, be sure to trust your color to a stylist who knows how to lift hair to this perfect pearly shade.
18. Face Framing Caramel Balayage
Ciara's perfectly positioned caramel balayage highlights do an incredible job of framing her face, and make this a perfect look for any season.
19. Pale Butter Blonde Balayage
Grab a slice of pale blonde perfection with this buttery shade for your balayage highlights. A color this pale can help to make even the fairest of complexions look rosy in comparison.
20. Dimensional Blonde Balayage
With a warm honey blonde over a darker brunette shade, this dimensional color is the perfect way to add a lighter color to your look if your complexion is deep or olive. This look strikes the perfect balance between a full head of blonde hair that can make olive complexions look yellow, and an all natural brunette that feels flat and one-dimensional.
21. Intense Copper With Blonde Balayage
We love the idea of dressing up your red hair with blonde highlights, and the balayage technique helps to create color palettes that remind us of autumn leaves or the glowing embers of a fire. Whether you're gearing up for summer or winding into fall, this rich warm style will breathe new life into your red hairstyle.
22. Natural Black With Blonde Balayage
Working on a canvas of natural black hair, this balayage style features multi-tonal blonde color for a finished product that will have everyone begging to know who colors your hair and how soon they can get an appointment.
23. Champagne Blonde Balayage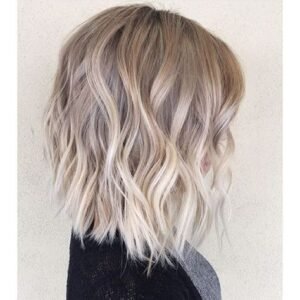 This champagne colored balayage is certainly something to celebrate, and manages to look chic and expensive while staying fun and flirty.
24. Beachy Blonde Balayage
Although there's certainly nothing average about supermodel Gisele Bundchen, her beachy blonde balayage looks like a quintessential summer highlight job helped along by the sun.
25. Rich Chocolate Brown With Dirty Blonde Balayage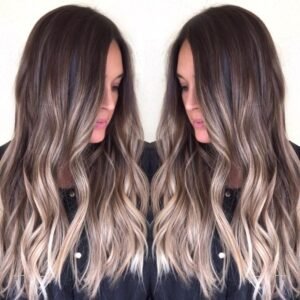 With hair this long you have more than enough canvas to make a bold balayage statement. This dirty blonde shade is a little more grown up looking than some of the brighter blondes on our list, making this a great choice for women who aren't looking to turn into a bubbly bottle blonde.
26. Auburn With Golden Blonde Balayage
The color contrast between deep auburn hair and these golden blonde highlights makes it one of the bolder styles on our list, and looks best on women with warm, medium complexions.
27. Dirty Blonde Balayage
Keep your hair color looking natural by adding a subtle blonde balayage over your dirty blonde locks. Perfect for sprucing things up for a new season without going for a complete color overhaul.
28. Golden Caramel Balayage Blonde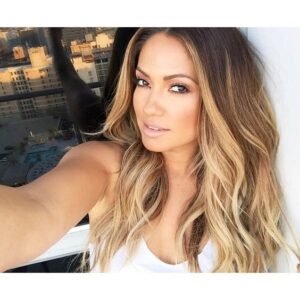 Have you been dying to try blonde hair, but aren't sure if your deeper skin tone will be complimented by the look? Blonde balayage highlights like this golden caramel style are the perfect compromise, allowing plently of darker hair to help balance and control the style, and creating a rich color palette that's more fun than a single tone look.