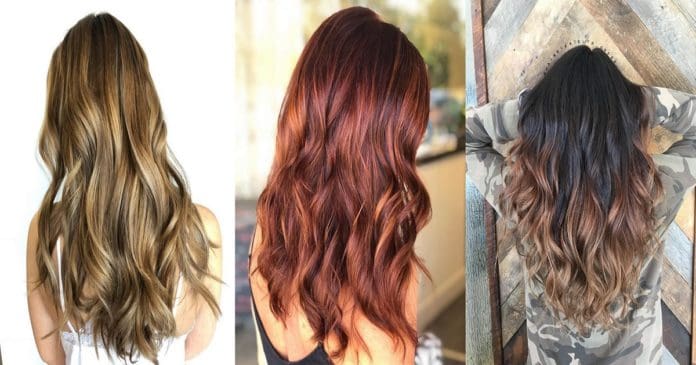 Caramel balayage is a gorgeous hair coloring technique that delicately sweeps in light and natural brunette colors, usually into a darker base, to achieve an effortless sun-kissed look.
One amazing trait of this trendy highlighting technique is how it results into a high-contrast look that beautifully creates a multi-dimensional appearance!
Of course, having a balayage also means less maintenance and effortless styling. (It's easy on your 💰 and your ⏰).
Another reason to fall in love with this color trend is how the hair texture appears more defined and enhanced when under natural, bright lighting. Style your strands with waves or curls for a gorgeous voluminous blend or with straight hair to showcase a smooth transition of colors.
Below, I've put together some stunning examples of the delicious caramel balayage hair color trend. Yum!
Brown with Strawberry Blonde Balayage
Instagram @reddoorsalon_amherst
Catch the light on your tresses with this rosy color melt that makes brunette hair even more luscious and shiny! Wavy or straight, this paint job totally works on anyone!
Dark Caramel with Honey Highlights
Instagram @salonmiabellallc
Get a little bit of glow from this sweetly tinted chocolate hair that will give you a fresh look! Fabulous on any hair length and texture!
Golden Brown Highlights on Light Brown Hair
Instagram @alyssa_at_pinupcurls
This mesmerizing buttery blonde is so silky and smooth, and it makes the hair appear soft and healthy!
Ash Blonde and Caramel
Instagram @ebonyhairx
Salted Caramel Balayage on Short Hair
Instagram @danigshairology
An elegant version of the sun-kissed beachy look on a wavy bob with fringe – this hairstyle looks stunning on anyone looking for a sassy look!
Toffee Caramel Balayage Highlights
Instagram @morgan_warmerdam_hair
Fall can't come any sooner with this delicious and refreshing hair color melt. It's simple yet beautiful and works well with natural dark hair colors.
Caramel Balayage on Brown Hair
Instagram @kellervieirabeautyroom2018
A universal shade that looks brilliant on all skin tones – this warm blend on brunette hair offers a one-of-a-kind contrast for a more defined and dimensional hairstyle.
Brunette Caramel Balayage
Instagram @delaneyw.hairstylist
Get that beautiful light-catching effect on your natural chocolate hair by getting these sweet and warm highlights! Ideal for wavy hair in any length!
Brunette to Blonde Ombre
Get rid of your flat hair with this super lovely color melt from dark to light! You'll get a taste of what it's like to be blonde without all the maintenance it requires.
Black to Caramel Ombre
This is a caramel color melt – dark chocolate base melted into warm caramel ends. The hair was balayaged and then colormelted for the blended transition. The soft waves were created by using a straightener, which makes the color pop.
Warm Caramel Blonde Balayage on Curly Hair
Butterscotch Caramel Balayage on Black Hair
This light brown hair is what I call yummy golden caramel crips! The way the waves and color flow lightly together just reminds me of apples dipped in caramel!
Copper Red with Caramel Highlights
It's that time of year – sweaters, pumpkin spiced lattes, and fall hair color! I call this one hot caramel apple cider. I love the depth and dimension this hair color has. Hand painting a few pieces of caramel here and there adds a touch of brightness without taking away from her beautiful base color.
Chocolate Caramel Balayage
I love this subtle balayage because it provides a multi-dimensional effect for someone who doesn't want a drastic change. When the hair color is not strongly contrasting, the color grows subtly providing a low maintenance upkeep. The subtle highlights also create a glow around the face for a younger feel.
Caramel Balayage on Dark Brown Hair
This is for those who want to have dimension and contrast but low maintenance! We have fun with the different colors and tones in the ends. This look is accomplished with balayage and toning to caramel tone.
Light Caramel Highlights on Brown Hair
This color is such a soft and subtle look but it enhances her natural color with a blended caramel contrast. The coolest thing is how versatile it is, with it still looking natural.
Mahogany
The best thing about this look is that it was actually a rose gold attempt. We just had to take it in stages as her hair is naturally a level 3/4 so we just went with what her hair lightened to this round.
I wanted to do this without having to compromise length as she wanted to keep it longer and this is the gorgeous color we ended up both loving! I would describe this as a cool muted mahogany brown.
Deep Caramel Highlights on Dark Hair
This is a high contrast balayage with a soft melted caramel inspired look. I am completely in love with how the highlights cascade around her most beautiful features such as her lips, cheekbones, and gorgeous eyes.
The caramel tones warmed and complement her skin tone so well and really help to give her an overall natural glow. After box dying her hair black for many years, we were both extremely happy with how light her hair allowed ya to get her, which is a very rare occasion. The hair gods were with us on this day.
Caramel Brown Balayage on Long Hair
This look is a dimensional caramel balayage. Enhancing the caramel highlights and mixing in darker brown tones create the perfect fall blend. The mix of lighter and darker natural tones paired with a natural soft wave style is my favorite thing about this look.
Honey Caramel Balayage on Medium Length Hair
The best about this look was that this was actually a color correction. She had a very brassy, grown-out ombre with no dimension and length that wasn't doing anything but looking scraggly. First, we cut off about four inches and then I balayaged highlights and lowlights into her hair giving her the dimension she very much needed.
We wanted a low maintenance look so I brought the balayaged highlights higher around her face and dropped into a halo technique for her sides and back. We chose to have a caramel tone that best complemented her skin tone and natural hair color. Another good thing about this look is how the naturally gorgeous balayaged highs and lows complemented her complexion and brought her back to life!
Bronde Balayage on Straight Hair
This is the perfect caramel balayage highlight. What I love about this look is almost everyone can pull this off! It gives your hair such a dimension whether it's worn curly or straight.