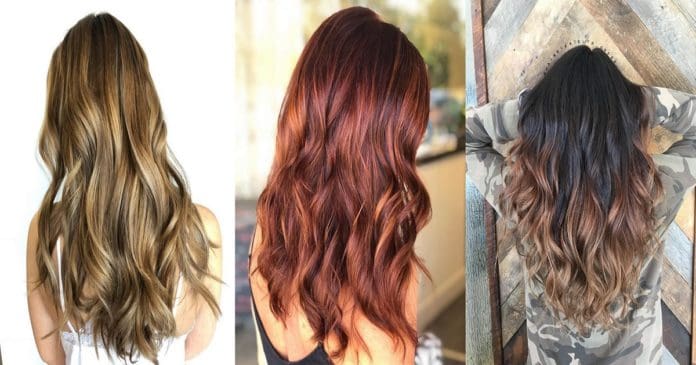 Caramel balayage is a gorgeous hair coloring technique that delicately sweeps in light and natural brunette colors, usually into a darker base, to achieve an effortless sun-kissed look.
One amazing trait of this trendy highlighting technique is how it results in a high-contrast look that beautifully creates a multi-dimensional appearance!
Of course, having a balayage also means less maintenance and effortless styling. (It's easy on your 💰 and your ⏰).
Another reason to fall in love with this color trend is how the hair texture appears more defined and enhanced when under natural, bright lighting. Style your strands with waves or curls for a gorgeous voluminous blend or with straight hair to showcase a smooth transition of colors.
Below, I've put together some stunning examples of the delicious caramel balayage hair color trend. Yum!
Brown with Strawberry Blonde Balayage
Instagram @reddoorsalon_amherst
Catch the light on your tresses with this rosy color melt that makes brunette hair even more luscious and shiny! Wavy or straight, this paint job totally works on anyone!
Dark Caramel with Honey Highlights
Instagram @salonmiabellallc
Get a little bit of glow from this sweetly tinted chocolate hair that will give you a fresh look! Fabulous on any hair length and texture!
Golden Brown Highlights on Light Brown Hair
Instagram @alyssa_at_pinupcurls
This mesmerizing buttery blonde is so silky and smooth, and it makes the hair appear soft and healthy!
Instagram @ebonyhairx
Salted Caramel Balayage on Short Hair
Instagram @danigshairology
An elegant version of the sun-kissed beachy look on a wavy bob with fringe – this hairstyle looks stunning on anyone looking for a sassy look!
Toffee Caramel Balayage Highlights
Instagram @morgan_warmerdam_hair
Fall can't come any sooner with this delicious and refreshing hair color melt. It's simple yet beautiful and works well with naturally dark hair colors.
Caramel Balayage on Brown Hair
Instagram @kellervieirabeautyroom2018
A universal shade that looks brilliant on all skin tones – this warm blend on brunette hair offers a one-of-a-kind contrast for a more defined and dimensional hairstyle.
Brunette Caramel Balayage
Instagram @delaneyw.hairstylist
Get that beautiful light-catching effect on your natural chocolate hair by getting these sweet and warm highlights! Ideal for wavy hair in any length!
Brunette to Blonde Ombre