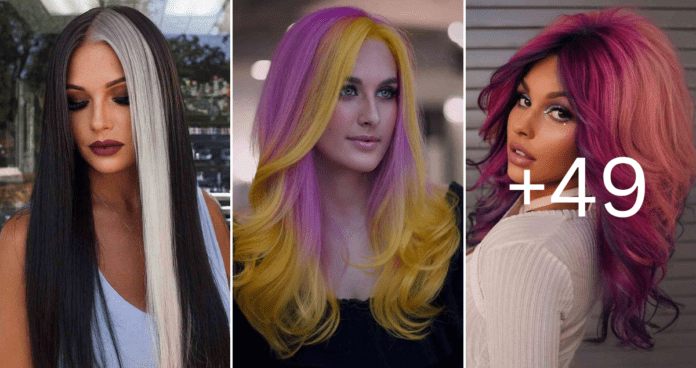 Coloring your hair opens up a whole new world of bronzes, coppers, reds, chocolates, violets, and more! With so many colors to choose from, here are some of the most popular hair color ideas right now. You can go soft, subtle, and natural — or bold, vibrant, and every shade of the rainbow! Remember to always consult your stylist on what they think will look great on you too. They are trained to pair you with the most flattering color just for you! So before your next hair appointment, check out these inspiring photos of the hottest hair color ideas for 2023!
#1: Orange-Auburn Hair with a White-Blonde Bangs
Orange-auburn hair with white-blonde bangs is best when you want to make a bold fashion choice. I recommend this look to help create an eye-catching, vibrant style. It will draw attention. If you're looking for something different and unique, this color combo is the perfect fit. Tell your stylist that you're going for an orange-auburn shade with white-blonde bangs. This way, they can mix the right colors for your desired outcome. To maintain vibrancy between salon visits, use Fudge Professional's Hot Hed Violet Toning Shampoo once a week.
#2: Half Black, Half White Curls
With half black and half white curls, keep in mind that this look requires two separate processes. I recommend choosing a lightener to achieve the platinum blonde ends. Then, a demi-permanent color for the black base. It's important to discuss and ask for any maintenance or upkeep with your stylist. Do this before beginning the process and make sure you mention where you want to see both colors. Don't forget to use a deep conditioning treatment to keep hair healthy and vibrant! For long-lasting results, try Matrix Color Sync Hair Color with Cera-Oil Priming Complex. It'll help protect against fading while keeping your style looking amazing!
#3: Sunset-Inspired Pink and Orange Waves
Try sunset-inspired pink and orange waves if you love a light vivid color melt. You might want to go for a more "highlighted" approach if you want to keep some of your natural color at the top. This is for both an easier grow-out and a more natural appearance. You'll get the most out of your hair by using a sulfate-free, color-safe shampoo and conditioner. Also, rinsing your hair in cold water, only shampooing 1-2x per week is needed.
#4: Two-Toned Red-Purple Jaw-Length Blunt Bob
Let your inner star shine with a two-toned red-purple bob! A stunning vivid look brings instant vibrancy and intensity to any outfit. And it gives you the power to make a statement. To keep your hair looking vibrant, regular touch-ups are key. Be sure to work with an expert colorist who will help you determine the best maintenance plan. They can help with product recommendations, too. Use a sulfate-free color-safe shampoo such as Pureology Hydrate Sheer. It's ideal for ensuring that your bold colors stay radiant between salon visits.
#5: Double Dip Dye
Double dip dye is the perfect way to go if you're looking for a bold, eye-catching hairstyle. Avoid harsh lines and overprocessing of the hair. This two-tone look is created by blending two hues seamlessly together. This style can be tailored to individual preferences in terms of shades used. From pastel pink to edgy dark blue, it's helpful to discuss your desired look with your colorist. For upkeep, I recommend using Matrix Total Results High Amplify Proforma Hairspray. It offers an extra hold and shine!
#6: Melted Blue and Pink
If you're looking to add more creative color to your bleach blonde hair, opt for a neon blue and magenta color block. Vivid colors will make you look like a spontaneous friend. You'll want to make sure your appointments for maintenance are between 4-6 weeks. This will help to keep your color even and vibrant. Going any longer can cause banding and discoloration.
#7: Stunning Purple and Pink Balayage
Try a stunning pink and purple balayage for a new look. A sunset-inspired color blocking is a creative way to express yourself. I suggest adding deeper purple tones, darker hair, and light pink hues on blondes. You can achieve vibrancy for up to 4 weeks if you use a color-safe shampoo and conditioner.
#8: Pink Lemonade Hair Color
This pink lemonade hair color is fun, but consult a stylist on how to care for your colored locks before diving in. To keep your hair looking vibrant, wash and rinse your hair in cold water when you are in the shower. If a cold shower does not appeal to you, don't be afraid to wash your hair in a clean sink on its own. Just use a color-safe shampoo and conditioner set.
#9: Teal, Purple, and Black Long Hair
If you have black long hair, the best way to spice up your style is to add teal and purple block coloring throughout. Your stylist will take blocks of hair and lighten them to a level 9 blonde. This helps the colors really pop. The fun in this type of look is that the vivids always fade. So you have the freedom to try any and all shades that you desire.
#10: Ash Silver with Peekaboo Highlighted Ends
If your hair is feeling a bit drab, try an ash silver with peekaboo highlighted ends. To keep your hair color vibrant, wash with color-safe shampoo. Deep condition regularly, too.
#11: Orange and Yellow Hair with Black Bangs
Orange and yellow hair with black bangs is perfect for the edgy woman. Plan to have frequent visits to the salon to touch up the vibrancy of the orange. To prevent further fading, I recommend infrequent shampoos. Or shampooing your hair in cooler or cold water. My favorite dry shampoo to use between washes is Hairstory's Powder dry Shampoo.
#12: Edgy Two-Toned Blue and Pink
Edgy two-toned blue and pink is the best way to dye your hair! If you're looking to make an impact with your color, then this one is for you!
#13: Muted Mix of Rainbow Colors
The perfect mix of rainbow colors is an exciting way to spruce up your brunette hair. I suggest doing a balayage method to keep your natural root color. It will melt into vivid tones. You will need to be sure you use color-safe shampoos while maintaining any vivid color.
#14: Sunset Melted Ombre
If you are looking for a hair coloring idea, try melting sunset tones on your ombre. You can always play around with many different shades. The best thing to do in this situation is to let your stylist take creative freedom and really spice up your look!
#15: Big Beautiful Fluffy Peach Hair
Peach is a color that will be sure to turn heads if you're looking for an edgy change! Remember, in order to get this tone, you will have to be a level 9-10 blonde. In my opinion, this is a good color for light skin. It will warm up and spice things up all at once.
#16: Yellow to Orange to Bright Red
Match the beautiful sunset sky with yellow to orange to bright red hair. If your hair is already pre-lightened, adding fashion colors is a cinch. Ask for a stylist that specializes in fashion colors. That way, you can be confident you will get beautiful-looking color.
#17: Neon Orange and Pink
Give off sunset vibes with neon orange and pink luscious locks. Give your hair an amazing makeover and try some fun and bold fashion colors. Fashion colors are high-maintenance so be ready for a commitment and investment. To keep hair healthy in between coloring, ask for conditioning treatments. Also, schedule frequent trims.
#18: Black with Red-Orange Face-Framing Pieces
A high-contrast color is the perfect bold statement. If fall is your favorite season, ask your stylist to add colors that emulate it such as orange or red. Adding these types of colors will create the perfect combination of natural and fun. Remember, vivid colors fade quicker because they are semi-permanent. So, don't forget to wash your hair with cool water. This will keep your hair cuticle closed allowing the color to last longer.
#19: Half Pastel Peach Half Purple
When it comes to pastel colors, don't be afraid to get creative. Because the colors fade nicely you can change up the colors quite often. Try adding conditioner to your client's ends before adding your pastels. This will give you a more seamless lived-in blend. You can also try Keracolor Klenditioners if you'd like to refreshen your color at home.
#20: Unicorn Ombre with White Roots
Multi-colored ombres are a perfect way to take your platinum blonde to the next level. Be aware that warmer water settings will fade your color faster. Cooler temperature water will help your preserve your vivid color. If you're a stylist, make sure to pre-tone your client before adding your semi-colors. That will give you a clean canvas.
#21: Stunning Silver
Cool down your locks with a gorgeous and stunning silver. Your hair needs to be pre-lightened to a pale blonde before you can achieve a cool ash silver. If your hair is dark you should be cautious. Lifting to a pale blonde may be damaging to your natural dark hair. In case you experience some damage, conditioning treatments when styling is a must.
#22: Medium-Length Rainbow-Inspired Hair Color
Look like a tropical sunset with medium-length, rainbow-inspired hair color. The biggest advantage of coloring your hair like a rainbow is you will stand out and look one of a kind. The upkeep on bright vibrant colors is high maintenance so be ready to spend big money and time at the salon.
#23: Black to Red-Orange and Yellow
Black to red-orange and yellow hair color is a lively combination to try. It's a good idea to use a less permanent black when going for this color to make touch-ups easier to achieve. Also, I highly recommend using cold water when rinsing your hair to keep the colors from bleeding.
#24: Lived-In Short Pink Hair with Orange Bangs
Have you ever thought about trying a lived-in vivid look such as orange bangs on short pink hair? Many will say this is a younger style. But, I think it's a good idea to remember that even older women enjoy bright and wild colors on occasion. Sorbet-inspired hair looks amazing if you are confident. Just ask your stylist which pink hue best compliments your skin tone.
#25: Magenta Roots to Orange-Yellowish Tips
If you're looking for a bold new hair color, consider trying colors like this stunning sunset melt. My advice would be to step outside of your comfort zone and try something new! Make sure to ask your stylist for tips to keep this color fresh.
#26: Vibrant Purple with Orange Tousled Waves
Vibrant colors will never go out of style! There are so many different color combinations to choose from. If you prefer warm colors, try combining purple, pink, and orange. One of the easiest ways to keep your color from fading is by washing it with cold water. This will keep your hair cuticle closed, keeping the color in your hair longer. A sulfate-free shampoo is great for color longevity as well. Ask your stylist for suggestions.
#27: Sexy Black Waves with Blonde and Yellow Tips
Try sexy black waves with blonde and yellow tips if you wear your hair wavy or curly often. You will want to have a really great shampoo and conditioner to keep the color beautiful and vibrant. Fashion colors are more temporary than permanent colors. So having a great hair care regimen will keep that bright vibrancy for longer.
#28: Gorgeous Pink and Yellow on Blonde Hair
This gorgeous pink and yellow color combo on blonde hair is out of this world! I highly recommend pairing 1-2 fashion tones with your blonde. My best advice when choosing hues is to aim for something that compliments your current blonde, as well as your skin tone.
#29: Long Pink and Navy Blue Waves
Long pink and navy blue waves are the new black. If you're comfortable dyeing your hair and want to try something truly unique, go dark navy blue. When trying this color, don't forget to wash your hair with cool water to keep your tones from running together.
#30: 2 Block Blonde and Brown
2-block blonde and brown hair is a bold, high-maintenance color. When it comes to the blonde side it will need to be retouched every 4-6 weeks. However, it's easy to fill in whenever you are ready for a unified color. You can also change the blonde into other bold fashion colors, the light side opens up a ton of possibilities.
#31: Bright Peach
Bright peach looks beautiful on women with rosy hues! If you've been thinking about changing your color, don't be afraid to try something bright and bold.
#32: Pink to Orange
Try a pink to orange hair color if you're feeling creative. Dyeing your hair fashion colors requires maintenance. You could talk to your stylist about options. You will feel fabulous with your new color!
#33: Half White, Half Pink
Half white, half pink, or as I like to refer to it, color blocking, has become the hottest trend of this year. Color blocking is such an amazing way to display 2 colors in your hair when you can't choose just one. It also gives you the opportunity to display the colors in different ways, depending on how you part and flip your hair. For these specific colors, from my experience, pink can fade out very quickly. In order to avoid a quick fade, it's important to use a powder pink pigmented shampoo, on the designated area.
#34: Unique Hair Colors
If you're bored with your hair and you are ready to make a big change, try uniquely vivid hair colors. You can customize the different shades to any color you'd like. You should find a colorist to create a custom color for you.
#35: Half Lavender Half Blonde Color Block
Really stand out with a fun color block that's half lavender and half blonde. If you want to try something different and edgy a two-toned color is a great choice. To keep your tones looking extra cool and to keep the yellow at bay, use a purple shampoo once a week.
#36: Choppy Teal Pixie
Dyeing your hair is tons of fun with a choppy teal pixie! While we always recommend going to a salon for big color changes, fashion hues can be easier to keep up with at home if you need to. Opt for an in-shower color wash to keep your tone bright, and keep a bottle of Arctic Fox on your shelf whenever you need a refresh.
#37: Strawberry Champagne
A strawberry champagne hair color is a fantastic idea for anyone transitioning from dark to light as it works with the warmth of your hair while still keeping everything light and fresh. Colors along this spectrum tend to fade faster than others. However, because the strawberry champagnes color works with underlying pigment, it's likely to stay longer and fade out nicer.
#38: Orange and Pink Long Straight Hair
Have the locks of your dreams with orange and pink long straight hair. Before taking the plunge, you need to know that bold fashion colors are big maintenance and money. Your hair will need to be lightened to a blonde shade to achieve such vibrant tones. Do conditioning treatments in case you need to prevent your hair from becoming damaged.
#39: Half and Half Hair
Half and half hair is perfect for women looking for a bold look. The darker side is compared to the lighter side, and creates a lot of contrast and allows you to have the best of both worlds!
#40: Two-Toned
A two-toned color look is a fun, on-trend way to make a statement. This color trend can work with many different hairstyles and haircuts. Keep in mind, if you're going for bright fashion colors, it'll likely involve a double process. This will be a longer and more costly appointment. Ask your stylist for ideas!
#41: Auburn and Walnut Blend with a Blonde Money Piece
Auburn and Chestnut tones blend so well together. Try adding a blonde money piece to really tie it all together for that classy and elegant color profile. The lighter blonde pieces give contrast to the chestnut and auburn colors. By blending auburn and chestnut you can achieve more dimension and longevity out of each maintenance appointments. The blonde money piece will tend to go warm and look warm next to the red undertones, so if you like a very ashy or cool blonde look, this may not be for you.
#42: The Color Block Trend
If you are looking for a fun and fresh way to stand out, the color block trend is just for you. Color blocking allows for a bold pop of interest in specific designated areas to accentuate or emphasize features that you love about yourself. Color blocking is completely customizable to whatever style and maintenance preferences you have. Color blocking can be done appropriately to work with all age ranges, face shapes, and body types. if you're looking for a pick me up, this is definitely one to consider.
#43: Rainbow Prism
A rainbow prism is absolutely stunning and eye-catching when added to any color. In order to achieve this effect your hair has to be pre-lightened and requires frequent maintenance appointments. If you heat style your hair frequently or wash your hair daily, this might not be the best solution for you as those are both top culprits in causing the color to fade faster. If you love seeing your stylist and are willing to manage the upkeep and hair care regime, a rainbow prism makes a phenomenal color accent.
#44: Chocolate Caramel Dip-Dye
Try a warm chocolate tone with a caramel dip-dye effect for easy maintenance and grow-out. Dip dye is a fantastic way to try a color out without fully committing to it. Because there is no blending up close to the root area, a dip dye effect typically has a more seamless grow-out process and is easier to cut off when you are done with the color. A caramel tip dye effect will typically involve lightening, so if you don't take care of the caramel portion it can become very dry and damaged. For longevity, try using a color-depositing hair mask on the dip-dyed area.
#45: Dark to Light Buttery Blonde
A buttery blonde that transitions from dark to light is a perfect way to make the blonde look more natural. As hair grows, it's exposed to more and tends to lighten slightly over time, so by creating that transition of a dark to light buttery blonde, you can create a really authentic and natural looking blonde. To avoid too much warmth make sure to use a purple shampoo as needed to keep your desired tone.
#46: Peachy Pink
Warm, soft, and punchy, or some great ways to describe the results of a peachy pink color. Peachy pink can warm up cool or pale skin tones and balance out skin with red or yellow tones as it compliments and works with multiple different undertones. Peachy pink works well because it isn't quite a true pink and not a true orange, the combination of soft pink with a punchy orange kick allows for a completely customizable color based on your personal skin tone and preferences. Keep in mind that fashion colors like peachy pinks are high maintenance and require a proper hair care regime and regular maintenance appointments for best results.
#47: Red Paprika Hue
Trying red hair with a paprika hue could be the perfect move for you this season. The richness of this color is unmatched, although the maintenance can be tedious. Red hair color tends to fade faster than less vibrant hues so make sure to talk to your stylist about this before taking the plunge.
#48: Modern Chunky Highlights
Modern chunky highlights are all the hype at the moment. Though bold, this style can be perfect to elevate and renew your look. Using a 1.5-inch curling iron, curl large sections in opposing directions while leaving the ends out for this tousled look.
#49: Blush Pink
Blush pink hair is everything. This color is so subtle and soft, yet very unique and different. Try this look if you're looking for something fun but not too vibrant. Use a 1-inch curling wand to get beautiful waves.