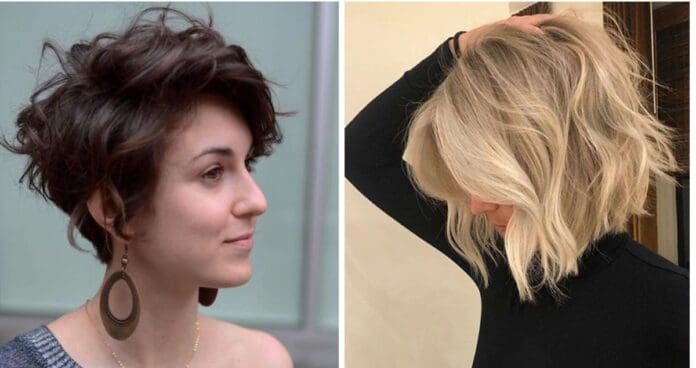 Messy short hairstyles are back in fashion this season! Why not? Their laid-back look tells the world that you are a laid-back person with lots of trendy style. The messy short hairstyle ideas we have selected for you today are full of the latest twists and trend-setting tips. So come in and appreciate the attractive, windswept view!
Brunette angled bob – messy short hairstyle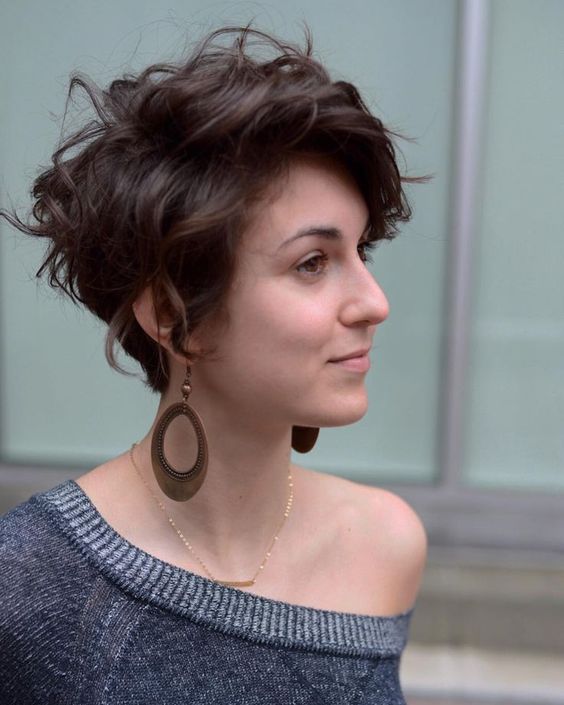 Credit
Casual but adorned with gorgeous brass earrings and a simple gold chain, this tousled long pixie cut is ready for a casual date night. This is a great choice for fairly thick hair with a natural wave. Side parting is suitable for round and oval faces, and the location of the parting can be changed by the stylist to emphasize your facial features. Asymmetrical slanting bangs break the symmetry of a round face, and the height from above "lengthens" a wide face. Random waves add a lot of trendy texture to this seductive, natural look.
Easy-styling from layered bob on medium/fine hair – messy short hairstyle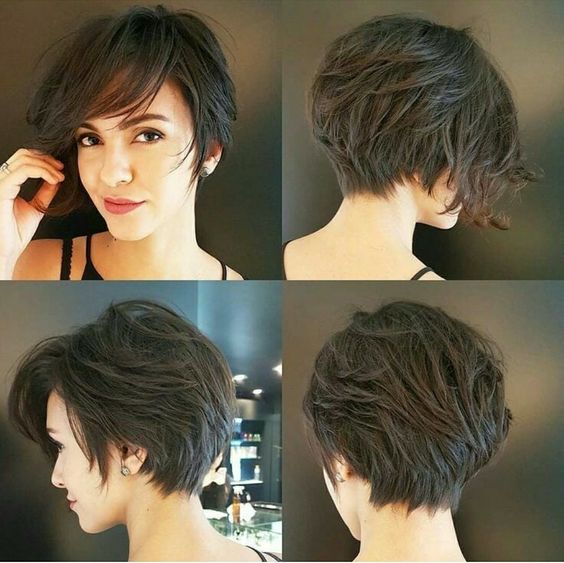 Credit
Silky, fine hair isn't necessarily thin, but it does benefit greatly from a fairly short style. Ask for layers cut vertically and with pointed ends to get some nice movement and texture. The nape has cute serrated tips that match the heavily textured side tips. And the thick bangs laid forward are perfect for the heart and an elongated face. This beautiful short asymmetrical bob is an everyday hairstyle that will always look good and takes virtually no styling time!
Strong styles to match statement specs – messy short hairstyle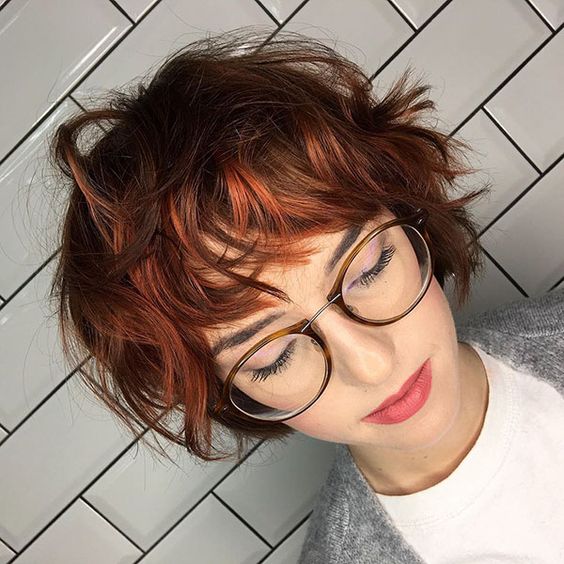 Credit
If you have a bold, oversized eyeglass frame, you definitely need a short and bold hairstyle to match the look. Expert hair color design in this tousled short bob pairs perfectly with the tortoiseshell frame. Warm copper and dark copper balayazh give the hair the same variegated color effect as the frames. And so the glasses seem to be a completely natural part of the beauty image of the model. And the messy front bangs have small gaps in the center to soften the line on big vintage frames!
Trendy long to short angled bob makeover – messy short hairstyle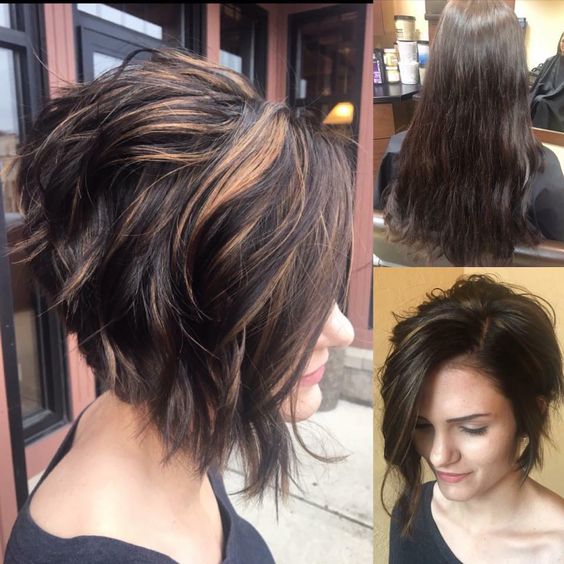 Credit
What do you think of this fabulous makeup? We think it's amazing how long brown hair has gone from very ordinary to high fashion! This is a good messy short bob for thick hair as you need a lot of natural volume and body to get the perfect curvy back. Angled bob haircuts always look modern and chic. And with eye-catching copper-orange highlights in a thin and wide balayage, this is a great look to debut at a special event!
Wild dark-blonde to white-blonde hair color makeover on chin-length bob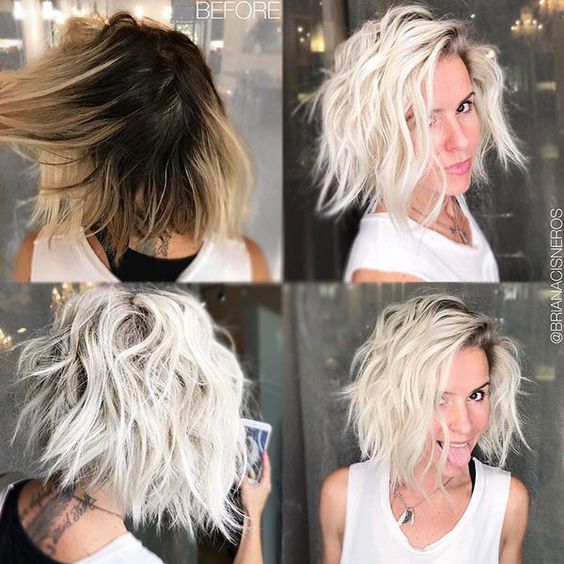 Credit
It's a real transformation, a "walk on the wild side", turning dark blonde/mouse brown hair into a new and very glamorous look! You can achieve this short, slightly slanted bob on fine to medium hair. And you will find that the lightening process gives your hair thickness and volume. So you only need a few curved waves to get the tall and wide look shown above. A haircut just above the shoulders, this is a very trendy mid-length short haircut that is easy to style. The look is rebellious and powerful, street chic!
Pretty vintage scarf look on short ash-blonde bob haircut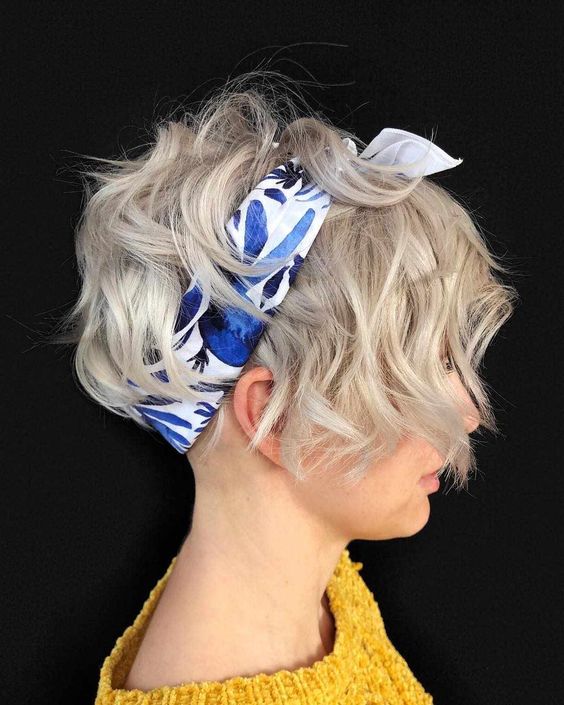 Credit
A beautiful scarf with a pattern in the hair always conveys a "holiday" mood. And this ash blonde bob hairstyle is as cute as can be. It's actually a mix of beige and ash blonde hair, with beige next to the face to accentuate the model's warm skin tone. Ash blonde can make you look "washed up" if you don't have a naturally cool undertone. Therefore, choose an experienced colorist to get the shade of blonde that suits you.
Choppy ash-blonde angled bob with roughly tousled finish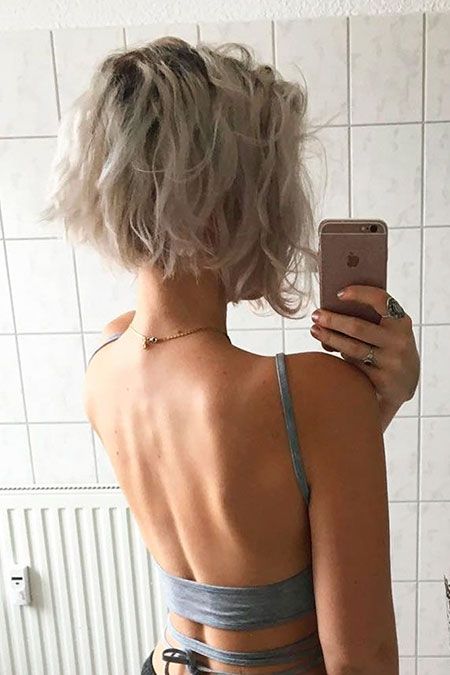 Credit
This short side-cut bob is filled with movement and trendy texture rather than traditional waves. This is a great short haircut for medium to fine hair as the lightening process gives the hair a lot of volume. Hair must be styled
Natural golden blonde shades on awkward-waved bob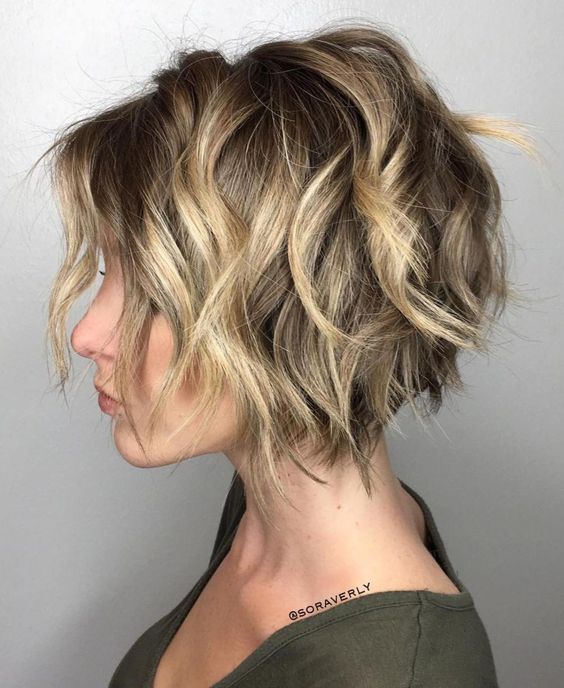 Credit
This shaggy bob hairstyle grabs attention with its bold modern look. And that's partly because golden blonde is a wonderfully natural, neutral shade of blonde. Neutral blonde shades always look more natural. And it balances out the messy and unnatural tousled waves that add so much trendy personality to this lovely chin length bob. So if you're looking for something out of the ordinary, super chic, this edgy layered bob could be for you!
Simple mid-length angled bob in white and ash-blonde shades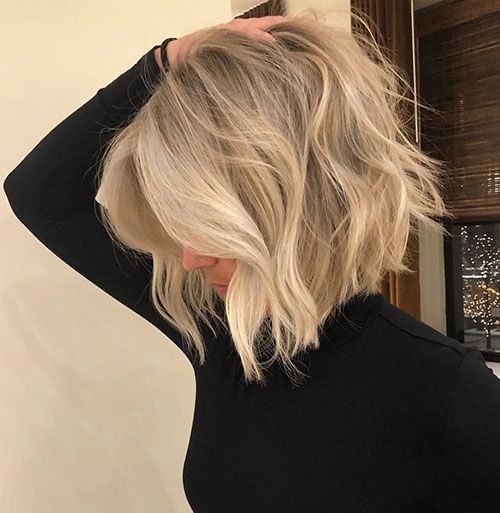 Credit
This easy-care style is simple, but never boring! And that's because it's such a versatile length. You can still feel you have longish hair, without it 'dragging' your face down and emphasizing any lines. But it's short enough to fluff out and have plenty of volume, making your hair appear thick and youthful. Long layers, with textured tips, are the perfect base for adding trendy light waves and a messy finish. And with dark roots highlighted with fashionable, white-blonde balayage, this short haircut always looks great in up styles for special occasions!
Pearlised grey for classic ash-blonde chic angled hairstyle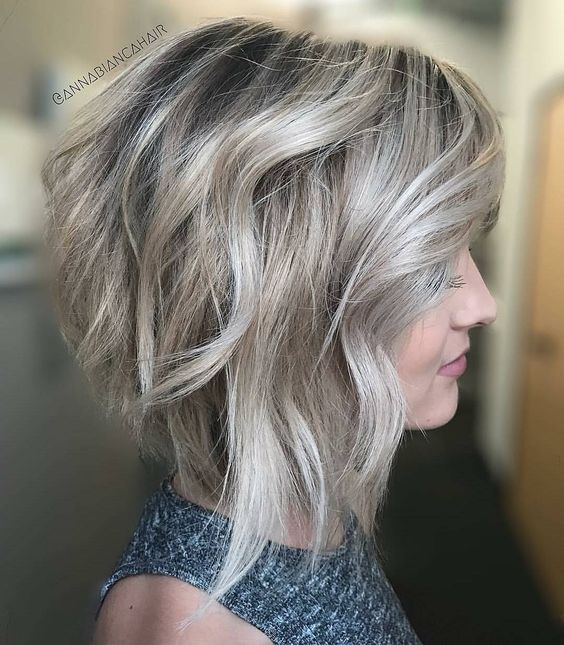 Credit
This 'dressy' dinner-date hairstyle brings together many attractive features. And it's a contemporary version of the angled bob with a new ash-blonde shade. You get a sexy, 1960's vintage look with pearlized blonde shades and gleaming white-blonde balayage. This softens the ash-shade and if you look closely, you can see that the color also contains plenty of beige-blonde. And trendy beige helps create a gentle and feminine vibe. With side-swept, long bangs and disconnected layers at each side, this wavy bob is a very high-class look!
Most of these styles suit a variety of different face shapes. And an experienced stylist will be able to adjust the parting for bangs to ensure you get the trendy, new, messy, short hairstyle of your dreams!