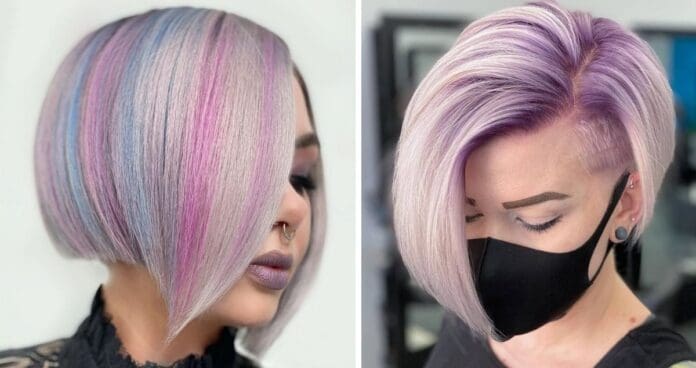 What is the most practical yet attractive way to style your hair? Well, a short haircut is always practical and easy to style, plus a bob almost always suits young and old, as well as many different face shapes. But what if you also want to have an exceptional look, something eye-catching yet casual? These incredible short haircuts have been completed with gorgeous rainbow hair designs that will blow your mind!
1. Multi-directional finish on white-blonde – short bob haircuts & color for fine hair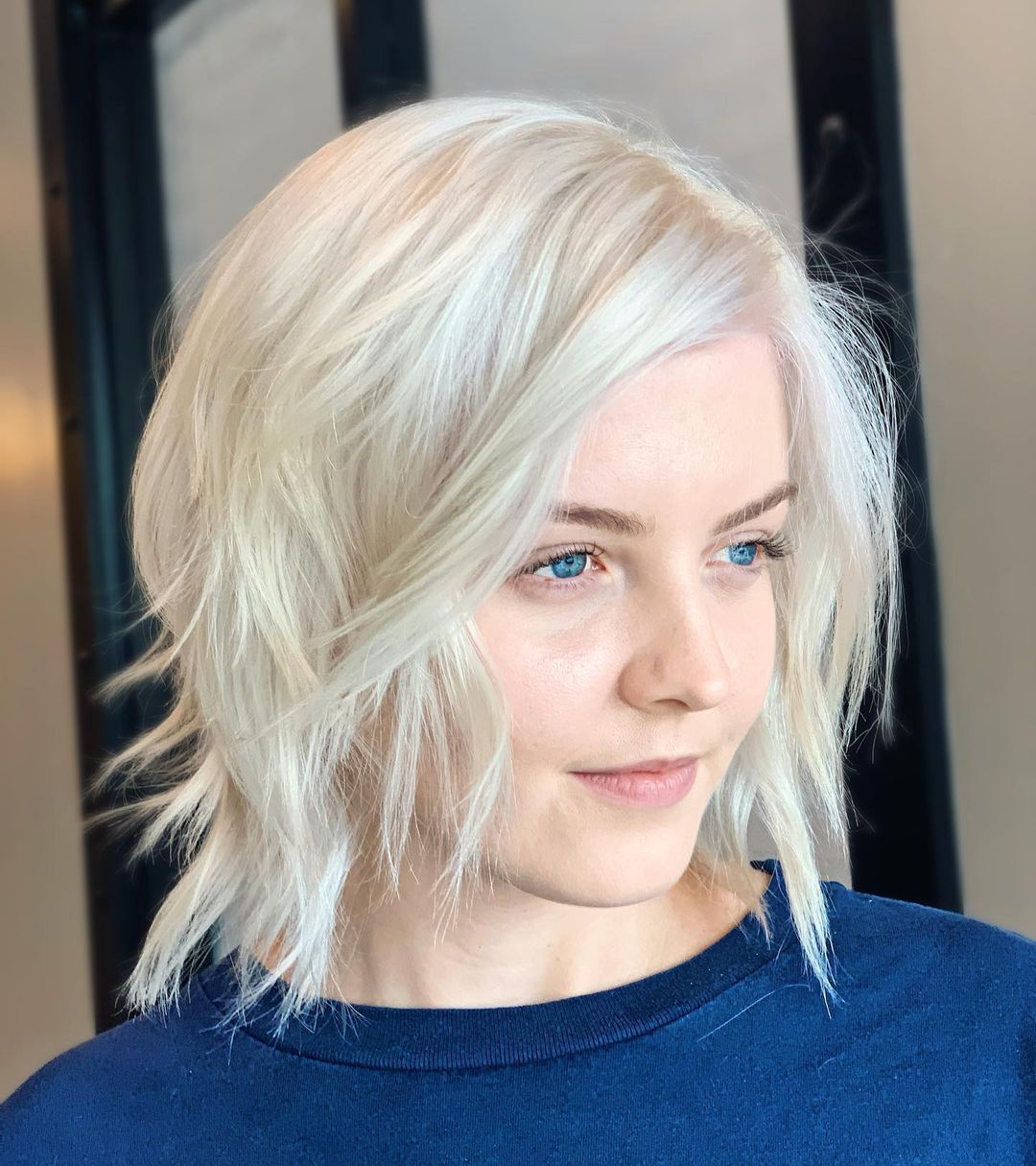 Credit
Fine straight hair can look thin and flat without the extra waves to add volume, but you don't have to have old-fashioned curls to get this amazing texture. The stylist cut out the many shaggy layers in the hair and styled it to be loose with a windblown finish that adds texture, movement and that volume we all crave! And for women with bright blue eyes and naturally blonde hair, this hair color in shades of white and ivory really brings out gorgeous eye color and natural beauty!
2. Soft medium beige with raspberry tips – short bob haircuts & color for fine hair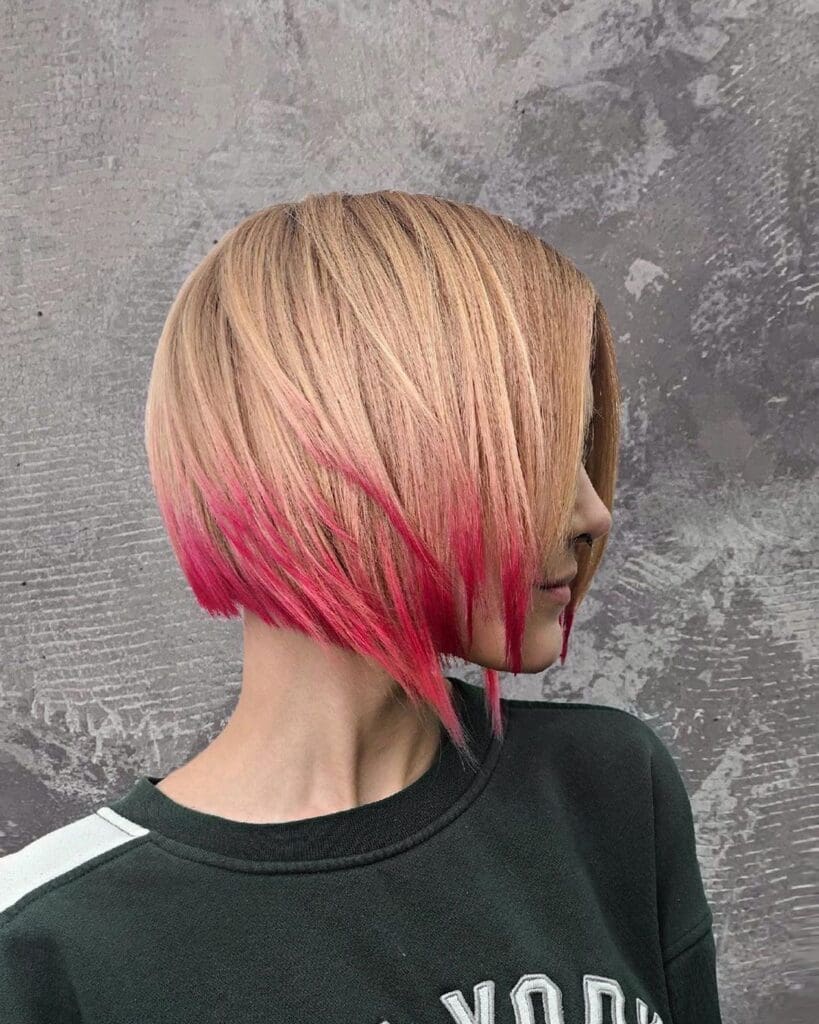 Credit
This lovely new hair color in muted golden beige is a very gentle "medium blonde" shade for anyone over 30. And it's a very attractive hair color for anyone with warm or neutral skin tones. The roots are slightly darker to add three-dimensional color depth and volume to the hair, as well as stunning loose layers and surface texture. But the truly gorgeous look of this hairstyle is due to the incredible combination of cool crimson pink at the ends with a gorgeous new trendy bob haircut!
3. Burnt-orange & coffee half/half short bob haircuts & color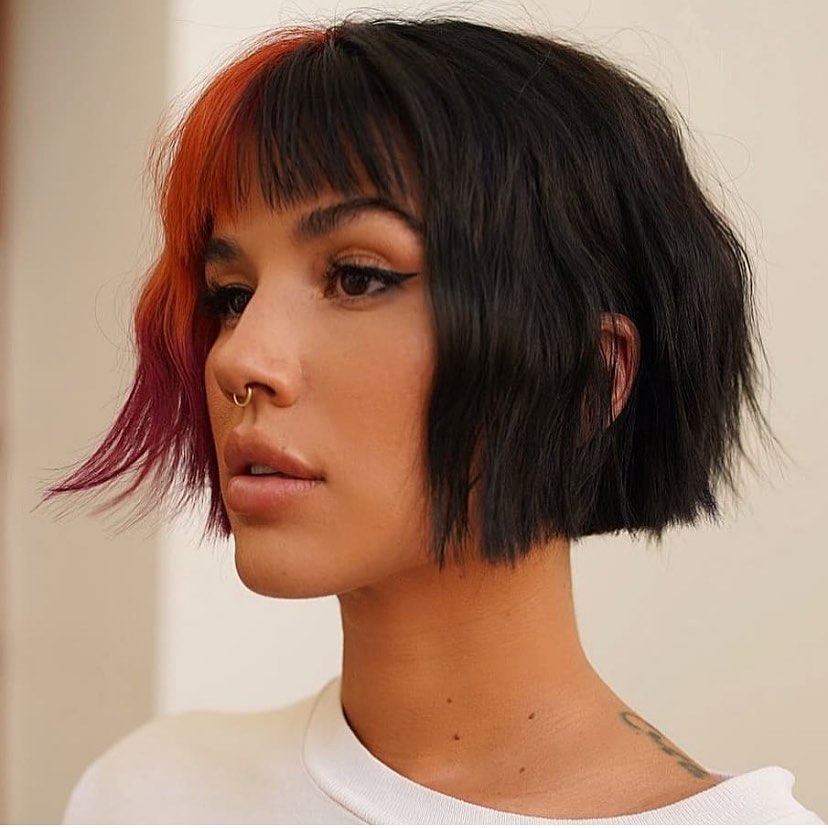 Credit
The half-and-half hair color idea may have started as a fun, fantasy look for music festivals and summer wear, but it has become popular for everyday wear too! This short bob on brunette's thick dark hair has a lot of trendy effects thanks to the perfectly matched colors that bring out the warm skin tone and brown eyes. The purple tips on the bright orange side add an eye-catching touch of asymmetry to the symmetrical short bob. And the heavily textured tips add a trendy, uneven style to a comfortable, simple cut in a sophisticated color scheme!
4. Pearl-gray-magenta-blue stripes on short bob haircuts & color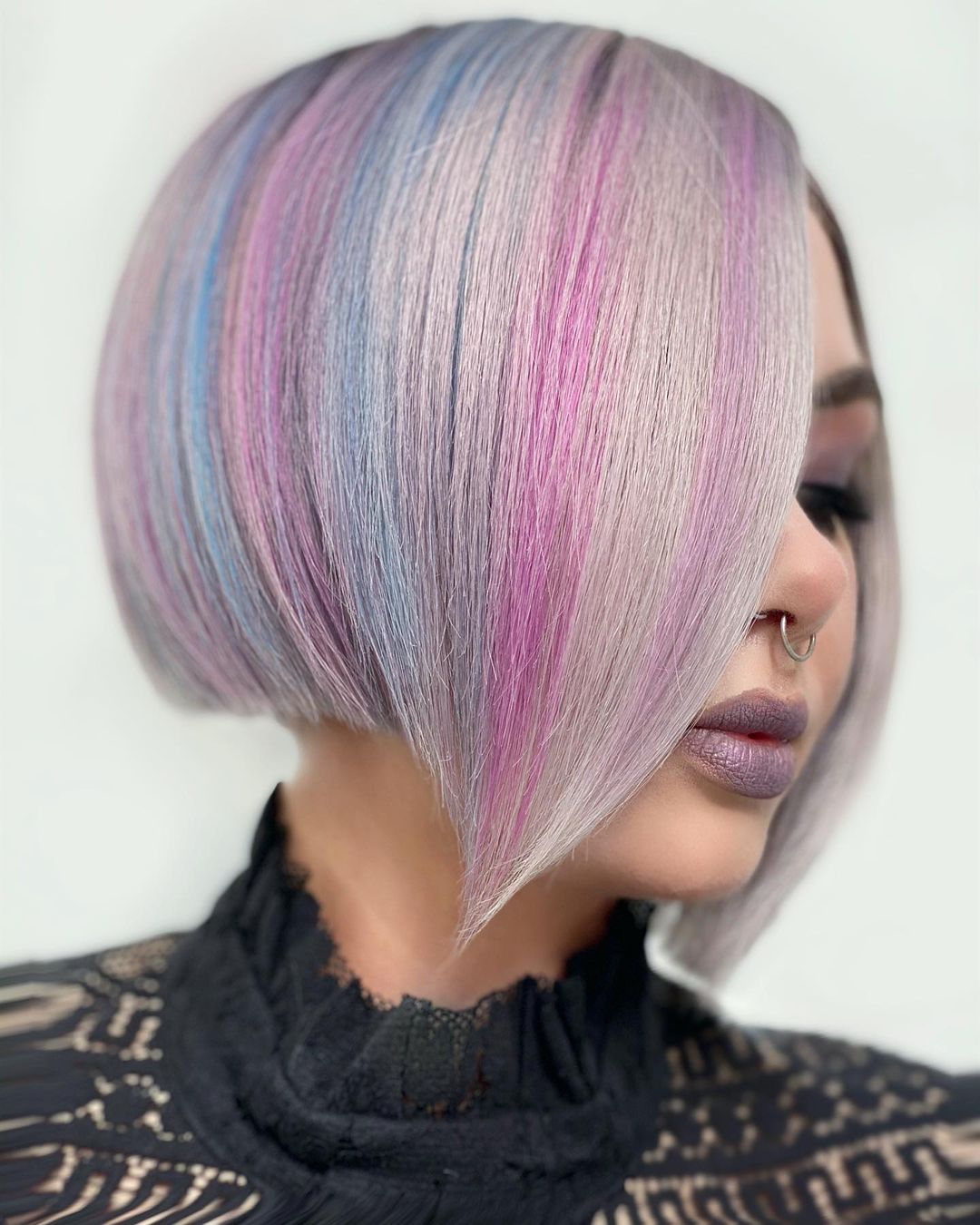 Credit
What a fabulous style for special occasions! And it would be absolutely stunning with a little black dress for a cocktail party. This is an asymmetrical short bob with lots of incredible modern twists. For example, the back and sides are blunt cut with few layers to create an inward curve. And it keeps the thickness of the hair but removes the volume at the ends. The stylist then cut long V-shaped points on both sides of the chin. This is a simple straight cut that the colorist has brought to life tremendously with gorgeous blue and dark pink vertical highlights on a delicate pearl gray base!
5. Dazzling nape decoration on blue short angled haircut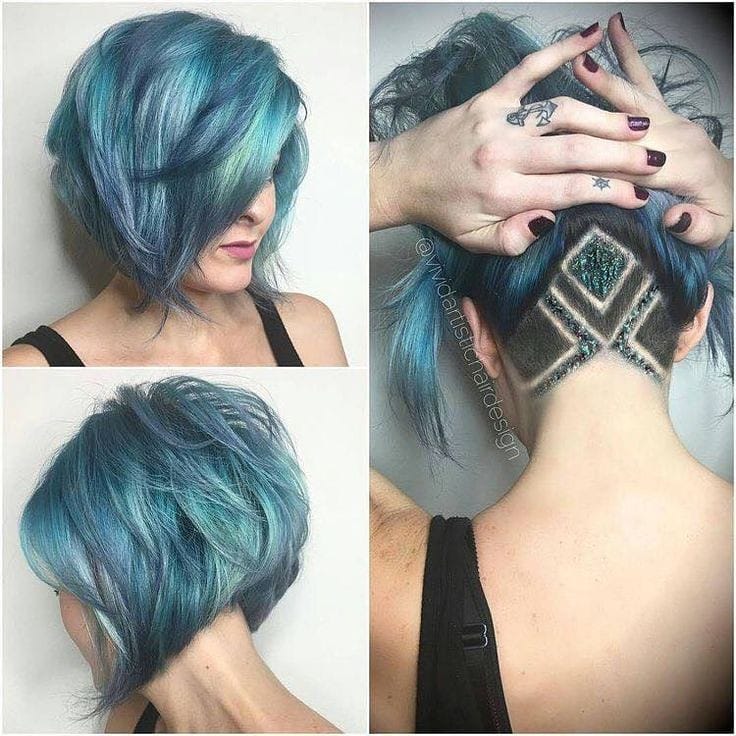 Credit
Anyone planning to attend a party or special occasion loves to have a particularly attractive hairstyle. And if you love being a trendsetter with an original look that no one else has, here it is! The embellishment at the back of this blue upside down bob is stunning and brand new. First of all, the stylist created a super-geometric design with shaved lines and then applied blue-green glitter to accentuate the design. Will this kick-start a new sequined party hairstyle trend? I hope so! This is such a fun idea and maybe the next step away from mixed fantasy colors!
6. Hair makeover to orange & yellow straight medium-short hairstyle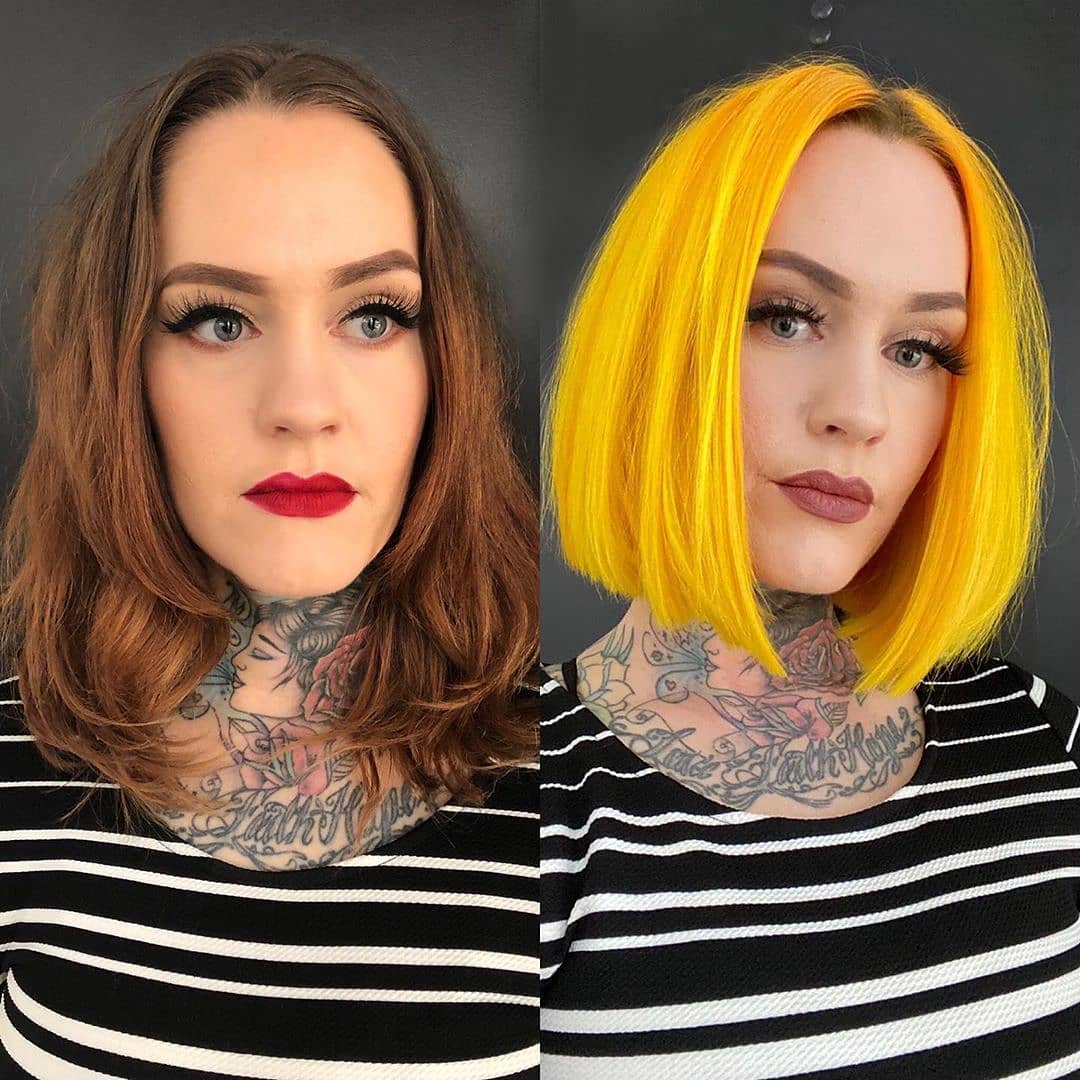 Credit
This model has a large forehead and angular jawline, and you can see how switching to a straighter, center-parted haircut that slides down the edges of the face creates a more attractive oval face shape. And putting her hair forward on her collarbone, she pretended that she had no neck, and hid her amazing tattoos. So, the shorter one-length straight bob improved her look in several important ways. Both colors go well with her skin tone, but the orange-yellow vertical design creates a gorgeous eye-catching modern look that complements her artful tat perfectly.
7. Lavender & platinum-blonde asymmetric short haircut with choppy undercut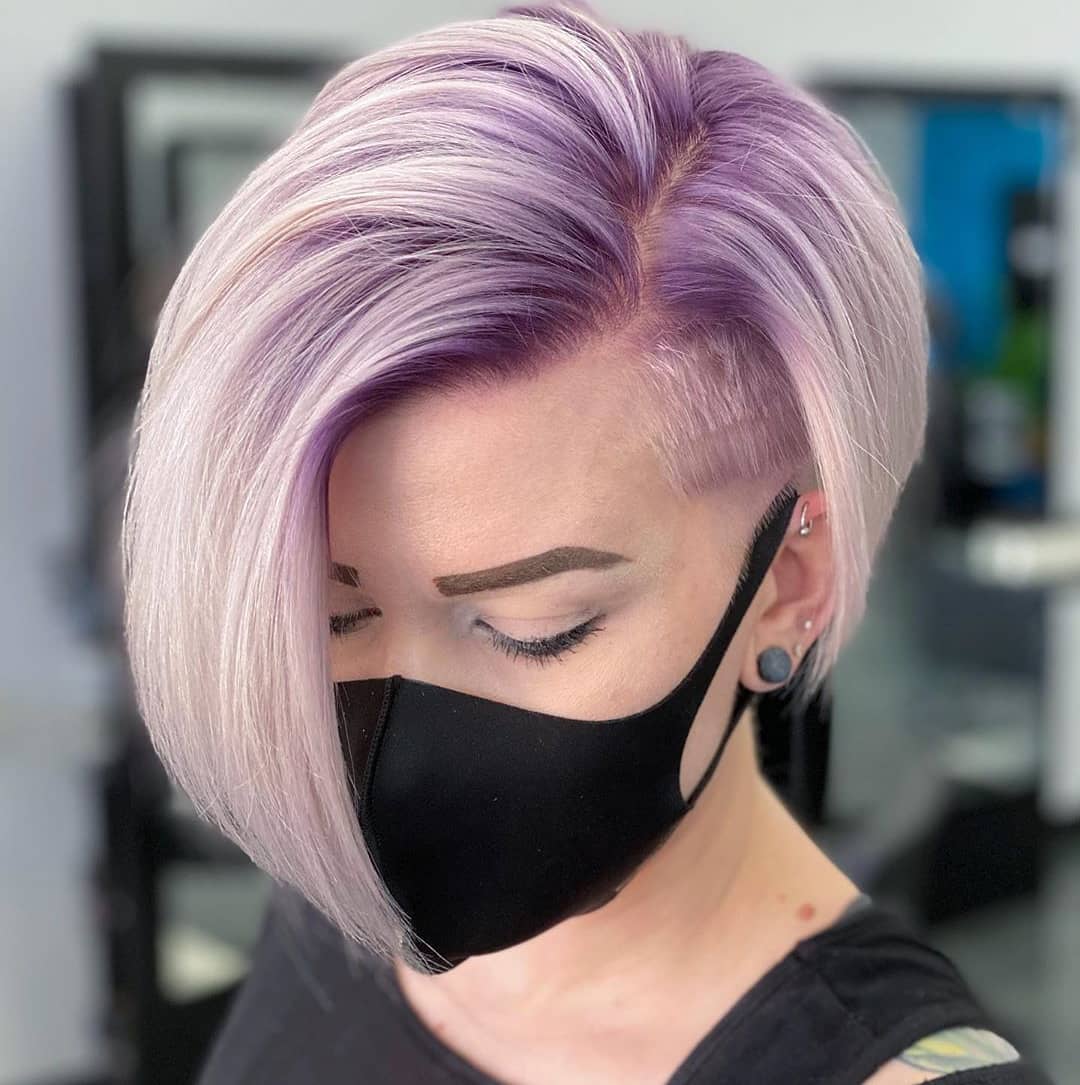 Credit
This stylish has created a lovely, soft lavender and platinum-blonde short bob haircut that suits the model's skin with cool undertones really well. And to complete the edgy vibe there's an interesting variation on the undercut below the side-part. Instead of just a shaved, or buzzed, section, the stylist has cut two ultra-short layers with choppy bottom edges, which play down the 'cuteness' of the overall look. And the rich, purple roots make this angled bob a beautiful example of the latest short bob haircuts on offer!
8. Super chic makeover from long to smooth, straight blue lob haircut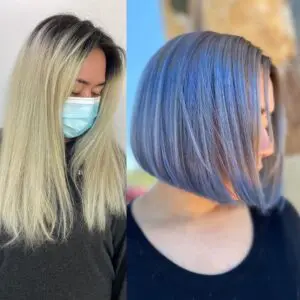 Credit
Here's a couple of images that really highlight how much our impression of a new person depends on their hairstyle! The first image of over-bleached blonde hair with black roots and fuzzy tips suggests a conventional long, straight, blonde person without any individuality. However, with a makeover hairdo in a sleek mid-length bob, and beautifully blended shades of blue-gray, electric-blue and mid-blue tips, the impression is totally different! She looks far more sophisticated, contemporary and interesting!
9. Natural sleek A-line hairstyle with subtle highlights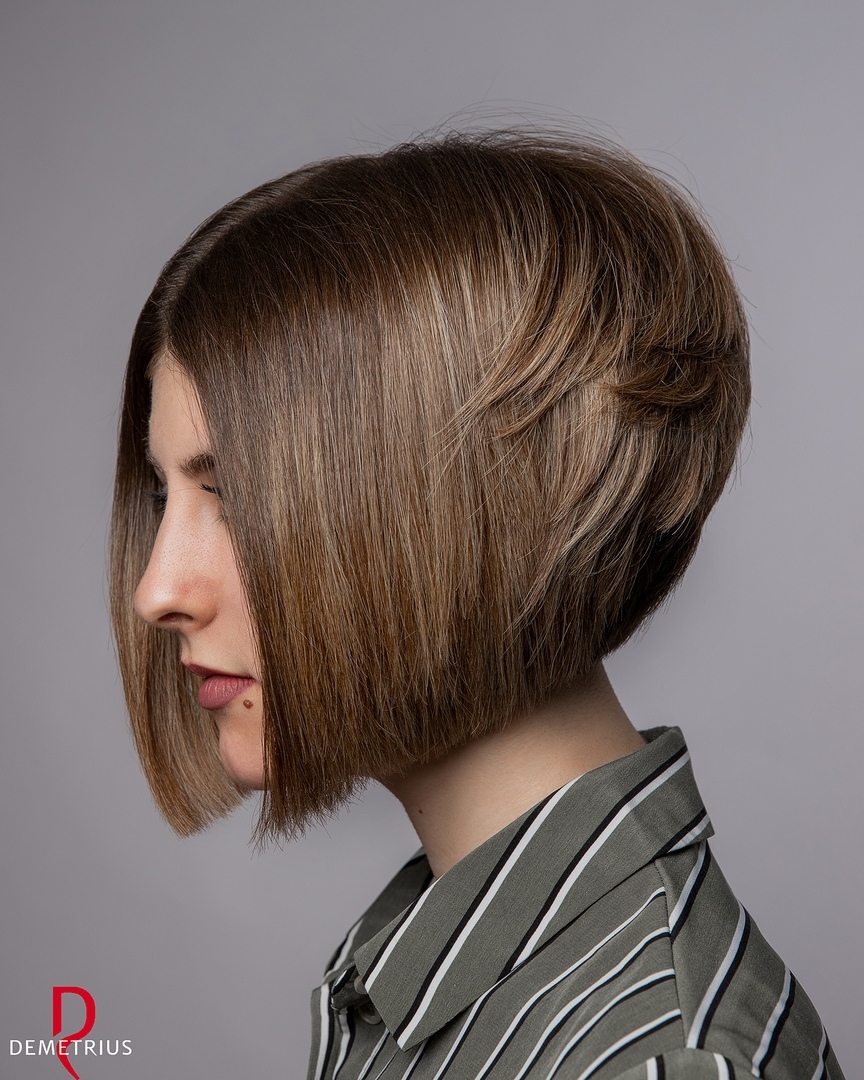 Credit
For those who prefer a natural finish to their everyday hairstyle, this sleek, angled bob cut is a very professional look. It's traditional enough for powerful office work and trendy enough to show off a modern look. This is a great choice for thick hair control and requires minimal styling. And because this style comes from straight hair, lightly styled at the ends to create a beautiful inner curve, it will stay in place all day long. Very subtle vertical highlights add texture and lightly slicked-forward highlights add a modern touch!
10. Trendy soft auburn short bob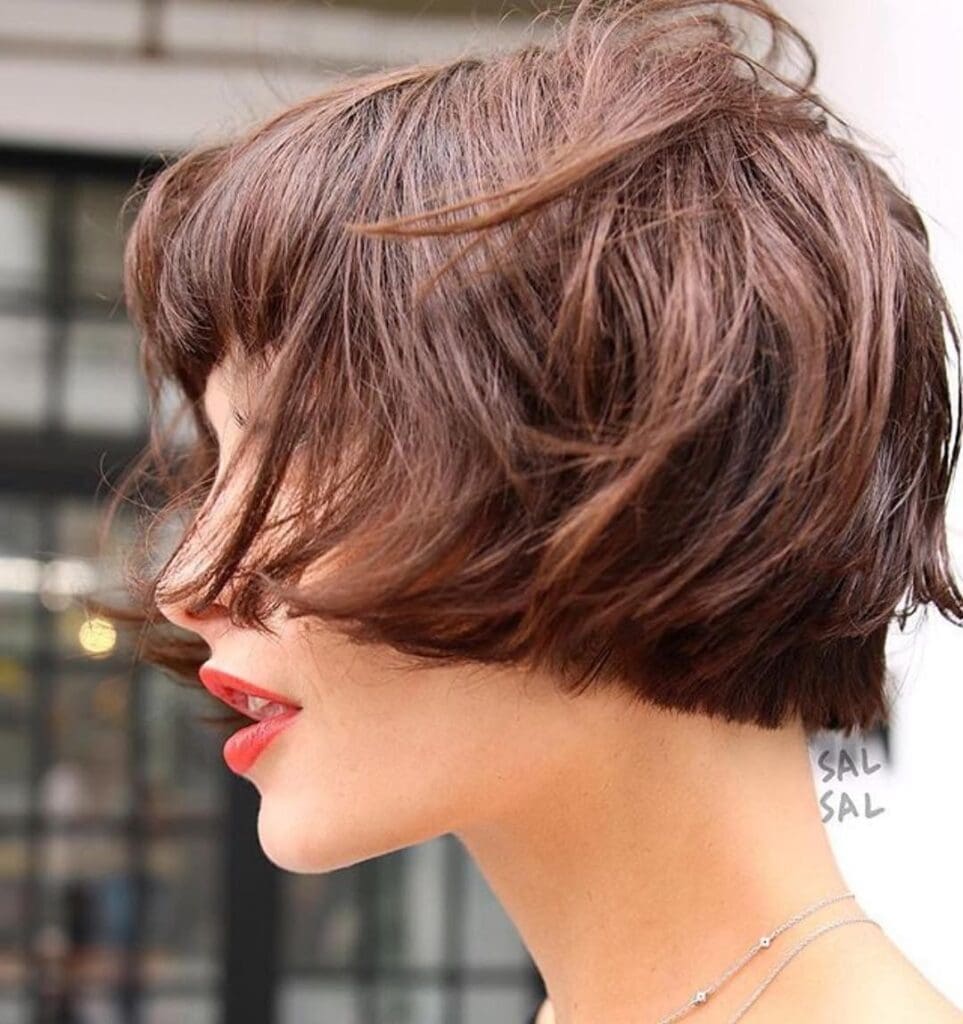 Credit
This short and ultra-chic haircut shows off the lovely auburn shade of the hair and needs no special styling. So it always looks great, and needs very little maintenance. The short, straight across the fringe is deep and ends just above the eye-brows, accentuating the eyes. And the sides are cut above chin-length to highlight pretty lips and show a well-defined jawline. With blunt-cut tips and a tousled finish, this is a great style idea for adding thickness to fine hair!