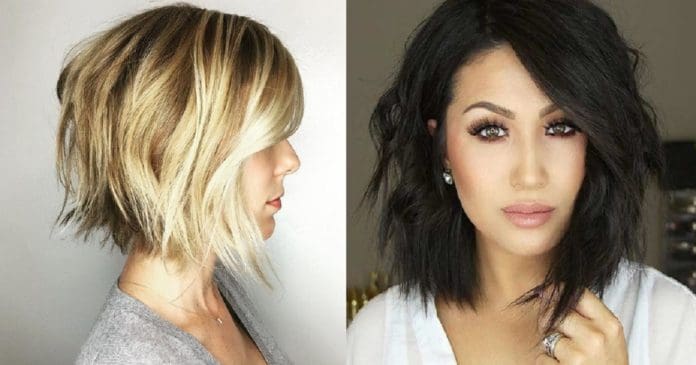 Popular Blunt & Choppy Haircuts
Choppy haircuts for women are great for special occasions. If done right, they are bound to make an impression.  So, whether you are looking for a new image or just want to become the queen of the evening, there is a choppy style out there for you. We have collected 22 various blunt and choppy haircuts for you to check out. They range from nice and neat to wild and outrageous. By adding some imagination to your hair, you can create a real masterpiece. Don't settle for anything less than that!
1. Blunt bob cut
If your locks are wavy, they are most likely hard to style. You can forget about visible layers or neat haircuts. By chopping the ends, you can give your bob the shape you've always wanted without any extra styling.
2. Blunt layers
Give your simple bob an upgrade by shaping the top part of it with blunt layers. The bottom part stays long and neat. If you are looking for an extra oomph, all you have to do is add some wild colors.
3. Blunt fohawk
Mohawks and fohawks are designed to help you make a statement. Take advantage of this choppy haircut for women if you want to look magnificent. Consider dyeing the layers different colors.
4. Blunt cut with sharp ends
This amazing pixie is available to women with straight hair. Besides chopping the ends, you need to arrange them so the result is visible. If your locks are even a little wavy, this style is not for you.
5. Choppy bob with long bangs
Allow yourself to look beautiful with a long choppy bob and extended side swept bangs. This simple looking hairstyle is exactly what you need to become the queen for an evening, a week, or even a month.
6. Separate strands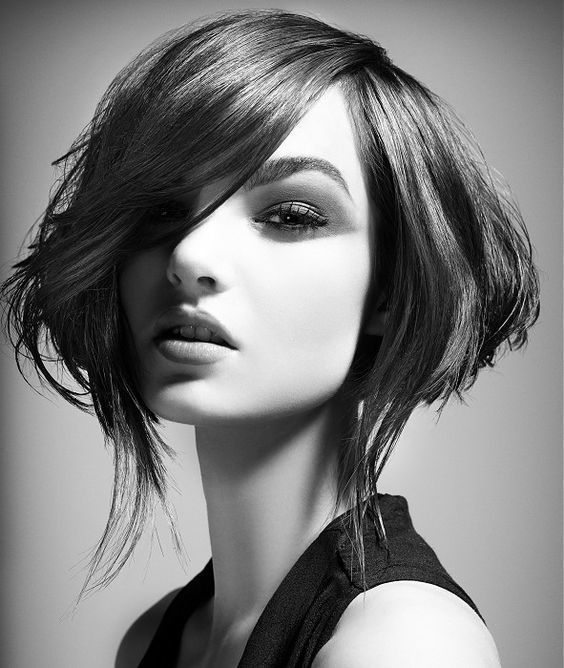 Add an extra oomph to your choppy hairstyle by adding two hanging strands to the short bob. You'll immediately make your haircut longer without adding any hassle. What a great way out!
7. Long a-line bob
A-line bobs greatly benefit from the choppy approach. These choppy haircuts for women can make a wonderful impression if you keep them neat. The difference between the layers will be lost in a messy hairstyle.
8. Go blonde
Different shades of blonde look stylish on any haircut you choose. Make your hair color shiny and attractive by mixing several blonde dyes. Yellow blonde combined with platinum is a wonderful choice.
9. Asymmetrical chop
You can add some asymmetry to your haircut by creating choppy layers on the sides. Make them even more special by dyeing them all a different shade. Go all out and add some outrageous highlights.
1o. Choppy curls
A curly hairstyle is hard to make choppy and attractive since the curls tend to visually hide the chopped ends. If you still want to show some choppiness, you'll need to be very careful about styling.
11. Chop those ends
This is the simplest way to create a choppy haircut for women. All you need to do is make a layered bob and chop the back part. This can be a good choice for women with wavy hair too.
12. Classic chop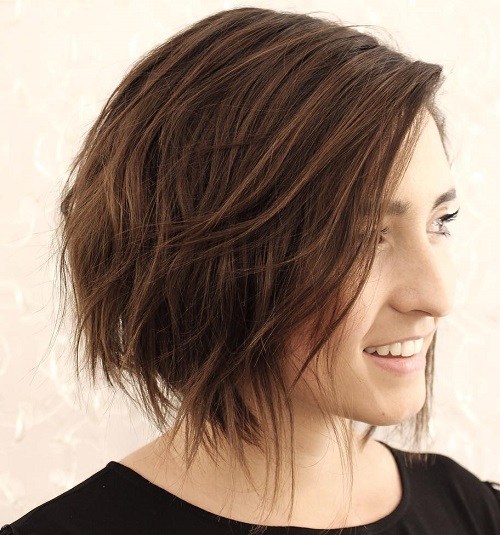 This stacked bob is the classic way to make a choppy haircut. You can create it regardless of your hair type. Waves and curls can look great as well if you are careful about making the layers.
13. Long and beautiful
Long bobs look especially striking when the ends are chopped. You can contrast the choppy ends with a subtly styled side-swept long bangs. Try to avoid this hairstyle if you have a short neck and a round face.
14. Chopped top
Contrasted layered hairstyles are a wonderful choice for girls who have thin hair. This haircut adds volume on top while allowing you to leave some long strands. The ends of all layers are chopped.
15. Eye-covering bangs
No matter what choppy hairstyle for women you choose, you can play around with the bangs. They are usually created to show contrast with the chopped ends, but you can consider choppy fringe as well.
16. Chop'em
If you have unruly wavy hair, chopping the ends can make your hairstyle neater and more attractive. You don't need to make layers or create special bangs. Just chop the ends and see how it looks.
17. Stacked pixies
Stacked pixies can be turned into wonderful choppy hairstyles for women if you decide to get the back part chopped. You'll need to grow your hair a little for the chopped ends to be obvious.
18. Choppy asymmetry
When it comes to a-line bobs, especially if your hair is wavy, there is no need to make obvious layers. A little asymmetry in the back fortified by striking highlights is all you need to create a unique hairstyle.
19. Ombre
Whatever hairstyle you choose, you can amplify the impression of the choppy ends by creating an ombre. By making the lower part of your hair lighter, you draw attention away from the growing roots.
20. Chopped bangs
While the bangs are usually straight, side-swept or wispy when it comes to the choppy haircuts for women, there surely are exceptions. If you are not afraid of daily styling, choose asymmetrical choppy bangs.
21. Just chop it
Unruly hair can be saved if your hairdresser knows how to do the chopping. Forget about split ends and wild strands. A chopped bottom of your haircut will immediately give you a respectable look.
22. Chop the bob
Long asymmetrical chopped bobs are so stylish, it's hard to keep your eyes off of them. No matter what type of hair you have, you should try a chopped bob. It's truly worth the styling hassle.