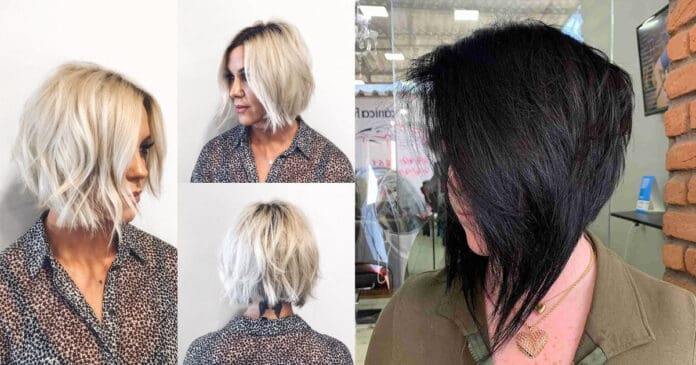 A short choppy bob is a women's short haircut that's cut at the ear to neck-length to create multi-layers and texture. If you have an attitude that falls anywhere between boho to rebel style, this cheeky version of the bob should be on top of your must-have hairdos! The signature feature of a choppy haircut is its different, shattered lengths, defining the trendy tousled-hair appearance that everyone's raging about. Rooting from the expertly done looks of celebrity icons Ashley Benson, Dua Lipa, Lauren Conrad, and Sienna Miller, this short and casual cut captured the hearts of women who aspire to be the boss both in work and in fashion. "It's meant to be messy, lived-in, and not too formal," says Sam Kane, Boston haircut specialist and owner of the Black Room Salon. "Make sure you're ready to put some effort in to get the texture you want. The stylist should guide you as to how to get the right outcome when styling." To nail this effortless short choppy bob haircut, Sam suggests to "ask for your stylist's recommendation and ask how much maintenance and product cost to keep this look is needed before you cut it." Styling is definitely a breeze because of the cut's lightness. Sam's best styling and product advice? Here's what she had to say: "use a product that will help define the texture [such as] a texture spray or a light paste through the ends to have some separation. There are a ton of things to love about this textured hairstyle! That's why you better keep going and scrolling for the trendiest short choppy bob hairstyles there are today!
#1: Textured and Blunt Bob with Purple Highlights
Can you see yourself in a blunt bob with added texture and purple highlights? One of the best cuts for fine hair is a blunt French bob because it creates fullness through the perimeter, giving the illusion of more hair. A little bit of added texture will create some interesting pieces in your hair with some movement.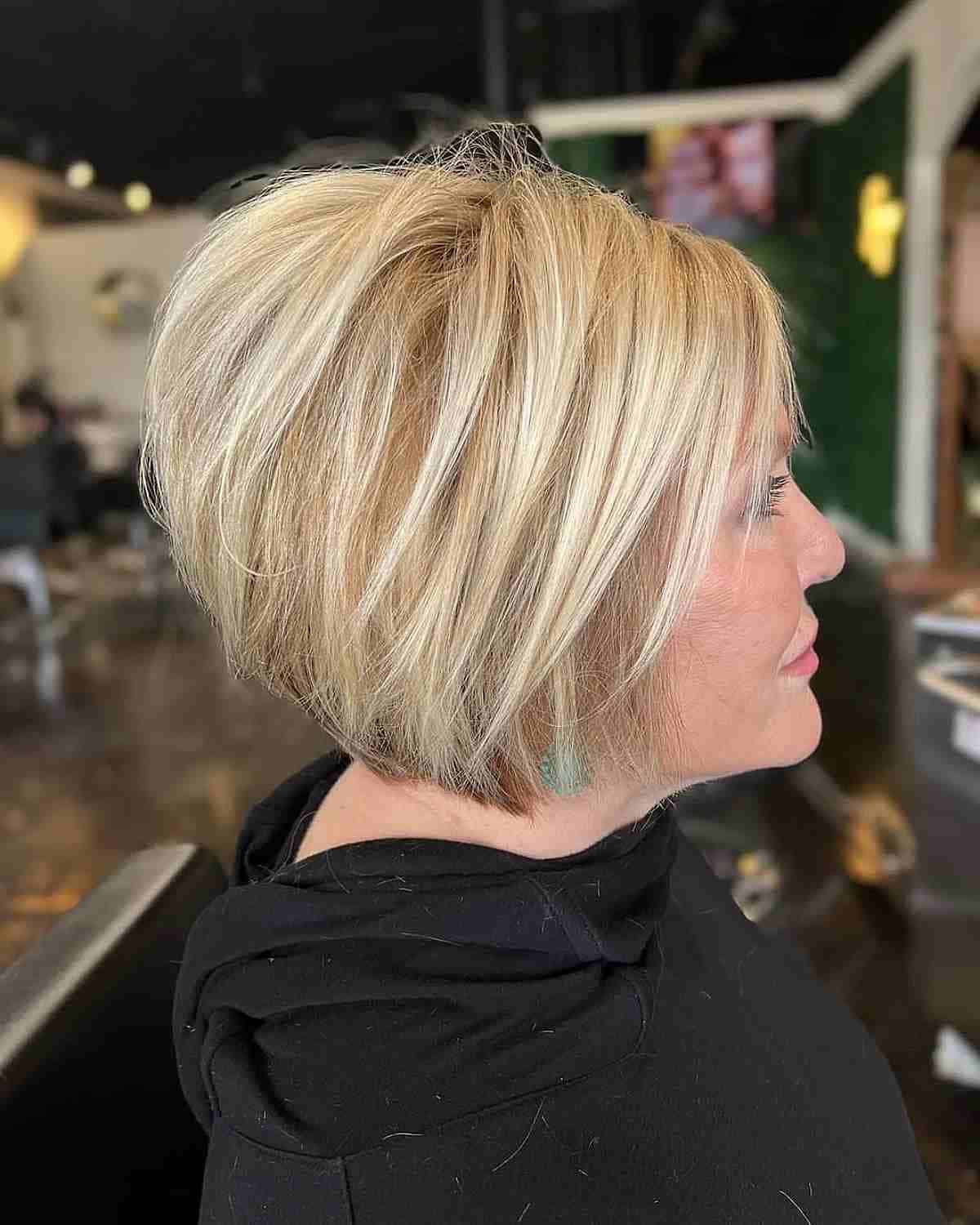 #2: Sassy Choppy Layered Blonde Bob
A choppy blonde bob with layers will be your favorite hairstyle. If you're a blonde you will have more fun, and the choppy layers say it all. Keep in mind, that with heavy blonde highlights you will need to visit the salon about every 6 weeks. You don't have to worry about face shapes because this cut is complimentary on almost every girl. You will want to blow dry with a shine spray and a large round brush for a sexy finish.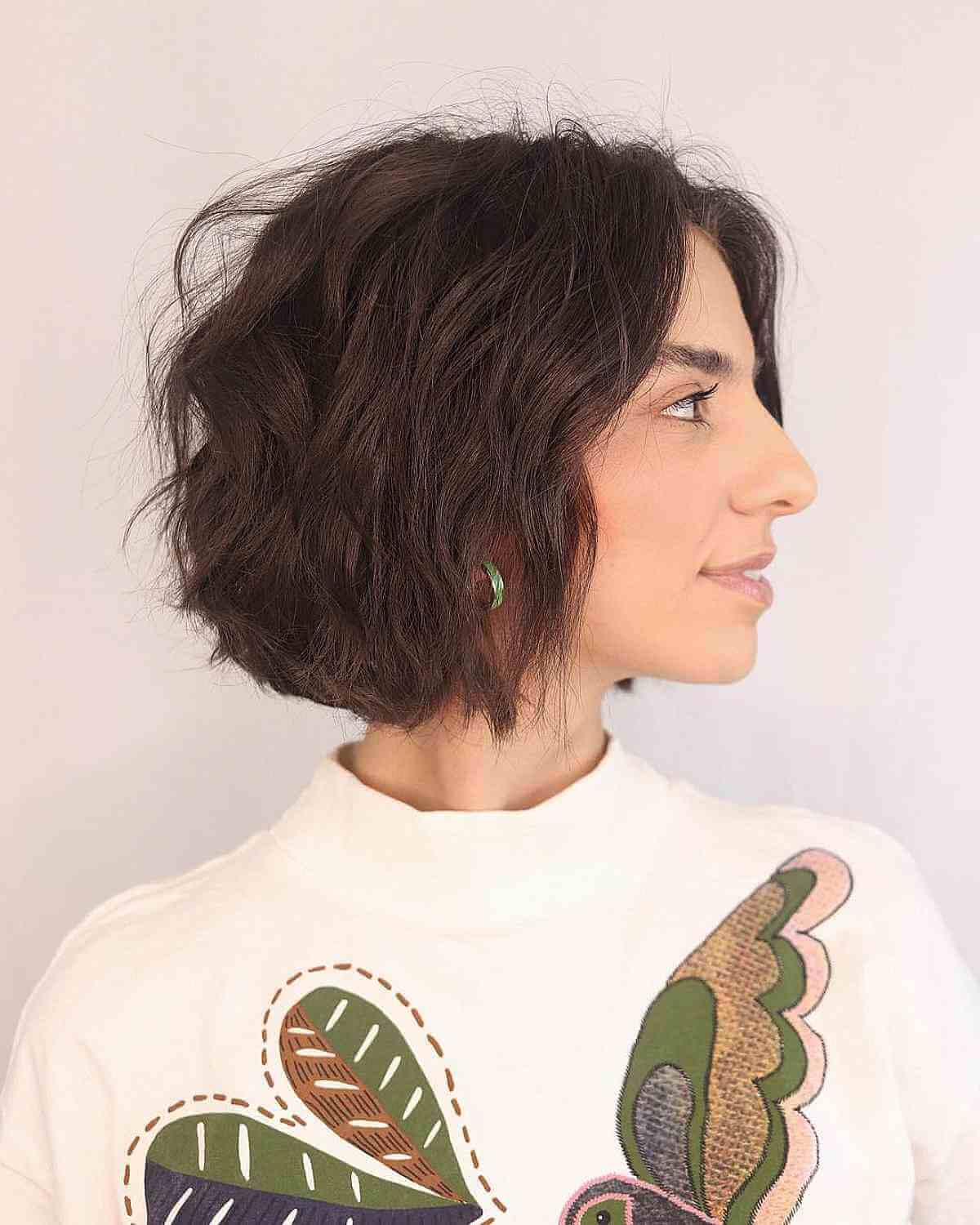 #3: One-Length Choppy Layered Bob
Go for a stunning style and try a one-length, choppy, and layered bob. Fine, straight hair will look fuller and have tons of texture if chipped into wispy layers. Worn wavy or straight, the tousled soft layers always look full of body and have an easy-breezy fun textured style.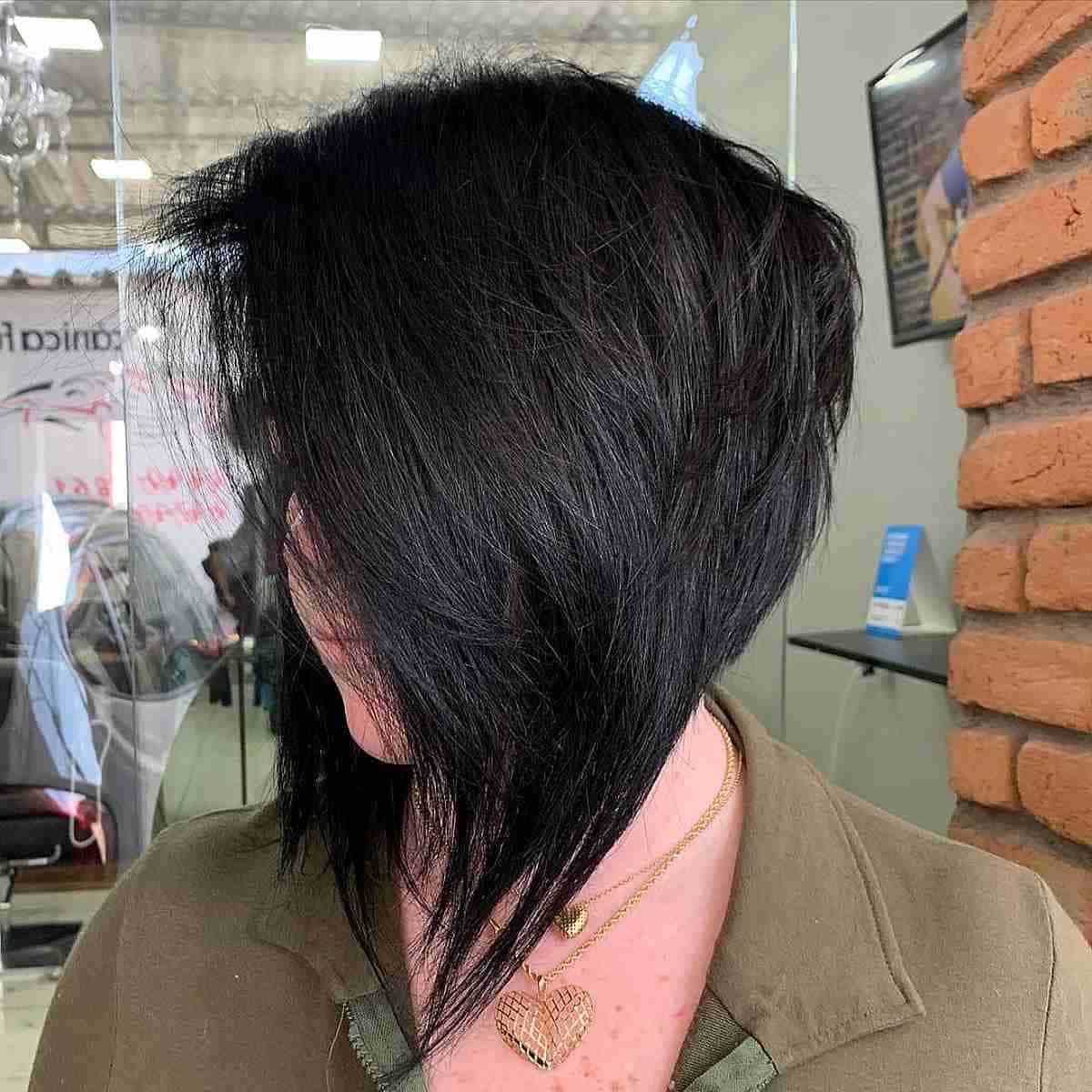 #4: Dramatic A-Line Choppy Bob
Turn heads with a dramatic choppy a-line bob. This cut will work on all face shapes and hair textures and gives you an edgy feel. With or without bangs, an a-line bob is a keeper. If you're looking for versatility, this beautiful shape can be worn blown straight or curled. The short back gives an a-line its kick, so keep it in shape with a trim about every 5 weeks.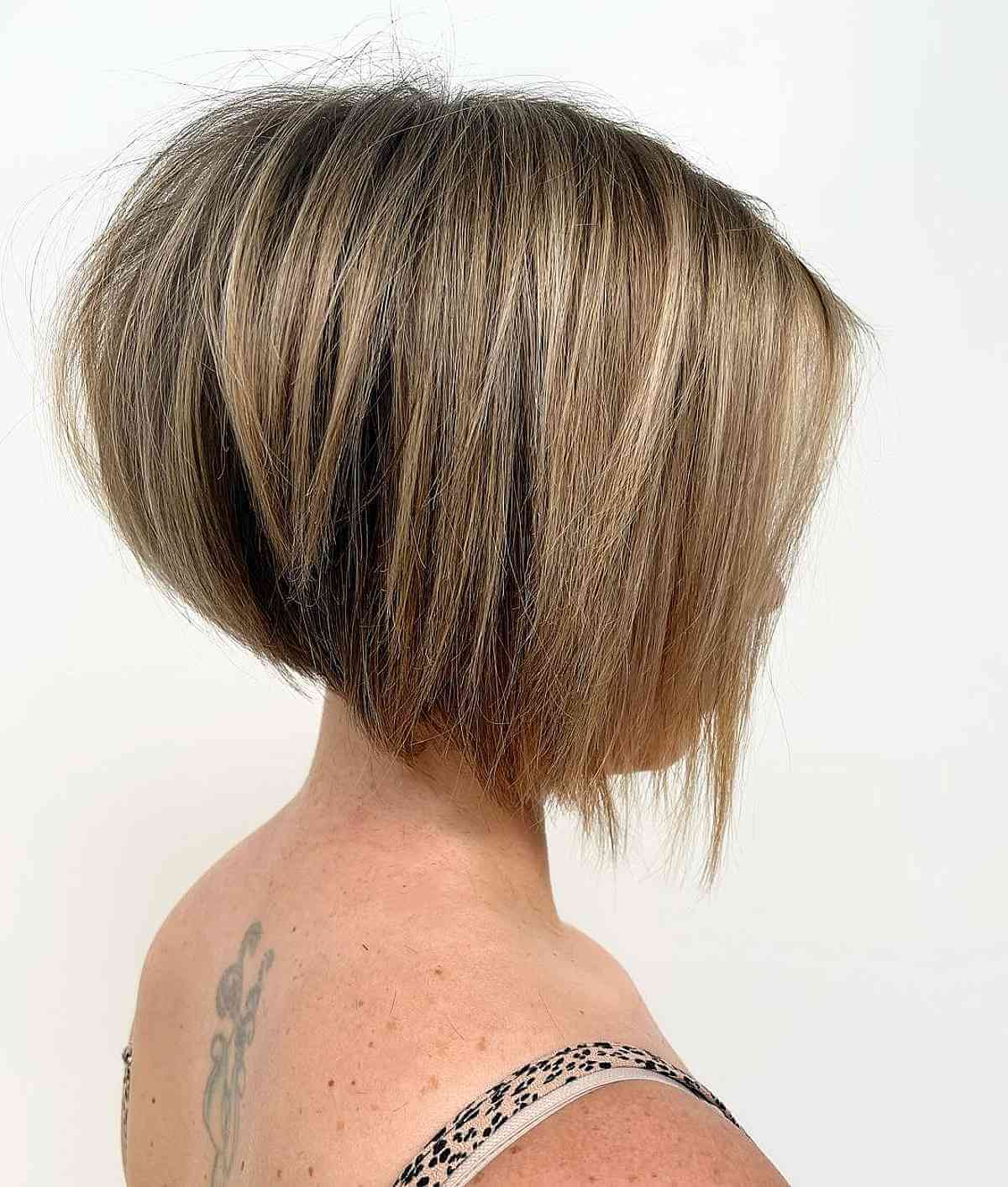 #5: Stacked Blonde Bob
A blonde bob is a classic style. The stacked back will be cut in a round shape to create added volume. Styling with a volume cream, blow dryer and round brush to hold volume. Finish with volumizing texture cream or volumizing dry shampoo.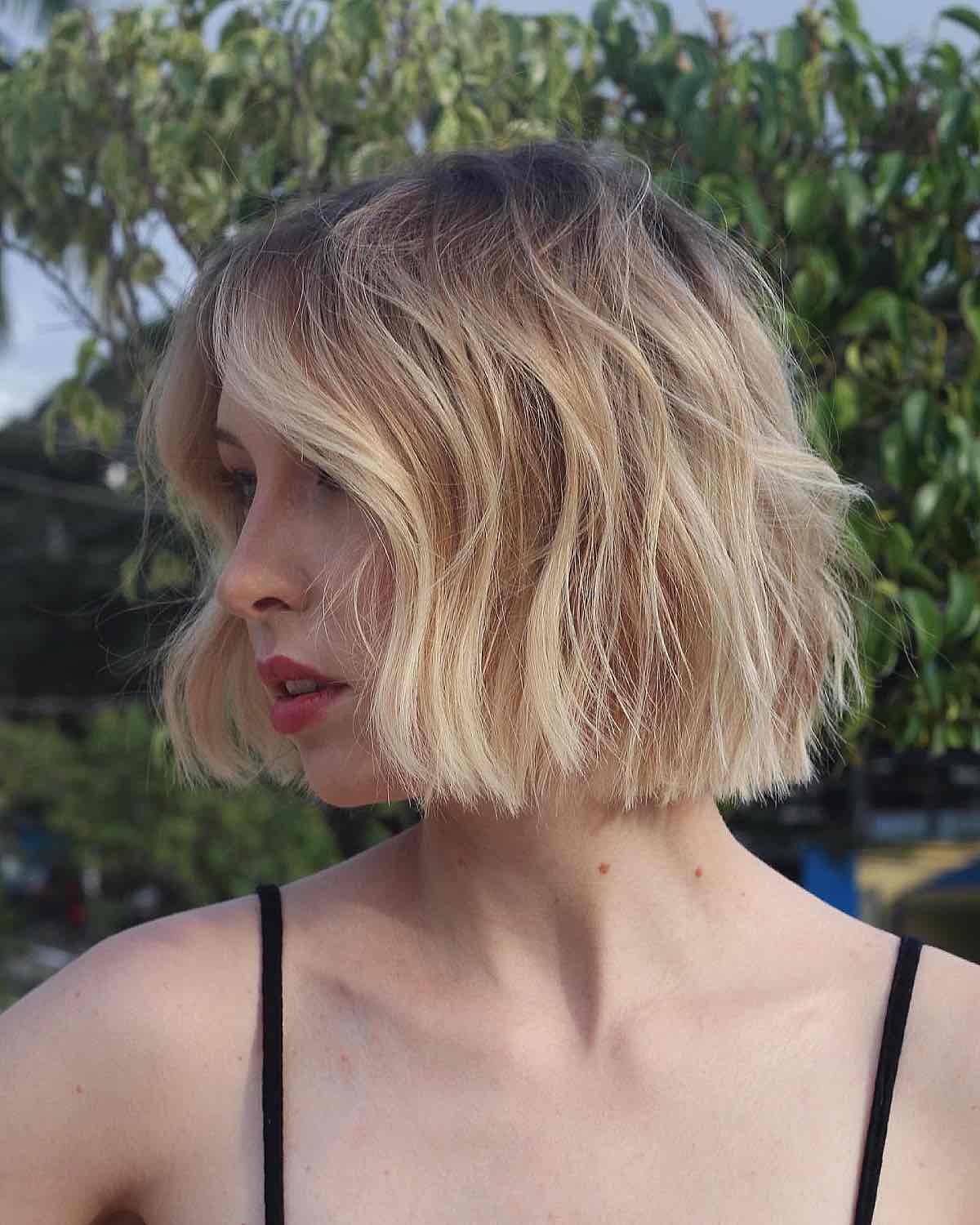 #6: Short One-Length Choppy Bob with Waves
A short one-length choppy bob with waves is the perfect haircut for fine hair. The clean one-length shape adds weight, while soft texturizing enhances volume. Ask your stylist for a rooty golden beach blonde balayage to compliment the waves.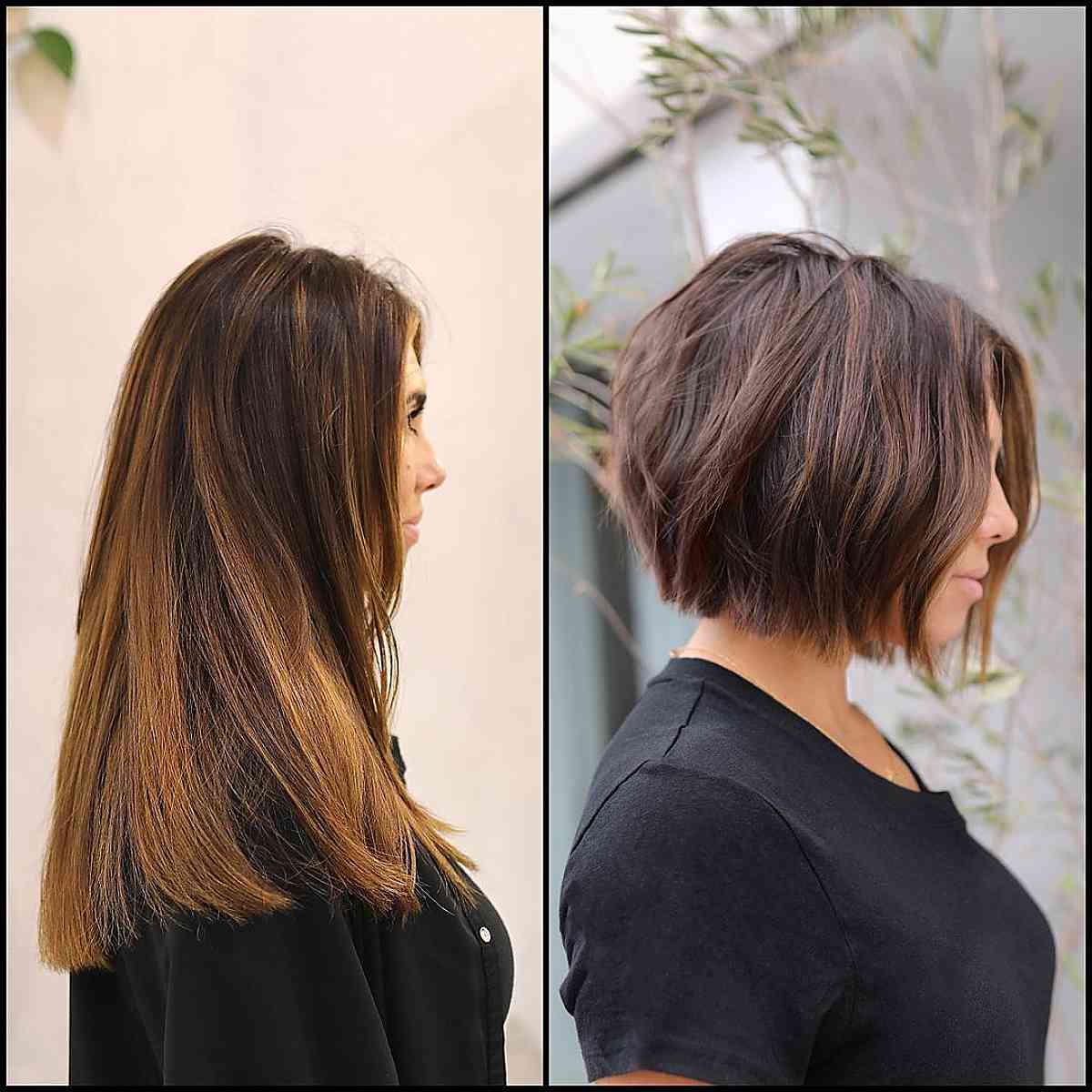 #7: Chin-Length Choppy Layered Bob
This is a chin-length choppy layered bob. I love the blunt edge and how you can achieve a piecey style. Choppy short bobs are easy for most hair types but does require your commitment to styling or touching up daily. A fun trick with hair this length is not having to curl all the hair. You can get away with adding curls to the top layers only, and it looks great!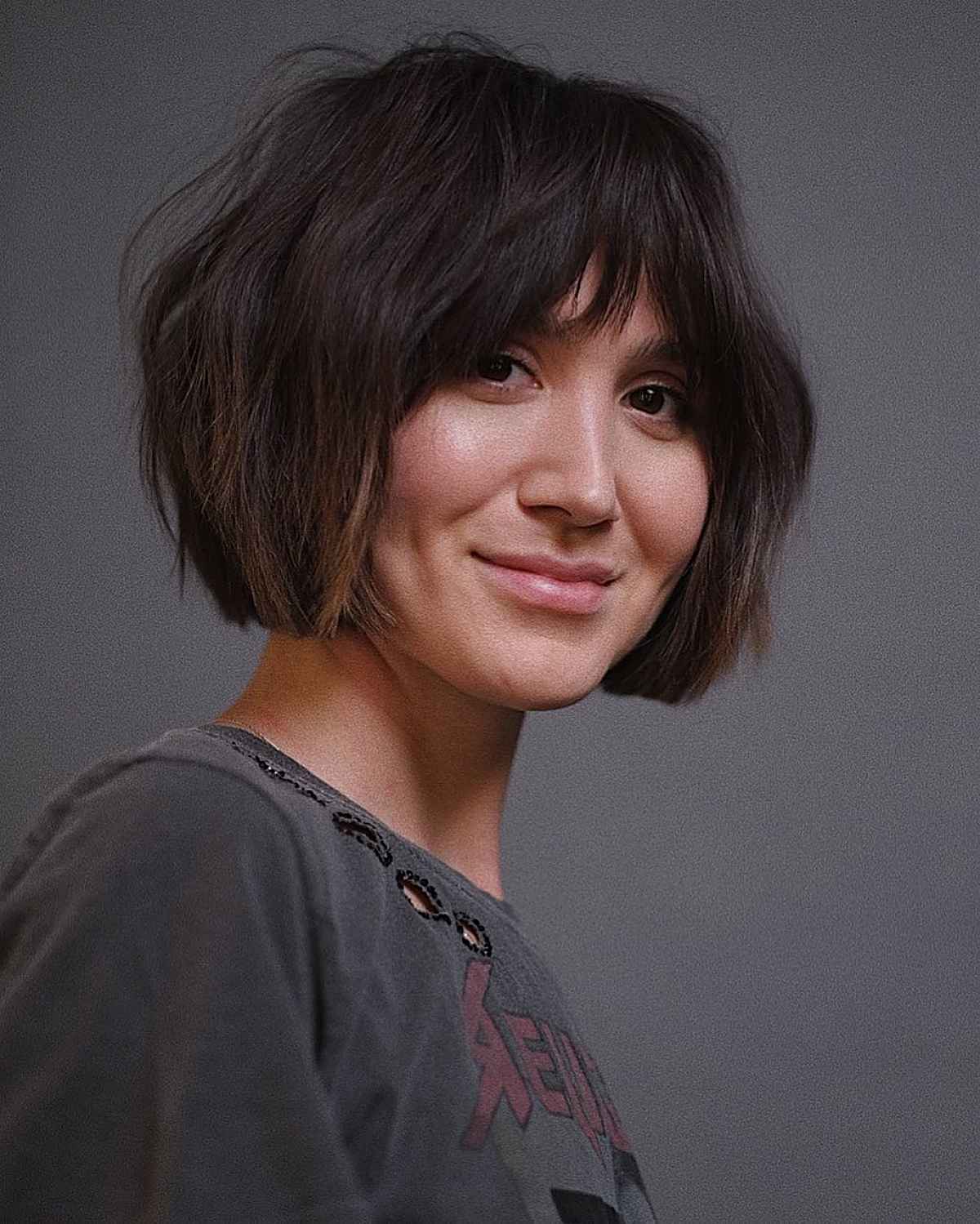 #8: A Very Short Choppy Bob
A very short choppy bob haircut is symbolic of being wild and free and ready to take on anything. All those soft waves and texture is reminiscent of carefree youthful days while the interlaced highlights give a glimpse of beauty and exquisiteness to any lady.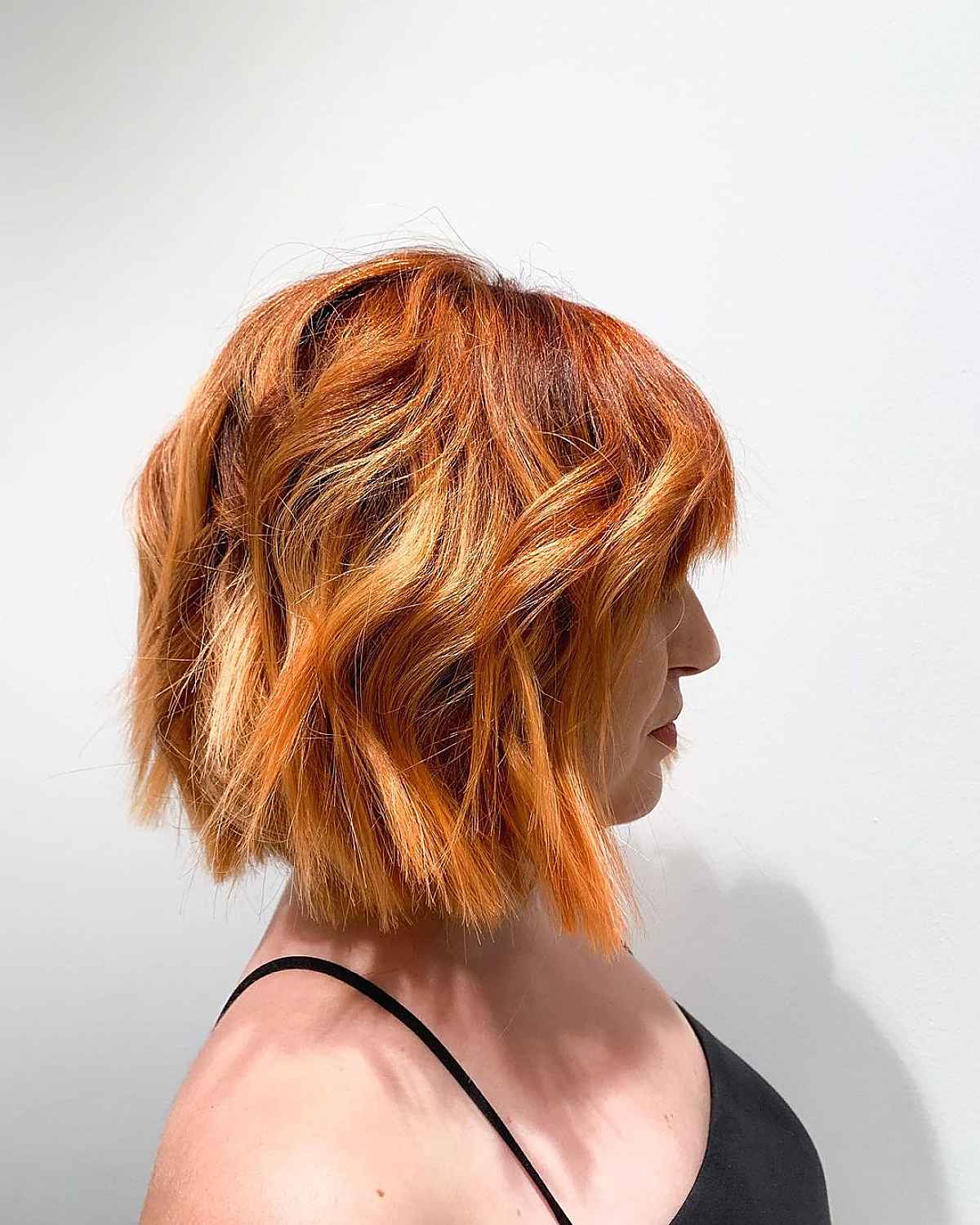 #9: The Choppy and Short Inverted Bob
This shaggy, choppy short inverted bob haircut boasts layers and volume, thanks to its choppy texture. The waves emphasize this feature which makes a great addition to the style even more. A wavy bob like this gives great definition and movement. Tousled hair just has that natural look.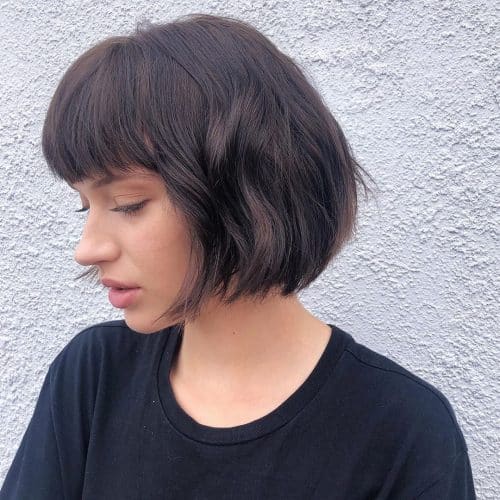 #10: Short Choppy Bob with Fringe
This short and choppy French bob with bangs look is all the ways cute and chic! The full fringe and soft waves add the warm touch of youthfulness to the cut. This is one of the most popular short choppy bob haircuts coming out of L.A. and Austin, TX right now.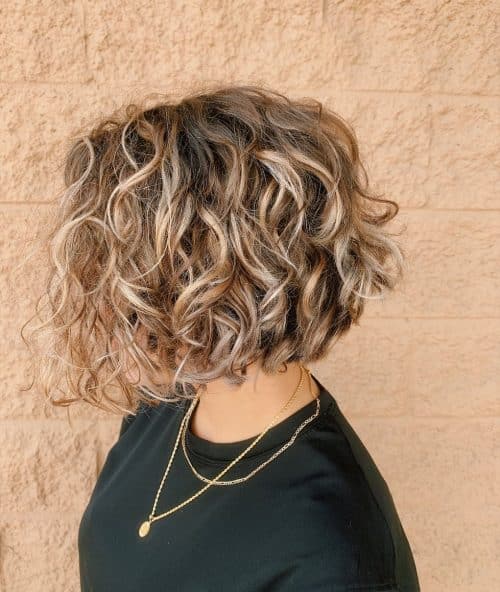 #11: Jaw-Length Textured Choppy Curly Bob
The addition of layers on this choppy curly bob introduces a new breath of chic to the look. Not only does it contribute a kind of energetic appeal, it also works to minimize styling as the curls and the highlights already work perfectly to give you your best curly look.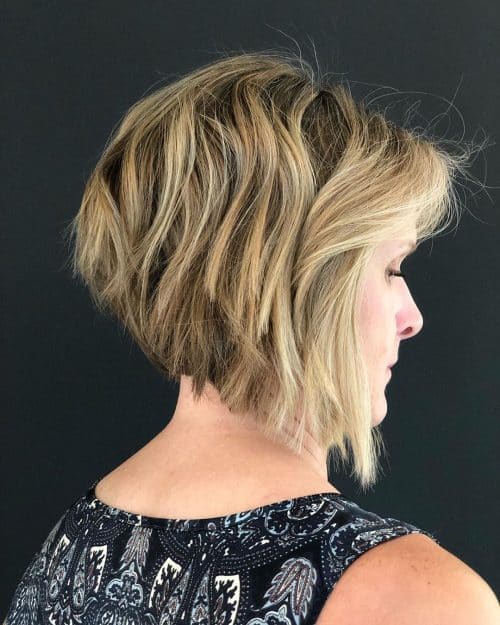 #12: Wavy Short A-Line Bob with Choppy Layers
This trendy A-line bob on short, choppy hair is so much fun with the texture and multidimensional color. It can be worn straight or wavy and still looks great! I love how soft the graduation is in the back, and the layers give the hair more volume. This choppy A-line bob cut will complement a heart shape or oval face shape and can be styled wash and wear, flatiron, blow dry, or curl. Depending on which way you like to style it determines what kind of product you would use. I used the Moroccan oil light to add some moisture, shine, frizz control, and a thermal protector to prevent damage in your locks from the curling iron.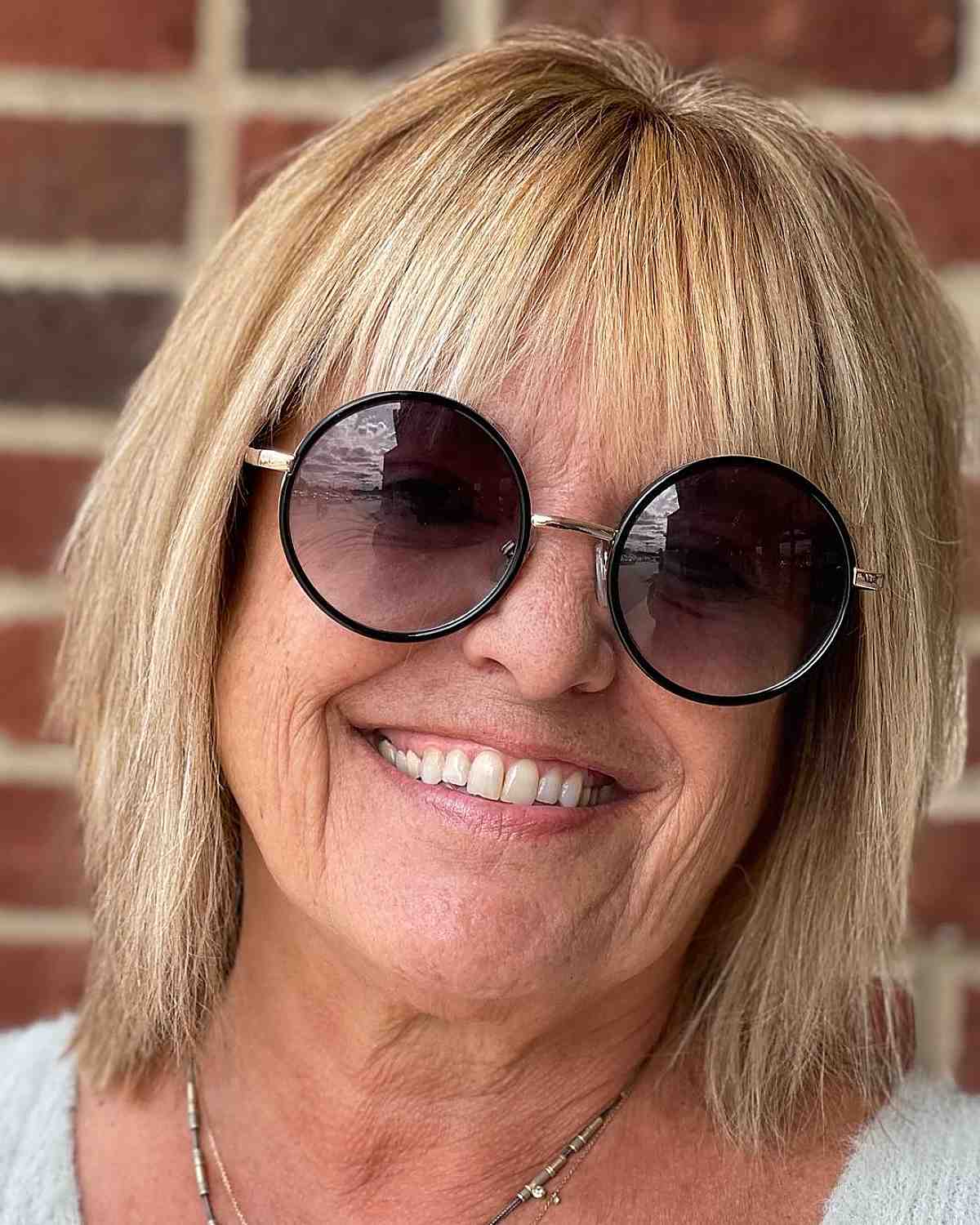 #13: Neck-Length Choppy Bob for Fine Hair
Go for a child-like look on your bob for fine hair. The straight cut edge is a contemporary way to display such a choppy bob on short hair, resulting in a chic modern lady.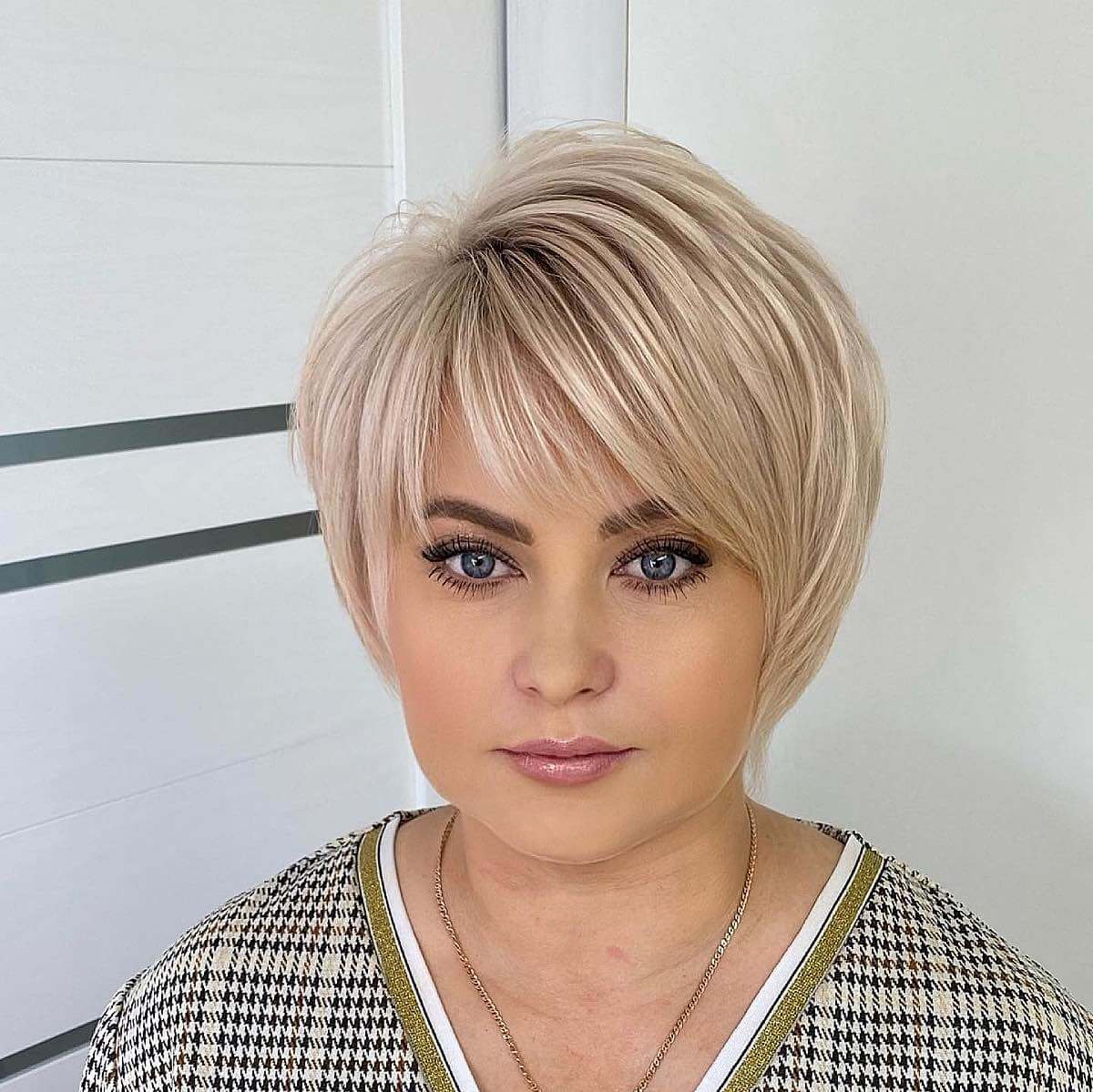 #14: Choppy Pixie Bob with Texture
Sleek locks create a perfect canvas for textures to be highlighted. Multiple chops in this choppy pixie bob make an edgy look, with the side-swept bangs completing the package.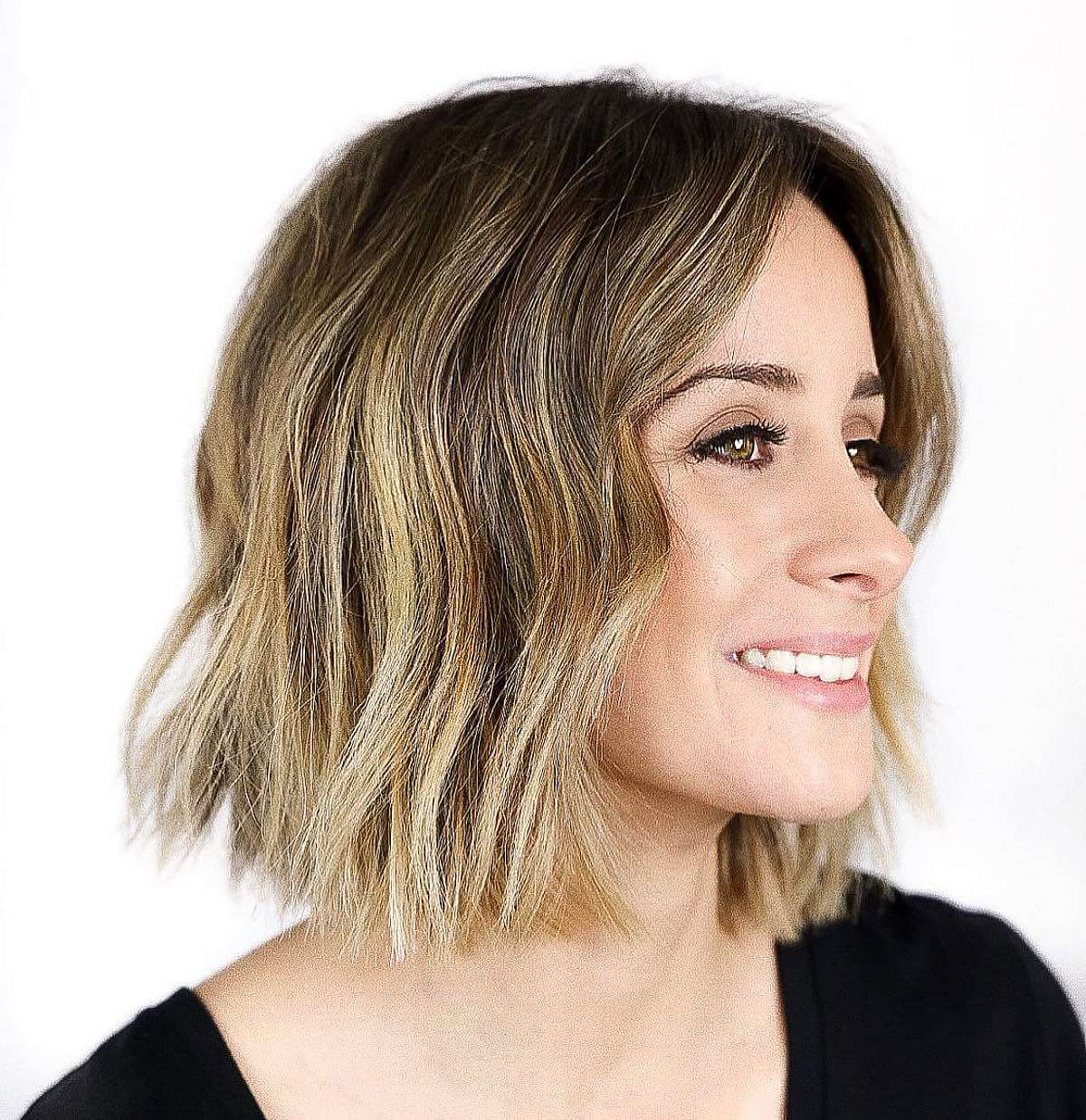 #15: Jagged Choppy Bob for Thin Hair
This jagged choppy bob for thin hair creates an impressive, full-bodied short hairstyle! A remarkable way to build up the texture on a short choppy bob for thin hair like this is to create layers. The cut has choppy layers that offer the tresses extra details. It's the easiest go-to crop if you're trying to get away from a blunt cut.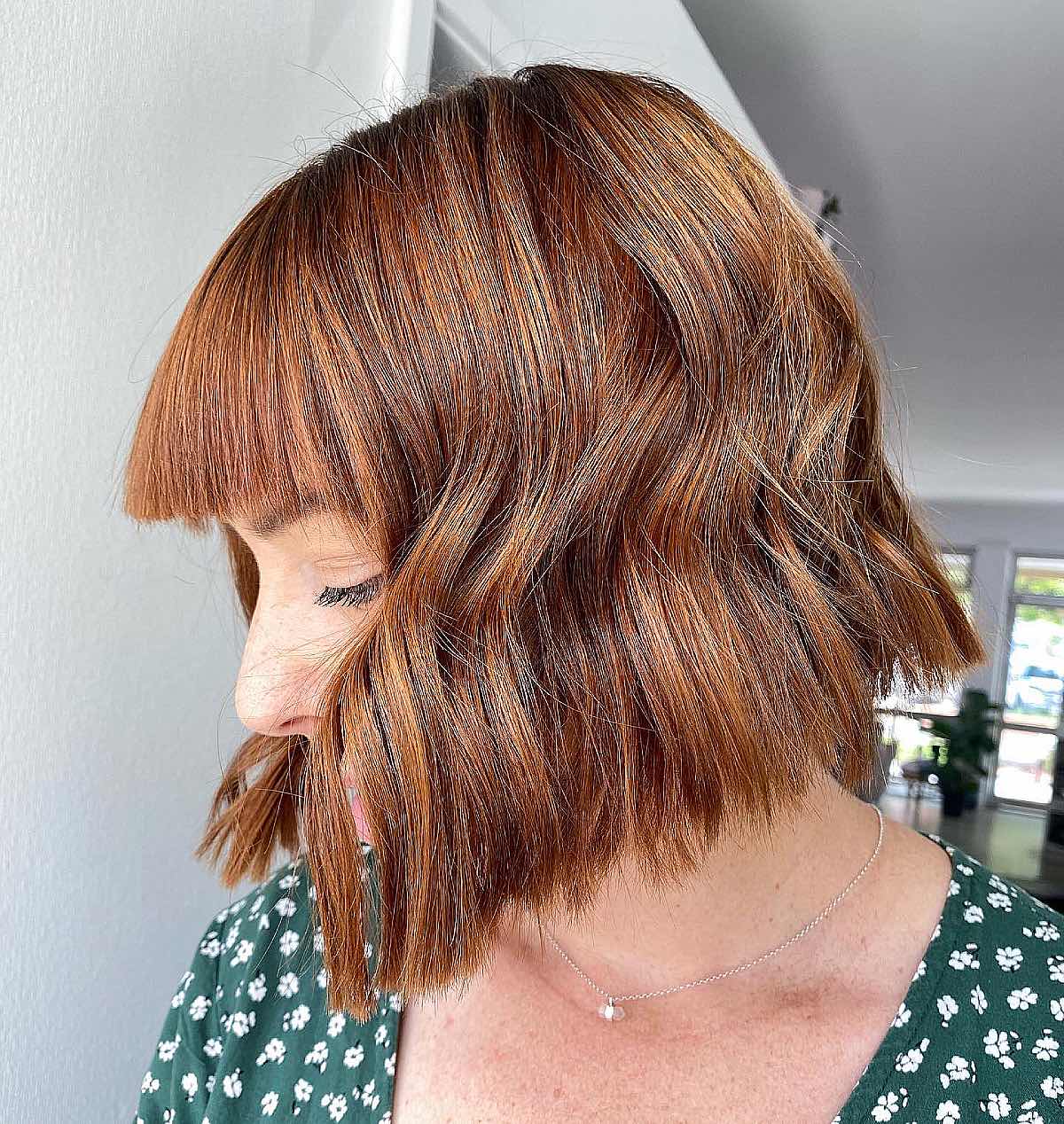 #16: Straight Short Choppy Bob with Bangs
This is a straight short choppy bob with bangs that appears better with a naturally wavy texture. This hairstyle is the perfect solution for the uneven trims caused by a previous haircut. It's a cute, modern take on a normal bob, but with all the face-framing qualities that the bangs offer.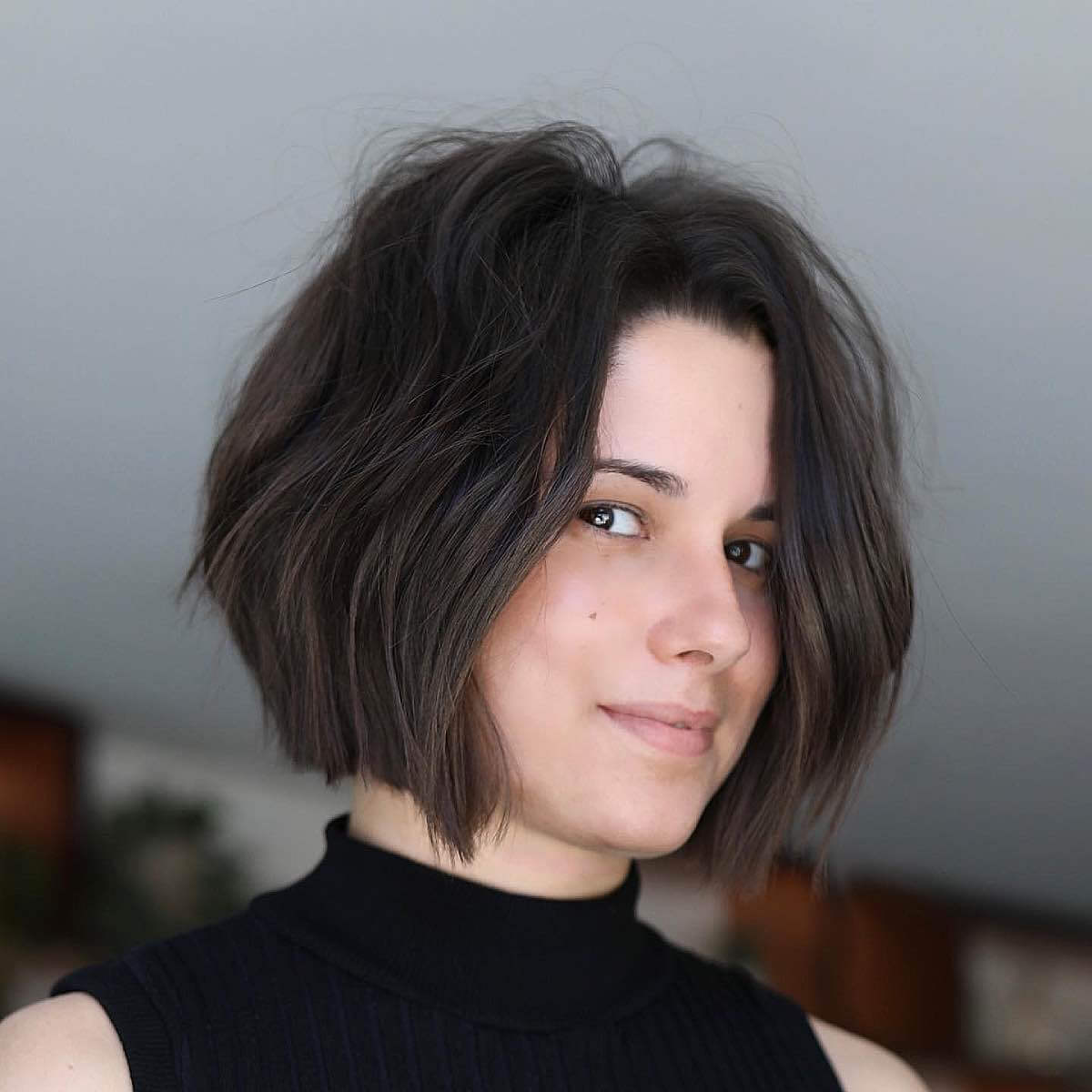 #17: Textured Short Choppy Bob for Thick Hair
It's always a risk of getting frumpy, untamed hair when going for a short layered bob. This is the perfect short choppy (and layered) bob for thick hair. Luckily, soft waves give the desired texture that is both a taming look for the choppy bob for short hair and a sophisticated style that is wearable all throughout.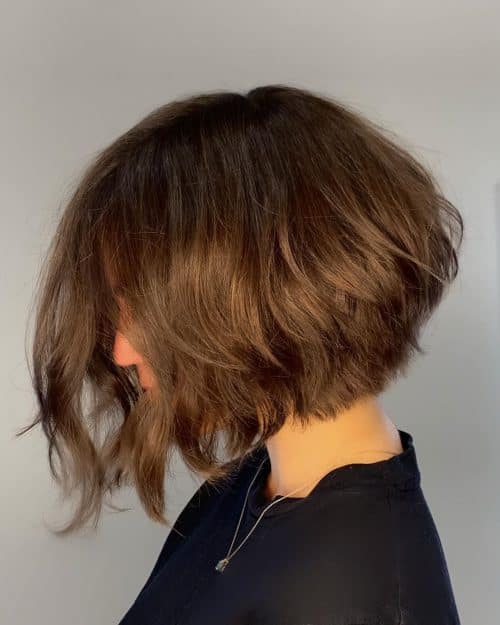 #18: Choppy and Short Stacked Bob
Choose a choppy and short stacked bob cut for a fresher, more elegant style. If the hair has a very subtle wavy texture, this hairstyle works the best. Choppy short bob haircuts have textured ends for movement, which go well on fine tresses. This one has shorter textured layers on top to create height and volume. Short choppy bobs can be worn by women with denser locks, too, by undercutting the crown area.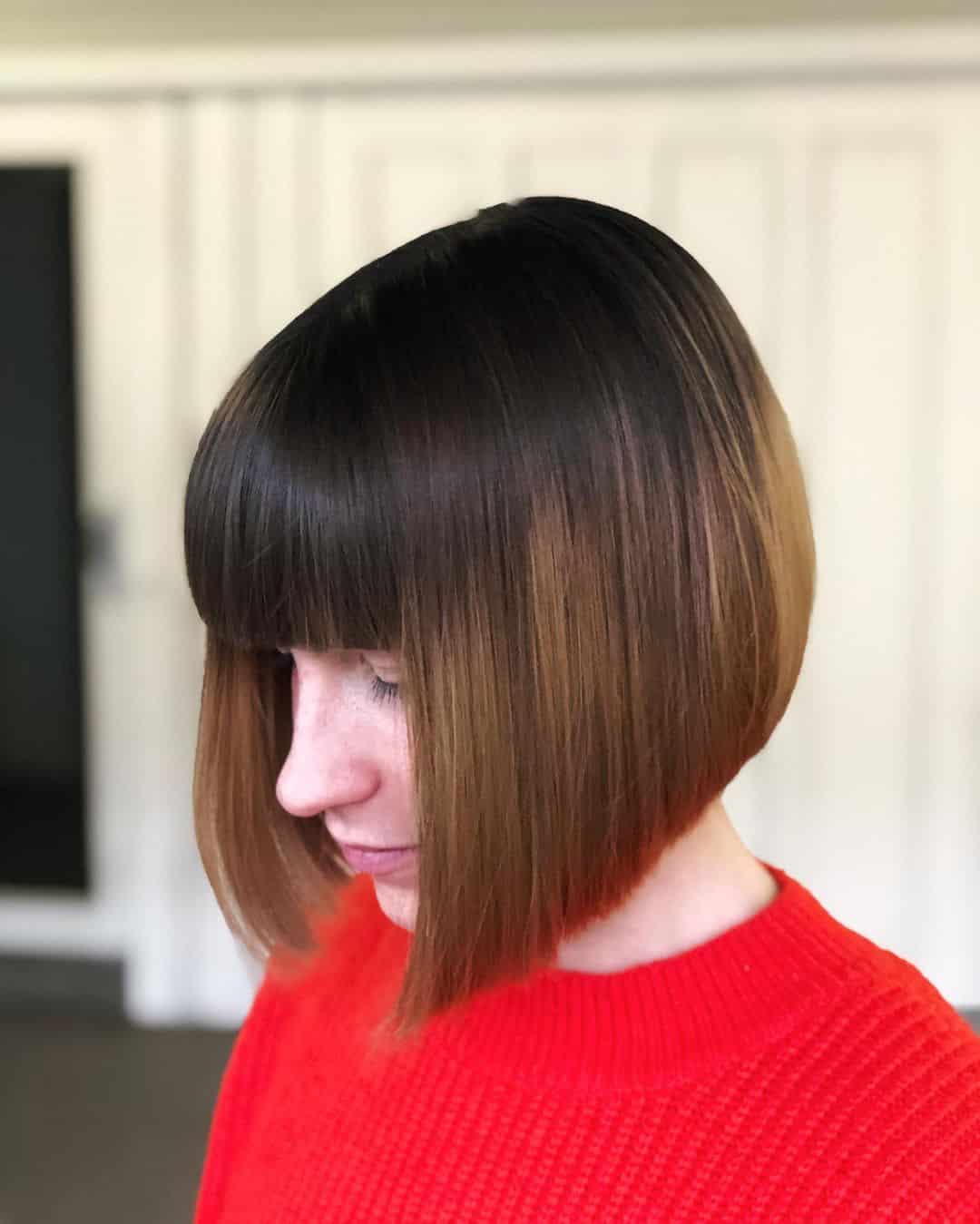 #19: Short Graduated Bob with Bangs
This is a short graduated bob with bangs that looks polished when sleeker. It's a fusion of a short, choppy bob hairstyle and a graduated bob cut. These choppy bob styles work best on women with fine to medium hair thickness.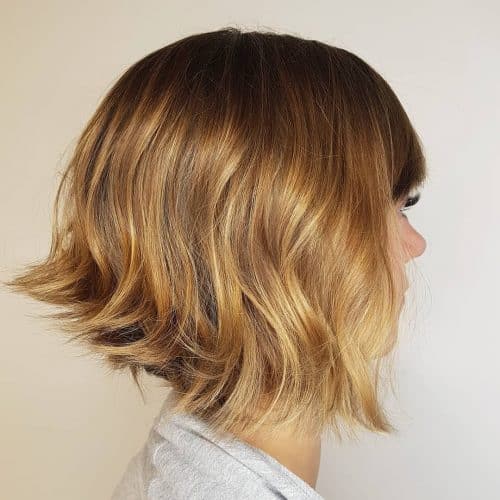 #20: Messy Short Angled Bob
My favorite thing about this short angled bob with choppy layers is that both the cut and color are super low maintenance. I used a balayage technique to create this look. We actually started out with an amazing red and just let it slowly fade out. I started the balayage closer to the root which allows for longevity and a seamless grow out. The short-length messy bob cut is really textured and choppy which creates a lot of movement throughout the hair. My client has crazy fine hair, so this cut creates the illusion of fullness. This cut is versatile as well as it looks fantastic both straight and curly.