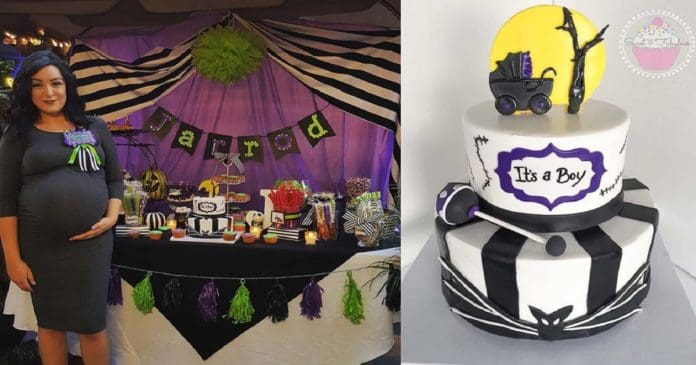 If you are planning a baby shower that will take place in the late fall, why not have a Halloween theme?! You can celebrate both occasions in one and it will be a baby shower to remember. We love this unique idea and think you will too. So, we have put together 21 of the best Halloween baby shower ideas. We have cakes, decor ideas, games and more. Take a look, there is a spooktacular idea for everyone!
1. HALLOWEEN BABY SHOWER CAKE
The first idea we have to show you is this Halloween baby bump cake. Baby bump cakes are very popular at baby showers and this one has had a Halloween twist. The cake features a cute skeleton baby over the bump. It is a creative cake, perfect for Halloween. Cakes like these can be made in any flavor and with any design.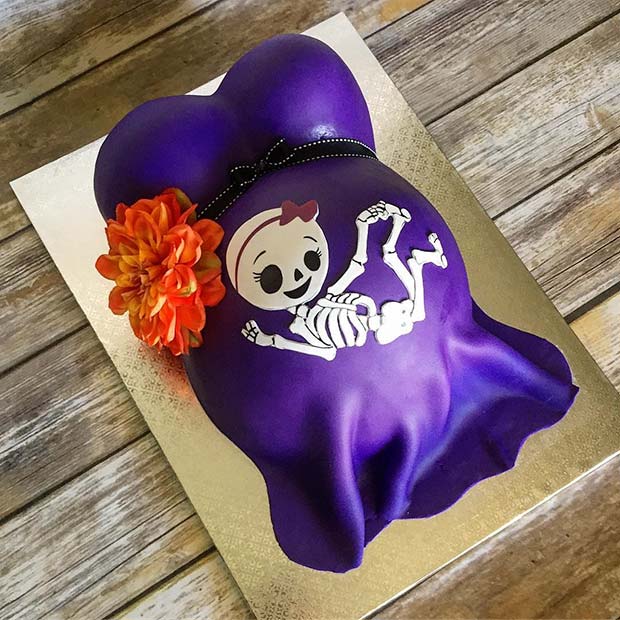 Source: @rebeccas_cakes
2. HALLOWEEN BABY SHOWER DECOR IDEA
The decor ideas for a Halloween baby shower are endless. You can have any decor from spooky to chic like this one. This idea is like Halloween and glam mixed together. You have the classic pumpkins with added painted pumpkins. The boo sign and banners are also cute. Take inspiration from this to celebrate in spine-chilling style.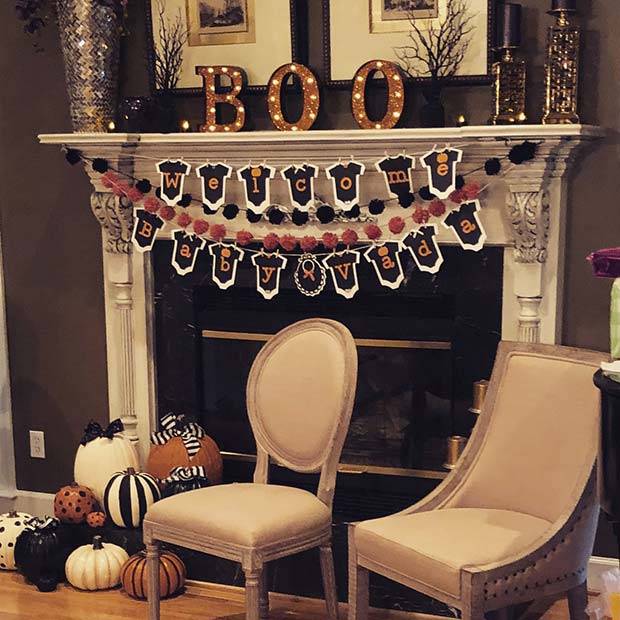 Source: @julianamariej
3. GENDER REVEAL PUMPKIN & SMOKE IDEA
Many parents-to-be choose to share the gender of their baby with everyone at baby showers or gender reveal parties. If you are choosing to do this at Halloween, you could use a pumpkin like this. The pumpkin has been carved with a traditional face and has purple smoke coming out of it. For your baby shower, you could have pink or blue smoke.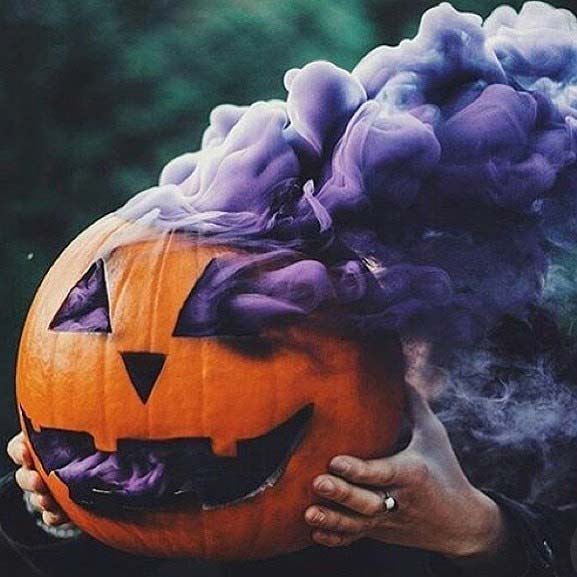 Source: @halloweenpumpkingirl
4. HALLOWEEN THEME BABY SHOWER COOKIES
Every baby shower needs sweet treats and our next pick is spooktacular. Here we have Halloween inspired cookies. These feature pumpkins, baby Frankenstein, pumpkin bibs and more. Every guest would love to eat one of these. Bake your own if you like baking or buy similar ones.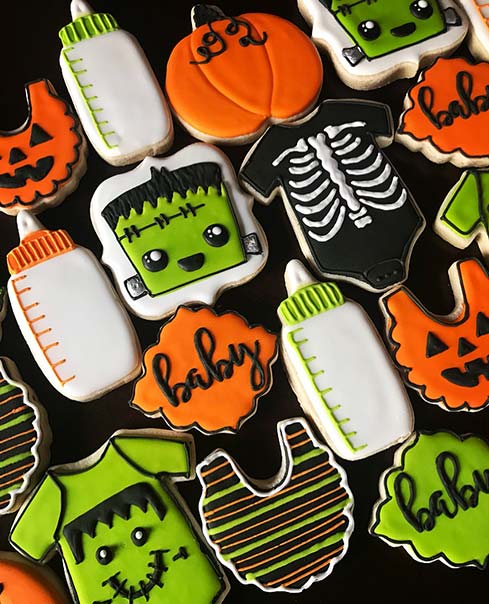 Source: @thenamelessbakery
5. FAMILY OF PUMPKINS
Next, we have a super cute decor idea. Here we have three pumpkins that represent the family. The large pumpkin has daddy wrote on it, the next one says mommy and the smallest pumpkin has baby wrote on it. This idea is easy to recreate and will look great. If you have a bigger family, add more pumpkins.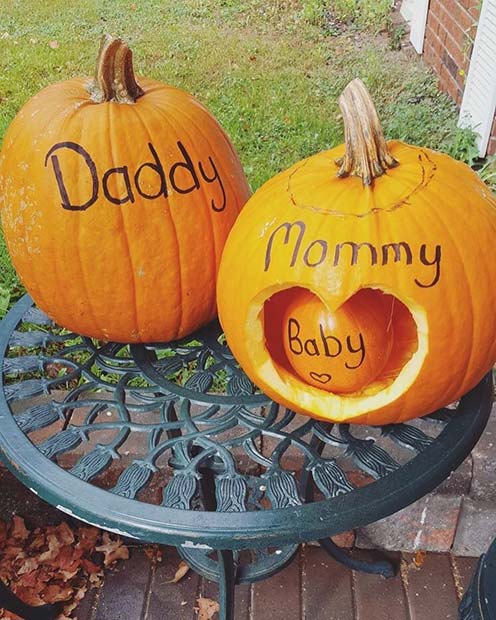 Source: @sammyantoine
6. UNIQUE CAULDRON CAKES
Our next idea are these adorable cauldron cakes. For these, small cakes have been placed inside small cauldrons. You can bake any flavor cakes and decorate them however you like. Little cauldrons like these can be bought online. You can serve these on a buffet table or give them out as party favors.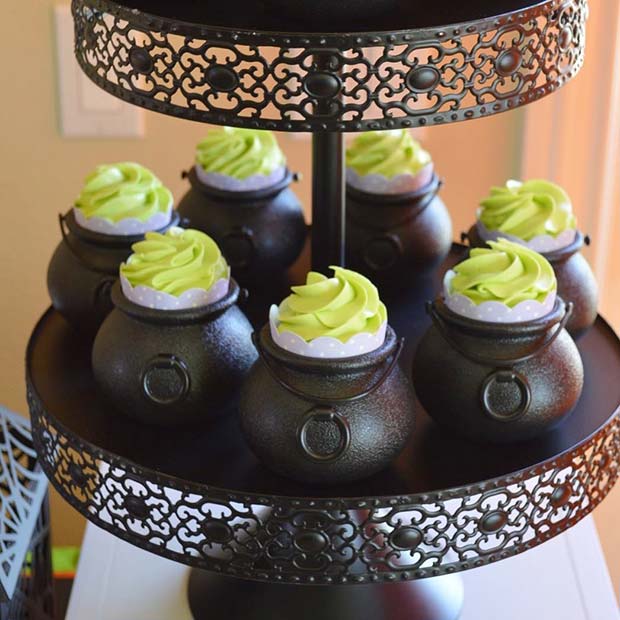 Source: @allysweetcreations
7. BOO DECOR IDEA
Here we have another decor idea. This one is super cute and has a purple, black and white color scheme. We love this because it is beautiful and perfect for Halloween. There are ghosts and a boo sign, as well as Halloween inspired treats. Recreate something like this or put your own style into it, maybe change the colors but have similar decorations.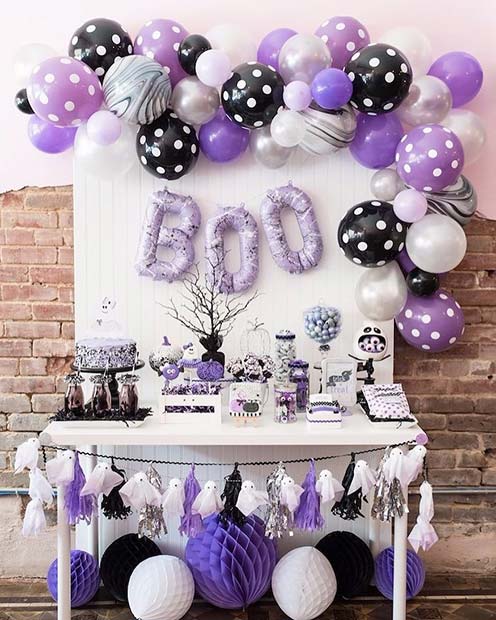 Source: @babyaspen
8. PHOTO BOOTH FRAME
A fun activity you can have at your baby shower is a photo booth. Photo booths allow guests to take photos and you can even have props like wigs. For a photo booth you will need a frame, and this one is perfect for a Halloween baby shower. It has spiders, rats and more. If you have a name for the baby, you can have a welcome sign like this one. The photos can be kept as a memory and the baby will be able to look at them one day.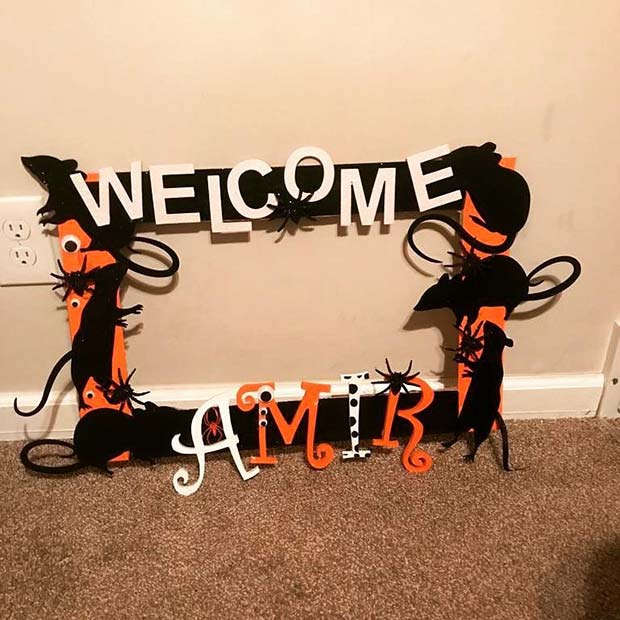 Source:: @luxuryevnts_17
9. NIGHTMARE BEFORE CHRISTMAS CAKE IDEA
The Nightmare Before Christmas is a classic Halloween movie so it is no surprise it has made an appearance in this list. Here we have a baby shower cake inspired by the movie. It has the classic black and white stripes, moon and more. A cake like this is a must-have for any fan!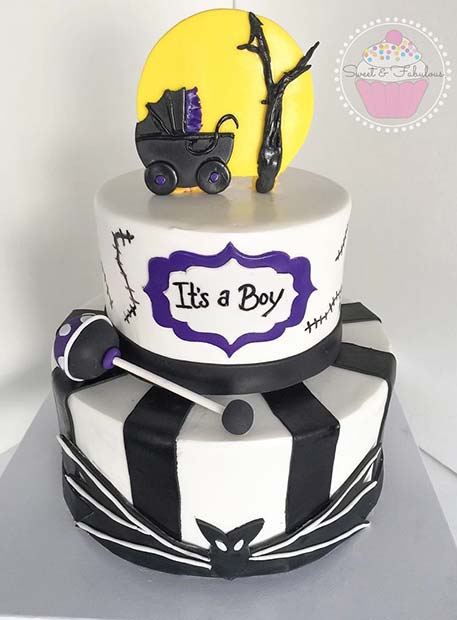 Source: @sweet_and_fabulous
10. FUNNY BABY PUMPKIN
Bring some humor to the baby shower with a baby pumpkin like this. The baby pumpkin has a traditional carved face and is being sick guacamole. This is quite funny because all parents know that babies can be sick quite a lot! You can serve other dips but the green guacamole will look the best.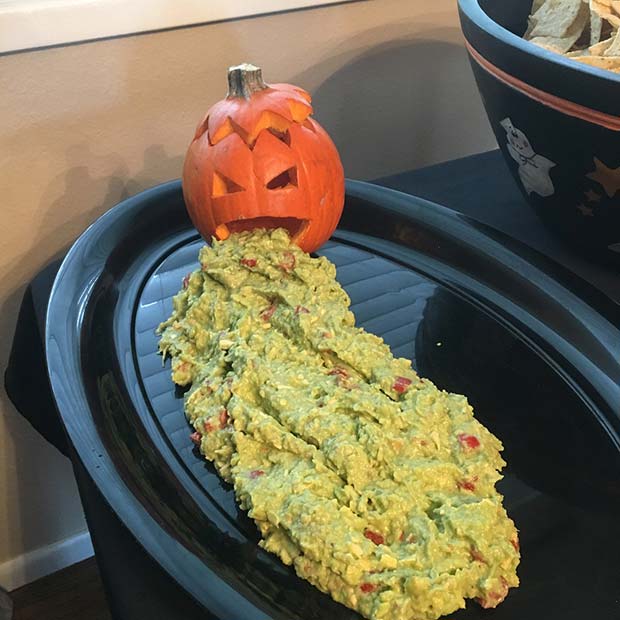 Source: @kmsoda21
11. NIGHTMARE BEFORE CHRISTMAS BABY SHOWER
Next, we have another idea for the fans of the Nightmare Before Christmas. Here is a way to decorate by using inspiration from the movie. The classic stripes are used in the decor and the table is full of the Nightmare Before Christmas treats. You may even spot a familiar cake!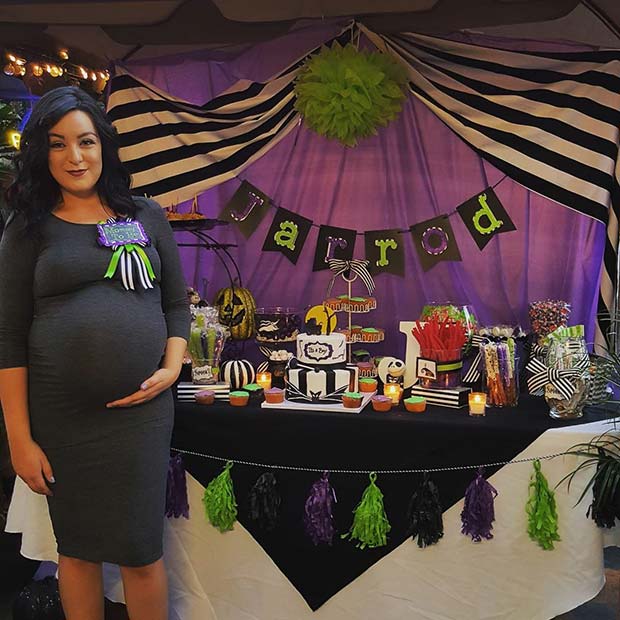 Source: @twinkleglitzcreations
12. WELCOME LITTLE MONSTER CAKE IDEA
Our next idea is inspired by monsters. The cake has a green tier and a blue tier that looks like the monsters from Monsters Inc. There is also a sign that reads welcome little monster. We love the baby monster pumpkin next to the cake too. There is also facts about the baby in the background. Something like this can easily be recreated for your Halloween baby shower.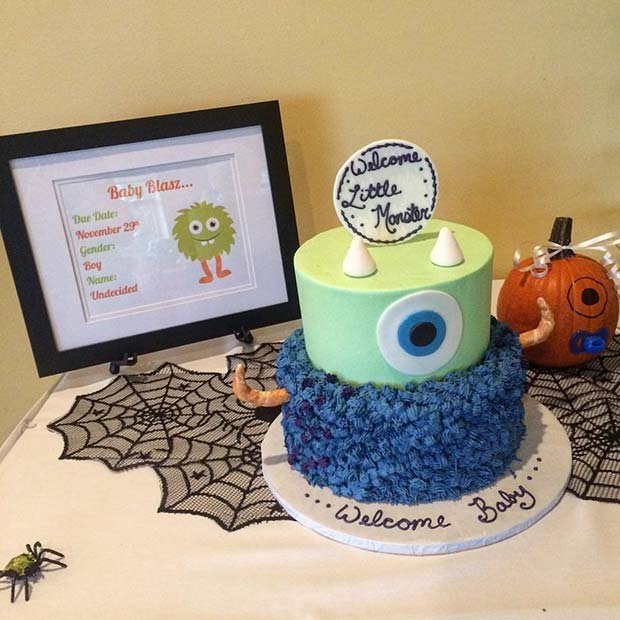 Source: @whisperingpinesbanquets
13. HALLOWEEN WELCOME SIGN
Everyone needs to know where the best baby shower is taking place! Show everyone with a sign like this. It reads "Welcome, a baby is brewing. Let's celebrate". There are also pumpkins decorated as babies in front of the sign too. This would look amazing at any baby shower.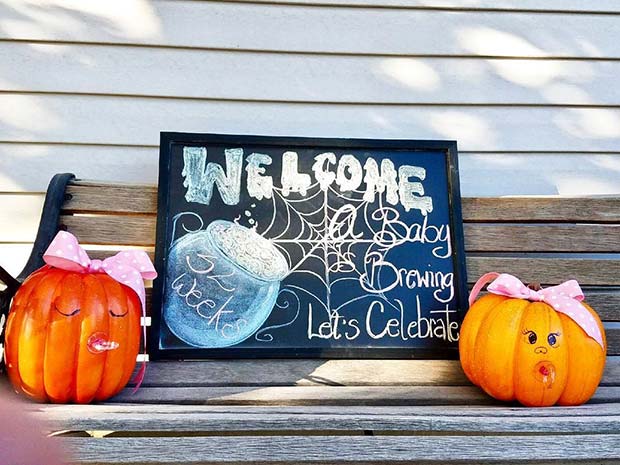 Source: @mysocalledchaos
14. HALLOWEEN BABY SHOWER COOKIES
Next, we have another cookie idea. These ones are inspired by pumpkins. One biscuit reads "welcome lil' punkin" and there are others decorated as baby bottles and more. Cookies like these are perfect for Halloween. You could add some spooky pumpkin faces if you don't want cookies that are too cute.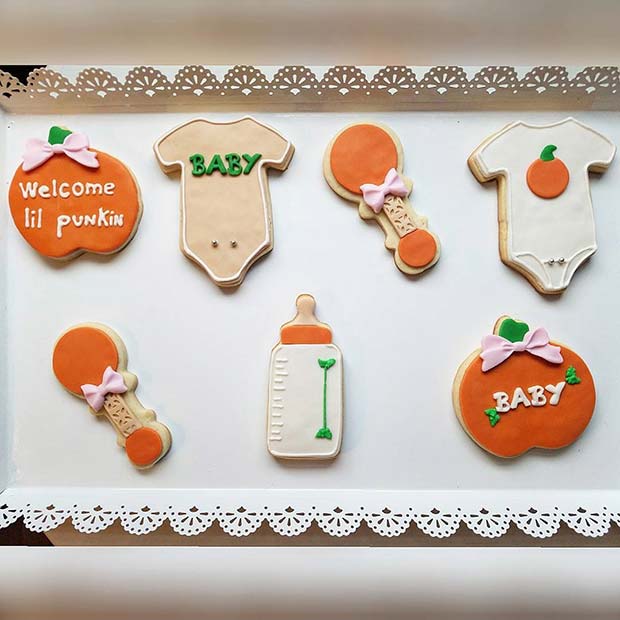 Source: @wowcakesbyjenni
15. BABY PUMPKINS DECOR IDEA
Our next idea features baby pumpkins. Each pumpkin has been decorated to look like a baby by using eyes and pacifiers. You can create some of these as decorations or maybe have plain pumpkins and get guests to decorate them as babies. Whoever creates the best pumpkin baby wins a prize.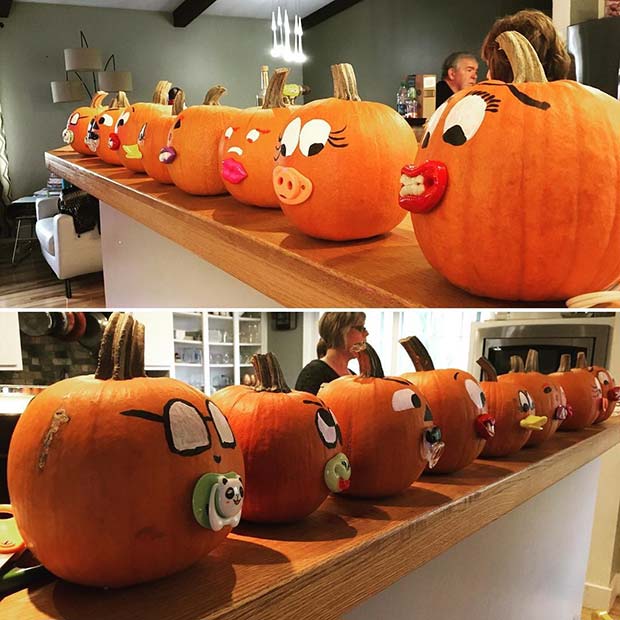 Source: @sinama45
16. HALLOWEEN DESSERT IDEA
You can jazz up the simplest of desserts so they are perfect for parties and celebrations. Here is a great example, here we have dessert jars. There is a different cake in each one and the jars have been decorated. You can recreate these or create your own spooky creations. Have them available for guests to eat or give them as party favors.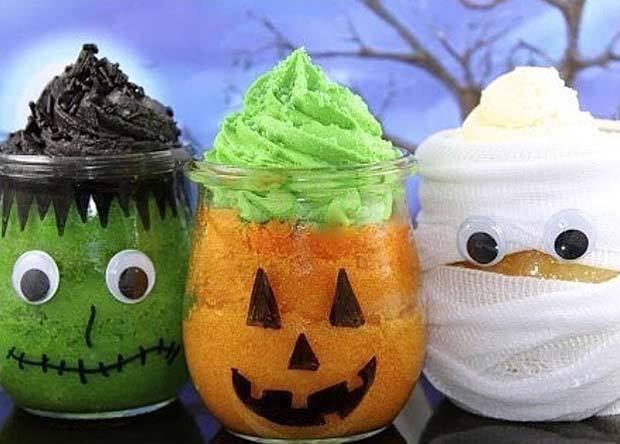 Source: @halloweenpumpkingirl
17. FUN HALLOWEEN BUFFET TABLE IDEA
Every party needs a buffet table and here is a great one for Halloween. The table is full of Halloween candy, pumpkins and more. You can have a lot of fun creating a buffet table like this one. Take inspiration and have a similar table or add your own spooky touches.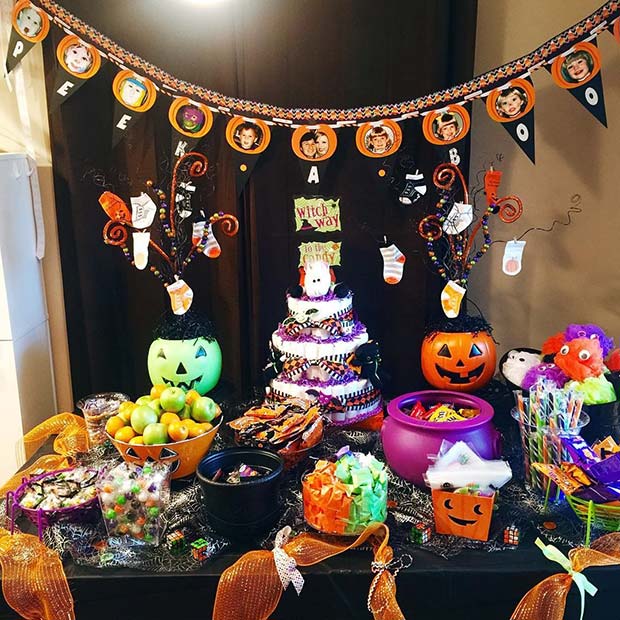 Source: @jilliancupcake
18. CUTE GHOST CUPCAKES
Next, we have another cake idea. These ones are cute cupcakes that feature a ghost design. Each ghost also has a little pink bow but you can take this off or add a blue decoration for a baby boy. Cakes like these are spooky and perfect for a Halloween baby shower.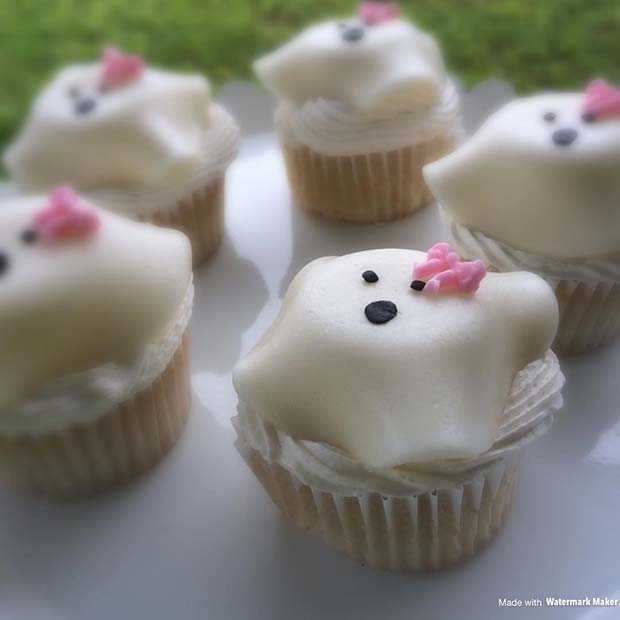 Source: @simpletreats_sfl
19. CUTE COOKIES
Love the cookie ideas? Then you may like these cookies too. These cookies are also Halloween inspired. There are baby clothes and a pregnant witch cookie. You can recreate these or mix and match them with the cookie designs we shown earlier.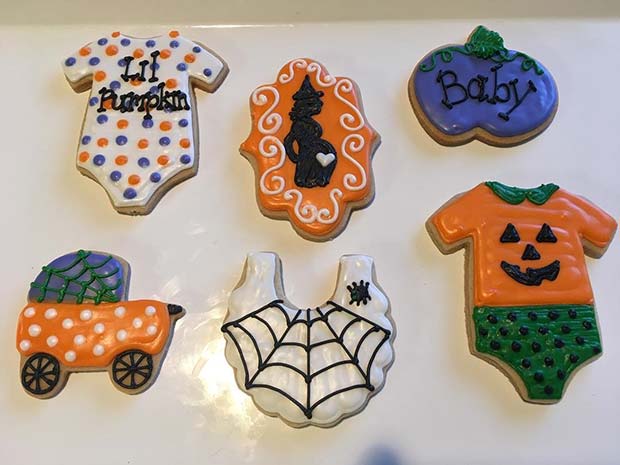 Source: @creativecookiesandmore
20. CUPCAKE AND DRINK IDEA
You can jazz up the simplest of cakes and drinks with decorations like these. There are scary eyes in the drinks and a skull and boo sign in the cake. You can make decorations like these with cocktail sticks or you can buy decorations already made.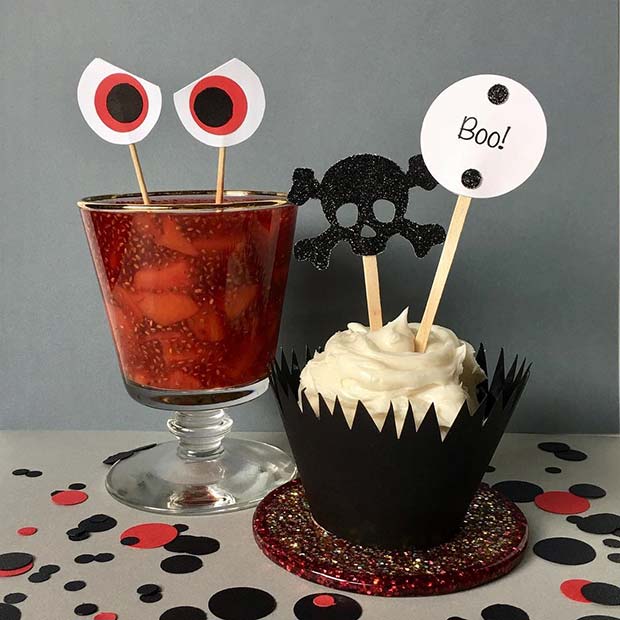 Source: @pickthecake
21. HAUNTED HOUSE CAKE IDEA
Last on our list is this haunted house cake. It is cute and has all the classic Halloween themes – graves, pumpkins, spiderwebs and more. A cake like this would be amazing at a baby shower. You can recreate a similar cake or make your own haunted creation.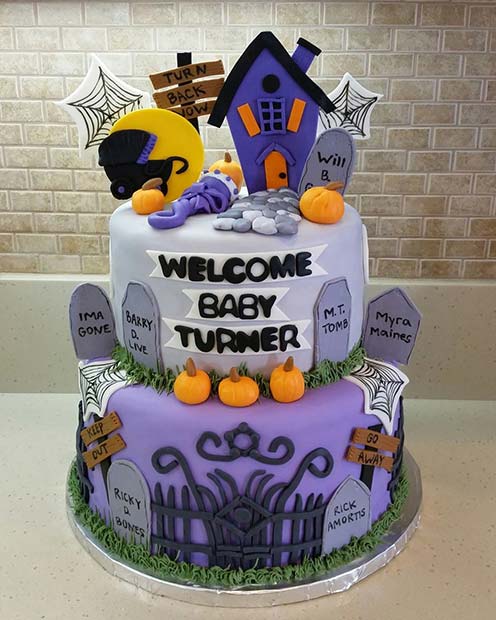 Source: @mascakes
We hope you have been inspired by these Halloween baby shower ideas!