If you don't have time to head to the salon and get your pedicure done, there's no need to panic. We're coming to the rescue with 25 eye-catching pedicure ideas for spring, and we know you're going to love them. Are you feeling bold and brave? Perhaps you're on the hunt for something nude and muted? Maybe you don't know what you want, and that's why you're here? Either way, and for whatever the reason, you won't want to miss these stunning designs. Don't forget to let us know which ones are your faves!
1. POP OF NEON & GLITTER
If you're going to use neon polishes on your tootsies, make sure you use a base coat underneath to prevent the polish from staining your toenails. If you do suffer from staining, you'll find that lemon juice helps to get rid of some of that yellowing, being a natural bleaching agent. You will also want to make sure you're using a good bas coat underneath those glitter toes too – you know how much hard work it is to get *that* stuff off!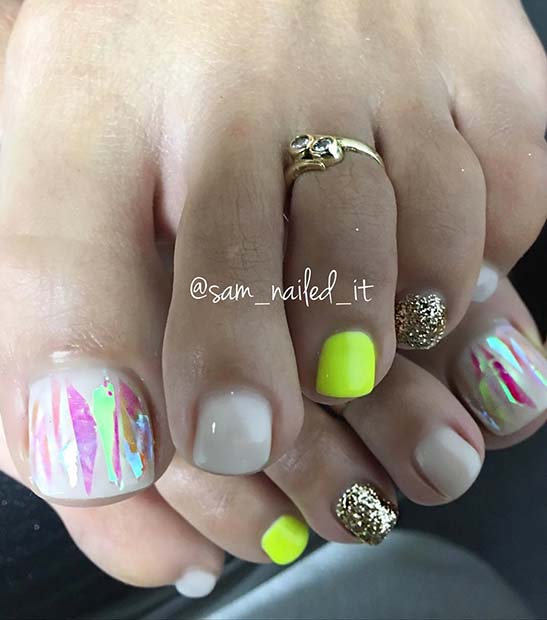 Instagram / sam_nailed_it
2. FLORAL PEDI
Are you feeling florals? Florals and spring go hand in hand like … well, florals and spring really. It's the season that all the flowers start to bloom and everything looks beautiful and flowery. Pay homage to the start of the warmer weather with these pretty delights for your toes.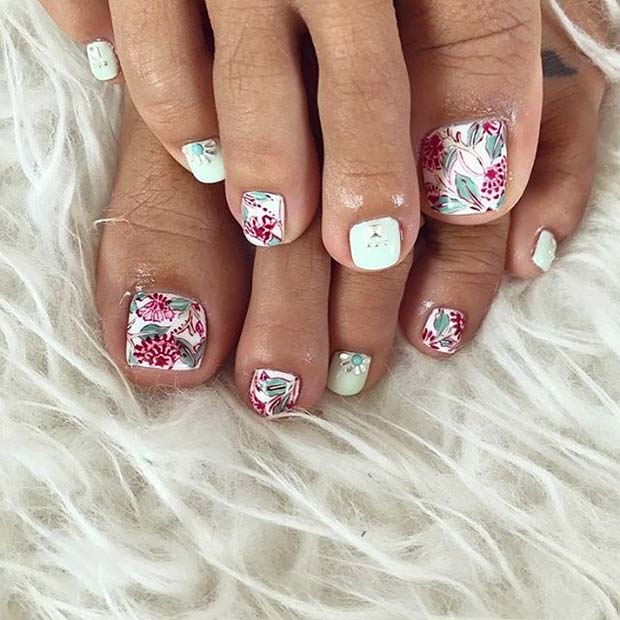 Instagram /mkmk1209
3. EASY PURPLE DESIGN
If you want to create something simple, that doesn't need a whole bunch of tools, but still packs a big punch, you need to ombre up your nails. It was the latest hair trend for a while, and now it's the latest pedicure trend. All you need is the same colour, but in varying shades – darker to light, or pastel to bold. Mix and match them up, just as you can see here, or go darker with each toe – one of the latest looks to take the nail work by storm.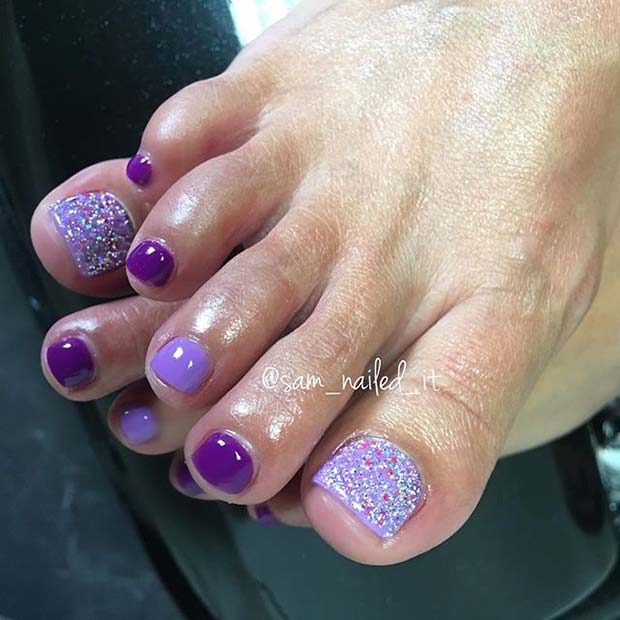 Instagram / sam_nailed_it
4. GOLD GLITTER
These are pretty cool, don't you think? For when you want sparkly toes, but without too much sparkle, add nail foils / tape with gold glitter. It's sophisticated, simple to replicate, and only takes a few minutes. You can place your foil tape in whatever patterns you like, but we really like these chevron designs.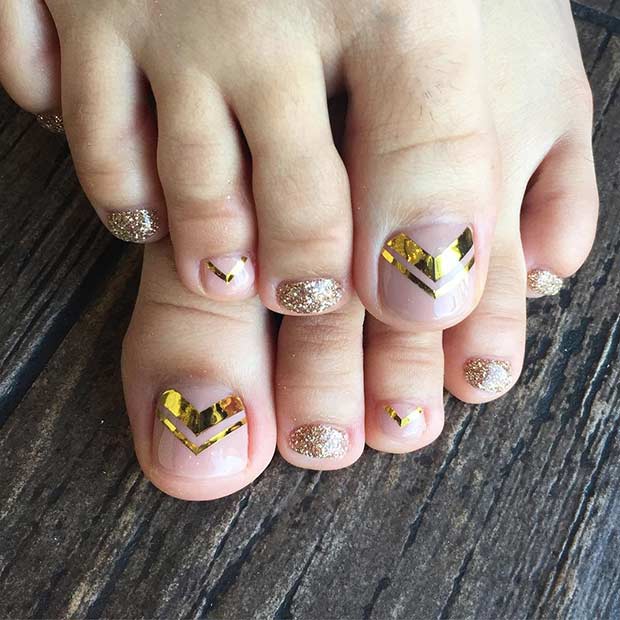 Instagram / dolly_nailss
5. MATTE PASTEL PURPLE DESIGN
Pastel shades were made for spring, and this lilac shade is no exception. Your big toenail often has the biggest surface area, so make that your featured one. In this case, a textured, matte finish has been used, whereas all the rest of the toes have been finished to a high-gloss effect. The contrast between the two works really well, and certainly packs a beautiful spring punch!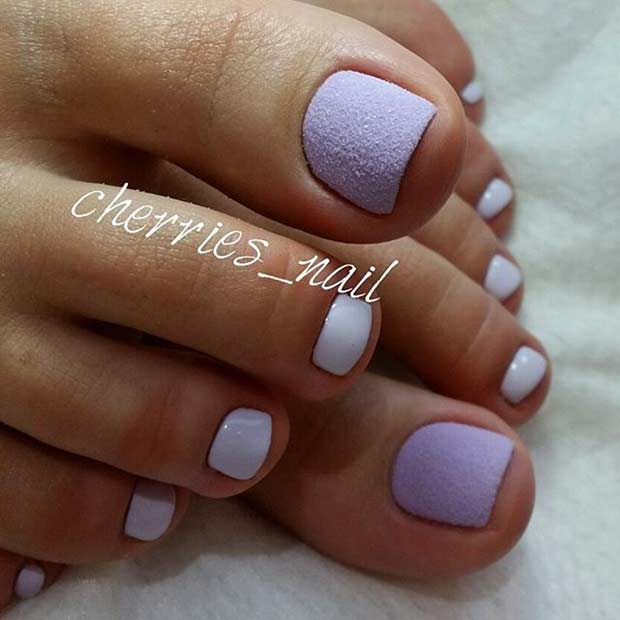 Instagram / cherries_nail
6. BLACK & WHITE
Monochrome – black and white – not usually a design you'd associate with spring, but there's something rather 60's and Twiggy-esque about these eye-catching pedicure ideas for spring. You could do what's been done in this design if you wanted to add some sparkle to the occasion too – those diamante style gem-stones really help to bring it all to life … although you must remember they won't be all that practical on your toes. In our experience, they have a habit of coming off in shoes, or when rubbed against socks.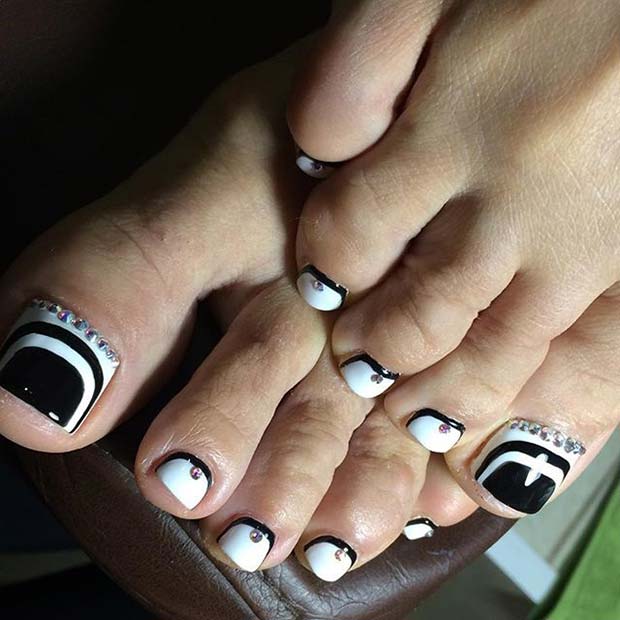 Instagram / kristina_beautynails
7. SPARKLY PEDI WITH RHINESTONES
Of course, if you're planning on wearing sandals all spring and summer, you could go all-out with your rhinestone and embellished design, just like these. The glitter has been ombre'd up from the base, just where the sparkling rhinestones are, and fades away into that beautiful coral-peach backdrop. It's a great look for summer. Didn't you know that peach and orange tones help to make your tan look darker?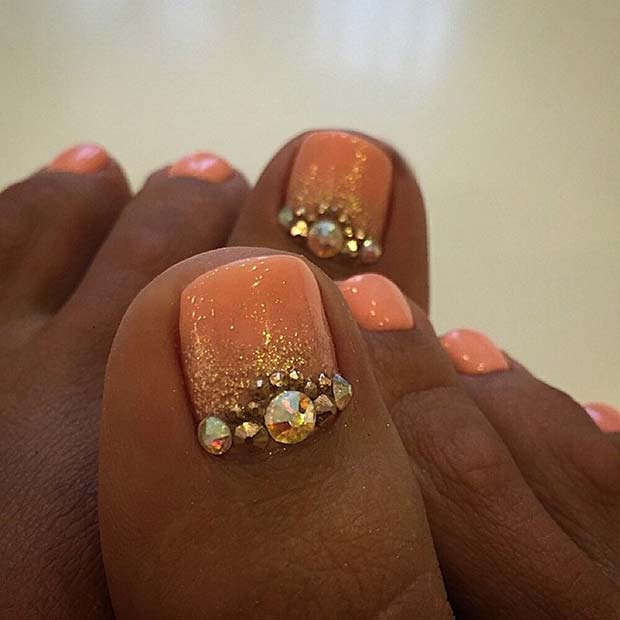 Instagram / manikurka
8. ELEGANT BLUSH PINK & GLITTER DESIGN
Rose gold was a massive trend throughout winter of 2016-17, and it's a trend that is set to stay for spring and summer of this year also. Stay in trend with eye-catching pedicure ideas for spring like these –  a beautiful dusky / blush pink tone that has glitter and sparkle in all the right places.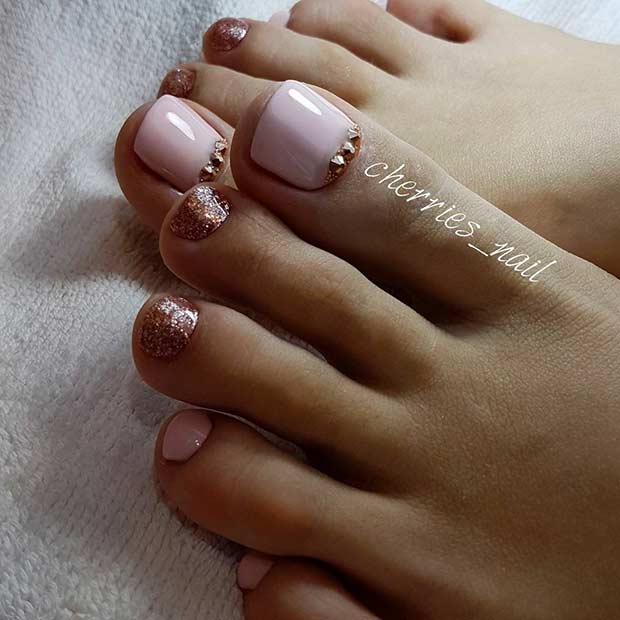 Instagram /cherries_nail
9. CUTE PASTEL DESIGN WITH FRUIT
When the warmer weather comes, there's only one thing for it – it's time to get fruity! Out come those wonderful summer drinks, and those beautifully fruity cocktails. Now you'll have nails that are cocktail-Instagram worthy. Now we just need an excuse to drink fruity cocktails …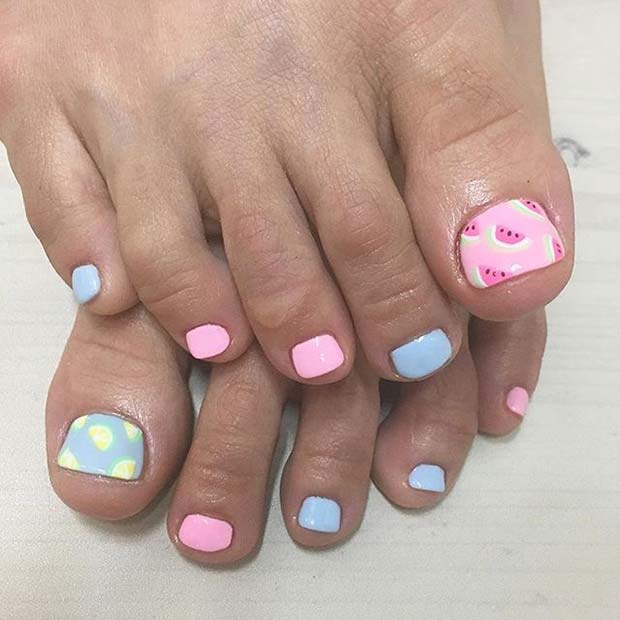 Instagram / imvelynail
10. GREEN GLITTER PEDICURE
If you're feeling those mermaid vibes, and let's face it, who isn't, how do you feel about this green and glittery mermaid? The Little Mermaid herself would have been proud of toes like these! Now you're rocking these killer toes though, you need to find a sandy beach to take Instagram snaps of them in … A day out at the beach anyone?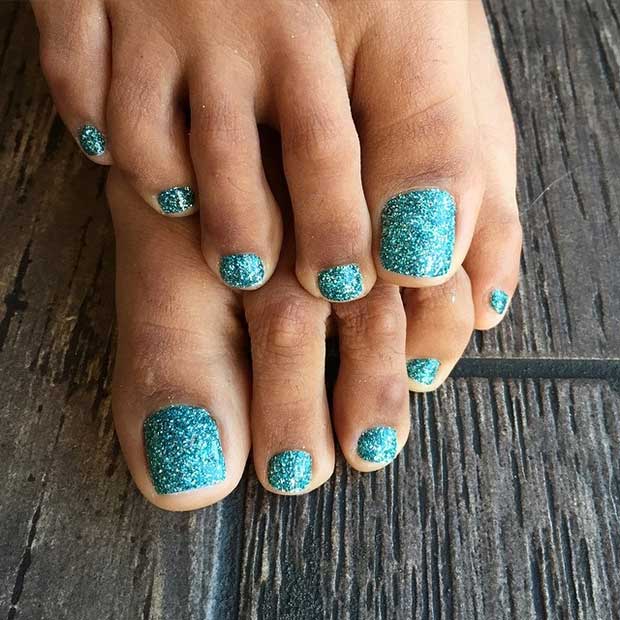 Instagram / dolly_nailss
11. SPARKLY LADY BUG DESIGN
Spring is the time that bugs come out to play, and if you don't mind them (rather than us – flapping and running away), you might like to check out these adorable ladybug designs, perfect for when you have white, red and black nail polish. It's a simple design, and one that everyone will be interested in. Do you feel like having bugs on your toes today?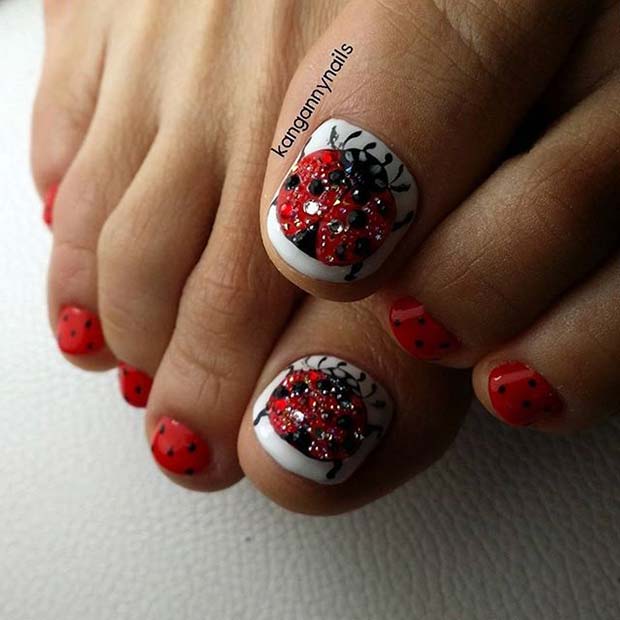 Instagram / kangannynails
12. GLITTERY STAR DESIGN
What about for when you want to take things darker? What about these beautiful star-design blue and silver nails instead? Mix and match them up, or alternate them, and just use stencils or decals to add the stars into your look. What do you think? Are you reading for the stars this spring? Are these eye-catching pedicure ideas for spring out of the world for you? Okay, okay, we'll stop with the puns now.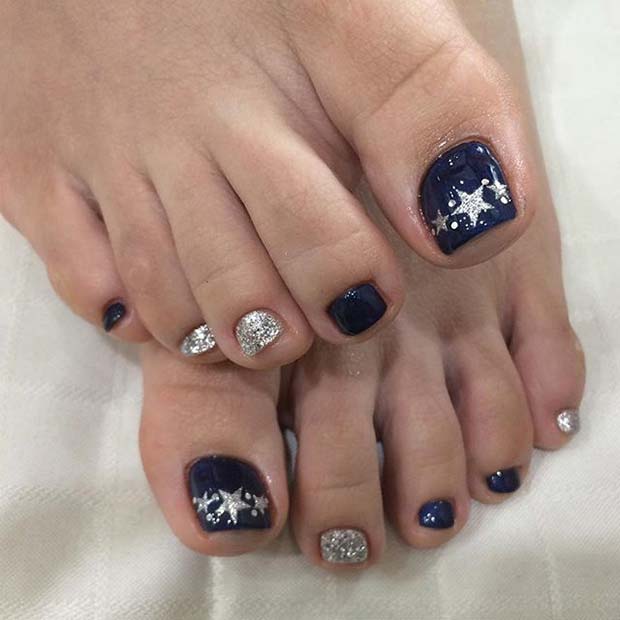 Instagram / imvelynail
13. CLASSY DESIGN
If out of the world isn't right for you, how about classy and muted instead? They're muted and nude, but can still be considered eye-catching pedicure ideas for spring. The glitter and shimmer effect in them brings the look to life enough to make them bold, but still muted enough to keep things classy.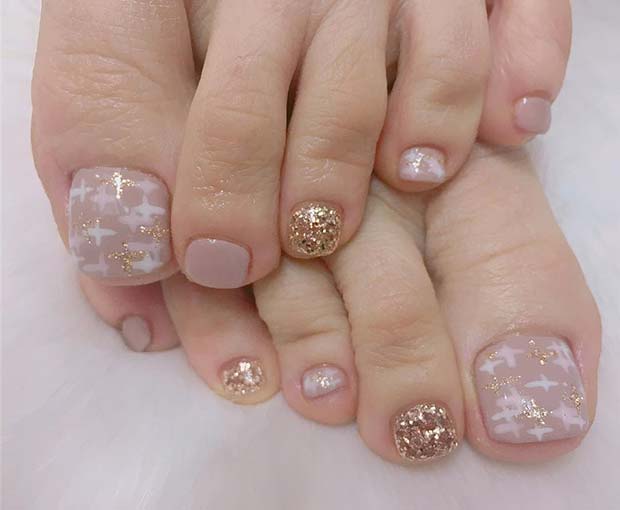 Instagram / imvelynail
14. PINK BLOSSOMS
And for when you want to celebrate the spring coming in style, what about pastel floral designs instead? They're feminine and girlie – everything we love about our springtime closet. In fact, we've got a beautiful floral handbag that would go perfectly well with these nails – have you got a floral handbag you could take some inspiration from for your next mani / pedi?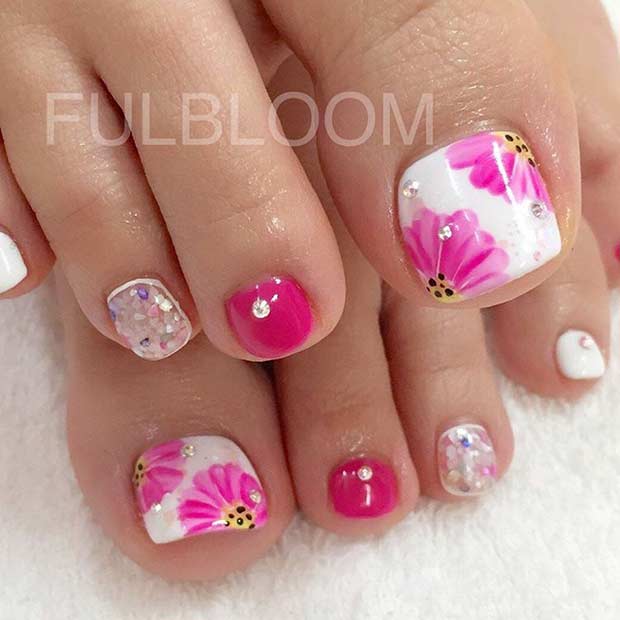 Instagram / fulbloom_emi
15. MATTE PINK & GLITTER DESIGN
What a really cool design! There's a half-moon effect done right at the base of these toenails, but a black has been added right at the bottom, with a bright and bold glitter used over the top. Then there's a layer of negative space, which we think adds something really cool to the look, finishing off with that beautiful bright and matte pink. It's definitely different, but is it right for you?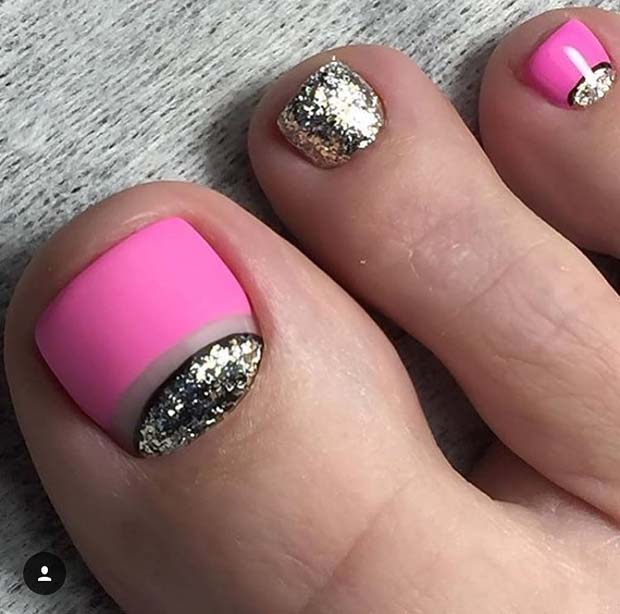 Instagram / nail_nogti_makeup
16. TROPICAL LEAVES TOE NAIL DESIGN
Are you wishing for tropical climates? A beautiful white sandy beach, and perhaps some crystal clear and blue waters to enjoy? Well, if the dream is about as close as you're going to get, bring the tropical to you with these stunning eye-catching pedicure ideas for spring.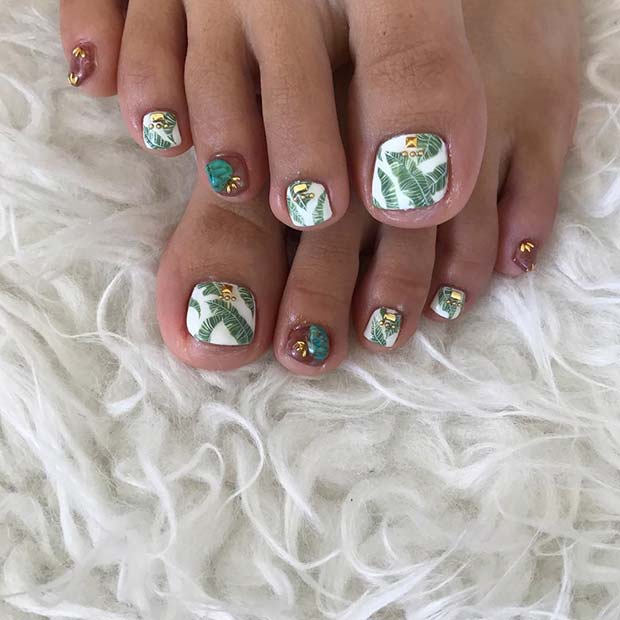 Instagram / mkmk1209
17. PERFECT SPRING PEDI
Do you like butterflies but fancy something different from the traditional butterfly nail designs you see? How about something like this instead, making use of the larger surface area on the big toe nail to create that stunning look? It gives you the perfect chance to add some glitter and sparkle, and we think it's really pretty. And, of course, everything looks much better when it's added against that white backdrop – it really helps to bring the other colours to life.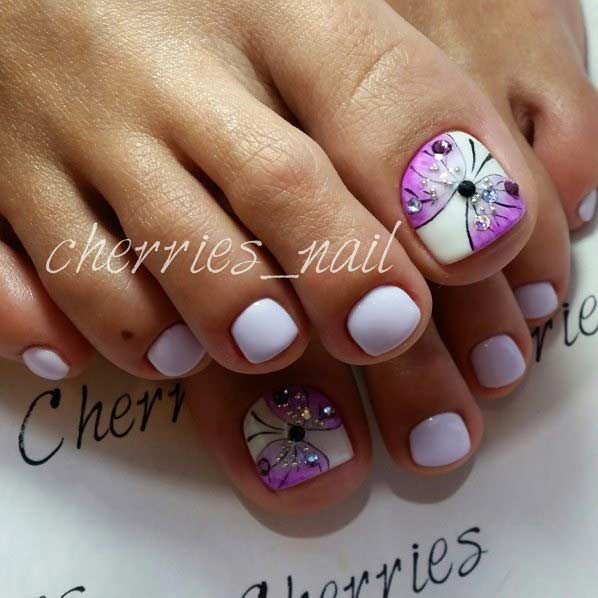 Instagram / cherries_nail
18. COLORFUL TOES
We're wishing for a Tiffany ring, but we'll settle for Tiffany-blue inspired eye-catching pedicure ideas for spring instead. We love the way the black and the silver glitter has been used alongside it, similar to the negative space mani idea we gave you earlier on, but without the negative space, and finishing with a gloss effect rather than a matte one.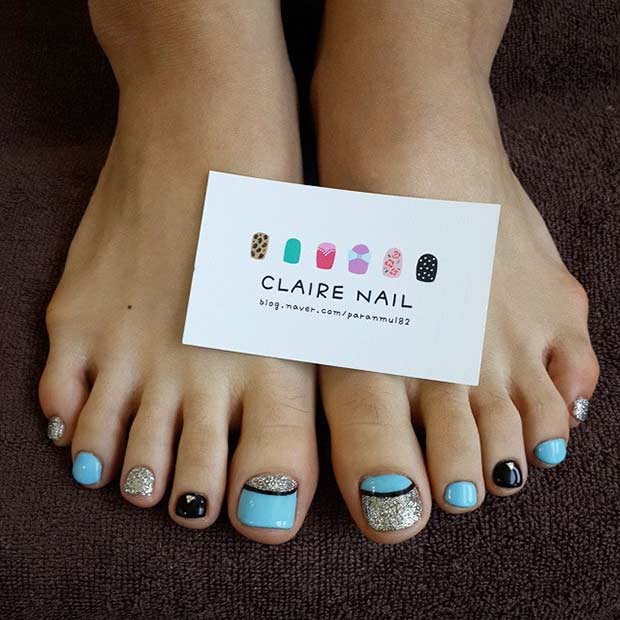 Instagram / claire_nail
19. SIMPLE & ELEGANT
What a really simple and beautiful look! You'd think about having black tips with a nude nail, so why not turn things around? You're adding the same amount of polish as you would with black tips, but you're placing it around the base of the nail instead. It's a very different look, and you can even help to draw more attention to your interesting and unique design with the help of those gold embellishments.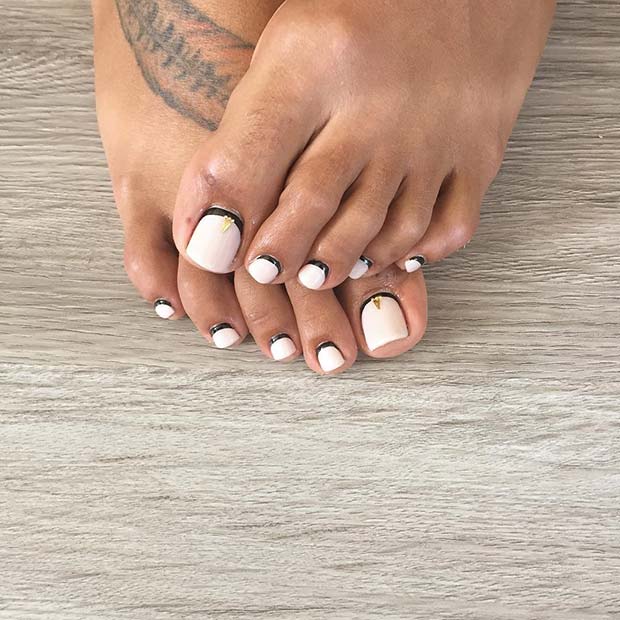 Instagram / mkmk1209
20. BLUE AND PINK OMBRE DESIGN
This is a really cool design, don't you think? We mentioned ombre before, but this is a different style of ombre, working from purple to blue on the one nail, rather than spreading the colour range across the board. You could add clear gems to help bring some sparkle to the look, and you could use a matte or a glossy finish. We think this would look great with both – how about you?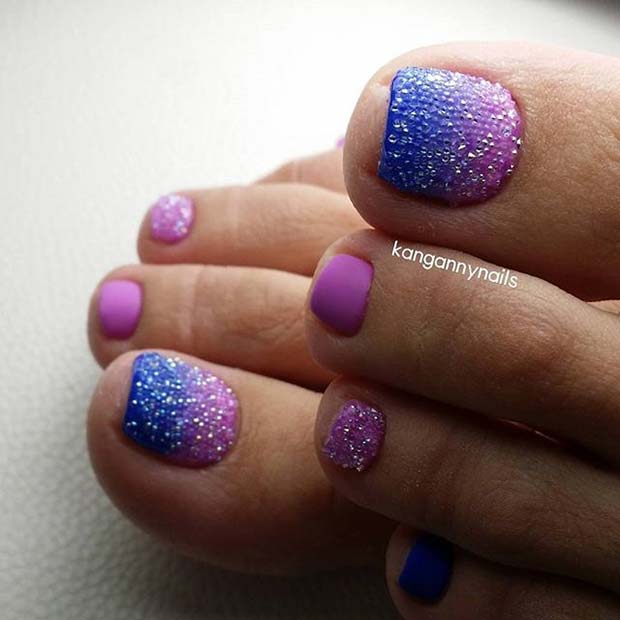 Instagram / kangannynails
21. MATTE NAVY BLUE DESIGN WITH RHINESTONES
Speaking of matte, how about these eye-catching pedicure ideas for spring? Add some rhinestones – shiny – to a matte base and you'll see it creates quite the stunning design. Did you know that you can buy a matte top coat to help create these fab designs. It means that any gloss shade you already have can be given the matte-finish effect, without the need to buy even more bottles of nail polish. Winning idea, right?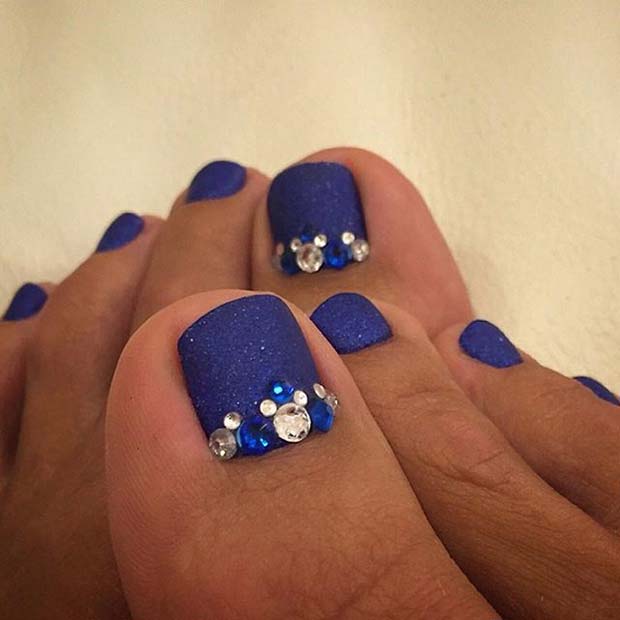 Instagram / manikurka
22. GLITTER + RHINESTONES
Similar to the previous look, but rather than focusing on a really dark, almost royal-blue shade, you're focusing on a much lighter one. It's almost white, but a shimmering and glitter has been added over the top, and we think these designs would look perfect for a spring wedding day pedicure!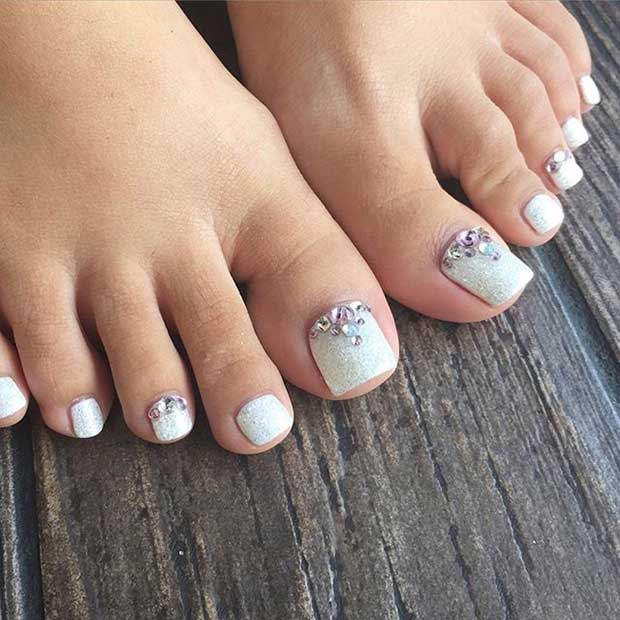 Instagram / dolly_nailss
23. COLORFUL FLOWERS
They're almost a watercolour effect, and that's just one of the reasons we fell in love with these pretty spring nails – colourful flowers. With the flick of your paintbrush, you have a petal for your flower, and you could even add a touch of water for a more watercolour finish to it. Just make sure you've taken care of your actual nail first, if you're planning on letting parts of it poke through nude and neutral. Lots of TLC, take your old polish off, and give your nails some oil and massage love every once in a while. They'll thank you for it, and so will your manicure and pedicure.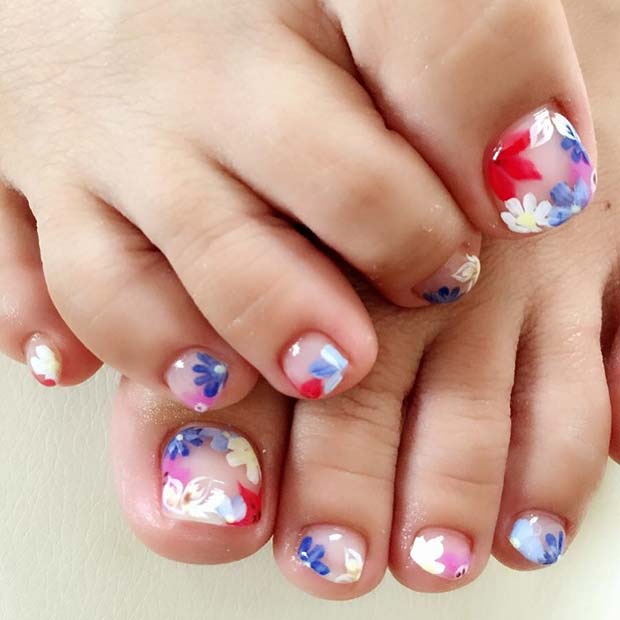 Instagram / kasumi412hy