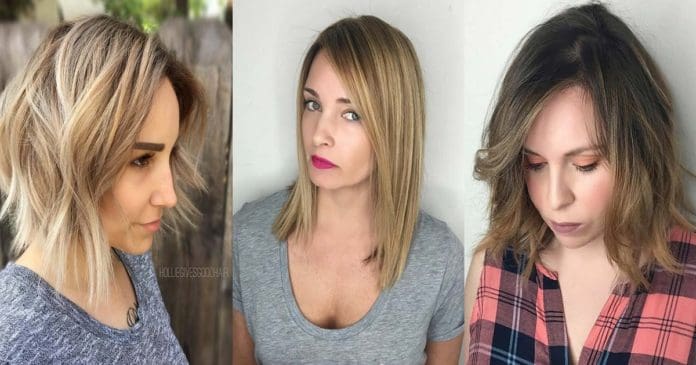 Thin hair isn't really a big problem as long as you have this list of lovely short hairstyles for fine hair. We know all about the latest hair trends (balayage, rose gold, and neon or pastel coloring being among them), and most of the example pictures posted on each one feature long, full hair that are able to use volume to their advantage. That makes it a bit discouraging for those of us with thin or short hair. So, to prove that there are amazing short hairstyles for thin or fine hair, we have compiled this list of 29 adorable and fierce short hairstyles for women!
1. Long Bob with Balayage
With this shoulder-length hairstyle, you don't have to cut your hair too short, and the layers can work to bring out some natural volume in your hair, even if it generally falls on the flat side. You don't need to cut all of your tresses off to have a cute short haircut, especially if you're working with balayage. This way you can look great, keep some length, and utilize one of the hottest hair trends of the moment.
@drelefevre
2. Headband Dutch Braid Pixie Cut
This hairstyle brings out the best of a pixie cut. Keeping your bangs long allows you to style them to perfection, so short hair doesn't mean no styling options! This chic braid works so well with unique hair colors, like the white of this Instagram user, and will look just as stunning with other pastel hair colors too.
@emilyandersonstyling
3. Rocker Chic Pixie for Fine Hair
Styling a pixie cut up and away from the head takes it from being sweet to hot. You're manually adding volume to your hairstyle, plus you get the added short-hair bonus of immediately rocking nearly any color you'd want to try out. There's just something about short hairstyles that allows for daring color choices, but you can also just keep it simple with natural hair colors too.
@brittenelle
4. Classic Shoulder-Length Cut for Thin Hair
You can't get sweeter than a classic cut, like this beautifully highlighted, wavy hairstyle for short thin hair. With simple colors and a lovely cut like this, you're allowing for a lot of versatile hair options, as you can style it with a chic dress and pearls, or by mussing it up a bit you can rock a more edgy look.
@simplysona
5. Silver Pixie Cut for Thin Hair
This is the classic pixie cut, but in a daring dusty blue silver. With the hair so short in the back, this is a hairstyle ideal for women with fine hair, as the shortness allows for some natural volume, plus the unique, metallic color will elevate your style; the color works with both formal and edgy short hairstyles as well.
@emilyandersonstyling
6. Two-Toned Pixie Cut
This is another classic styling of a pixie cut, but this time with a blue-tinted white color, atop a brown base. Keeping a neutral, yet still unnatural color like this helps you stand out while not being too loud. The color is just neutral enough to not take all of the attention, so you have a bit of flexibility there.
@sumofallshears
7. Purple, Rose Gold, and Asymmetrical Long Pixie
This edgy haircut has a very short cut on one side and a wavy, longer cut on the other. The mix of purple and rose gold hair colors is super trendy, and the edgy cut gives it an even more unique flair. The lightener works as an ombre effect, with light tips and deep roots. No matter what angle you look at this hair from, you're getting a beautiful view.
@deathbycouture
8. Edgy, Layered Pixie for Fine Hair
From the front, this style will look just like the classic pixie cut, but is made edgy by buzzing the neck area. So, the different angles of the short hairstyle will give a totally different visual. Plus it's one of the best hairstyles for thin hair, since you're given the additional benefit of volume coming in from the short length.
@glamiris
9. Straight Flat Cut
Short hairstyles for thin hair don't all have to be about fabricating volume. This smooth, pixie length haircut adds a little bit of volume, sure, but it's not required to pull the style off. The grey hair is right on trend, and looks stunning as a highlight to the black base. This is a chic hairstyle that will do well with any style you wish to rock.
@hairby_aluxandria
10. Platinum Balayage Bob for Thin Hair
Platinum blonde can be a huge hit or miss, but when styled correctly, as with this bob, you're going to have a huge success. It's a great hairstyle for fine hair, since it's so easy to add in some volume, and before you know it you'll have a head of fun, bouncy hair to wear this summer. This is another hairstyle that can look sweet or edgy, depending on what you want to wear with it.
@drelefevre
11. Pink to Orange Ombre Cut
This is a simple, straight and sleek cut with a boldly colored ombre effect to polish things off. In inherently youthful color, this helps liven up short hair, especially when the cut is so simple and timeless as this one. Going from a bold pink at the bangs to a more mellow orange at the tips, the result is bright, fun, yet still manages to remain composed.
@jazzyydoeshair
12. Pink Tipped Pixie Cut
The cut of this short hairstyle is edgy, and is reminiscent of Miley Cyrus's iconic pixie cut. Adding in the light pink tips sweetens things up, so it cuts into that harsher vibe, and also helps with versatility; pink can be edgy too, so you can still pull off your favorite rocker looks, but a cute black dress would look just as fabulous.
@hairbymisskellyo
13. Cotton Candy Pink Bob for Thin Hair
This short hairstyle, minus the color, is totally classic and simple. Lightly curled with the straight across bangs, the only thing that could have possibly made this look any sweeter would have been to add a cotton candy color to it, which is what was done here. So with this total style, you'd be getting classic beauty with some trendy sweetness, from the candy colored hair.
@hairbymisskellyo
14. Edgy Platinum Pixie Cut
This is another asymmetrical pixie haircut, so its nature is edgy already; the nearly silver platinum blonde coloring just adds a new dimension of edge to it. Shaved on the side, you're also getting a bit of utility in there for the summer, because who doesn't love that feeling of a breeze hitting your skin, like when your hair is pulled back? This will give you that feeling all the time.
@drelefevre
15. Bright Pink Curls for Fine Hair
This bubblegum pink short hairstyle is vibrant and sweet, with cute and fun curls falling above the neck. Pictured here you see the sweet braid pulling the bangs back is a fun addition to the hair, as it works particular well for women with thinner hair, to add in some of that desired volume. Plus, short hair doesn't generally allow for braids, and this style shows you that they can come just as easily.
@hairbymisskellyo
16. Hello Kitty Unicorn Hair
Put into words, this short hairstyle sounds way too girly for its own good, but it's actually rather edgy when all is said and done. With the upward styling of the short hair, it's almost being styled into a wide faux hawk, even giving the image of flames. Hair tattoos are totally hot today, so why not add in the recognizable cat everybody knows and loves?
@fedorinaanna
17. Fiery Red Pixie Cut for Fine Hair
When you hear the word fiery, you might expect a vibrant unnaturally red color. Here, however, we mean fiery in relation to a fire's embers; this hair color features earthy, naturally based tones of red to heat up the classic pixie cut, mixing orange and red in a deep way to evoke the most robust color. The color still isn't a natural one for hair, though, so you don't need to worry about roots and your hair will speak for itself.
@fedorinaanna
18. Layered and Highlighted Bob
One of the best short hairstyles for thin hair, this bob features wavy hair in a cute and chic way, with a base of a dark brown and overlaid highlights of blonde. This is a sweet and summery hairstyle that will frame your face, with layers that will add some volume, so this is a great hairstyle for fine hair. It has sweetness and a bit of intensity, which comes in relation to your own exuded attitude.
@steviescissorhands_
19. Fiery Red Unruly Hair for Thin Hair
This is what you would probably first think of when you hear of a fiery redhead. As you can see in this image, this is a color that works beautifully against paler skin, and even more so with pale blue eyes. The way this hair is styled is an organized disaster. So don't be fooled by how carefree it looks, placing the hair just right will take some time and effort.
@mz2thep
20. Straight, Shoulder Length Cut
You can't get any simpler than straight, honey blonde shoulder-length hair. With long bangs sweeping to the side, this is a more recent look, but a classic one all the same. It is versatile, and easy to pull off, as it's not a very short look, so you can still pull it back to get it away from your face and neck. The brown to blonde highlights just make it more sun kissed and lovely.
@mz2thep
21. Layered Shoulder Length Cut
This warm brown, short haircut features a light ombre, down to a deep blonde at the tips, so this style will give you a cute multicolored look, without bringing in any extreme colors. This is particularly useful when your profession doesn't allow for abstract colors or cuts. It's interesting enough to be desirable, but not crazy enough to draw too much attention.
@mz2thep
22. Beachy Blonde Short Hairstyle for Thin Hair
This short haircut has a bright blonde at the tips and a warm brown at the roots, blended well so as not to make the roots stand out too much. Blonde hair is always a nice bet for thin hair, as it's often a rather dainty shade. This shade of blonde is casual, but when styled in an updo, it can easily be transformed into something that calls for more formality.
@mz2thep
23. White Blonde Classy Cut
The cut of this short hairstyle is classy in nature, but the coloring being brown with a nearly white blonde overlay makes it much more casual. That juxtaposition makes for an interesting appearance that can change depending on how you style it and what you decide to wear with it on each particular day.
@nicolconcilio
24. Side Twin Braids for Fine Hair
This style is actually a variant of the short haircut in #23. After a few weeks of growing out, these cute braids can be achieved. These make for a cute, sporty look either for your workouts or for everyday wear. Such braids can only be achieved by having thin and short hair, so they are a great styling if your hair falls into that category.
@nicolconcilio
25. Purple-Grey Short Bob
This bob is super short, and its compact nature keeps things classy and chic. The purple grey color created here is interesting while remaining subdued, so it would be easy to muss up to become edgy, depending on your own styling preferences for each day. This is one of the greatest short hairstyles for people with thin hair, because it brings it all into one location, and allows it to become naturally voluminous.
@shadeoloniyo
26. Classic Blonde Pixie for Thin Hair
This is another classic pixie haircut, but in a boyish shape. With the sharp lines of the tips and the messy, yet compact mass of hair on top, the overall styling of this short haircut is a bit masculine, and the blonde pulls in a bit of femininity, but with today's ambiguous styling between male and female fashion and beauty, it doesn't over-feminize the whole hairstyle.
@shadeoloniyo
27. Pastel Purple Short Haircut
This short hairstyle is characterized by a haunting shade of pastel purple, which errs on the side of being iridescent. Mussing it up like in this picture allows for a totally casual appearance, and you'll be looking totally cute with this apparent pixie length haircut. By smoothing out the hair, there's no doubt that you could make this look work for any occasion.
@beautsoup
28. Uneven Pixie Haircut
With this look, the base of the head is shaved all the way around, with a short pixie cut on top, actually becoming a very short bowl cut, of sorts. The uneven trim of the tips of this short hairstyle makes the shape chic. The two-toned shades of white-blonde over the brunette shaved base look great, and the overall style is very reminiscent of Miley Cyrus's 'do.
@prettyfacesxo
29. Airy Blonde Short Cut for Thin Hair
The length of this cut is above the shoulders, but far below the ears, so it is a longer style. This is a look that will be great with finer hair, since volume would ruin the integrity of the cut. Plus, fine blonde hair is always a stunning sight, especially when styled so loosely and lovely as this. This is a more simple hairstyle for short and thin hair, plus it's really easy to wear.
@buddywporter