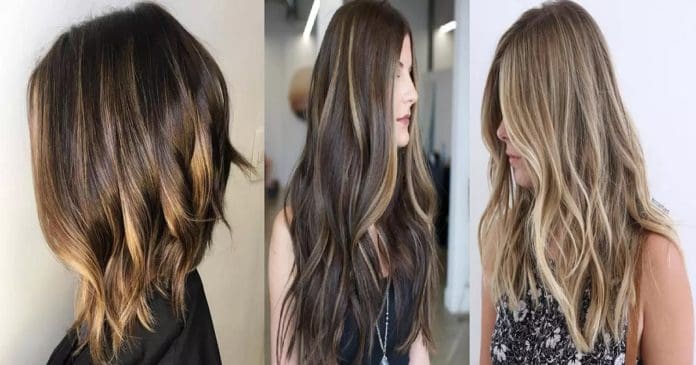 If you have ever considered brown hair to be boring or dull, think again. With the balayage technique dye is applied to hair without the use of foil, resulting in a more natural and more exquisite look that feels like any brunette's major hair goal. Mixing colors has never been this fun, so check out these balayage styles and book an appointment with your colorist!
#1: Subtle Ashy Brown
Instagram / @chiyukihair
For something more subdued, try this ashy brunette to blonde balayage that looks like it has not been processed at all. A neutral color is perfect for anyone looking to take baby steps in hair color transformations.
#2: Light Brown Balayage
It doesn't take a drastic color change to liven up your style. In the name of "less is more", stay within the brown color palette and give neutral ashy highlights a go. This youthful combination is great for professionals who need to keep their look polished.
Instagram / @hairbystevie
#3: Brown to Caramel Balayage
For a classic balayage hair color, opt for a soft brown to caramel fade. The combination is a very natural one, and so is the transition of hues, that's why it's still going to look fresh as your hair grows out. To get the most out of your new color, style your locks in long beach waves with a straightener, making the lighter pieces appear even more vibrant.
Instagram / @chrisweberhair
#4: Honey Brown Highlights
If the ombre effect is not the one for you, try weaving a honey brown shade throughout your entire head of hair. Brunette balayage highlights instantly brighten up dark brown hair and add low-maintenance dimension.
Instagram / @gilsonbitencourt
#5: Multi-Dimensional Lob
It can be fun to include more than just two colors when doing a balayage. Instead of going straight from brown to light blonde, add in shades of golden or light brown to soften the color transition. A lob with long layers will perfectly showcase all of the different shades you are playing with.
Instagram / @jleighwebdoeshair
#6: Long Waves with Light Highlights
Another well-blended option, this style incorporates hints of golden blonde throughout the hair. The contrasting light and dark shades are sure to catch the light as you walk by.
Instagram / @rafaelbertolucci1
#7: Bright Reddish and Blonde Highlights
Blonde and reddish highlights will brighten up any lifeless darker hair. Choose your preferred golden and copper shades to liven up your tired locks. Subtle waves are perfect for showing off the new color variations in your style.
Instagram / @prettylittleombre
#8: Matte Bronde Balayage
Ladies not interested in having all things high-shine can opt for this matte, ashy style. Doing balayage brunette to blonde is the most common solution; however, upgrade the classic combo by choosing subdued, ashy shades instead of the more intense ones.
Instagram / @colorbymichael
#9: Ash Blonde to Gray Fade
Images of dyed gray locks have been all over Instagram, and you can easily get in on the trend with this balayage style. Having the gray color at the ends makes growing out your hair stress-free, and it looks great when styled in loose waves.
Instagram / @beauty_supreme
#10: Light Brunette Balayage
The color transition doesn't always have to be drastic. Lighten up your dark brown hair by adding milk chocolate highlights to the ends and face-framing pieces. For those with shoulder length locks, style your hair in loose messy waves for a modern feminine look.
Instagram / @gina.devine
#11: Long Bob with Red Tints
When it comes to balayage, brunette hair really lends itself to adding brighter colors. Mixing in a slight pop of red at the ends can transform your entire style. Be sure your stylist blends the colors well so your hair looks as natural as possible.
Instagram / @hairxjojo
#12: Hints of Rose Gold
If you want rose gold hair, but are afraid of the commitment, give these subtle pink highlights a try. Mix it in with lighter brown shades to further diffuse the rosy hues. Combining brown and rose colors works best on shorter hair, so you just have a few hints of pink diluted in the darker shade.
Instagram / @laurak_beauty
#13: Bronde Balayage with Copper Touches
With medium length hair, you have the perfect canvas for a smooth color melt. The mix of ashy browns and blondes with hints of subdued copper is subtle enough for everyday wear but still adds a slight punk vibe to your style.
Instagram / @mizzchoi
#14: Burnt Orange Ends
Want something bolder? Amp up the normal brunette balayage with fiery orange highlights. The good thing about the balayage technique is that you will not have to worry about pesky roots once the color starts to fade out.
Instagram / @prettylittleombre
#15: Long Curls with Honey Highlights
If you are looking for a hint of color here and there, you don't have to commit to the full balayage effect. Opt for light honey highlights that won't detract from your natural color. Style your long hair in loose, romantic curls so the highlights really shine through.
Instagram / @rootedhairstudiolq
#16: Mid-Length Hair with Classic Balayage
Take inspiration from the faithful ombre technique and go with the traditional brown to light blonde transition. Choose two shades of blonde to prevent your style from looking stark and lifeless.
Instagram / @stephengarrison
#17: Curly Hair with Auburn Highlights
For a more drastic style, try blending a vibrant auburn shade into your natural dark hair. The combination pops with both loose ringlets and straight locks, so if you want more contrast in colors, give these dark brunette balayage hues a try.
Instagram / @southmarksouth
#18: Gilded Bob with Waves
The shape of your hair can completely transform the way you view your color. The angled bob puts the golden highlights on display, making it all the more eye-catching.
Instagram / @beto_quintanilhaa
#19: Subtle and Wavy Partial Balayage Hair
Instagram / @richiemiao
When considering a full balayage vs partial, one thing to decide is what sort of impact you want your style to make. Are you trying to be bold or more understated? By not committing to a standard balayage, you really give yourself an opportunity for a very subtle, yet still notable, change to your hairstyle.
#20: Brunette with Light Brown Highlights
Highlights are a beautiful way to add depth to dark hair. If you want a more natural look or don't want to damage your hair with too much bleach, opting for the entry-level balayage gives you the best of both worlds. Just take your strands a shade or two lighter for a fresh look.
Instagram / @chrisweberhair
#21: Brown Hair with Soft Hairpainting
When you consider partial or full highlights, you need to think of maintenance. With full highlights, you have to make sure your hair is moisturized and that everything looks natural when your hair grows out. In case it is only partial, there won't be as much dye, and when your tresses grow out, the lighter strands will look like sun-kissed locks.
Instagram / @a_kool
#22: Long Brown Locks with Partial Highlights
A partial balayage doesn't always have to be the top layer. Sometimes, as an exception, you can have them on the underlayer and they'll be a pleasant surprise when they show through your curls or waves. Think of the highlights as hidden treasures.
Instagram / @anthonyholguin
#23: Caramel and Cinnamon Highlights
Spice up brown hair with cinnamon and caramel-colored accents. Strewn throughout dark locks, they will create a luscious mix of colors. With only the top layer of hair colored, it really accentuates the contrast between dark roots and the lighter shades — and it's a sexy look. The medium length keeps the total image simple yet chic.
Instagram / @dawntraceyhair
#24: Blonde Balayage on Brown Locks
With a partial balayage, highlights are often just on the top layer of hair. The lighter streaks are beautifully blended when you wear your hair in beachy waves. As a bonus, those loose waves give your mane irresistible body and movement.
Instagram / @meaganelise87
#25: Bob with Partial Balayage
Partial balayage highlights work well on a wide range of hair textures, including Asian hair, which is notoriously dark and straight. Just a few chocolatey highlights brightening the face and accenting your ends will give your everyday bob a stylish boost.
Instagram / @mizzchoi
#26: Brown-to-Blonde Low Balayage
High-contrast highlights on dark hair really pop and make a statement. When it is only a semi balayage, you don't have to worry about much damage caused to your strands. So, you can benefit from a trendy shade, while maintaining healthy hair. It's a win-win.
Instagram / @hairbynn
#27: Choppy Cut with Mixed Highlights
A partial balayage is a stylish coif to turn to when you want to spruce up your straight hair. Mess around with platinum highlights and warm browns on medium-length hair for an unexpected hairdo. To make it even more dramatic and bold – without going overboard — consider a two-tiered choppy cut. The look is totally edgy and modern.
Instagram / @hairxjojo
#28: Long Black Hair with Brown Highlights
Partial balayage highlights on black hair are the way to go when you want to break-up the monotone look of a dark mane. The beauty of only doing partial highlights lies in their simplicity. A chestnut brown will complement black well, while not being too bold. It will add just the right amount of contrast.
Instagram / @ashdoescolor
#29: Long Brown Hairstyle with Blonde Highlights
It doesn't take much to make a long-haired brunette look stunning. But if you must, something as simple as messy barrel curls teamed with blonde and caramel highlights will do the trick. With the limited highlights, the model below goes to show that less is more.
Instagram / @hairbynoora
#30: Red-Haired Semi-Balayage
Make your red hair even more dynamic by adding just a few natural-looking blonde highlights. If you want to know how to do a partial balayage, you just need to apply dye to spare sections of hair and wrap it in foil. Make sure you only apply the dye to the top layer of hair for that subtle effect. Follow the directions on the box of the product to determine how long you should leave it in.
Instagram / @hairbyjustineb
#31: Platinum Blonde Balayage Highlights
The partial balayage is a nice way to lighten your dark blonde tresses without committing to a completely bleached look. Platinum highlights will brighten your face and bring some visual intrigue to wavy tresses. Add layers towards the bottom of the haircut to give a fuller look to your do.
Instagram / @kccarhart
#32: Brown Cut with Face Framing Streaks
Placement is key when opting into partial highlights. You have to make sure they are placed in a way that is flattering to your face shape and hair color. With medium brown hues, it always looks nice when you have the lightest shades at the front. It draws the attention to not only your hair but also your face.
Instagram / @theglosserie
#33: Curled Auburn Hair with Highlights
Time for a change? Partial highlights can warm up your mane. Balance out your auburn hair with a mix of slightly lighter and darker shades to create a multidimensional hairstyle. Use a 11/2" curling iron to create loose barrel curls and then brush them out for that extra oomph.
Instagram / @immortalbelovedsalon
#34: Purple on Black Front Highlights
Partial highlights are versatile and can work on any shade of hair, as seen in many other pictures, black hair, is no exception. Black has its benefits since it is naturally a consistent shade. That makes it a perfect canvas for bold colors straight from the rainbow. Purple is a unique yet stylish option.
Instagram / @hairbyedwin
#35: Brown and Caramel Hairstyle
Caramel and chocolate are a sweet duo not only for dessert, but also for your hair. You don't need a full-head of highlights to create a stylish effect. Just sprinkle them here and there to bring your brown locks to life.
Instagram / @headrushdesignsbyjulieann
#36: Curly Bob with Subtle Balayage
Partial balayage highlights on short hair are so cute. Because there isn't much length to work with, the little color that you do add really pops. Have your stylist give you some piecey highlights and layers for a wispy bob that is full of character.
Instagram / @alexkhoeunhair