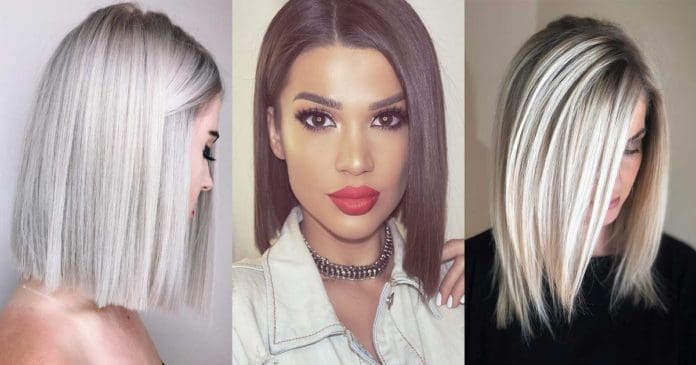 A lob haircut is something you should consider next time you are going to visit your hair stylist. Apart from the fact that this is the most popular haircut among the celebrities now, it is also extraordinary versatile. It does not matter what type of hair you have, what shape your face is of and what shades you prefer to wear on a regular basic. Today we are going to prove you that there is nothing you couldn't combine well with a long bob haircut.
What Is A Lob Haircut?
Lob haircut definition is an abbreviation for a "long bob." It is somewhere between a short bob and a mid-length cut. If you want to go a bit shorter, without going overly dramatic, a lob might be just what you are looking for!
Source: bescene via Instagram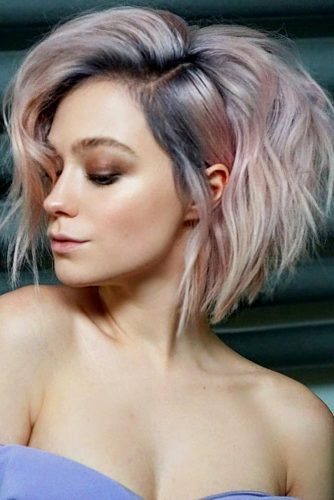 If you are still wondering what is a lob haircut, take a gander at this sassy style! This longer version of the classic lob with choppy ends and long layers is the perfect example! And what makes it even more fun is the dark roots with ash blonde hues for a look that's fun and flirty!
And lobs are so easy to style. Simply add a volumizing product and blow dry your hair with a round brush. Make a deep part and style your hair to one side. Then run your fingers through your hair to give it a sexy bedhead look that will drive men to their knees!
Source: mr_colorist_2017 via Instagram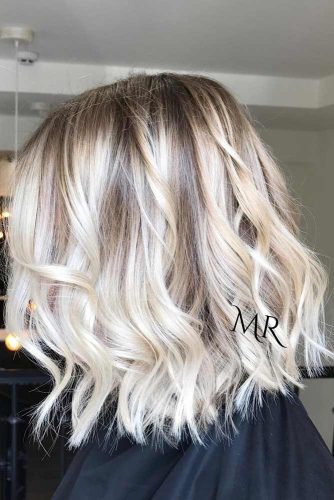 A good question is what is a lob hair style and how can you make it in the easier way? Just look at this choppy wavy lob with soft shades of buttery blonde! It's so cute and girly if you are looking for a look that's youthful and chic!
Again, it's so easy to style, especially if you have naturally wavy hair. Simple spritz in a good amount of sea salt spray, scrunch and allow to dry. When its try, just toss your tresses and go!
Source: bescene via Instagram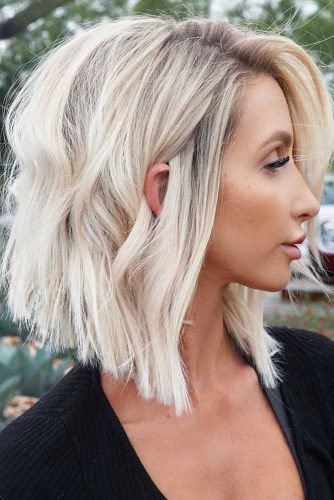 Still confused as to what does it mean lob haircut? This long, graduated bob is the perfect example of a trendy lob haircut! The slight choppy ends give it a bit of an edgy vibe and the slightly messy waves give it a sultry carefree look.
The platinum blonde shade is so much fun as well. If you don't want to go full-on blonde, opt for a light blonde balayage with dark undertones.
And this is a breeze to style. Simply make a messy part and comb your fringe to one side. Blow it dry, picking up small sections one at a time and letting them fall in a sexy, tousled style that shows your playful side.
Lob Haircut With Layers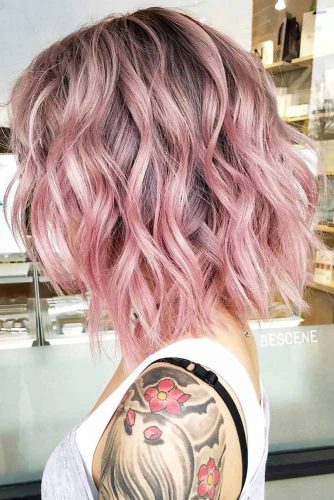 This lob haircut with layers is super cute with its charcoal gray undertones and cotton candy pink hues. If you want a look that's a bit more daring yet still fun and girly, this shaggy wavy lob might be exactly what you need!
To style, blow dry after adding a curling product and then make soft waves with a medium barrel curling iron.
Straight Lob Haircut
Source: dawntraceyhair via Instagram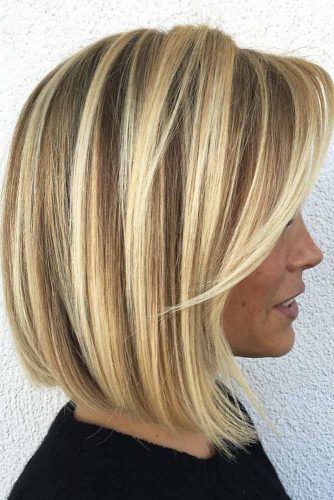 If you don't have curly tresses and want a shorts style, this long bob with side bangs might be the answer to your hair woes. A lob haircut straight is so sleek and sophisticated. The slightly graduated style with sexy side bangs is a great look if you want a look that's classy yet a bit seductive.
To style, blow dry with a round brush and then smooth it with a flat iron for a sleek finish. Don't forget to add a staging serum to keep it smooth and silky.
Cute Shoulder Length Haircuts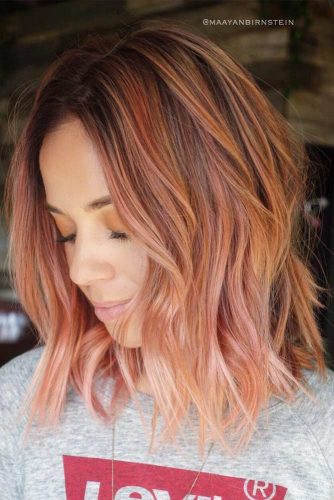 In the market for cute shoulder length haircuts? How about one of these fiery shoulder haircuts? With a pretty balayage blend of orange, apricot and brown tones, you can show everyone you have a bit of sass as well as style!
Ask for slightly jagged ends for an edgy vibe and style your hair in loose, messy waves for a look that's youthful and trendy! Layered bob hairstyles are very much in demand right now so you can't go wrong with this playful style.
One Length Bob
Source: mr_colorist_2017 via Instagram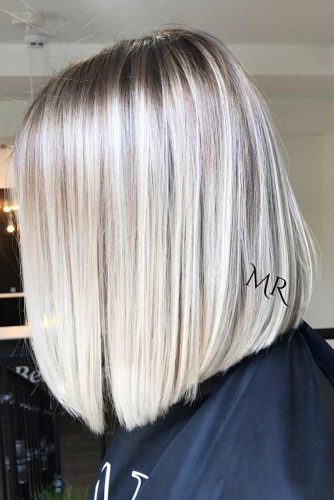 If choppy, jagged or shaggy layers aren't your style, why not try a blunt lob lie the one shown here? A one length bob is a perfect choice if you have a professional job that requires a sleek and polished look.
And this look is so easy to style. Blow it dry straight and then break out the flat iron to make it sleek and refined! Add some shine serum to show off those blonde tresses.
Angled Bob Haircut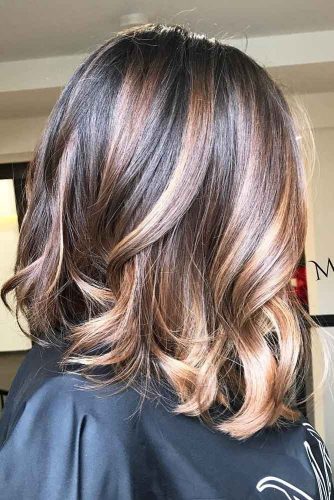 Not sure if you are ready to go short? How about an angled lob? This gives you more length in the front if you are one who loves to wear her hair in a stylish updo or half up. You can easy pull your wavy tresses back into a bun, ponytail or braid with a longer angled bob haircut.
And if you want to rock this sexy angled lob, why not throw in a stunning balayage blend of chocolate black, chestnut brown and shiny auburn for a look that's got full of body and dimension? Curl up the ends to add even more volume!
Textured Lob Haircut
Source: anhcotran via Instagram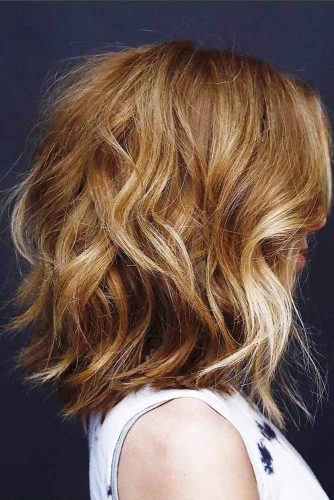 Need to add more texture to your tresses? This textured lob will add a ton of depth to any hair texture, thick or thin, curly or straight!
A textured haircut is a great way to give life to your hair. And they are all the rage this year so you'll fit right in! And what has more texture than a pretty honey brown base with soft golden highlights throughout? Add some waves for volume, and you'll have so much texture you'll wonder why you hadn't gotten this stylish lob cut years ago.
Blunt Bob
Source: oliviaculpo via Instagram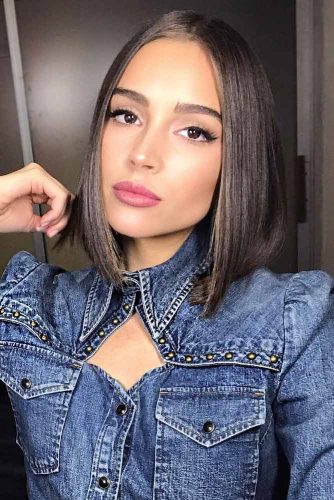 Looking for a more classic cut? Why not try a blunt cut bob? This sleek lob is still chic, yet a bit more sophisticated as it is less daring. However, we think it's still very sexy with its silky black base with soft highlights throughout. Ask for more highlights in the front to frame your face for a flirty vibe.
To style, blow dry straight with a round bush and run a straightener through the length of your hair to get that sleek and sexy look. Flip the ends under and out for a more playful vibe. Don't forget the shine serum!
A-Line Long Bob Haircuts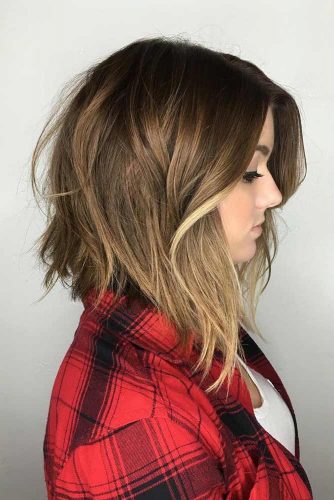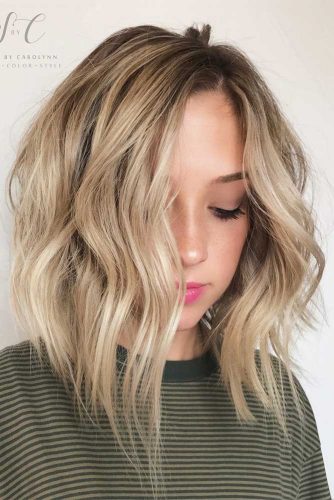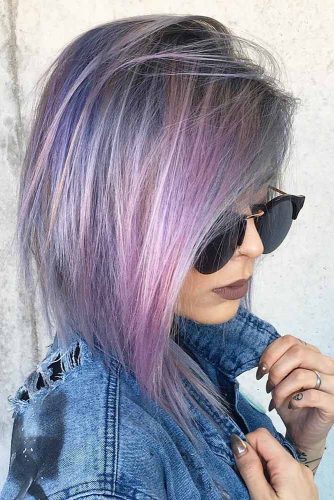 A-line bob haircuts are not that simple as they may seem at first sight. The key point is to combine it well with layers and find a perfect shade to suit the bob cut. Light brown mane with sweet blonde highlights looks simply gorgeous.
Blunt Bob Cut Hair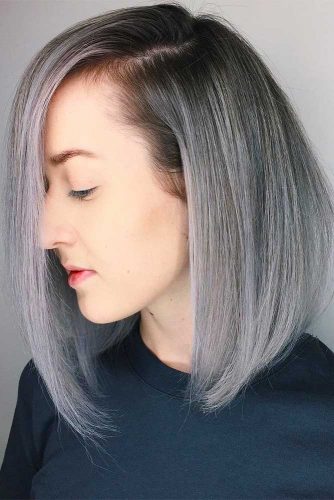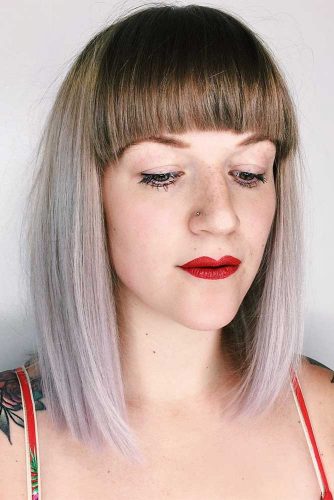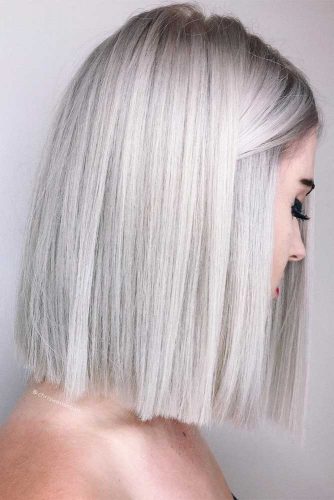 A blunt bob haircut is what bold and daring ladies choose. If you do not like all the fuss about your hair, keep it straight and sleek. Yet, adding a single silver highlight to dark chocolate beauty of hair sounds fun.
Sleek Long Bob Haircut With Side Swept Bang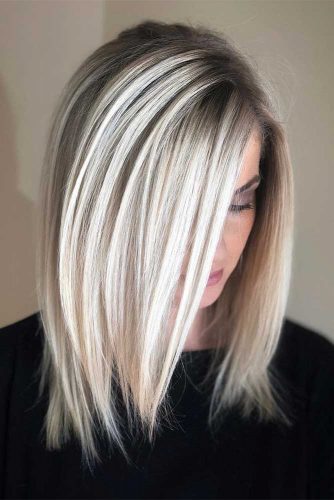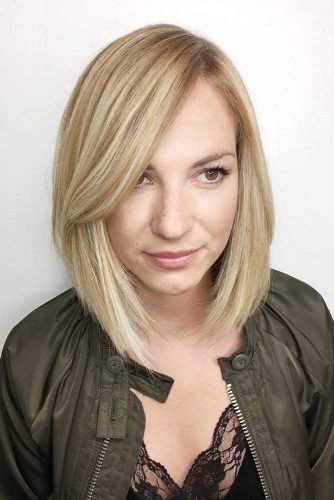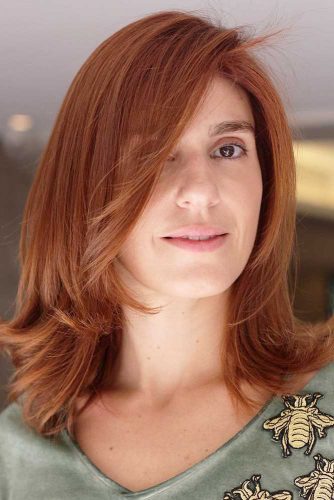 If you are looking for a way to freshen up your medium length haircut, opting for something like side-swept bangs is totally worth taking into consideration. Besides, something like contrast-shaded balayage can be on your list, too.
Long Bob Haircut With Bangs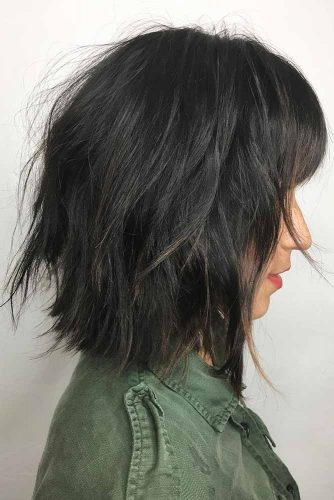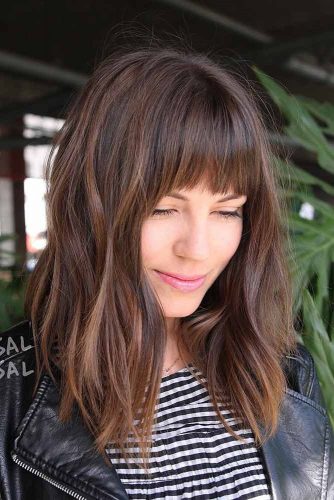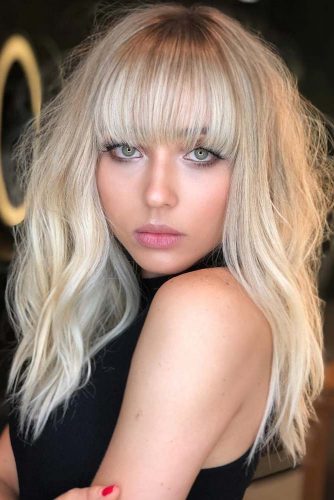 A long bob haircut with bangs looks pretty chic. If you are a kind of a chick who likes attention, you will totally appreciate this lemon-shaded mane with straight bangs and outgrown roots!