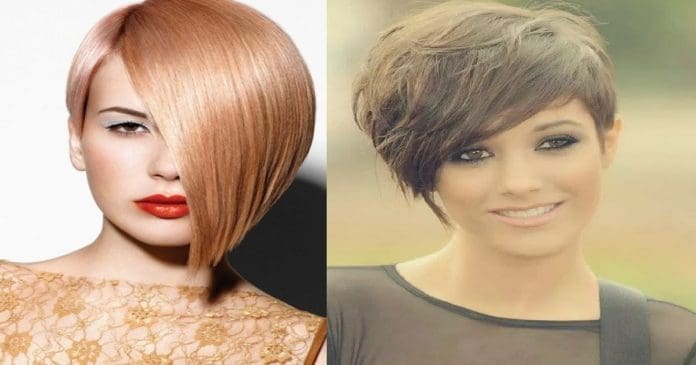 Short Hairstyles for Fine Hair
If you've got fine hair, each individual strand is relatively small in diameter. This probably means your hair has a silky smooth texture, but it can also leave you with hair that might have trouble holding a curl, and can be prone to looking limp and lifeless. If you like wearing your fine hair on the shorter side, there are tons of options for pixies and bobs that will showcase the silky strands you've got and make them look bouncy and vibrant. We've gathered some of our favorite short haircuts for fine hair to help you make the most of your finely textured mane.
1. Textured Bob
If you want your fine hair to look pumped up and voluminous, look for a bob haircut that creates shape without sacrificing large amounts of your hair. With long bangs and lots of texturizing, this bob gives you a bouncy style without taking away too much of your hair.
2. Feminine Pixie
Michelle Williams' ultra popular pixie is the perfect super short cut for women with fine hair. Longer pieces of hair in the top layers let you sweep hair over to the side, creating a sleek silhouette that can look too puffy or boxy with thick or coarse strands.
3. Lob with Center Parted Bangs
Center parted bangs are great for fine hair, as they don't really take volume away from the body of your haircut. These hybrid bangs can be used to frame the face but also tuck nicely away on days when you'd like to wear your hair in an up or half-up style.
4. Finger Waves Bob
Finger waves are a great way to add softness and texture to a bob haircut that has little to no layering. If your hair is too short to throw into a classic updo or too fine to hold big, bouncy curls, finger waves are the perfect alternative for a special occasion.
5. A-Line Bob with soft highlights
This blunt A-line cut is super classic and looks great on both fine and thick hair. The highlights add a fuller look to the hair.
6. Soft Asymmetrical Lob
Want to add interest to your fine hair without using a ton of layering? The slight asymmetry in this style creates visual appeal, but still makes for a manageable haircut on busier days.
7. Simple Blunt Bob
This simple blunt bob is an easy haircut that has a lot going for it. Your fine hair will be showcased to maximum effect in a hairstyle that's easy to style and maintain. Landing just below the chin, this style is especially flattering on women with heart shaped faces.
8. Short Wispy Bob
With light layers and wispy texture that frames the eyes, this short bob will prevent your fine hair from hanging limply around your face. If your fine hair is very dense, you can even try this style with an undercut to help eliminate some bulky hair at the back of your neck.
9. Long Layers Bob
If you've got hair that's fine but dense, layers can help to add shape and definition to your look. The long layers in this bob strike the perfect balance, creating a structured look that's got lots of life and bounce.
10. A-Line Bob
This A-line bob has some layering, but the overall look is smooth and textured as opposed to choppy or shaggy. The longer pieces at the front of this style help to draw the eye forward and create an illusion of added lightness in the subtle layers at the back.
11. Swept Back Pixie
Want your fine hair to look edgy but sophisticated? This swept back pixie perfectly marries the two, giving you a gravity defying look that can be tough to pull off with thicker, heavier hair.
12. Soft Waves Bob
If your fine hair has wavy or curly texture, too many layers can make your natural style look awkward. We love how this bob features enough soft layering to add shape and definition without destroying your natural wave.
13. Soft Sophisticated Pixie
Anne Hathaway's soft and sophisticated pixie is a modern classic, and a good choice for women with varying hair textures.
14. Deep Side Part Bob
A deep side part helps to create a dramatic sweep across the eye, and can also make your fine hair look more voluminous. This style looks great on women with long, thin faces, and creates the illusion of a fuller face.
15. Razor Texture Blunt Bob
This bob is mostly cut to one length, while the very outer layers have been cut shorter using a razor technique. If you like the look of edgy, choppy textures but don't want to lose too much of your fine hair in the process, this genius style brings you the best of both worlds.
16. Softly Parted Bangs Bob
This gorgeous bob exudes softness and femininity, making the most of face framing bangs that are parted just slightly off of center. Choose this bob style for your fine hair if you're looking for a shorter haircut that's chic but low maintenance.
17. Ultra Short Pixie
This androgynous haircut is so short it's almost a buzz cut, but leaves hair on top slightly longer than the closely shaved sides. If you're looking for a low maintenance way to wear your fine hair that will still draw tons of attention, this ultra daring style could be for you.
18. Blunt Bob with Wispy Bangs
Finely textured hair is perfect for wispy bangs, and lends a sense of lightness to a fringe that's not trying to completely cover your entire forehead. You can pair these bangs with just about any bob haircut, but we especially like the contrast they provide against a blunt bob.
19. Long Blunt Bob
Keeping it super simple, this long bob looks incredibly chic all cut to the same length. Blunt cuts tend to look thicker at the bottom if you've got coarsely textured hair, but they're the perfect way to make your fine hair look chic and sleek.
20. Modern Twiggy Bob
Short, sleek and simple, this bob haircut puts modern touches on Twiggy's iconic hairstyle. Fine hair is ideal for recreating the delicate texture of this style.
21. Soft Textured Lob
The long layers in this lob make fine hair look voluminous and bouncy, but won't leave too much of your hair on the salon floor.
22. The Pixie
The most daring cut a girl could ever have is the Pixie. Most especially if she has been a long hair type of gal from the start. We admit that at least ones in our lifetime, we donned this haircut. Some of us might have enjoyed, while some might have regrets choosing it. Whatever the case is, this cut is still one of the most popular short haircuts for fine thin hair! Try this for the summer season. We know it will keep you cool for months. Plus it makes you look cute.
23. Short Haircuts for Fine Straight Hair
This haircut is for all the ladies who live by the line "wash-and-wear". Women who wear this cut are those in the corporate field. It signifies a simple yet in control persona. The wearer is indirectly saying that I keep things in order and straight to the point. This haircut is also friendly for fine haired women. If you're feeling more girly than usual than wear this style with a headband or colored bobby pins.
25. The Simple Bob
The simple cut called the Bob is the style on-the-go women most likely opt for. It's very low maintenance and gives off a fresh look. This cut has been worn a lot by celebrities and models alike in red carpet events. Did we mention that it shows off more of your pretty face? If you want to win hearts, this is a straight go to haircut.
26. Angled Bob with Bangs
This is another variant of the bob cut. But this time instead of just one side, both sides of the front section of hair is angled cut to compliment almost all face shapes. The style just draws people to look and admire your already beautiful face. In this picture, the bangs add more drama to this edgy haircut.
27. Layered Pixie
If you think the Pixie cut has nothing more to offer, think again. Try having it layered. Instead of fully shaping your hair according to your head, why not put layers to it. The cut will still be short but not too much if you're not so keen in having an almost boyish cut. You can jazz it up the cut like in this photo. Layer some bangs in front and BANG! You're cute a fairy.
28. Side Straight Hair Cut
Most ladies love to part their hair on the side. Why not give this cut a shot? Your fine hair will certainly follow suit in whatever direction you choose. For that added flavor, you may tease the back section just like what January Jones in the picture did. Show off that side girl!
29. Angled Pixie
A number of celebrities have worn this cut called the angled pixie, from Anne Hathaway to Rihanna. This is another way to wear a pixie. If you are also keen on parting your hair to the side, then this is a cut made for that. Be warned though not to go for longer bangs or else you'll end up flipping your hair more often than you should. But if you do like to try it, keep hairspray or hair clay handy.
30. Layered Wavy Bob
So now we have established that the Bob is actually very versatile. Who knew that this short haircut can still play a lot of styles? This layered look is for the girls who love to experiment with their hair. In this photo we can see that she also twisted her hair to create that beach wave look. Pretty awesome.
31. The Mohawk
When we hear the style Mohawk, only one artist comes to mind. That is Pink! The singer is not only famous for her truthful songs, but also for her ever edgy haircuts. If she can rock out a haircut such as this, so can every woman, doesn't matter your face shape!
32. Sleek Bob
A sleek bob cut brings out the fine and polished look of a lady. For those with natural straight hair, this look suits you best and It will never run out of style. You can flaunt this cut to formal dinners or pitch meetings. You will certainly be a winner in this style.
33. Boy Cut
This style is for all the boyish girls out there. It expressed how carefree you are and that you don't mind the very short hair. You just want to have fun being a girl and not get anything in the way, including your crowning glory. To add a gentle touch, try doing what Scarlett Johansson did and part your hair to the side.
34. Undercut short haircuts for thin hair
Undercut haircuts comes from way back in the Edwardian era. This has already been part of fashion ever since. From then on it had its share of fame mostly on men. But now in the 21st century more and more women have been parading their own take on this hairstyle. You see it on rock stars, red carpet premiers, and also on whimsical themed weddings. You will surely stand out with this cut.
35. Curly Bob
Of course let us not forget our curly haired friends out there. You ladies have nothing to worry about volume and bounce no matter what length you have. And you also save a lot on curling and styling products because your hair will already look made-up even when you wake up. But we also know that long curly hair doesn't cooperate sometimes. So chop it up and give it a bob style. You'll still look as sweet with it.
36. Wavy Bob
Just like Taylor Swift and her wavy locks, you too can sport a bob. It makes you look more relaxed and chill. Now who wouldn't want that for a haircut? Go wave your hair to a bob. The cool look stands out too you know. You can also wear a bright shade of lipstick to compliment your hairdo.
37. Curly Pixie Wash and Go
Most girls with curly hair may not want to try this pixie cut because they are afraid they will look like a clown. But if Meg Ryan, America's Sweetheart, can pull it off with spunk, why shouldn't you? This is another wash and wear look. And it will only take a brush to style this haircut. But for those stubborn kinky strands, you can tame those with a touch of texturizer.
38. Shaggy Bob
Once again, the Bob proves itself as a chameleon of short hair cuts. If you love having your hair loose and relaxed, then give this style a go. It takes less effort to look this good as Jodie Foster. But please do put on some bright lipstick or smoky eye make-up so you won't be mistaken for a pretty boy.
39. Curly Boy Cut
Hey again ladies with curly hair. We recognize that you work hard and there is absolutely nothing to get in your way. Not even your hair. So have your curls chopped to a boy cut. It is a bold move but it will be easier for you to get things done while still looking like a queen. Wear a pretty hair clip or put on some hoop earrings to really make your face shine.
40. Pixie Undercut
This is a cut above the rest.  The 'business in the front party at the back' type of hair. Wearing this style says that you take things seriously but have a cool side who also allows fun from time to time. Isn't it true for all of us ladies? You can also give this style a party look just by simply messing it up with your hand. An easy trick but it does wonders to your hair.