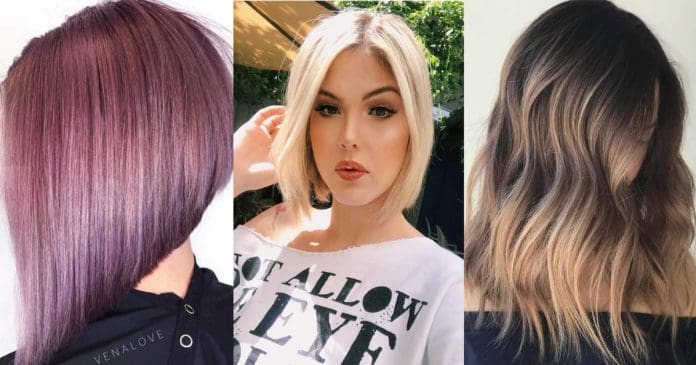 Bob haircuts are one of the most popular styles these days and it appears as though they will never go out of style.
One of the trendiest looks is the inverted or stacked bob as it is the most flattering. This A-line bob haircut adds texture and volume. Long bob haircuts can help to get rid of unwanted heaviness for those with thicker hair while managing movement and texture. As for short bob haircuts, they can add a great deal of fullness and volume to thinner hair.
Bob haircuts are great because they are extremely versatile. You can opt for a sleek and smooth look or go for a sexy tousled feel with loose curls. Adding a burst of color can add depth to any bob haircut whether you opt for balayage tones, ombre hair, bold streaks or simple and classy highlights and/or lowlights. You will discover that there are dozens of stylish options for bob hair cuts.
If you see a cut that has the curved horseshoe shape in the area of the nape of the neck, then you can bet you're looking at an inverted bob. Do you know that a graduated bob and an inverted bob are the same cut? If you have naturally thick hair, then you may want to consider the swing bob. Layers tone down the volume and make your straight hair look very smooth. If you're looking to add dimension, tease the crown and throw in some dark roots.
If you want to add some thickness to your hair, then you should add a curly texture. One of the best ways to increase volume is with the addition of some curls. Yet, there are hairstyles that allow you to keep a great deal of your length with an inverted bob. Some cuts length extends past the shoulders, allowing for varied styling options.
One of bob haircuts is an ideal option for someone who wishes to rid herself of the weight of long hair in the preparation for those hot summer months. Women love the bob haircut due to the versatility of this cut. A woman can style her hair to suit any occasion whether for the office, a day of relaxation or even a formal event.
If you are interested in taking your hairstyle one step further, there are various options for pumping up your style. You can choose subtle color changes, blending or even bold contrasting streaks or highlights are options one could consider. More adventurous and stylishly edgy women have even opted for all over drastic color accents such as pink, green and even blue to name a few.
You can even go for a subtle yet effective look by adding highlighting accents to the ends of the long layers at the front of your haircut. An additional bolder option to consider is contrasting color options for your haircut. A dark base with a lighter top color adds depth and dimension that is absolutely stunning.
Short Stacked Bob
Source: Cutyourhair via Instagram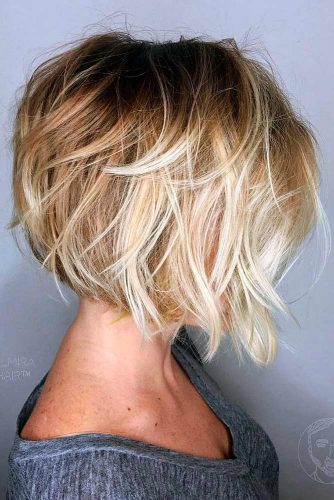 This short A-line bob works great for those with fine hair who want to add more volume. To add a bolder edge to this classic style, you can add some bold streaks or a multi-faceted balayage. To style, simply smooth in a straightening cream and blow dry using a flat hair brush, while flipping the ends under. When dry, add a volumizing dry shampoo to create more volume and movement.
Sleek, Shiny Asymmetrical Bob
Source: Ashleyrayhair via Instagram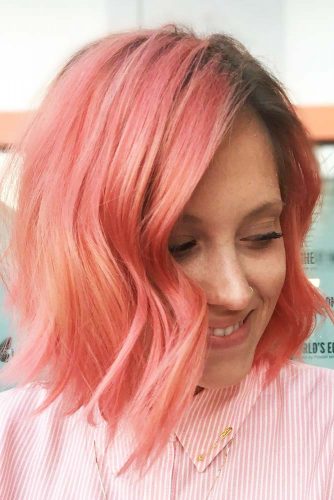 This sophisticated bob is slightly edgy, but still has that professional look that you can easily sport for both work and play. Apply straightening cream to damp hair and then blow dry with a paddle or flat brush until smooth. Next, apply a thermal protectant. Then, flat iron your hair, on the lowest setting, in 1-inch sections, while making a slight bend at the ends by slightly turning your wrist. Add a shine serum to smooth out the look and then spray a light holding spray.
Glamorous Hollywood Waves
Source: Alix_maya via Instagram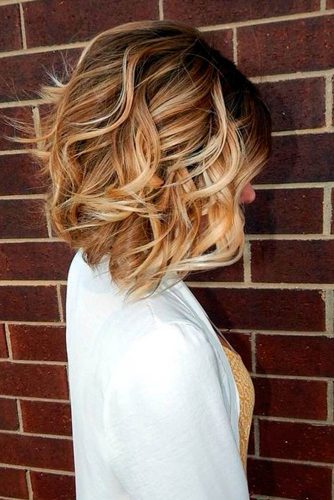 This sultry style harkens back to classic Hollywood glam with a slightly modern edge, especially if you opt for a slightly daring hair color such as a fiery copper or platinum blonde. To style, apply a thermal protectant to dry hair and then make uniform curls going all in one direction. Use hairpins to hold the curls in place till they are completely cool. Once all the curls are cool, gently remove the pins, shake out your curls and gently brush until they form big, sexy waves. Gently tease each wave upward from underneath to make the wave ridge dramatically prominent and set with a strong hold finishing spray.
Short And Sexy Curly Bob
Source: Camouflageandbalayage via Instagram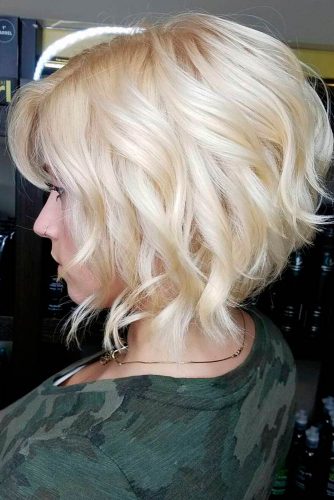 This short and sassy look is best for those with thick curly hair who want to remove some of the weight of their thicker tresses. Wash and condition your hair with your favorite curl-friendly and/or frizz ease shampoo and conditioner. Then add a curling cream to your hair immediately after washing/conditioning. Next, blot any excess water with an old t-shirt (this keeps your hair from frizzing). Blow dry your hair on the lowest setting with a diffuser. When almost dry, massage with light oil, scorch in your curls as you work it in to define and soften your curls. Finally, lightly mist your hair with a gentle hairspray.
Short And To The Point
Source: Hairbyedwin via Instagram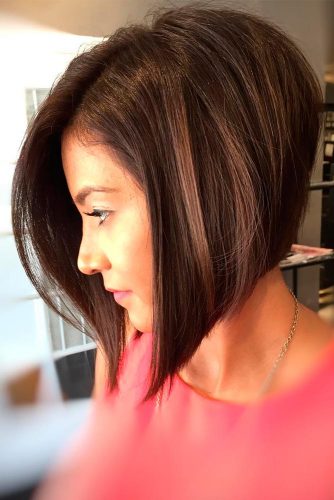 Try this funky A-line bob with short layers in the back, drastically longer layers in the front and heavily textured fringe for a fierce new look that is especially flattering on those with a heart-shaped face. It's also super-easy to style, so it is ideal for those who want something simple. All you have to do is apply a quality straightening product to your damp hair and then blow dry it with a flat brush. Then, simply use your flat iron to straighten your hair in sections. A fun streak of a bold color will add some flair to this look.
Rocker Chic Bob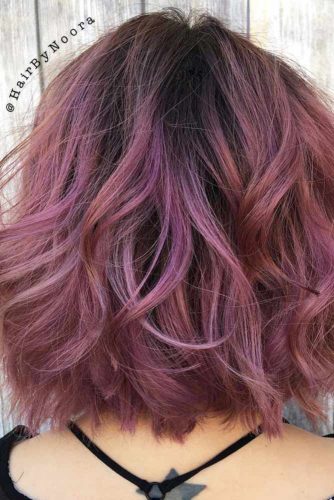 This slightly shaggy bob gives an edgy look with lots of volume and looks great on those with oval, round or heart-shaped faces. To achieve this far-out, funky look, apply a light texture cream to slightly damp hair and blow dry with a paddle brush. Finally, use quality pomade to lift and separate, adding depth. You can totally experiment with color with this fearless style. Be brave and add bold rainbow streaks or opt for a simple three-toned balayage to add an extra dimension.
Sexy Over-the-Shoulder Bob
Source: Glamiris via Instagram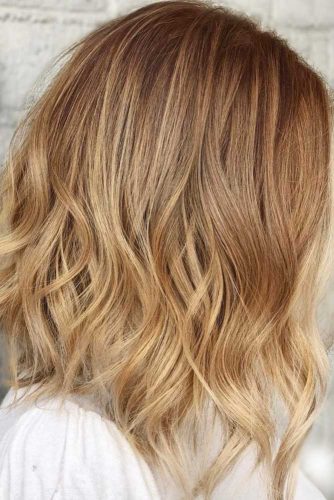 Cut slightly shorter on one side while gradually getting longer as it reaches the other, this sophisticated look will give you the constant appearance of wreathing your hair over one shoulder. The best thing about this style is that it works for any face shape. Simply apply a thermal protectant to dry hair and then make loose waves using a large-barreled curling iron. Add some texture cream and finish with a medium holding spray for added movement.
Lovely Hairstyles With Braids
Source: Hairbyjessica_ via Instagram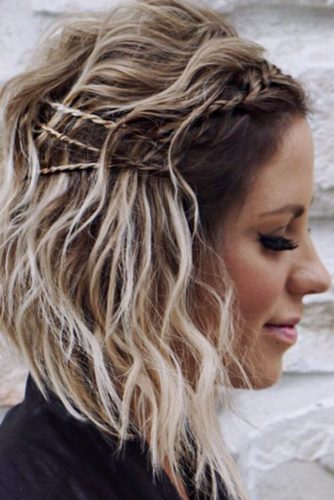 Even short hair can have a lot of cuteness involved. Just have a look at this hair style: charming loose waves combined with little braids swirling around the head forming a charming crown. Looks all princess-like, doesn't it? Braids are trendy this season, so you should definitely give it a try!
Amazing Bob Haircut
Source: Hairgod_zito via Instagram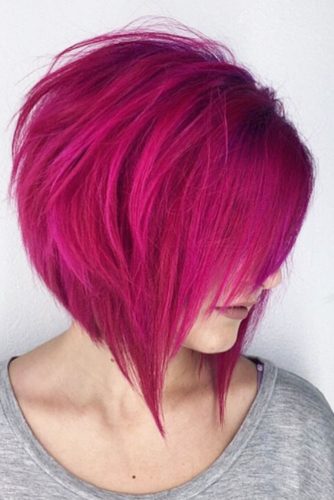 Nowadays pastel colors are very popular among many ladies, but there are also those who are not afraid to stand out from the crowd. And for these we would recommend something brighter – like this bright pink bob. To finish the look, we suggest adding some shorter layers and sharpening the front. Done!
Bob Hairstyle With Bangs
Source: _Sarahbraga via Instagram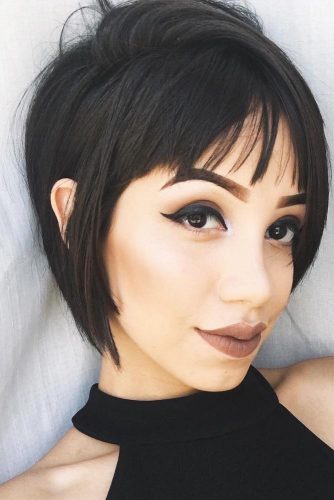 Bed hair is on the edge of popularity right now. And we propose you this perfect solution. These side bangs transforming into messy waves will grant you that desired look. You shouldn't leave out the fact that this style also suits well the ladies with medium thick hair. Now you can be so open and so mysterious at the same time!
Blunt Bangs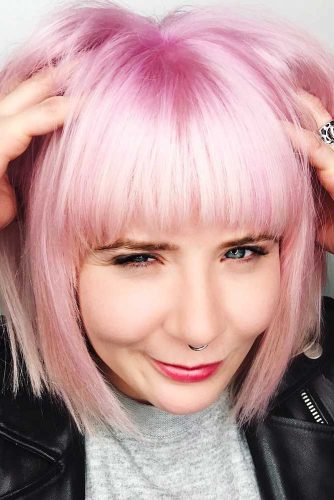 The evenly trimmed bangs is something that not everyone could wear, as they might look severe if you do not know how to soften them. What we suggest is a sharp, shoulder length bob with the addition of a bright citrus color. You can be the sun in your own galaxy, how cool is that? Do not forget about the sunglasses!
Textured Bob
Source: Salsalhair via Instagram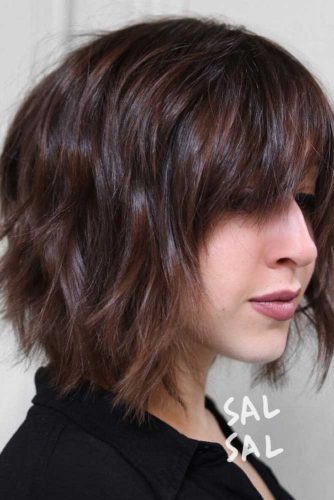 The beauty of choppy hair is that you can style it in so many different ways that no one can even imagine! Here we concentrate on soft waves that will flatter any hairdo and will add some sexy spice to your everyday look. The key is to make them look a bit undone, like you just got out of bed. They say that this is what attracts men's' attention the most – are you ready to try it out?
Straight Bob
Source: Venalove via Instagram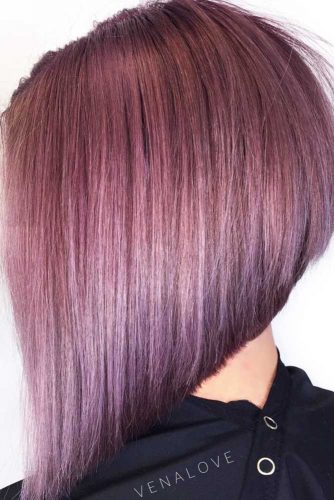 Many women with fine hair wonder what would be the best haircut to get for hair like theirs. The answer is – a geometric cut, as it goes best with straight hair. Straight bob with sharp angles with addition of some unusual color might be your golden key to open all the doors. We focused on a sweet lilac shade that is very trendy by the way, but you can choose something different, just go for it!
Cute Long Bob
Source: Thejesjewel via Instagram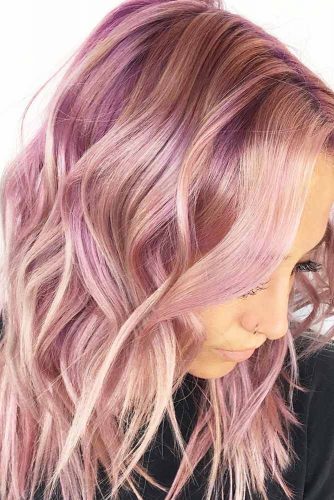 This pretty long bob with a soft pink and lavender balayage combo is super cute. The colors are subtle and not overly dramatic. Overall, this look is very feminine and trendy. The soft waves give it more volume and the balayage tones add a depth to this stylish cut!
Ombre Hair Style
Source: Hairbykaseyoh via Instagram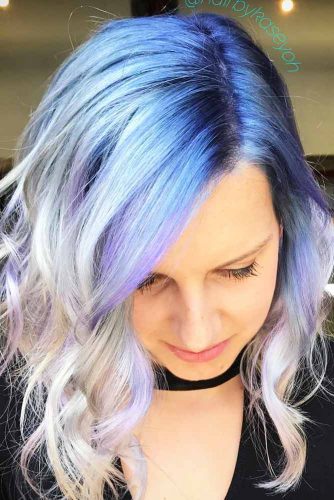 The electric blue and lilac tones on this platinum blonde base are just stunning. The soft waves are super girly and chic. The side part makes this sexy cut even more dramatic. If you want to add a burst of color to your icy blonde tresses, this look is right up your alley!
Beach Wave Bob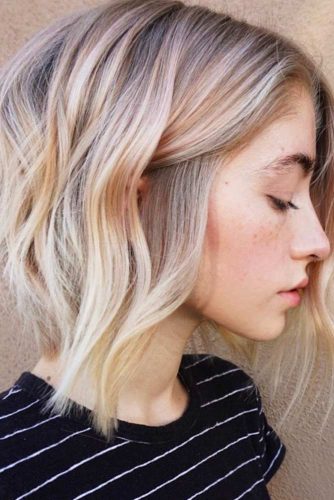 Beach waves on bob haircuts are very sexy and chic, and this cut is no exception. The dark blue lowlights blend in perfectly with the golden and platinum blonde tones. The uneven, choppy ends give this look a bit of an edge but, overall, this look is playful and cute!
Layered Bob Haircut
Source: Ashleyrayhair via Instagram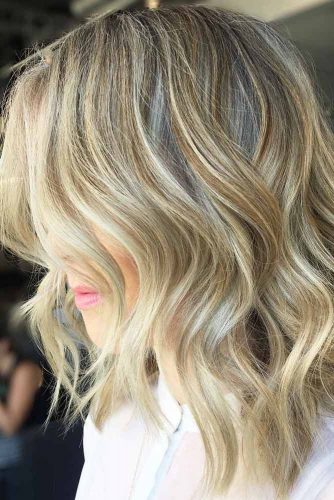 Gray hair is trending these days, and this silver and pale blonde combo is so pretty. The shiny silvery highlights blend in very nicely with the platinum blonde waves for a look that's soft and sexy. The waves add more volume to this sassy hairstyle! This style will look really stunning in the sunlight!
Electric Watermelon
Source: Hairbyhannahdisconnected via Instagram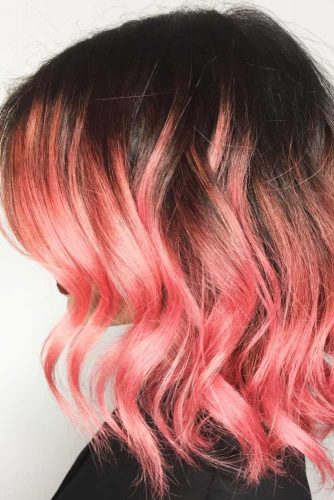 Pink hair is very trendy right now, and this pretty shade of watermelon is perfect for many bob haircuts. For example, paired with dark roots and a wavy A-line bob, this look is strikingly cute if you want to try something bold and new.
Classy Blonde Bob
Source: Domdomhair via Instagram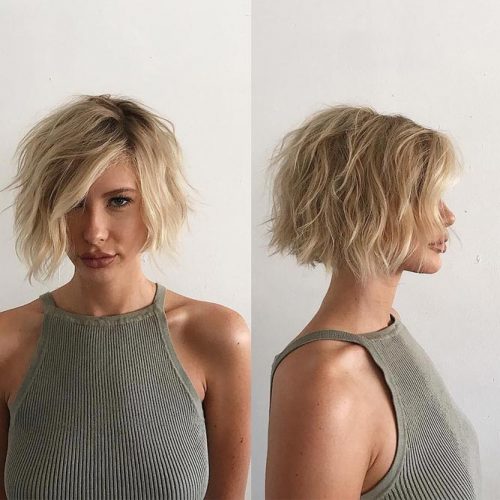 If you want a look that's both classy and chic, try this wavy asymmetrical bob. The light blonde tones give it a soft and feminine look and feel, while the messy waves give it a fun and carefree vibe.
Two Toned Blunt Bob
Source: Notanothersalon via Instagram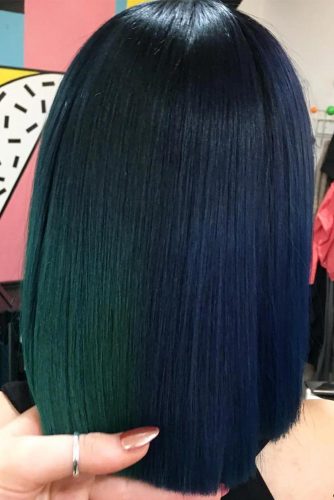 If you prefer blunt bob haircuts, this sleek cut is sophisticated and chic. The pretty emerald green blends in nicely with the dark black base for a subtle hint of color.
Side Bang Style Idea For Short Bob Haircuts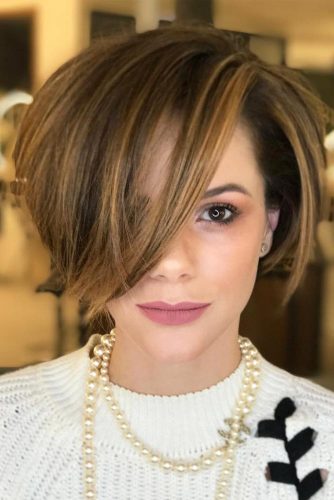 This cut is ultra-glamorous with its sexy side bang that seductively covers one eye. The two-toned chestnut and honey brown balayage is just stunning if you want a mature look that's still flirty and sexy!
Shoulder Length Bob With Balayage
Source: Givemegabrielle via Instagram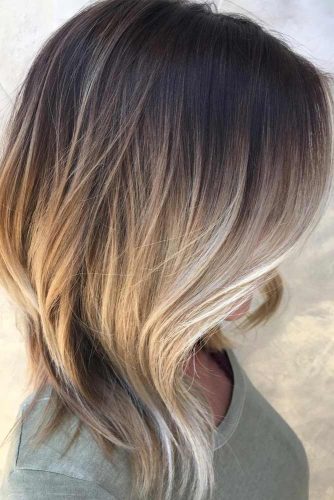 This balayage combo is a gradual melt from darker roots to honey blonde to platinum tips. The slightly asymmetrical, choppy ends are trendy for a carefree and youthful appearance that is also quite sexy!
Shoulder-Length Tousled Bob
Source: Romeufelipe via Instagram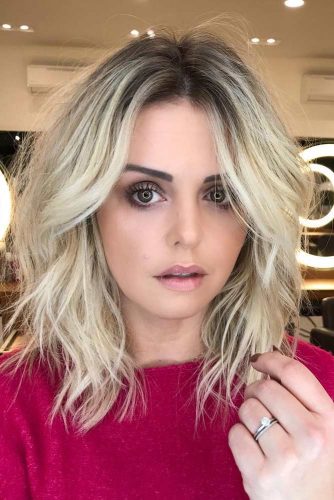 This look is fun and flirtatious with its wavy tousled layers that add volume to your tresses. The slightly darker roots give this layered bob added depth and dimension. This look is perfect, if you want to add fullness to your hair.
Shaggy Platinum Bob
Source: Kelseyraecolors via Instagram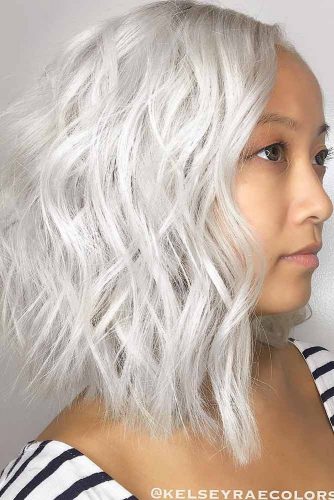 Shaggy bob haircuts are very charming and alluring, especially with this platinum blonde shade that screams sassy and chic! Have your stylist cut your hair in an angle so that it's slightly longer in the front for a tousled look that oozes sex appeal!
Pale Bleached Bob
Source: Ashleenormanhair via Instagram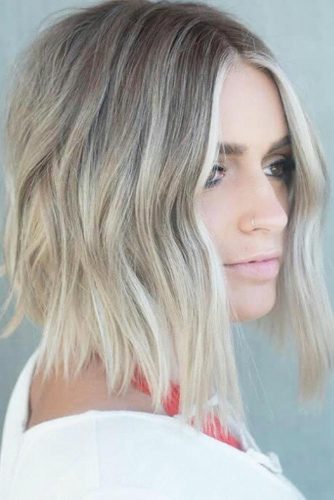 This bleached blonde balayage bob is just adorable! The uneven layers add depth and dimension, and the varying shades of blonde throughout will shimmer like diamonds in the sunlight!
Glossy Brown Shade For Long Bob Haircuts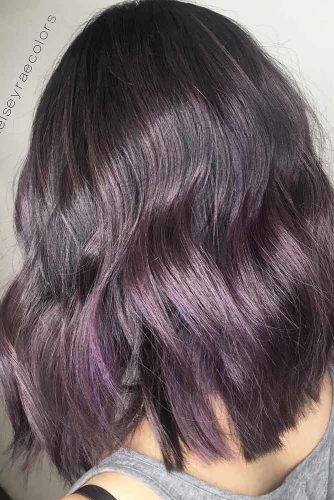 If you want a slightly longer bob, this look is just too cute for words! The blunt, yet slightly uneven ends give it an edgy vibe, and the brown color is bursting with sheen and dimension!
Short Stacked Bob
Source: Rochellegoldenhairstylist via Instagram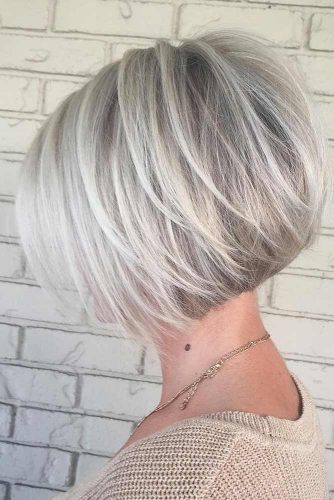 This super short stacked bob will add a ton of volume to your locks. The angled cut is very sleek and stylish, and the light blonde and dirty blonde tones add to the fullness of this fun and flirty look!
Cool Wavy Bob
Source: Hairbyac_alcorn via Instagram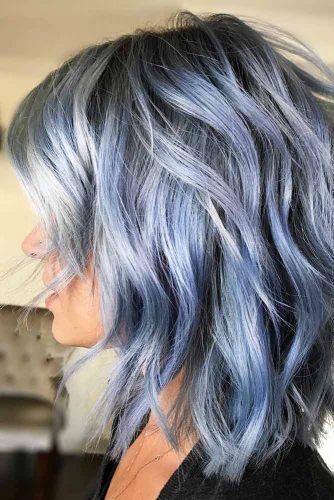 If you have naturally wavy hair that is hard to tame, try this tousled bob with uneven layers for a look that's playful and sexy. The icy blue color is a bit edgy yet not too over the top, if you want a color that's trendy but subtle!
Edged Sleek Bob
Source: Domdomhair via Instagram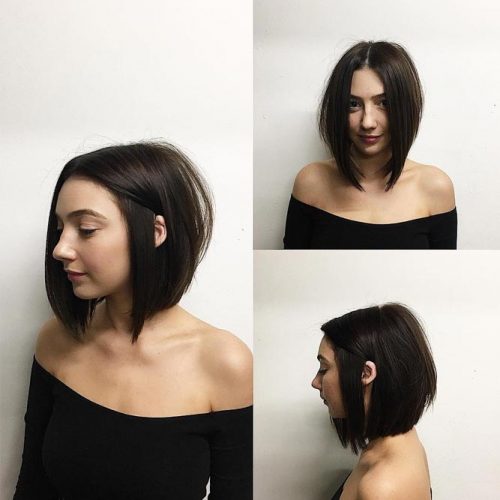 This cut is the perfect combo of sleek and edgy! With short choppy layers and longer layers in the front, this look is sexy and bold. It looks very stunning with this coffee brown color that says you aren't afraid to mix business with pleasure!
Dark Blunt Bob Cut
Source: Headrushdesignsbyjulieann via Instagram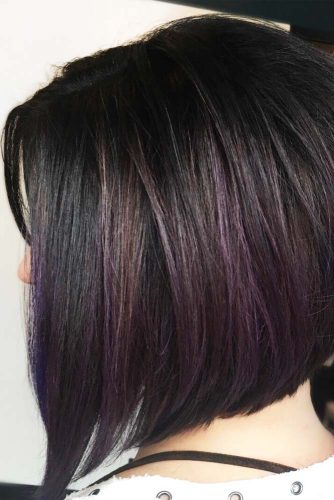 If you want a look that's sophisticated and sleek, this blunt bob is just right. The angled cut is classy. And the brunette base with soft brown lowlights that shine in the light is chic and elegant. This style is perfect for a working woman who wants a sexy look that says you mean business!
Sleek And Glossy Bob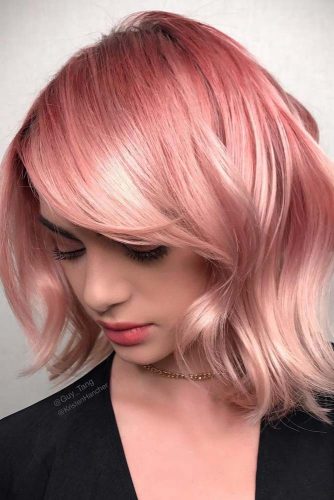 For those who want a pretty burst of color, this pale cotton candy pink is oh-so-adorable! The shiny pink is almost luminescent with its slight wave and swoopy side bangs. This sexy bob is great for those with thinner tresses who want a sultry new style that adds volume to their locks.
Warm Balayage For Straight Bob
Source: Styles.by.sarah via Instagram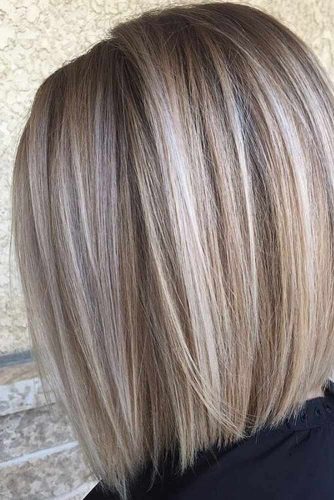 If you want a look for straight hair that's chic and classy, this slightly angled bob is perfect. The multi-tonal blonde shades will add depth and dimension to any hairstyle.
Wavy Bob With Fringe
Source: Jeffreyrobert_ via Instagram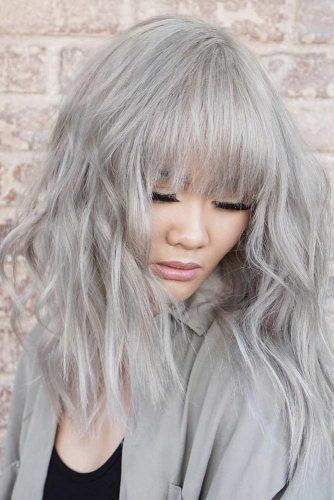 Silvery-gray hair is so sexy. The full fringe on this tousled bob with slight waves gives it a carefree and mysterious vibe for a look that's fun and flirty.
Pastel Ombre Bob
Source: Hair.by.lisa.p via Instagram
Ombre hair is all the rage, and this subtle fade from lilac to the palest lavender to white is just stunning. The slightly uneven ends add more texture to this playful bob.
Chestnut Wavy Lob
Source: Susan.aw via Instagram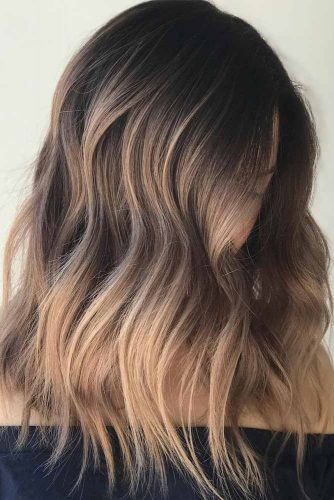 Brunette hair is making a huge comeback this season, and this chestnut to golden brown fade makes quite the statement. The soft waves on this longer lob give it more volume, while the gorgeous shades of brown give it an extravagant shine!
Layered Messy Bob
Source: Cutyourhair via Instagram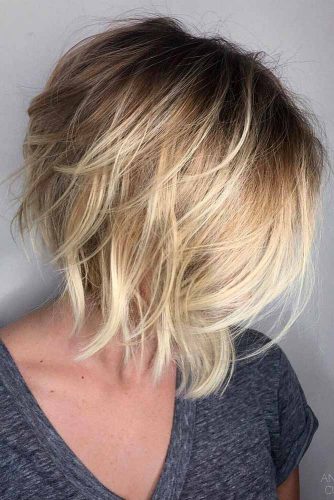 On most occasions, curls and waves in a hairstyle tend to give a cute rather than edgy impression. However, with this jagged short bob, it is a beautiful modern style that is adored among women everywhere. While it doesn't require the perfect sleekness of some hairstyles, this style is more of a relaxed, lived-in type of a hairstyle that screams that this girl knows how to have fun.
Blonde Bob Haircut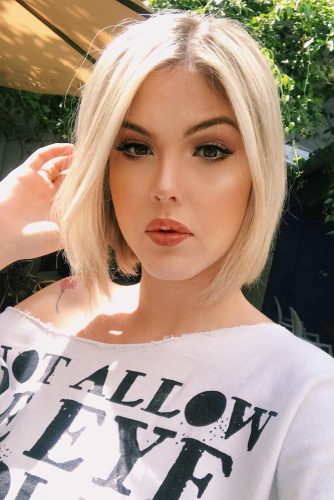 Here we have a classic version of a bob haircut that has been popular for ages. This rather serious style of the bob haircut is worn by women from all walks of life, from the modern housewife to the corporate CEO. You can obtain this look even if you don't have straight hair by investing in a good flat iron to get the straight, sleek look you desire.
Lob Haircut With Bangs
Source: Thescissorsammurai via Instagram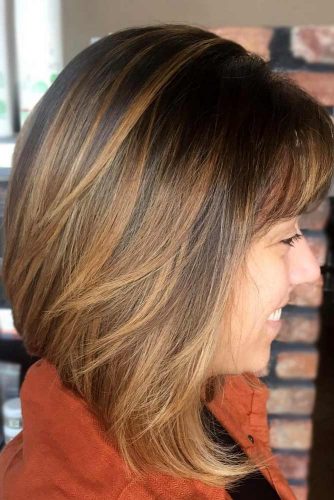 This rather choppy version of the bob can be worn in an inverted style or even as a classic bob. The wispy layers and bangs that frame the model's face have enough color to compliment and enhance her facial features. The cut also works very well with her facial shape.
Inverted Bob Hairstyle
Source: Styled_by_carolynn via Instagram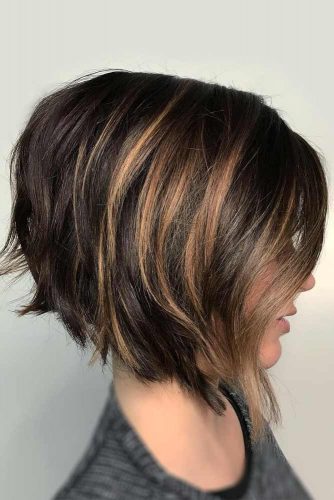 The color of this inverted bob hairstyle is absolutely show-stopping. The caramel accents over the dark brown provide a gorgeous contrast that work to enhance the model's skin tone and facial features. The wispy, feathery layers in this cut lay beautifully, and the contrasting highlights add a beautiful effect.
Black Bob With Bangs
Source: Mandythestylist via Instagram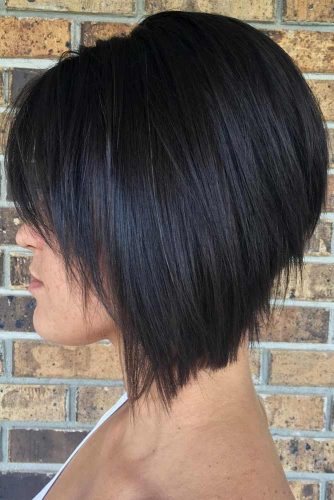 This cute bob haircut has a bang option incorporated into it. This effect helps draw attention to the model's eyes and other facial features. This is a straight hairstyle, and the layers in this cut add volume to this model's hairstyle.
The bob cut requires little maintenance. Once the hair is cut to the proper specifications, all you need to style your hair is a couple of well-chosen hair products. The option to straighten or add curls is totally up to the wearer and her time constraints. No matter which bob hairstyle you choose – classic, inverted, A-line or some other, there are variations of bob haircuts to suit every taste and situation possible.
As for the styling process for this type of a haircut, there are very few tools needed. Most often, due to the way that this hairstyle is cut, the blow dryer and the brush do most of the work for you. Once you decide which hair products you should use to help you achieve the look you desire, the style can basically do itself. A straight iron can give your bob that seamless, sleek look, and a curling iron can throw some waves into your hairstyle to spice it up a bit.
Light Auburn Short Layered Bob Haircut With Bangs
Source: cutyourhair via Instagram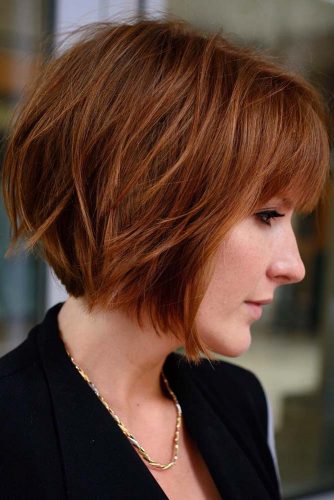 Short bob haircuts with bangs are very popular right now, and this light auburn bob is no exception. If you are looking for short bob haircuts that are a bit less formal, ask for one of bob haircuts with bangs and style it in a carefree manner like pictured here.
Short layered bob haircuts are ideal for you if you are looking to add more body and movement to your hair. Ask for an eye grazing fringe for the youthful and edgy flair. Random layers throughout will add texture and add on to the relaxed, bed-head look that is all the rage this season.
Blonde Balayage Asymmetrical Straight Lob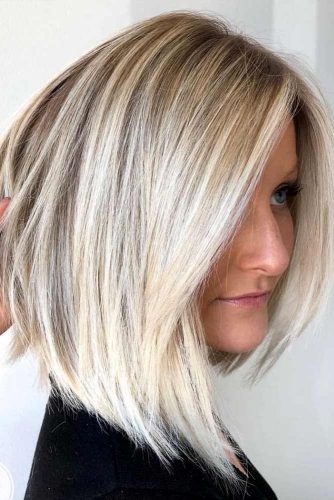 Bob haircuts for fine hair are a great way to add volume to thin tresses. And asymmetrical bob haircuts are trending this year. This pretty balayage blend of warm and cool blonde hues is just stunning. Start with a dark ash blonde base and mix in platinum blonde tones to give it a shiny, multi-tonal look.
Cute bob haircuts are ideal if you want a bit of a trim but don't want to lose all of your length. This shoulder-length graduated bob is sleek and refined for those who want a more polished look that is also sexy and chic.
Dark Wavy Angled Long Bob Haircuts With Cherry Red Highlights
Source: texasbalayage via Instagram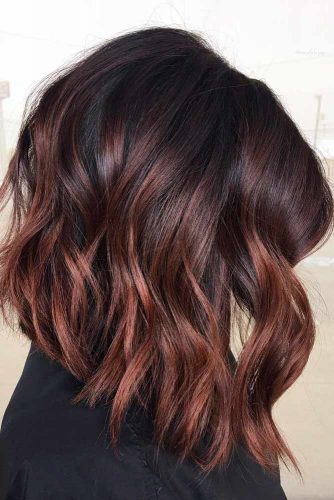 Inverted bob haircuts are a fun twist on the classic A-line bob cut as they have a bit of an edge. They are shorter in the back than on the sides and add a ton of volume to your hair. They look great on both short and long bob haircuts as there are many ways to cut your hair at a graduated angle, so it has that edgy vibe.
Check out this long wavy angled bob cut. The black and cherry red tones give it a ton of depth and the soft waves add even more texture. Long layers will grant fullness to this funky hairstyle that has a young and sassy vibe.
Textured Bob Haircut With Dark Chocolate And Caramel Highlights
Source: angela_doeshair via Instagram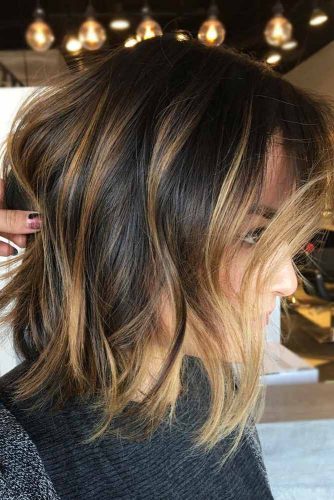 Bob haircuts for women are suitable for any age or facial structure. If you are looking for bob haircuts for round faces, this textured, wavy bob could be the end of your search! Ask for finely chopped angled layers to add volume and movement. The soft caramel highlights on a chocolate brown base provide a nice contrast between dark and light, while adding even more texture to this hip hairstyle. Spritz your hair with texturizing spray and tousle it to give it a soft and sensual vibe.
Wavy Asymmetrical Medium Bob With Strawberry Blonde Balayage
Source: chrisjones_hair via Instagram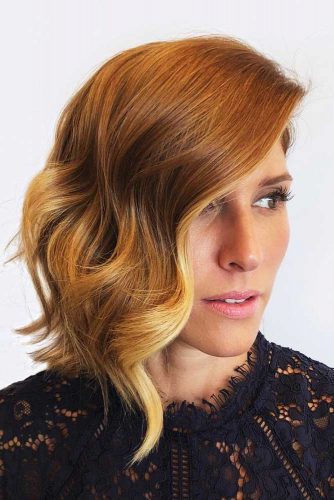 Pixie bob haircuts are a great choice for those who can't decide between a short and sassy pixie or a longer bob haircut. Why not have the best of both worlds with this avant-garde asymmetrical pixie bob? Ask for short layers on one side and shoulder-length layers on the other. Style your bangs to the longer side to draw attention to your facial features and showcase your pretty eyes. Leave one piece much longer in the front for dramatic flair.
This strawberry blonde fade from light auburn to soft golden reddish blonde is a great way to add some depth to medium bob haircuts. Style it in loose waves and spray with sea salt spray to add even more texture and fullness.
Short And Sassy Blunt Bob Haircut
Source: styled_by_carolynn via Instagram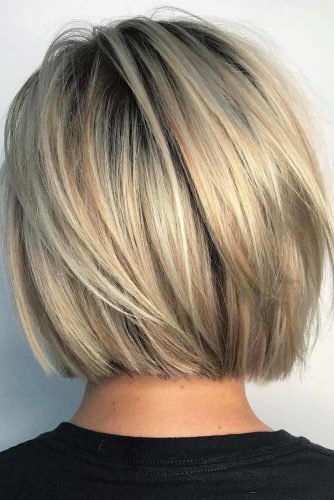 If you have thin or fine hair and are looking for a short bob haircut that will give you both texture and volume, this sassy, short blunt bob could be the answer to your hair woes. Blunt bobs are ideal for those who want a polished look that still has some depth and movement. Blunt edges will give it the perfect density without making it look poofy and frizzy.
Blow dry your hair with a paddle brush to add some volume, flipping back a few random sections throughout for fullness and a touch of class to this bob haircut.
Straight Bob With Brown Balayage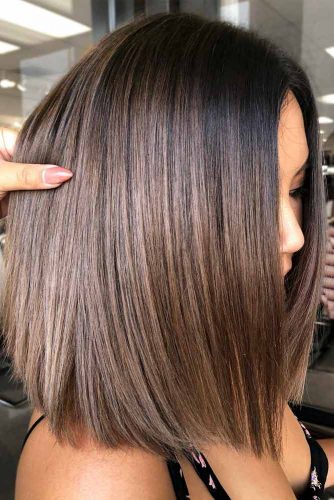 Bob style haircuts are perfect if you want to remove some dead weight from your thick locks. This all-in-one-length bob is very refined with its multi-faceted brunette hues. Start with a darker base near the front of your hair and gradually fade to light brown and honey blonde hues. This will give this straight and sleek bob hairstyle more depth and texture. Part it in the middle for a sophisticated look that is chic and polished. Blow dry your hair straight and use a flat iron and shine serum to give it a silky, glossy finish. Bob haircuts for thick hair will still show off that gorgeous volume and luster without weighing down your hair.
Shaggy, Tousled Medium Layered Bob Haircut For Wavy Hair
Source: texasbalayage via Instagram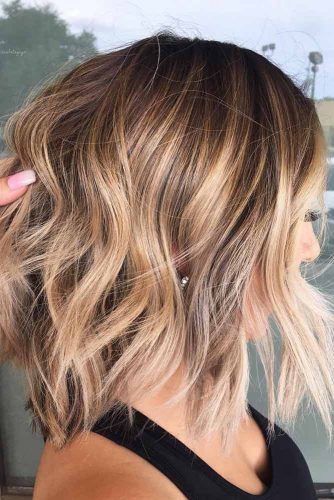 If you want to add more life to your wavy tresses, long bob haircuts can work wonders! This shaggy bob is a great way to add volume, as well! Tousled, choppy layers add a slightly edgy vibe that is youthful and fun. Long, wispy layers are so pretty on long layered bob haircuts.
If you really want to liven up your locks, add some honey blonde highlights for a multi-tonal look that will give your beachy waves more depth. Spritz your damp hair with sea salt spray and scrunch it to add even more fullness to this carefree, tousled bob haircut.
Pumpkin Spice Short Stacked Straight Bob
Source: texasbalayage via Instagram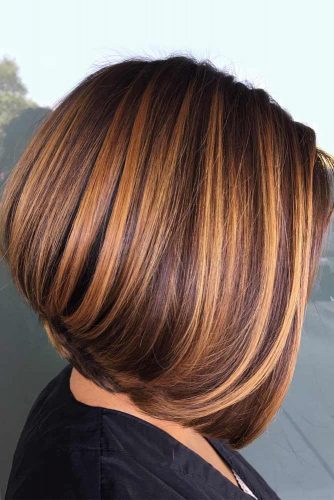 Layered bob haircuts for thick hair are the perfect option! If you want a look that is both edgy and fun, short stacked bob haircuts are a great way to add volume to your hair! The stacked layers add fullness and movement, and the longer sides will frame your face for a soft and feminine vibe!
And this gorgeous pumpkin spice blend of dark chocolate brown and bright orange highlights will add maximum texture to your tresses! Apply a volumizing product and blow dry your hair with a paddle brush to pump up the volume on this short and sassy bob cut!
Sassy Shaggy Bob Haircut
Source: cutyourhair via Instagram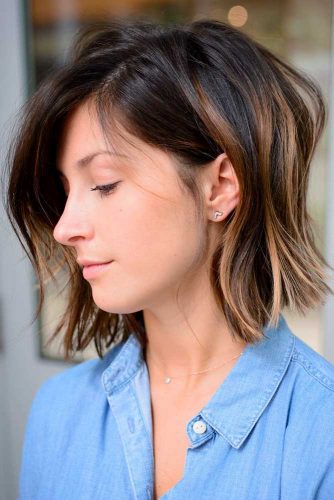 Shaggy bob haircuts are the perfect solution to add some luster to fine or thin hair. Bob haircuts for thin hair are the way to go if you want a trendy and cute look for your thinner tresses.
Ask for shaggy layers and choppy ends to give your hair youthful flair. Mix in some milk chocolate and honey brown highlights for a multi-dimensional look that will give your fine hair the depth and texture it has been longing for. Style your hair with a messy part and tousled waves to give it a devil-may-care attitude to match your new short and sassy style.
There is quite literally a bob hairstyle for every type of a woman out there. No matter what your face shape is or your hair type, the bob is a hairstyle that is versatile enough and adaptable to every woman. Push your limits and take the leap. We are sure you won't be disappointed!