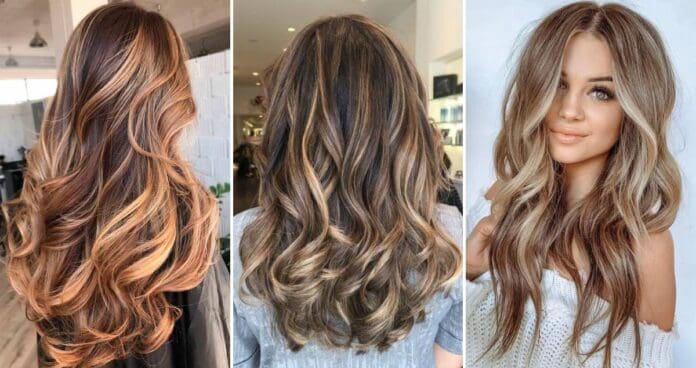 There's a saying that blondes have more fun, but any woman with light brown hair will tell you that that statement is not true. This is a hair color that is versatile and gorgeous. It can be worn by women with different hair types, textures, and lengths, and it is a universally flattering color that complements most skin tones. You can add light brown highlights to darker hair for a fresh new look that will brighten your locks. The hue can add depth and dimension, and you can experiment with interesting cuts that frame your face and create a feminine appearance. When it comes to this color, the choice is yours. These looks will inspire you to book a salon appointment as soon as possible.
Light Brown Hair Colors
1. Honey Brown Hair
Honey brown hair is a warm hue with a golden undertone. It is an incredibly flattering shade, especially on warm skin tones, and often gives hair dimension and depth. It is a lovely option for someone who has dark hair and wants a lift or a woman who wants to change from their blonde locks without being too dramatic. This hue can brighten your face and looks great no matter what hairstyle you choose, from sleek, straight hair to loose waves.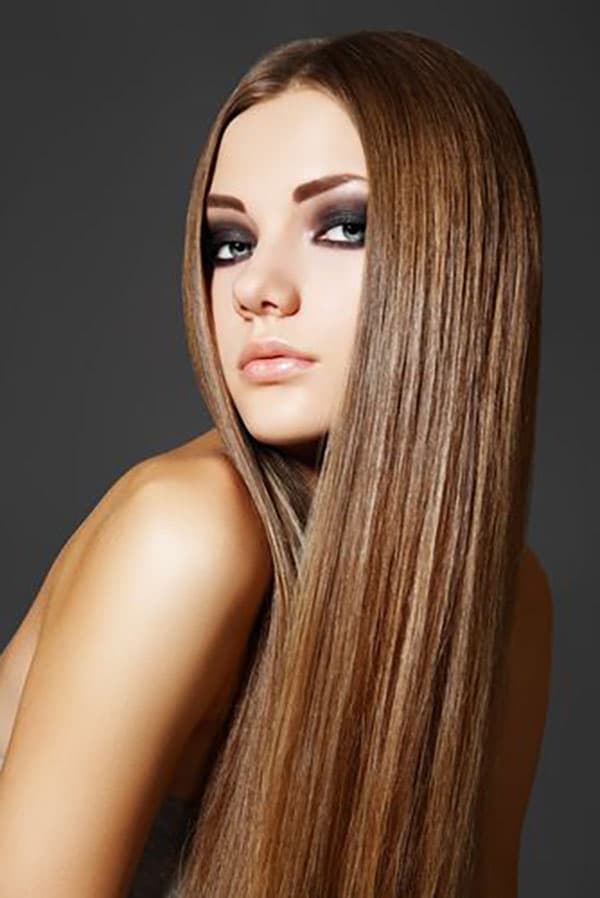 2. Light Brown Hair with Curtain Bangs
If you're searching for a low-maintenance look that is gorgeous, then light brown hair with curtain bangs is it. This hair color is very attractive on women with lighter skin tones and can make you appear more youthful and healthier. It also requires less upkeep than opting for blond hues that need to be dyed more often. Curtain bangs, parted in the middle, are appealing because they are one of the easiest fringes to wear. They frame the face and can be worn by many different face shapes. Plus, they blend into your hair because of the way they are cut, creating an effortlessly chic appearance.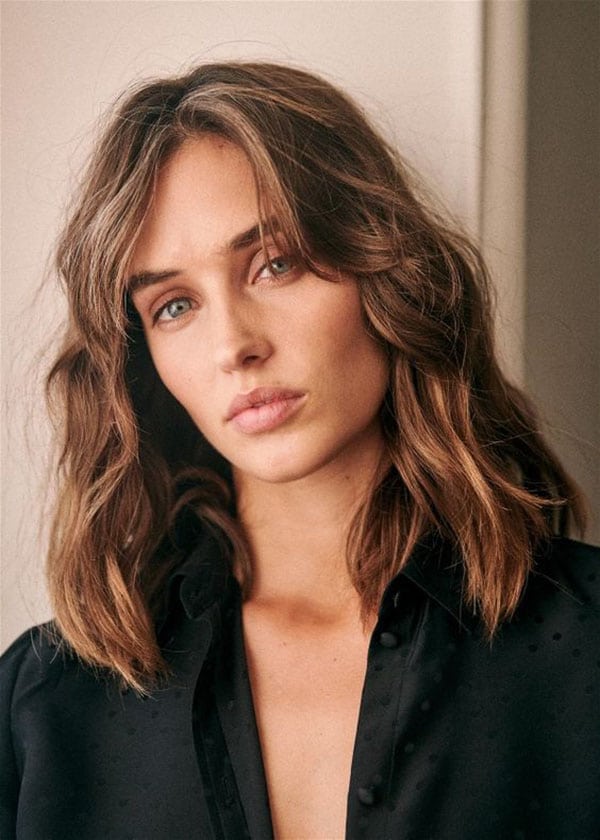 3. Warm Light Brown Hair
Warm light brown hair has beautiful, rich tones with more reds and oranges. The color feels deep and is fantastic for achieving hair with depth. There are various shades to choose from, and you can work with your colorist to find the option that will be most flattering on you. Warm hair colors compliment warm skin tones.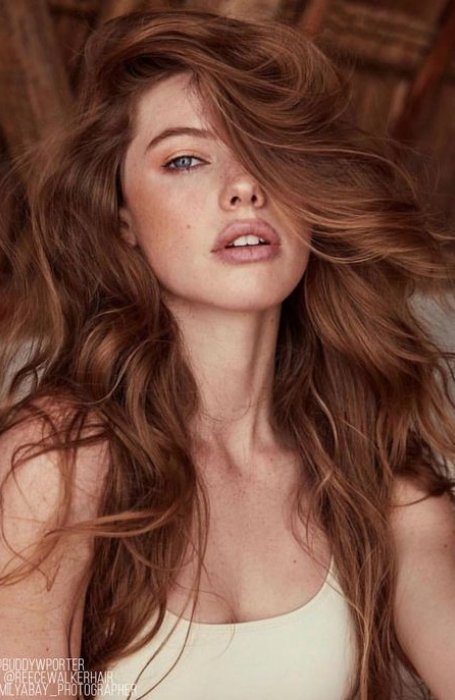 4. Light Brown Straight Long Hair
One of the pros to light brown straight long hair is that the texture makes it easier to care for your locks; brushing curls and waves can have its drawbacks. Naturally, straight hair is also strong and often less prone to split ends. It is also incredibly versatile, and you can experiment with various looks and styles. Wear it in a high ponytail for a sleek and chic appearance, or loose for a more relaxed yet still polished look. As for the color, light brown hair is less harsh for lighter skin tones than black hair colors and easier to maintain than blonde, so it is a perfect balance.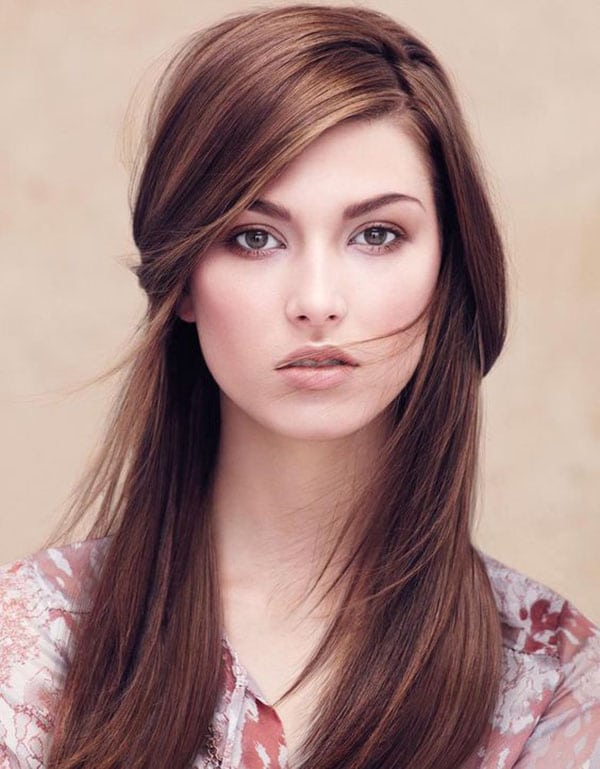 5. Straight Light Brown Hair with Bangs
Straight locks lend themselves well to many different styles, including fringes that make you look youthful and chic. In fact, straight light brown hair with bangs can help hide fine lines on the forehead and create a modern appearance. They do require some maintenance, and you will have to regularly get trims and add a little extra styling time to your daily routine. However, you will likely find that it is worth it, considering how fashion-forward this look is.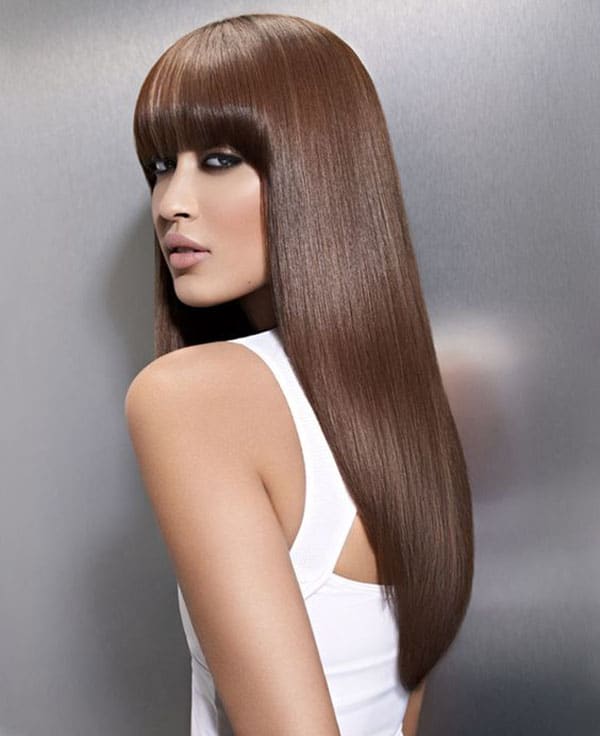 6. Light Brown Beach Waves
Light brown beach waves are the summer-approved look you have been searching for. They are casual and cool, creating a carefree yet feminine appearance. To add to the volume, enhance your natural texture. To do this, find a great sea salt spray, and run your fingers through your hair or use a large comb. For a Boho-chic vibe, keep your makeup natural and have fun experimenting with loose clothing and dreamy layers.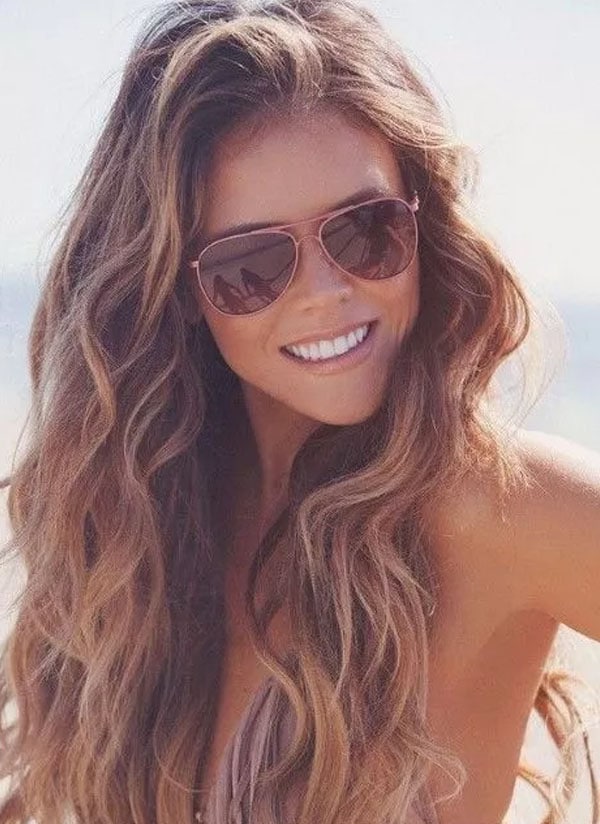 7. Light Brown Hair with Fine Blonde Highlights
If you want to give your light brown hair a little lift and update your hair, you can do this with fine blonde highlights. The great thing about light brown hair is it is incredibly versatile, and adding highlights to it can create a softer appearance. If you find the right color, you can achieve a natural look, add dimension and depth, and help enhance your natural hair texture. Highlights are also far more versatile than opting to dye your locks a new shade completely.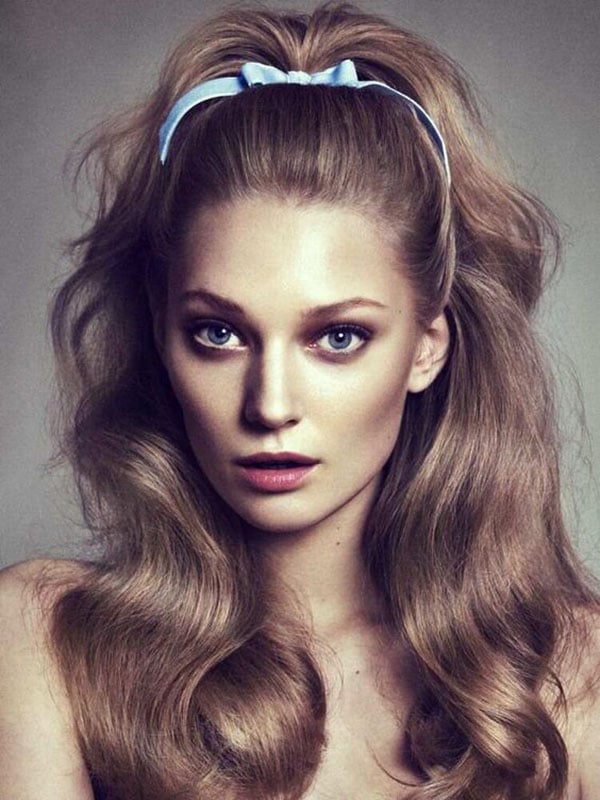 8. Light Brown Natural Hair
Light brown natural hair is pretty and eye-catching. Deciding to embrace your curls helps achieve a texturally interesting, voluminous, and structurally stronger look. Curly hair is versatile and never boring, and you can experiment with different ways to wear it. You need less products and fewer chemicals when keeping it natural. Plus, with all the volume, your hair demands attention for all the right reasons.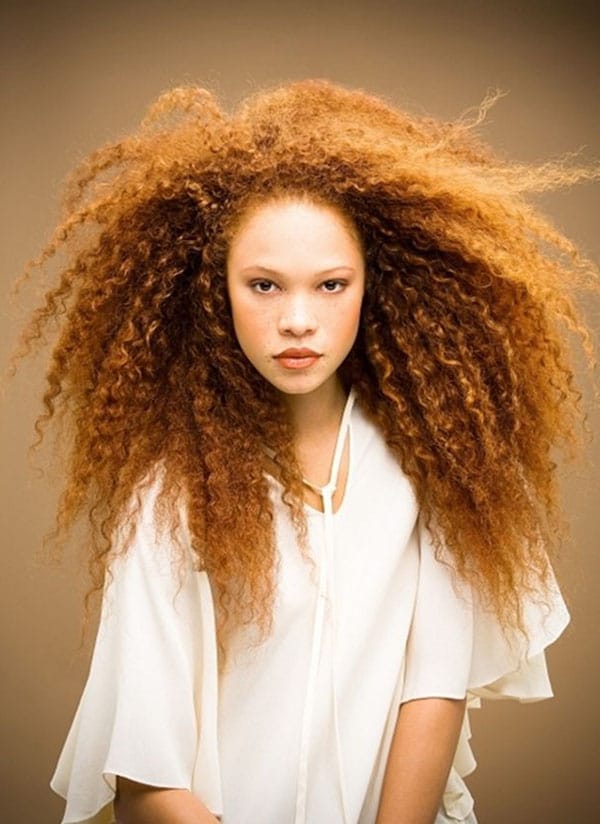 9. Light Brown Tips
For a fresh and updated appearance, you can add light brown tips to your hair. This versatile and easy-to-wear look doesn't require much maintenance yet adds dimension to your locks. Medium brown hair looks great when mixed with lighter highlights, creating depth and softness that perfectly frame your face. Deciding to lighten just the tips is also much easier to wear, cheaper to get done, and far less dramatic than opting for new color throughout, making this option very appealing.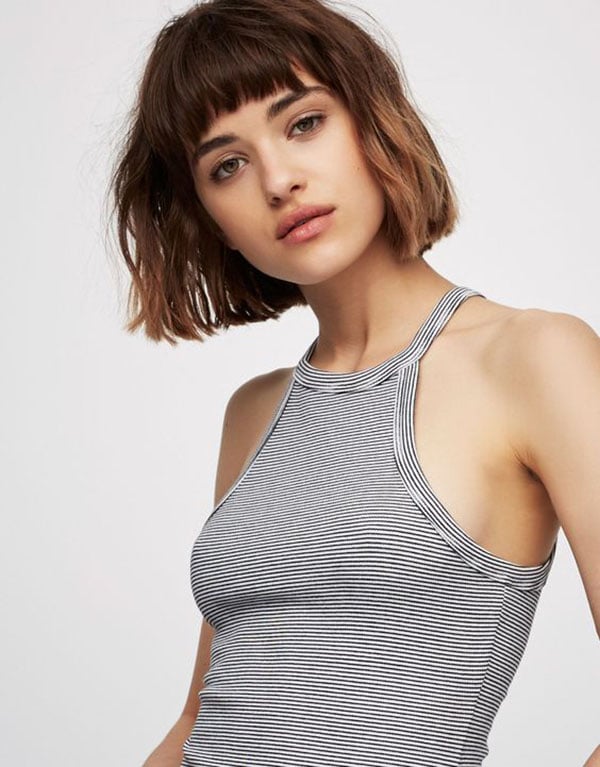 10. Black to Light Brown Hair
Black is a gorgeous color, but it can also be harsh to wear and make light complexions feel washed out. If you want to add a softness to the hue, this can be achieved by introducing lighter shades to it, like light brown. Light brown will add depth and dimension to the black hair and create a contrast. This is a more subtle approach to coloring than opting for lighter shades like blonde but will still lighten the hair and brighten your appearance.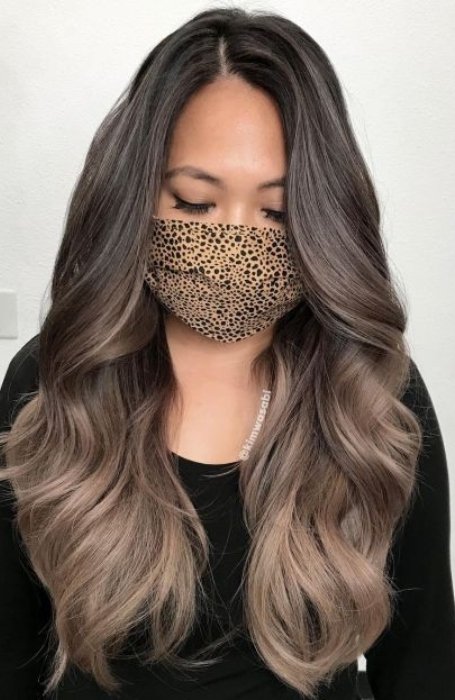 11. Light Brown Hair with Honey Highlights
Light brown hair with honey highlights is a wonderful way to lighten your hair without causing too much damage. The change is subtle, giving your locks life and creating depth and dimension, yet still being incredibly easy to wear and versatile. Honey is a warm and rich hue with a golden undertone, and it tends to be flattering on most skin tones. This is a fantastic option for the warmer months, and your hair will shine in the sunlight, but it is just as appealing for the cooler seasons, too. The softness of your hair color will compliment your features.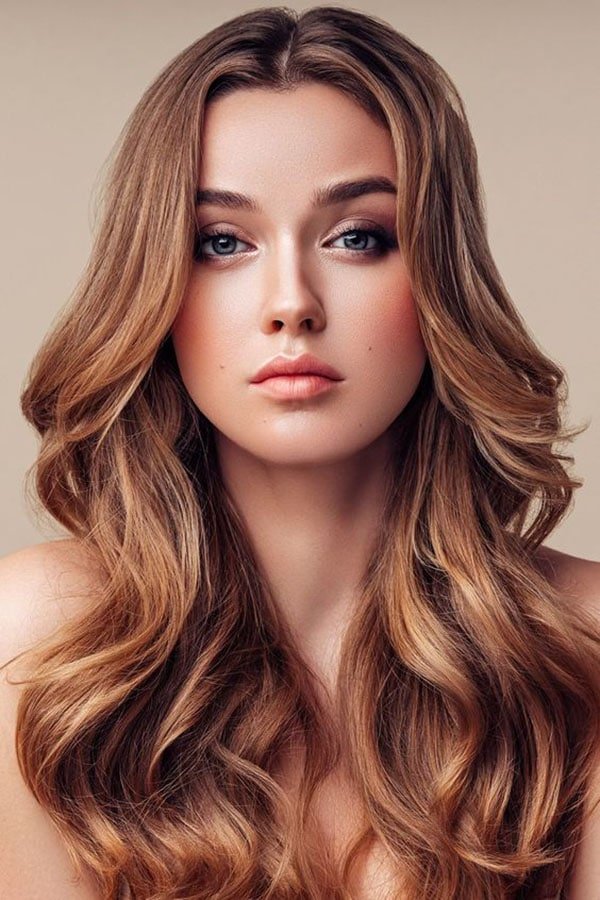 12. Light Brown Ombre Balayage
There are so many different techniques to try out with light brown hair, including ombre and balayage. Or, you could combine the two for a relatively low-maintenance look that is not quite as dramatic as if it were just balayage; the approach is more of a sweeping placement, while ombre is gradual. Rather than opting for a full head of highlights, the gorgeous thing about this option is that you do not need to stress so much about coverage on your roots. You also do not need to make as many regular trips to the salon. The result is a stunning, sun-kissed appearance, making it the perfect option for the summer months or if you want a little change.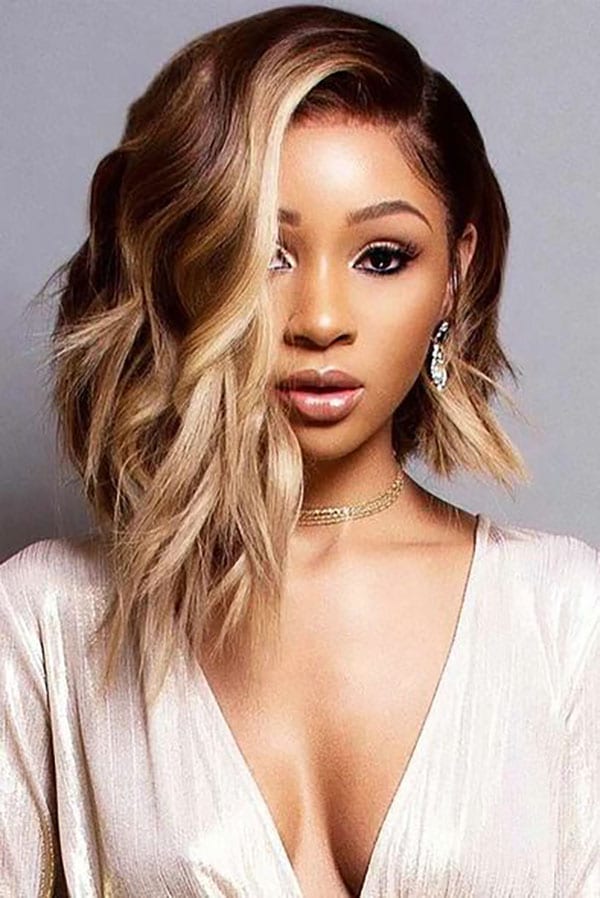 13. Light Brown Voluminous Hair
If you are a woman who wants to be noticed, then do so with light brown voluminous hair. Big hair can make a statement, and this is a look that is definitely going to turn heads. It adds movement, gives your hair lift, and it makes your locks look fuller. This creates a very effortlessly cool appearance.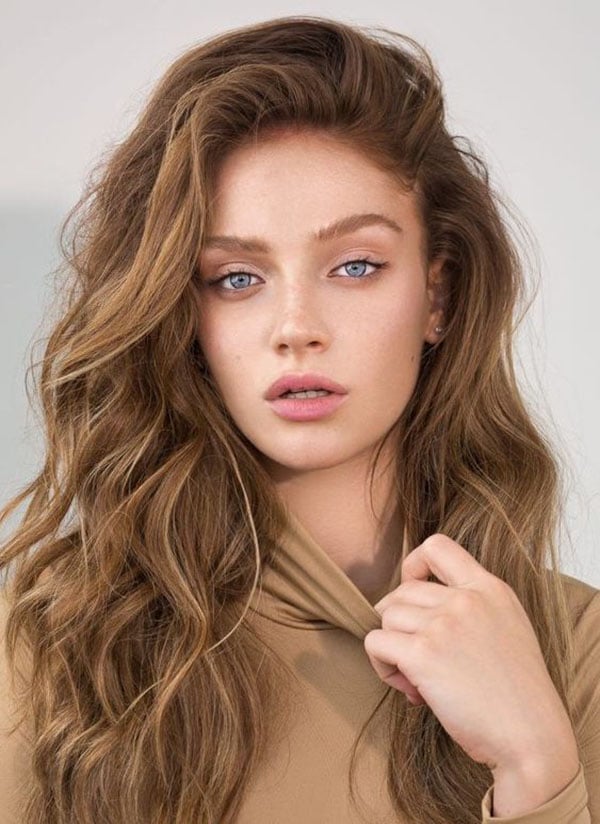 14. Light Brown Braided Hair
Depending on the braids you choose, they can have cultural importance and be a way to celebrate your ancestral heritage, but they are also a fantastic choice because they are a protective style. They can help prevent hair breakage and frizz and help lock in moisture. Braids are a way to keep your locks tame, and you don't have to worry about styling. In addition, they can also last a long time, making this a fuss-free option that can drastically reduce the time you spend styling and grooming; plus, they look fierce!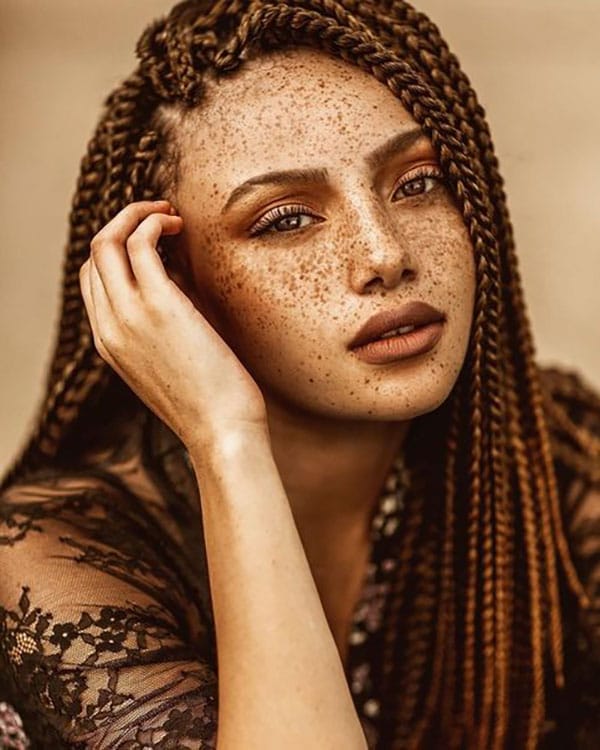 15. Light Brown Highlights on Natural Hair
Light brown highlights on natural hair are gorgeous. They can add depth and dimension to your locks, draw attention to your face, soften your features, and capture the light. Highlights are also appealing because they brighten up your base color and give you a fresh, new appearance. Adding them to your natural texture is an excellent decision because it can keep your hair healthy and strong; plus, you can enjoy the volume.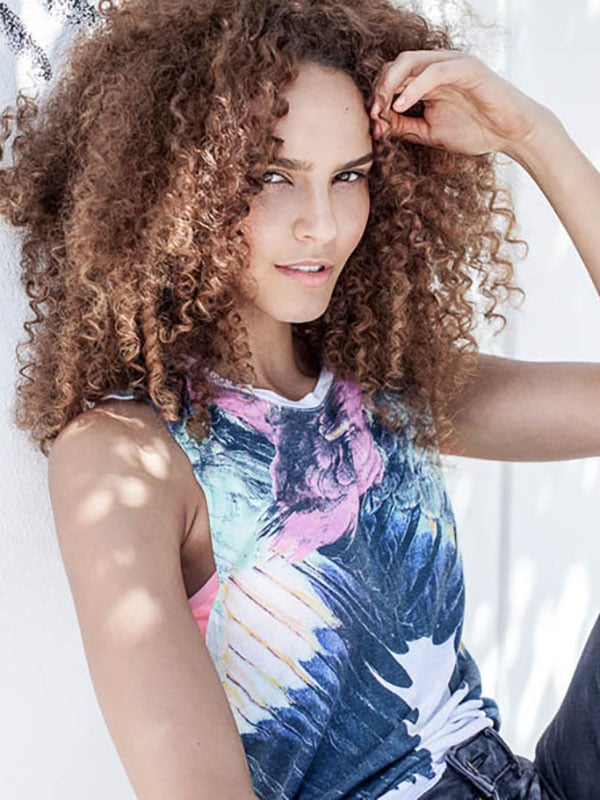 16. Light Brown Ombre Hair
Ombre hair is one of the most popular ways to add color to your locks because it doesn't require as much maintenance as a full head of color, and you aren't left with unattractive root hair growth. The technique creates a blending of color, often from dark to lighter shades, which looks lovely on all hair textures and suits various lengths. For a sun-kissed look, keep it subtle and only go a few shades lighter than your base color; alternatively, you can also opt for a more dramatic appearance. That is the beauty of this versatile and fun approach to hair color.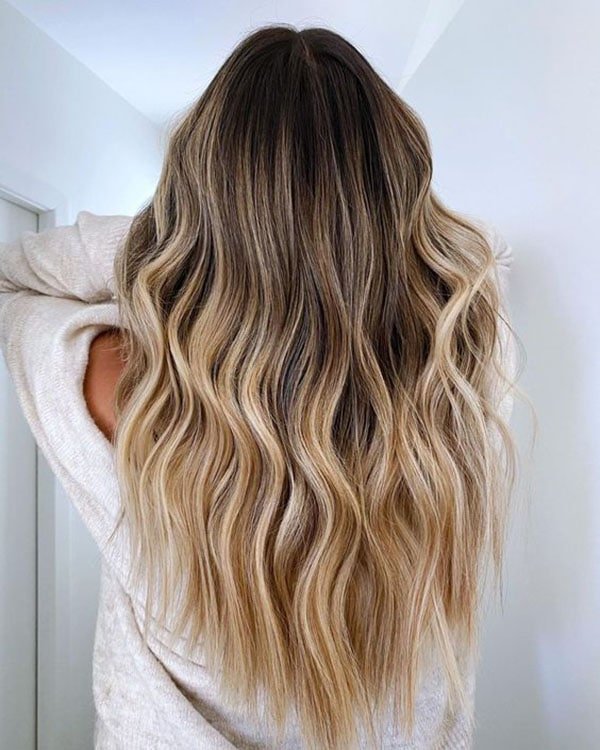 17. Light Brown Wavy Bob
A light brown wavy bob haircut looks pretty and romantic. One of the significant pros of wavy hair is that you do not need to wash it every day. Leaving it for a few days to allow for the scalps' natural oils to moisturize the hair creates even more definition and volume. Wavy hair is surprisingly versatile and works well on both long and shorter hairstyles. The bob is a classic cut, but creating it with more texture gives it an updated appearance. It is easy to maintain, timeless, flattering to most face shapes, and effortlessly chic. To draw even more attention to your features, opt for a pair of statement earrings to compliment your haircut.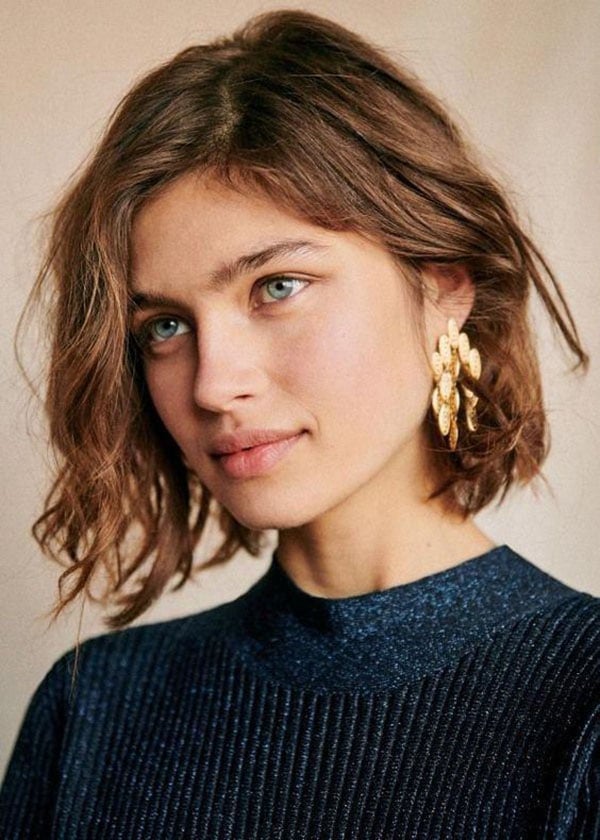 18. Light Brown Curly Hair
Hair texture can make even the simplest of looks interesting, and light brown curly hair is beautiful. The warm hue complements the hair, enhancing the texture. Curly hair is versatile and can be worn in a variety of ways. If you are all about the volume, then wear them loosely. You can also try out a half up and half down style or play around with accessories such as hair ribbons and headbands to keep the hair out of your face. Your locks will have great movement and be full of life, and this is a look that is bound to get you noticed.
19. Light Brown Highlights
Light brown highlights can lighten your dark hair and create depth and dimension. It is a fantastic choice for someone who wants to change their hair color without dying it completely. It can brighten your face and enhance your eye color. Depending on how dramatic you want your look, you can opt to only dye a few stands for a very natural appearance or go for a heavier approach. The choice is yours, and either result is stunning. Light brown is one of the most flattering colors for all skin tones.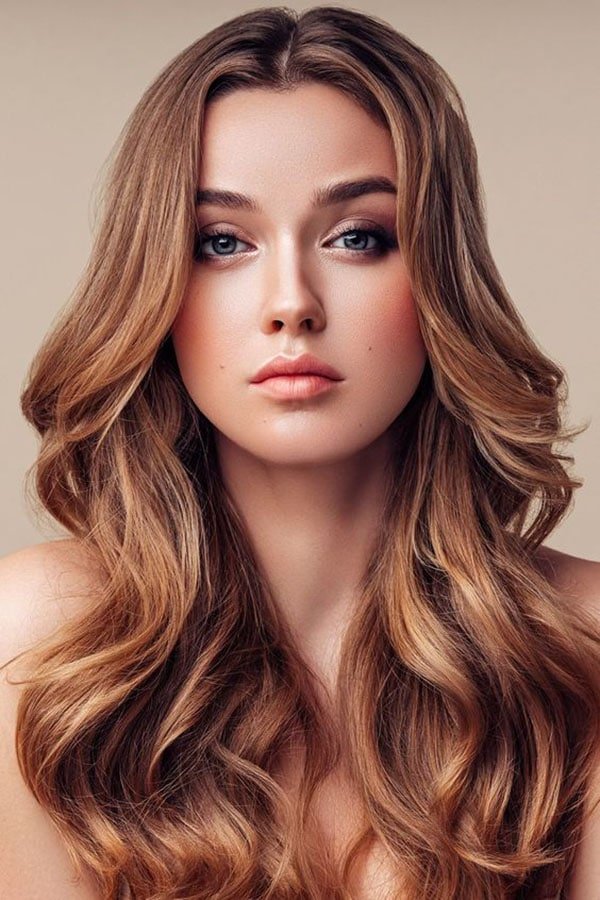 20. Light Brown Short Hair
Light brown hair is incredibly versatile and works with all hair types, textures, and lengths. It also suits most skin tones. On the other hand, short hair is a fantastic look for a woman who wants a low-maintenance approach to styling. Shorter hair can also be healthier, is less likely to have split ends, and make a powerful statement. It takes confidence to pull off a short style; it challenges gender norms, showing that you are not a wallflower.