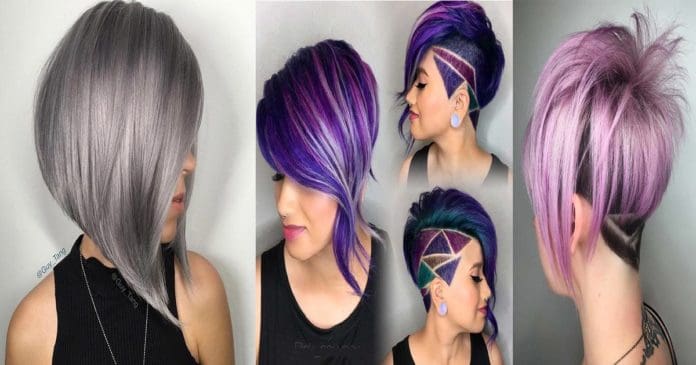 Short hairstyles for women ask little effort both in terms of styling them and caring for them, but yet you need to be creative to come up with a new look every day. To all the girls and women out there who ever got that weird look from their hair stylist that spelled out "What do you expect me to do on this short hair?"… to those girls and women with short hair, who ever felt a sudden rush of sadness walking in a hair accessory store… we got you! From a person that treats drastic haircut as a refreshment therapy, short hair is always like a tattoo… everyone keeps telling you that you will regret it, but you actually never do.
Moreover, you can actually get very creative with short hair and find dozens of ways to add a variety to it every now and then. So, for all the time you thought there is only one (two, if you're creative) hairstyle that looks decent on your short hair, we give you not 10, not 20, not even 30, but entire 76 short hairstyles for women, from bob to pixie to undercut to bowl-cut hair.
1. Blueberry Flavored Undercut
Let's start with one of the trendiest and absolute hottest (for both men and women) short hairstyles… the undercut! With a slight retro feeling to it, this style was killing it in the men's fashion scene for months. We, girls, kept looking at them with admiration, some of us thinking we can rock it way better than men… here's your chance! Grab it!
One of the drawbacks of wearing this style is that you'll have to be very dependent on hair products almost every day, especially if you have that uncomfortable hair pattern that is not straight and not curly… rather the baby of the two. The advantage? It looks sexy with absolutely every outfit, it helps you appear more confident and sophisticated. You can easily switch it up to punk and crazy, depending on your mood.
Now, the color really is an addition based on preference. The vibrant blue is more than mystique but don't be limited by it. Try out the colors that suit your skin tone.
@thecutlife
2. Short Bob Hairstyle, a.k.a. Outgrown Undercut
Although you can sit and wait until your undercut hair grows into a nice short bob, you can actually get it right away with a single visit to your hair salon. Instead of sweeping your hair backwards or sideways, bring it to the front stage.
Keep it messy and spiky, but not too much; you don't want to bring back the '90s Backstreet Boys look, don't you? This short hairstyle is a great way to hide a forehead that is not your strongest asset, or simply stressing out an intense eye makeup.
@thecutlife
3. Cotton Candy Pixie Cut Á La Victoria Beckham
What would happen if Victoria Beckham actually went cotton candy? Well, while none of us can think of a real-enough reason she would do it, we can still play with our imagination… and possibly even with our hair. How about a short spiky bob that has all the cotton candy colors that make your mouth turn into the Atlantic Ocean.
Start with breaking your hair free of any color, as that is the only way you will get this soft grey color in the back. Once the base color is set, balayage the front with purple and blue shades, and there you go.
Although short hairstyles for women never take too much time to take care of, you will still need to maintain the color, so make sure your hair doesn't dry out because of intense coloring sessions and, of course, style it like a pro every morning.
@beautsoup
4. Short Stacked Bob Glam
There is only a small range of short hairstyles that makes a woman look so glamorous and edgy. Short stacked bob is one of them. It looks great on almost all face shapes. And of course, it looks great for all lifestyles, whether you visit an important event every day or you end the day in clubs.
Most importantly though, you can actually style your hair yourself in only 15 minutes every day! It's a heaven that many long-haired ladies out there will get dead-jealous of. One final hint; add a couple pitch-black cat eyes and you're ready for a battle!
@aaanirac
5. Curly Bob Hairstyle
If you try to categorize women based on their haircut preferences, there would be two types: long vs short hair. Well, the process doesn't end there. In the category of short haircuts, there are women who like to keep their pixies and bobs sharply straight, and those who go for the romantic curls regardless of the challenge.
So, here's a curly bob that might make some passers-by take you for Rihanna… don't act surprised, get in the role and make your new friends happy with an autograph. Most importantly, make sure to use at least some hairspray on your curls, as you want them to stay fixated rather than playing a crazy game on your forehead.
@thecutlife
6. The Undercut Swipe
When you've got the unisex undercut, you've got it swipe it somewhere. No, it's not your Tinder profile, and there are no bad hair partings, as every side works well depending on your face features. An interesting reason why many women decide on a side parting is actually the shape and look of their eyes.
Now, this may sound creepy, but you can choose the eye you like the most (they do come in different shapes on the same face, did you know that?) and accentuate that one.
Most importantly, your hair will not stay spiked without a generous amount of hair product. If you want to keep your hair a hair spray virgin, pick a much softer look that is doable with the help of a blow-dryer.
@thecutlife
7. The Flirty Side Bang on a Bob Hairstyle
The most notable part of short bob hairstyles is actually not the bob, but the side bang. There's a magical power to that flirtatious curl that can last very long, if you have thick hair. I would never risk this style on thin hair, as the amount of hair product you'll have to use on that single side bang is just not worth it. Keep your hair healthy and the hairstyle relevant to your hair needs.
@tamiastyles
8. Purple Balayage Waves
As you start getting used to your short haircut (if you're a newcomer to the club), you'll realize that now you can do things with your hair that were never possible when it was long. One of them is that balayage highlights play an entirely different game when the hair is short.
Take the top layer and balayage it in a color that makes your day brighter… like purple! Now, you've got two options, keep the hair straight and it will look mostly purple, or have more fun by going for slight curls. This way, your natural hair color peaks form the bottom (just like on the roots), while the highlighted curls take up the visual effects.
@glamiris
9. Your Maroon #BobLife
Are you up for an intimidating bob that makes a statement wherever you take it? Then we've got a juicy one for you. This maroon shoulder-length bob hairstyle is not only slick, but it's also your signature. You can't walk unnoticed wearing this lady-like and sexy style.
Go for this short hairstyle, if you are comfortable with your face features and are not trying to hide anything. This bob will not only draw attention to your persona, but will also make your eyes or the lip color pop. Play the eyebrow game, it always works… always.
@mickeygonzalez_
10. Asymmetrical Bob Hairstyle or The New Edition Marilyn Monroe
If you curl up one side of an asymmetrical bob, you get a unique kind of Hollywood glamour, a variation of Marilyn Monroe charm. This detail works almost like a rule, as if you add a curl on a bob, it instantly becomes a playful tease. Add a bright lipstick and a sexy eye makeup and you've got yourself ready for the red carpet.
@salonchristol
11. Pastel Cream Undercut
Here's a short hairstyle for women that is soft and tough at the same time. The pastel pink and the creamy curves on the top are nothing less than soft and fragile-looking, but you will need to be tough to wear a color like this. It's a standard undercut, flavored with strawberry pink color, and slight curls on the top.
Instead of combing them in one single wave, you can stop on multiple waves. Comb the hair with your fingers if you need to. Finally, you can settle for a very light hair color that can be completed with temporary pastel shades every week or month.
This way, you can switch it up and avoid boredom from a single color (and also, hairstyle trends change fast, you know).
@salonchristol
12. Copper Curly Pixie Haircut
We've talked about pixie haircuts, in different colors and styles, but here's one that stands out for its fiery color. There's a special kind of charm that radiates from copper-colored people. It's a warm shade that is not only easy to achieve, but also easy to maintain. Why?
Because our hair has a tendency to show copper undertones when bleached! If the color suits your skin tone, go for it. Copper means no purple shampoos and regular color correction sessions. How great is that!?
@salonchristol
13. Short Bob Sunset
A big hair trend that is already going wild in the streets is the multi-color hairstyles. Here's a great sample and source of inspiration – a combination of pinks, violets, grays, and just a little bit of black on the roots. Most interestingly, you can wear these colors both straight and curled. They will look like the 50 shades of a romantic sunset in both cases.
@glamiris
14. Curly Bob Hairstyle
Pixie doesn't always mean super short. Sometimes it's a mix with a short bob, topped with a delicious color… just like this one. Wavy pixie bob looks great when curled up. Make sure to keep your roots natural to enjoy low maintenance and avoid looking like a balloon explosion.
If your face shape is round, think twice before you ask your stylist for this look. You will end up looking like a blueberry donut.
@iamjaelroumain
15. Classic Pixie Haircut
If you're a hair nerd, meaning you know exactly what short hairstyles were in trend in recent decades, you'll recognize this classic pixie cut. It seems like this look has sneaked into every decade and somehow managed to stay popular.
It's less challenging than the undercut, much softer than the sharp bobs, and more elegant if you add this strawberry blonde color instead of a vibrant blue. I just gave you three reasons to pick this style, what are you waiting for?
@salonchristol
16. Curl Your Pixie Up
You know there are no limits to curls, don't you? Even if you have a short haircut, a pixie cut to be more specific, anything except no hair at all (well, wigs on stage, please!), you can curl your hair up a few volumes, because it looks sexy today.
We talked about waves and slight side curls on bobs, but this one is much more fierce than what you've seen so far. Don't aim for a single direction, let your hair fall free and develop the curl in the direction it wants. Style just a little after the hairstyle to make sure it's still practical to wear during the day, and you're ready to go!
@miishamae_
17. Bob Turned into Pixie
I have done this too many times. Can you please keep my back pixie, but give me a bob front? A sentence that confuses so many hair stylists and excites so few talented ones!
The best part of this mash-up is that you can actually choose to go with a bob or a pixie every day. It's either a straight A-line bob or a curly pixie. Tough choice, we know! But there are so many days ahead of you, start experimenting now!
@stylesbylexx
18. Side Undercut Pixie Hairstyle
Here's a variety of an undercut with a side sweep. Curl up your hair with a wide curling iron, sweep it right or left (whichever one feels the prettiest), and keep the other side clean. Add some art with your razor, if you want an extra topping on your whipped cream. It's hardly ever too much when it comes to undercuts.
@makeupbyadaniamarie
19. Long Flipped Pixie
If you're going blonde all the way, why not stop at gray station for a while? Presenting this badass pixie haircut with notes of gray on the sides, while the top is ripe with juicy blonde. If you can curl the top up, you might end up with a more feminine and elegant short hairstyle, but this one is all about showing yourself as a tough and edgy fashionista.
@princessstiefel
20. Milder, Softer…
If you liked the previous pixie hairstyle, but can't dare that much, here's another option. It's a much softer, milder, and more feminine version of short hairstyles women can wear to express their personality while keeping the same amount of sophistication and grace.
It's basically an undercut, with super short sides a generous amount of puff on the top. A key element: don't forget to keep your sides darker than the top. If you have a naturally dark hair color, leave it at that and spice up the top with heavy balayage highlights.
@silviagullon
21. Chic Boycut with Gray Highlights
I have always admired the subtle elegance that gray hair radiates. And it doesn't come only with age; it also comes with a very good hair stylist. If you're ready for some vampire dark or vampire pale colors in your wardrobe and makeup, you are almost ready to sport this hairstyle. It is an undercut, with dark sides and a purple-based and pink flavored gray. A true elegant cocktail you cannot refuse!
@prettyfacesxo
22. Pink Wispy Short Bob Hairstyle
Sure, it can be the plump matte lips, or the eyes (oh, those eyes)… But it might also be the color… wait, there's more than one, there are many colors in one hairstyle, just the way we like it. Take the pink, which strikes the eye the first, then the orange undertones, violet highlights, as well as the gray bottoms. A hair color that could easily find its wall space in a modern art museum… your hair stylist had better be an artist.
@curtostendencia
23. Pixie with Purple Side Waves
All these subtle highlights and color mixers are great, but let's add some stability and fun to classic short hairstyles. How about this gray-based purple hair? A very hard shade to maintain (prepare a monthly budget for hair products), but an absolute trendy one!
Not very edgy, because it's not an undercut, not very feminine, so you can play the tomboy style game… is this what you were looking for? A mix of everything?
@curtostendencia
24. Fringed Bob + Fire!
Ok, enough of cute and bold pixies and undercuts for now. Let's get back to some bob hairstyles. Although not the trendiest choice you can make now, this hairstyle still caught our attention.
Guess what, just when everyone is betting on pastels, vibrant blues and reds, grays and violets, you might score big time with this beautiful copper bob that would make the news in the Roaring Twenties. Bangs can be a preference, so always consult your stylist before making the big bang mistake.
@curtostendencia
25. Spiky Bob, So Very Posh
If there's something so posh you can't help but stare, it's the spiky bob we've seen on Queen Posh herself. Victoria Beckham's signature look doesn't look great only in brunette. Here's an alternative in blonde that we absolutely love. It's glam, trendy, edgy, and feminine at the same time.
It goes well with a tight black evening dress and a casual white T-shirt. You wouldn't be wrong if you called this a style for every occasion. Want to test?
@krissafowles
26. Gray A-Line Bob Hairstyle
Have you ever had a haircut so sharp it could give the people in front of you paper-cuts? Well, if you give very precise instructions to your stylist, he can give you one of those. Here's one, to give you an idea. Ignore the puff on the top, it's designed to make your hair look full and also suit your head and face shapes.
You can alter the puff as you please, but the sides are a masterpiece. Top that with the trendiest color at the moment, ashy gray, and you've got a pretty dangerous hairstyle.
@guy_tang
27. Punked-Up Pixie Haircut
Punk never goes out of style even in terms of short hairstyles, proved and tested. And this is an awesome punk pixie hairstyle from us to you. Enjoy! It's very blonde, so prepare your hair for extensive bleaching. The roots, however, are showing a dark shadow… otherwise it would be just another blonde undercut, wouldn't it?
@your.style.1
28. Let the Inner Tinker Bell Out With This Razor-Cut Short Bob
Each one of us has an inner Tinker Bell; don't even try to deny it! Why don't you listen to that voice once in a while and get this cute pixie hairstyle. If you think it's a hard to maintain style, let us cheer you up and say that it's actually very easy to take care of it. The straightening won't take much time as the hair supports itself and there are very few chances your work might get ruined throughout the day.
@soraverly
29. The Pixie Undercut
Have you ever seen a pixie undercut? Well, we know the razor-sharp undercut, and we know the cute pixie. So, this is what their baby would look like. Dark-colored edgy sides topped with a fun and creative pixie.
Want to add more to the style? How about the red, fuchsia and blonde highlights? Looks like your fruit salad you had for lunch and there is nothing bad about it!
@scixxorhands
30. Smokey Pixie Hairstyle
You are welcome to cheat if the gray color just doesn't suit your complexion well. We don't choose our skin tone, true, but we get to choose a number of ways we can achieve what we crave. So, if full-head gray doesn't cut it, get a smokey look.
You get to keep your dark sides and roots (they frame your face and contrast your complexion) and you still have to see that gray batch of hair every morning when you wake up! Sweep the hair to the side, or curl it up, or turn it into a flirty pompadour, your call!
@katiezimbalisalon
31. The Rainbow Pixie
You know when your stylist gives you a palette and you just can't make up your mind on one color? Well, there are people among us who just go for all of them, because… well, because why not!
We doubt that Lena Taryanik's hair color is an accident or a failure to make a decision, but it does look very unique on short hair, nothing we've seen in the trendy top lists of short hairstyles so far. A little green there, a little red there… a lot of pastel baby blue on the top, and all that goes on a short pixie cut. Pretty doable, as you see!
@beautybylena916
32. Midnight Blue Boycut
You probably noticed we love the midnight blue when it comes to hair colors. You should too! But before you go get a full blue head, remember this. Your look will be softer if you ask your stylist to paint your hair, not dye it. Yes, you read it right.
Ask your stylist to take that brush and paint vibrant midnight blue all over, with the exception on the sides. Highlight the sides with lighter, more pastel-like shades. Color layers are a thing, in case you missed it.
@katiezimbalisalon
33. Bold Buzzcut
So, you think you're pretty bold when it comes to picking short haircuts? Are you sure? Well, we give you a challenge then. This buzzcut hairstyle is so unique it's bordering art! Notice the exquisite pink fade on the top, that's the cherry of this cocktail.
@katiezimbalisalon
34. Berry Sanchez Pixie
Here's another berry look we love! Proudly worn by Katie Sanchez, this adorable undercut is all about the mess in the style and the colors. Your hair will look like a strawberry, very light gray on the ends, slowly turning purple and finishing with natural ripe black!
@katiezimbalisalon
35. Youthful Long Asymmetrical Pixie Hairstyle
Sometimes, the simplest hand movement can do the job of a few stylists. Get a cute pixie bob, but forget the extravagant color options. Instead, tuck one side of your hair behind the ear, and comb the other towards your face. Fixate it in place, and do a few additional combs with your fingers.
If your hair is not super curly, you will be able to achieve the look after an easy blow dry. But look how effortlessly adorable it looks!
@curtostendencia
36. Cute Bowlcut
Do you remember the Fire Banged Bob (refer back to 24th point, if you don't)? If you took the bob out, and left the bangs and the fire copper color, this is what you would end up with. This bowlcut still looks pretty unique, doesn't it?
@malenstwo_if
37. I'll Take It All Pink
If you're one of those girls, who like to take their hair pink… like, really pink, then this pixie was meant for you. Remember the new hair color trend? Always keep the color diverse. Even if you really… really want it all pink, add some strips of white on the edges and we guarantee it will look more charming!
@spiritualquartz
38. Pastel Bob with a Back Hair Tattoo
A new trend that's sweeping all over Instagram might get you by surprise… and that's the purpose. The hairstyle is an undercut… literally an undercut. Want to flash someone with you hair? Pull your hair up and reveal the image on the back of your head. It can be a kitty, batman, your own name, phone number, and… your imagination is your limit.
Don't think it's only for color-maniacs. The same trend is seen on many blonde or brunette hair, without any color additions.
@alternativexfashion
39. Glam Gelled Pixie Hairstyle
We know, not everyone looks great in pancaked hair, the puff is always a preference based on face shape. So, for those who like the sleek and glam look, here's a pixie cut with a fair amount of hair product. Looks like you could use a tight evening dress.
@hashtagpixiecuts
40. Final Pixie
It's time for the final pixie on our list of stylish short hairstyles for women. This captivating short pixie sweeps to the side, while the other one was taken care of with a sharp razor cut.
Here's a tip, this pixie will actually work great even if your hair is thin. It helps the hair build up on itself, increasing the volume and shine.
@hashtagpixiecuts
41. Buzzcut Season
Buzzcuts are not reserved for military personnel and people sick of their dreadlocks! This is the shortest of the short hairstyles. I adore this daring buzzcut for its simplicity – no need for hair dye, and definitely no need for styling, although a fierce eye makeup and copious jewelry help keep everything feminine.
@buzzcutfeed
42. Magenta Ombre Lob
Magenta is such a beautiful color, and if you choose a semi-permanent color it's a great way to get experimental without taking too big a risk – your brown to magenta ombre will turn into a brown to blonde ombre in no time! The gentle layering makes the whole look appear gorgeous and effortless.
@glamiris
43. Ocean-Punk Balayage Undercut
This look is all about the punk rock. From the sassy undercut to the shades of blue and turquoise to the "don't mess with me" bangs over the eyes, it's all about the attitude. You could rock this short haircut without the crazy colors, for a little less attitude, or amp it all up by keeping the colors and gelling everything up.
@glamiris
44. Curly Sideswipe Fringe
I really dig short haircuts on natural hair. If your hair is naturally curly, one way of rocking short hair is by keeping one side very close cropped, having an extreme part, and letting most of your hair fall over to the other side. As you can see here, the result is very feminine and flattering.
@samihairmagic
45. Pint-Sized Pixie Cut
There's more than what meets the eye with this cute, classy pixie cut. The side was kept a little longer than normal, which balances out the jawline and ensures a more elegant grow out.
The bangs are the real secret here – you can swipe them off to the side to show off your brows and forehead, or you can let it fall over your eye for days when that winged liner just wouldn't be symmetrical, or when one eyebrow isn't on fleek.
@nothingbutpixies
46. Gold & Bronze Lob
What's a lob, you ask? A lob is just a shortened version of long bob – it's one of the best short hairstyle ideas for anyone who's nervous about going too short. These gorgeous golden brown and bronzey caramel highlights are reminiscent of precious metals and antique jewelry. This is a perfect transition style between summer and autumn.
@glamiris
47. Analog Diamond Undercut
The color selection in this geometric undercut is out of this world. The turquoise, indigo, and purple create an awesome analog color scheme, and the diamond shapes cut into the undercut are really cute and clever.
Sweep the hair over to one side to show off green-blue roots, or to the other side for a subtler white, lavender, and purple balayage. Like in many other short haircuts, the fringe was kept long to avoid a masculine look.
@pink_nouveau
48. High Class Undercut
There is just something about this blonde fringe that screams money. It might be the way the elegant way that the brown undercut contrasts with the blonde fringe, or just the fact that the hair is just so healthy. That undercut is actually not shaved too close to the head, which also lends certain softness to the whole look.
@nothingbutpixies
49. This Hair Is on Fire Messy Pixie
This is one of those short hairstyles that make me think of art students, or maybe a high fashion mad scientist. The sides are kept close-cropped, the bangs are brushed forward neatly, but then on top of the head there's some really fun teasing happening! The copper and blonde colors would still stand out, even with less playful styling.
@nothingbutpixies
50. Split Complementary Punk Purple
A good color technician can give you really vivid colors. A great color technician can intuitively put together colors to create a really cool split complementary color effect, like it had been done with this combination of indigo, magenta, and yellow orange.
With short hairstyles, like this layered bob, sometimes it's more difficult to get such perfectly balanced and spaced streaks, so if you want to go for a style like this make sure your hair stylist is a coloring master.
@wesdoeshair
51. Platinum Pixie
This pixie styling is a little messy, but it totally works because the hair is just so feathery light. It looks touchably soft and healthy, despite the heavy duty bleaching. I love that the roots were kept a little darker; it's definitely one of the better short hairstyle ideas that caught on lately.
Pair this hairstyle with a shimmery highlighter and a lot of mascara, for a fairy princess kind of look.
@nothingbutpixies
52. Orange Raspberry Sorbet Swoop
There are two ways to wear this fiery short haircut: comb the bangs down for a neat look, or mess 'em up a little bit with your hands for an impish style. Pale orange with bright raspberry touches is totally reminiscent of a delicious, fruity dessert. It's a really fun, playful look.
@hairbyhaleyb
53. Lavender Bangs with a Geometric Undercut
This two-tone look is clever, modern, and fashionable. That shade of lavender is not easy to pull off, but if your have that perfect neutral skin, and mod fashion habits, I think it's totally worth trying.
Longer bangs at the front keep short haircuts lady-like, but a cool geometric undercut makes sure no one mistakes you for anything but on point.
@presleypoe
54. The Silver Monroe Pixie
The past and the future come together in this gorgeous cut! For anyone who's been hiding under a rock the past year, silver hair is the new big thing. This lovely short hairstyle is really flirty thanks to Marilyn Monroe-style curls, but that futuristic silver color makes sure you're not confused about which era you're in.
@presleypoe
55. On the Wings of a Butterfly Undercut
This butterfly undercut is a masterpiece of color design. This is one of those short haircuts that has to be executed by a true hair styling rockstar. Mint, green, and blue make for a gorgeous related color scheme that's sure to please.
That glitter is sure to wash out, but it'd make for an awesome accent for a night out. With this kind of top-heavy pixie cut, you can really have fun with different products, and creating different textures. I love the messy layering they chose here.
@presleypoe
56. Cutting Through the BS Buzzcut
Sometimes the best way to say "don't mess with me, punk" is through killer short haircuts. The lines cut into this buzzcut create really standout geometric shapes, which work out really beautifully with the blue to purple gradient that the hair was dyed.
One more thing I absolutely adore about this cut is the really clean hairline at the neck, sideburns, and forehead.
@wesdoeshair
57. Spikes on Blonde
These spikes go woosh! I really love the combination of dark roots with blonde tips here. These spikes manage to bridge a gap between edgy and feathery, and when paired with eye brightening makeup and clever contouring, this look ends up being really fresh and young.
For a more subdued look, this kind of short hairstyle can always be brushed forward or to the side.
@nothingbutpixies
58. Ash Brown Mini Mohawk
A mohawk really doesn't have to be one of those extreme short haircuts. The length of the spikes here is about medium, but they get progressively smaller towards the back of the head.
The ashy brown hair is understated, and prevents everything from moving towards an aggressive territory. Paired with a strong brow, this look is refined and modern.
@nothingbutpixies
59. Magenta to Lavender Balayage Lob
Unf – those magenta roots, and the soft streaks of lavender and purple are just dreamy! This look is like a frolic through flowering fields, especially with the feathery soft curled ends.
As far as short hairstyles go, this is more of a long bob, which is great for anyone who's a little nervous about going straight to bob or pixie.
@glamiris
60. Swoopy Side Bangs
I really don't think there is anything more feminine than really lush, thick side-swept bangs – no matter how short your hair might be! By keeping the hair gorgeously dark, this look reminds me of a '60s movie temptress.
Another cool thing is that it kind of looks like half a bob, and there are a ton of different ways it could be styled.
@thecutlife
61. Curly Bowl Cut
When's the best time to rock a bowlcut? When your hair is so curly that it doesn't even look like one! These curls create a super youthful effect – so youthful, in fact, that I think this short hairstyle would go really well with some fake freckles. By keeping the curls large and hydrated, this look stylishly softens sharp features.
@hairbyac_alcorn
62. Ultimate Mermaid Ombre Lob
Blue, turquoise, and green are the ultimate marine life color palette. This ombre long bob is a way of making yourself feel like a gorgeous mermaid, without having to maintain super long hair. Clever layers and good use of a large curling iron mean you can even replicate the ocean's waves.
@glamiris
63. Ice Queen Undercut
This shade of silver-blue is the sleekest color around. The soft, healthy, metallic finish on the fringe reminds me of dangerous mercury. The closely shaved undercut shows the kind of daring only worthy of the most lethal femme fatales. While some short hairstyle ideas say "don't mess with me", this look grins and says "mess with me, I dare you…"
@thecutlife
64. The Shark Cut
I love it when hairdressers get creative with both the undercuts and the layering on top. I can't decide if I dig the way the color was integrated into the shaved lines more, or the way that after each shaved line the next hair shape is shaved a little closer and a little closer to the skin.
The spiky blue top is very fashionable, and actually kind of reminds me of a shark's fin, as it peeks through the surface of the water in a Steven Spielberg-directed horror film.
@presleypoe
65. Minimalist Ombre Lob
This look exemplifies all of the convenience of both long bobs and ombre hairstyles! The top half of the head is kept your natural color, which means that you don't have to worry even a little bit about root touch-ups.
The length is perfect for anyone who's too lazy for most high maintenance short haircuts. You could just wear this hair for months, and let the lob grow out into just plain ol' long hair.
You want a fashionable short hairstyle, but almost a minimalist lifestyle? This is the hairstyle to get.
@nothingbutpixies
66. The Daenerys Targaryen Bob
Are you as addicted to Game of Thrones as I am? You can channel your favorite dragon queen, but still stick to short hairstyles! All you have to do is get your hair dyed platinum blonde, make sure it's layered a bit – especially at the front to give definition to your face, curl it with a medium sized curling iron, and spray it with a sea-salt spray. Voila, you're the Khaleesi for the day!
@nothingbutpixies
67. Blondy Mop Top
The dark brown to blonde gradient in this fringe is classy, but the incredibly unique texture and by far the closest undercut I have ever seen in my life bring this look to a much more sassy place.
By brushing the blonde fringe up and to the side, you can create a cute comic-book character effect. The reason why this really works is that the pieces of the hair are on the chunky side, and they seem to move really dynamically upwards.
@thecutlife
68. Bubble Gum Stacked Bob
The stacked bob is one of those excellent short hairstyle ideas for anyone who's a little nervous to make the switch. You can keep the front as long as you like, so the effect of long-ish hair doesn't disappear, and then take off all the excess weight from the back.
When the hair is straightened like this, the effect is modern and chic – like the sharpest of Vogue editors. In this case, a shock of bubble gum pink dye prevents this style from being too severe, and the dark purple roots prevent it from looking too much like an anime cosplay.
@glamiris
69. Mystic Sea Glass Color Melt
Throw a green piece of broken glass into the ocean, wait a few years, and it might come out looking like this gorgeous short hairstyle. Really gorgeous dark aquamarine roots melt into a pale minty-turquoise that's worthy of any island vacation. Wispy strands at the front gradually get long towards the end, making for a layered bob that would suit almost all face shapes.
@glamiris
70. Curly Blonde Pixie Power
This curly fringe is one of those short haircuts that never get boring. Brush it whichever way you want, or style it with a different product every day, and you'll end up with dozens of different short hairstyles all in one.
Doing a balayage on such short hair is no easy feat, but here the hair was dyed expertly – sun-kissed locks of hair frame the cheekbones beautifully.
@sarah_louwho
71. Unicorn Candy Explosion Style
This is the short hairstyle equivalent of going crazy at the candy store! You get excited by all the colors, and grab fistfuls of bubble gum, sour patch kids, and lemon drops. Before you know it, your head spins from all the sugary sweetness.
With this hairstyle you can avoid the toothache, but keep all the excitement. You'll need a great hairstylist to achieve such bright shades of pink, neon green, and mint, but it'll be totally worth it.
Also, pay attention to that undercut peeking through all the curls – sleek that fringe back and that high-energy look will suddenly become a lot more sophisticated.
@hairbymisskellyo
72. Beachy Balayage With a Middle Part
It's definitely all about the middle parts this season, and this long bob exemplifies it really well! Sometimes this trend looks a little too '70s, but thanks to a masterful blonde/brunette balayage, and some shoulder-length layering, this is one of the better executions of the trend. The sun-kissed hair color is perfect for a romp on an exotic beach.
@acaciabrinley
73. The Granny Pixie
Metallic shades of white are all the rage right now! This ain't your great grandmother's white hair though – it's shiny, modern, and healthy-looking.
The short haircut is another beautiful variation on long bangs, and an undercut. However, unlike many other short hairstyles we've seen, even the close-cropped hair was dyed platinum white, which means this look will require a lot of maintenance. It's really beautiful, though, so it might be worth the bi-monthly touch-ups.
@thecutlife
74. High Fashion Silver Pixie
This is a really sophisticated take on the granny hair trend, and thanks to natural roots it's much easier to maintain than previous short hairstyle ideas. The silky-soft straightened fringe is very wintery, and if paired with a red lip and gold eyeshadow, you could get a lovely Christmas-themed look. It might be a little early right now, so you have a few months to start progressively lightening your hair until you can reach this peak level of silver hair.
@thecutlife
75. Chestnut Chocolate Textured Bob
This is a really fun version of a classic short hairstyle! The layers of hair are cut in a piecey, textured way that makes the hair look full and voluminous. Sometimes bobs can appear too severe, but the layering here creates a spontaneous, messy look that is a lot more wearable.
If you look closely, you realize that this is actually a really subtle balayage, with dark chocolate brown and chestnut shades.
@salsalhair
76. Copper Leaves on the Beach Bob
Are you looking for short hairstyle ideas to take you from summer to fall? Copper might be the perfect way to go! Whether you're a blonde wanting to go darker, or a brunette wanting to go lighter, this shade of copper will be perfectly warm and cozy.
The natural roots mean that growout will be painless, and the beachy waves keep things appropriate for those rare warm autumn days. So what are you waiting for? Just grab your pumpkin spice latte, and cardigan, and get going to the salon!
@hairsouffle