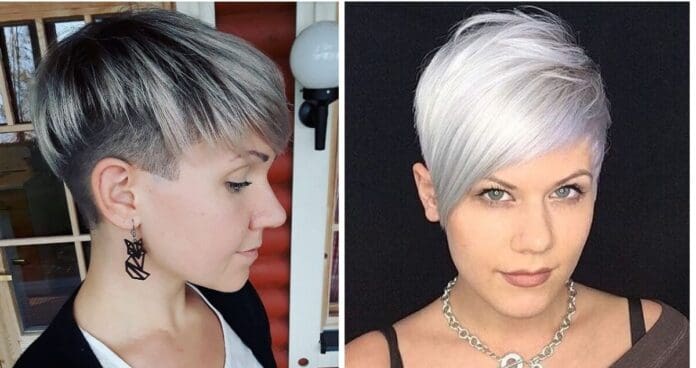 Stylish women know that as the seasons change, we need to re-evaluate our hair color. Summer golden blonde can look cold and tiring on grey autumn days. Adding a hint of burnished copper in the fall is a great way to add warmth to pale winter skin. And if you have blue or green eyes, why not complete your look with an icy blue, green, or silvery blonde for a party? Short haircuts make it so easy to change color! Check out the latest trendy hair colours and plan your fabulous color update here!
Chic copper messy bob – short hair color for female fashion fans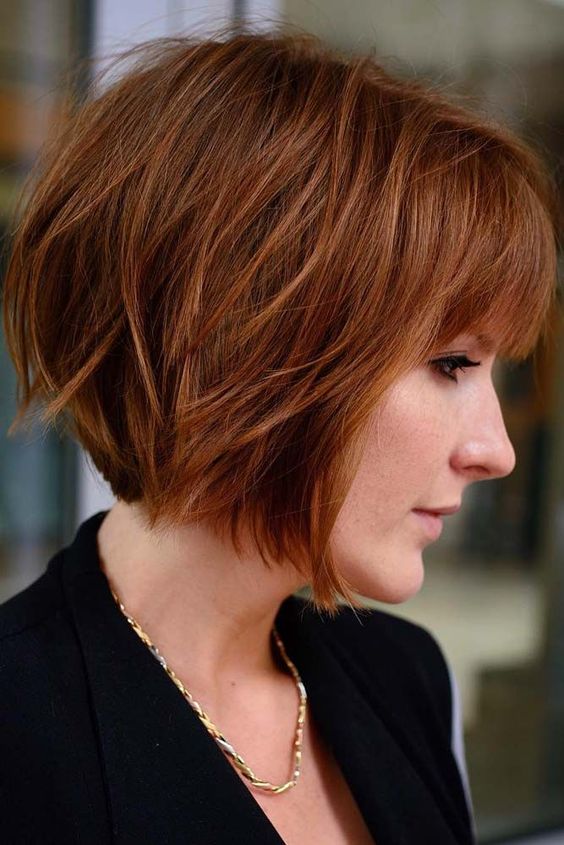 Credit
Here is a super trendy look suitable for fine to medium hair. This is a very stylish version of the currently trendy rich copper hair color. Short hair with cut side layers lends a messy vibe to the edgy, breezy texture. Deep straight bangs draw attention to the eyes. And a subtle balayage of a lighter copper tone adds three-dimensional color depth and a very natural look.
Pink & peach pixie with bangs – short hair color for female fashion fans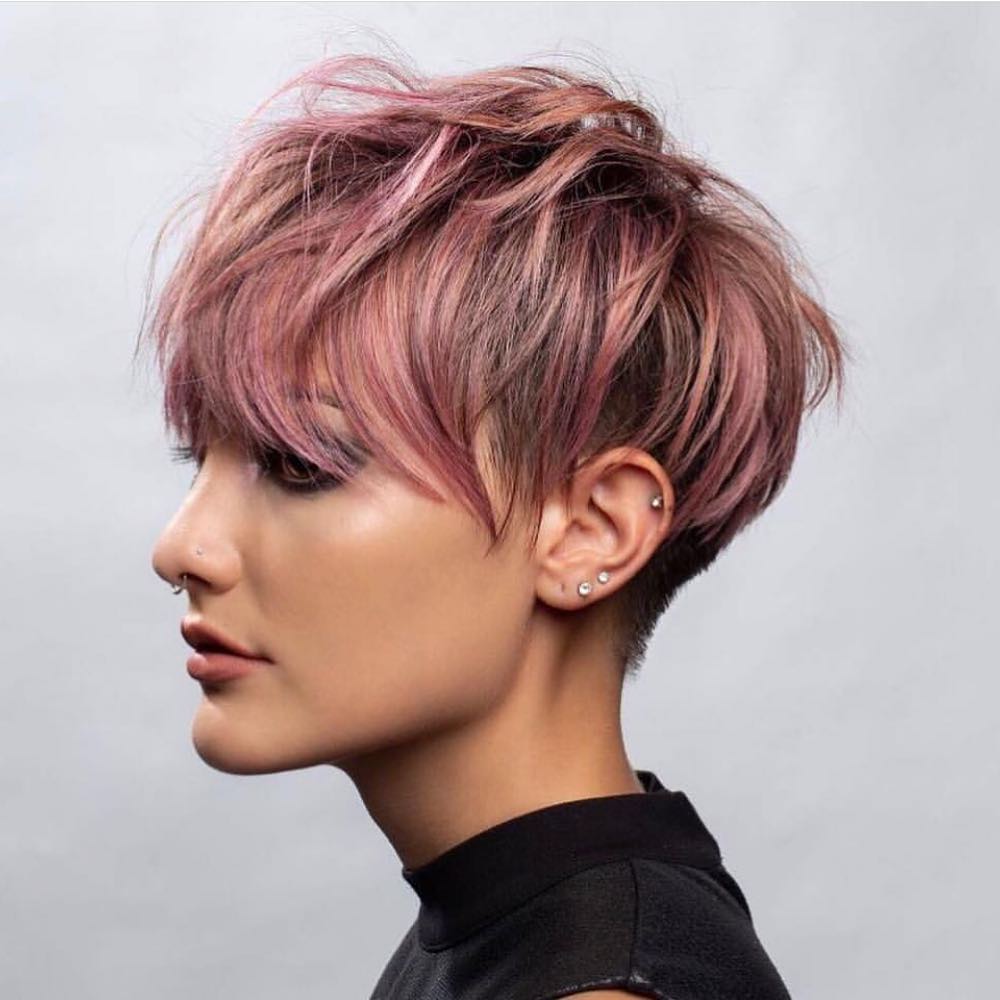 Credit
This model has a golden complexion, which is skillfully emphasized by fashionable pink and peach tones. While pink is technically a cool color that suits cool complexions, this artfully blended short hair design pairs with warm amber. Thus, both warm and neutral complexions look great in this trendy pixie style. Certain strands give volume to fine hair.
Cool ice-blue pixie – short hair color for female fashion fans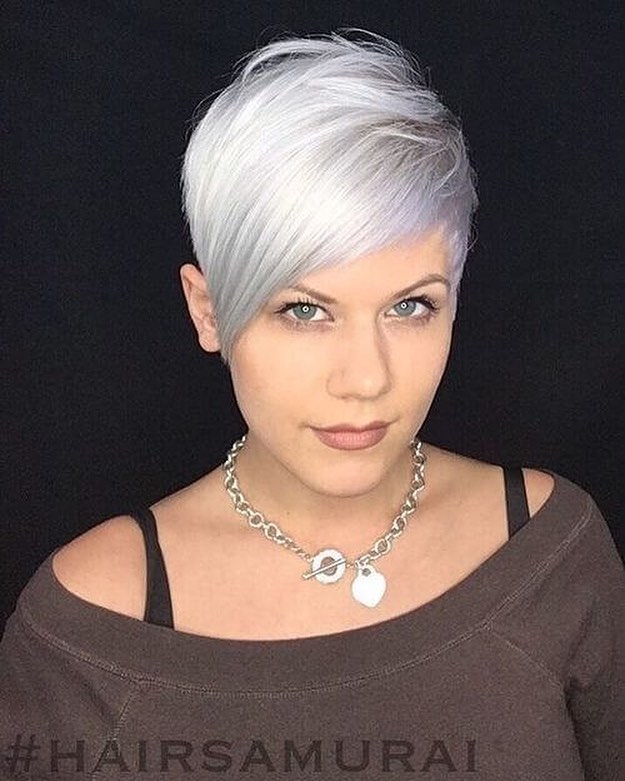 Credit
Adding a hint of blue-green or purple to a platinum blonde will instantly add tons of modern style! This pixie's sleek, geometric shape is broken up by shorter layers that add volume and texture on top. Slanted bangs suit a long face, while shades of blue suit anyone with blue, green, or grey eyes. This beautiful pixie has longer layers that frame the eyes and bring out their colour. Suitable for fine and medium hair.
Blue roots & silver pixie – short hair colour for female fashion fans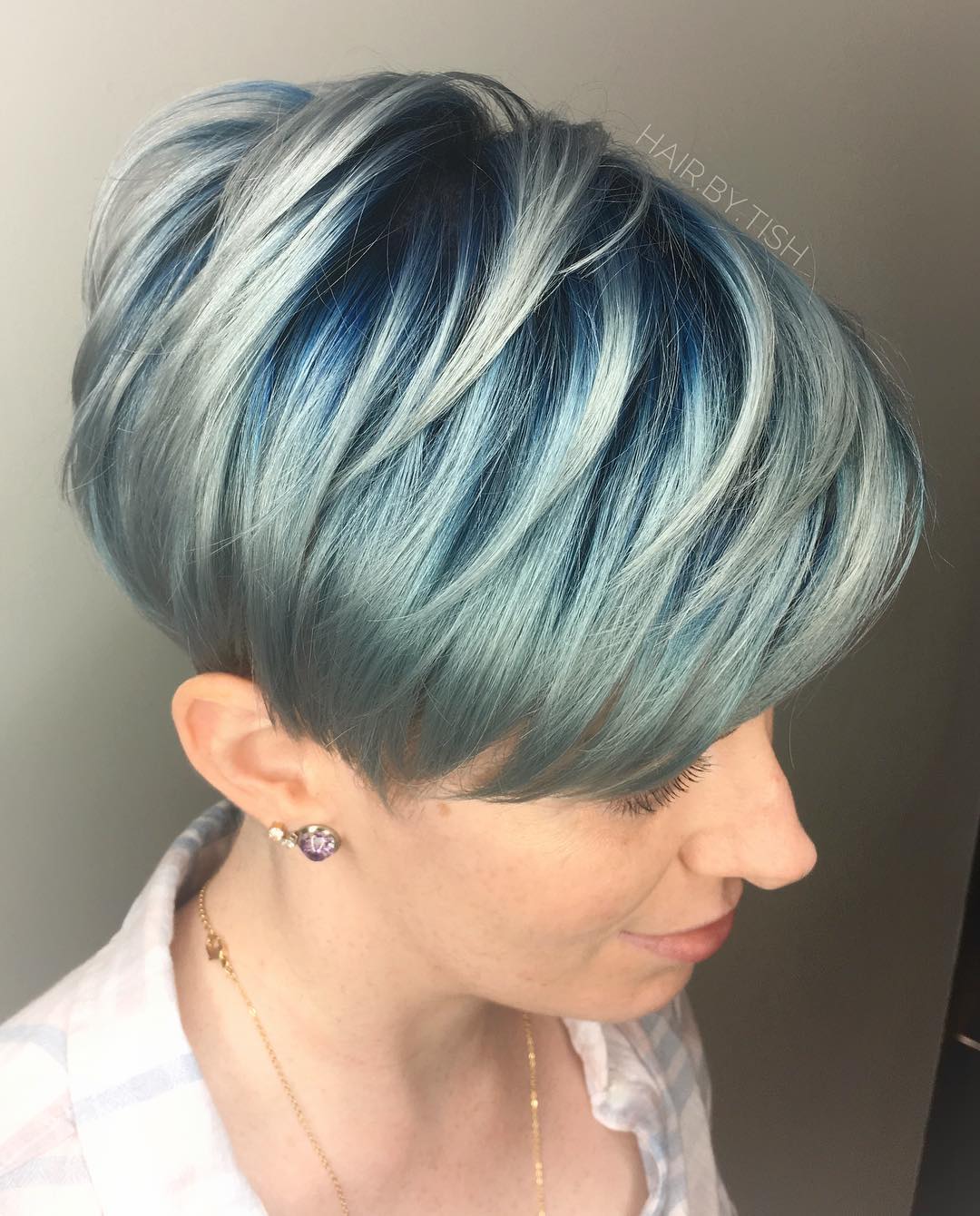 Credit
A fantastic new trend for rainbow colour roots makes for some really gorgeous combinations! This asymmetrical pixie looks fresh and fun and is the perfect complement to a cool complexion. Chopped layers create stunning texture on medium to thick hair, perfect for a two tone design. And some strands are parted to reveal the fabulous roots of royal blue under silver grey for incredible three-dimensional colour depth.
Smart silver-grey & black shaved pixie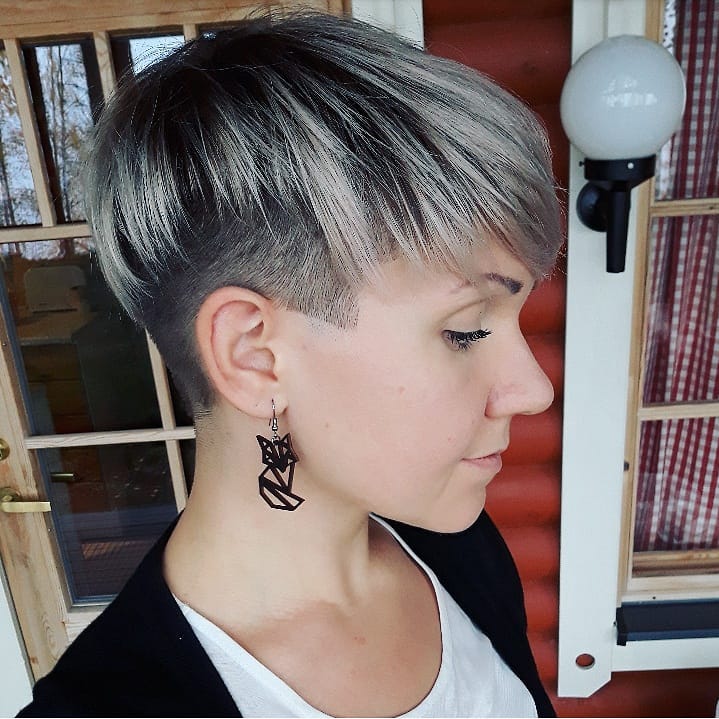 Credit
Trendy shaved back and sides lend a bold, geometric look to this youthful, urban pixie cut. Long layers around the back create a trendy two-tone contrast. And the long bangs, combed forward from the crown, are slightly combed to the side to show the eyebrows of the correct shape. The natural make-up style is complemented by a bright black and silver haircut for thin/medium hair.
Swishy gray & lavender medium bob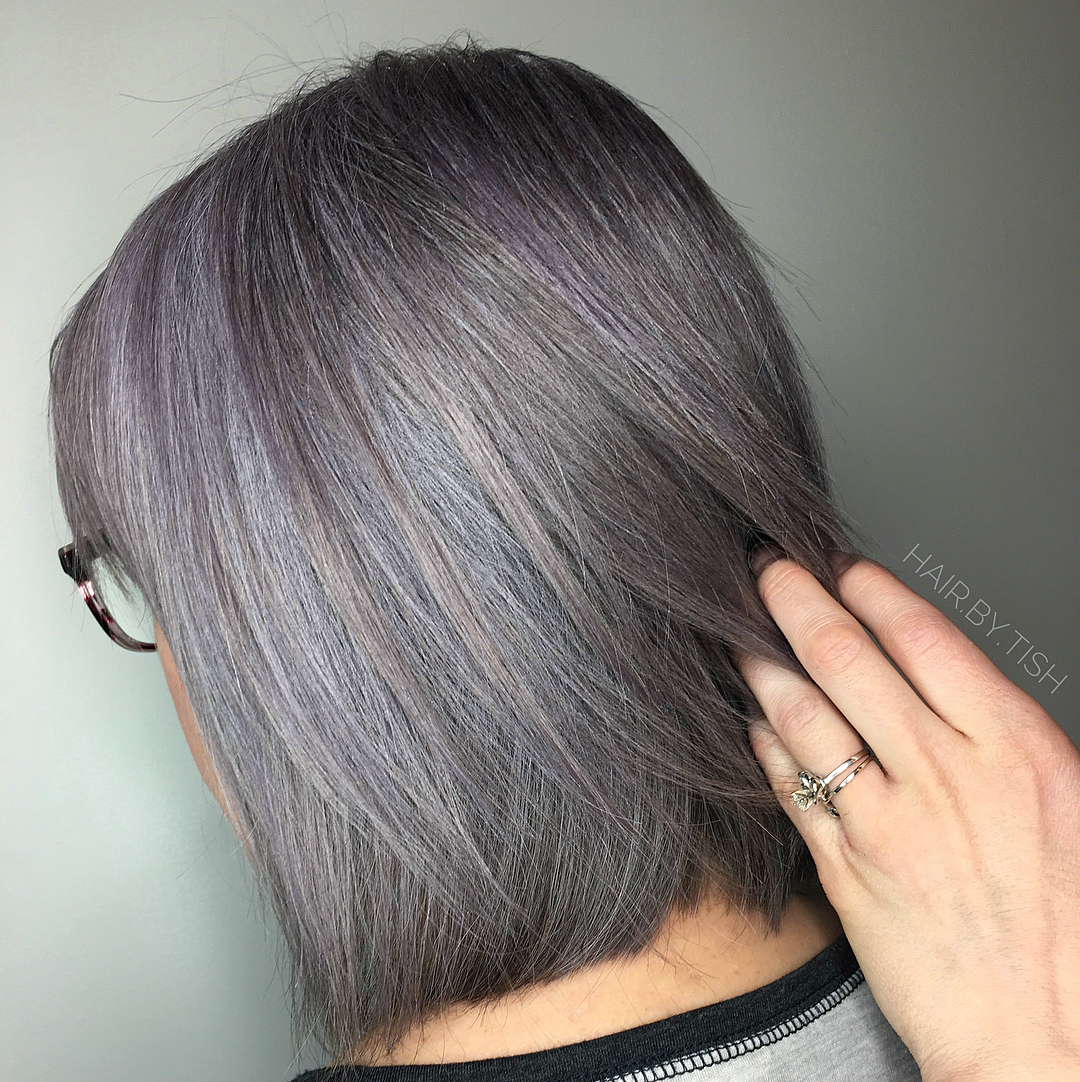 Credit
Hide early gray hair on thick, coarse hair with this clever trick! This stylish lavender pewter gray hair color goes so perfectly with it that it looks young and very trendy. Instead of showing off your gray hair, you'll hide it in plain sight in this stylish lavender bob! Pewter balayage on the surface layers adds three-dimensional color depth and movement.
Triple-tone short bob in blonde with green tips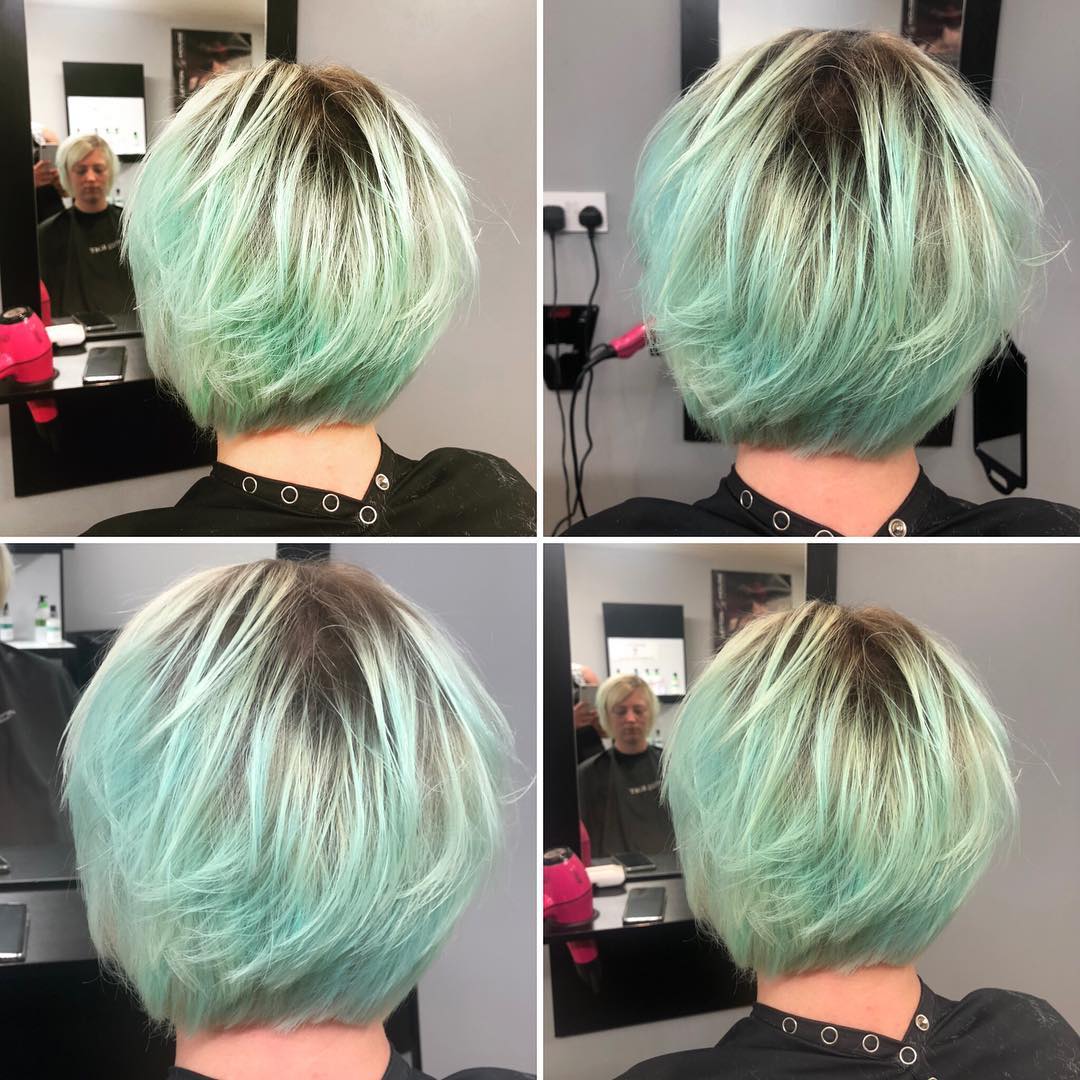 Credit
This simple short bob was a run-of-the-mill "dark roots and cool blonde" haircut. But the addition of a subtle aqua color really spices up the short haircut, turning it into a stunning fashion accessory! The side wave gives a modern look to the blowing wind. Suitable for fine and medium hair.
Soft gray roots with cool-blonde sliced layers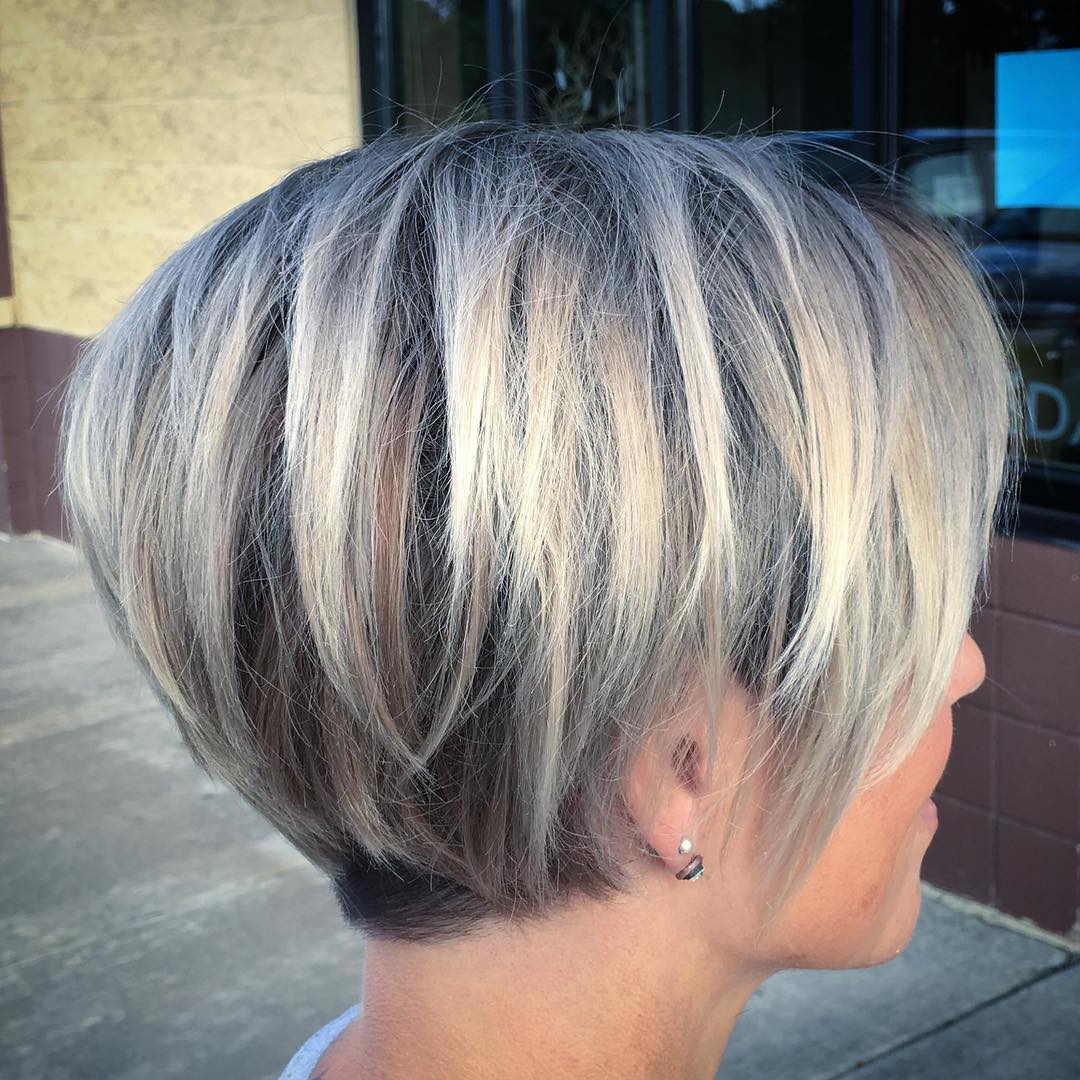 Credit
Thick hair doesn't have to look bulky and unruly if you ask your stylist to "cut out the layers". This casually tousled hairstyle features dark roots, warm brown balayage, gold and white blonde.
Mid-brown with blonde streaks on long pixie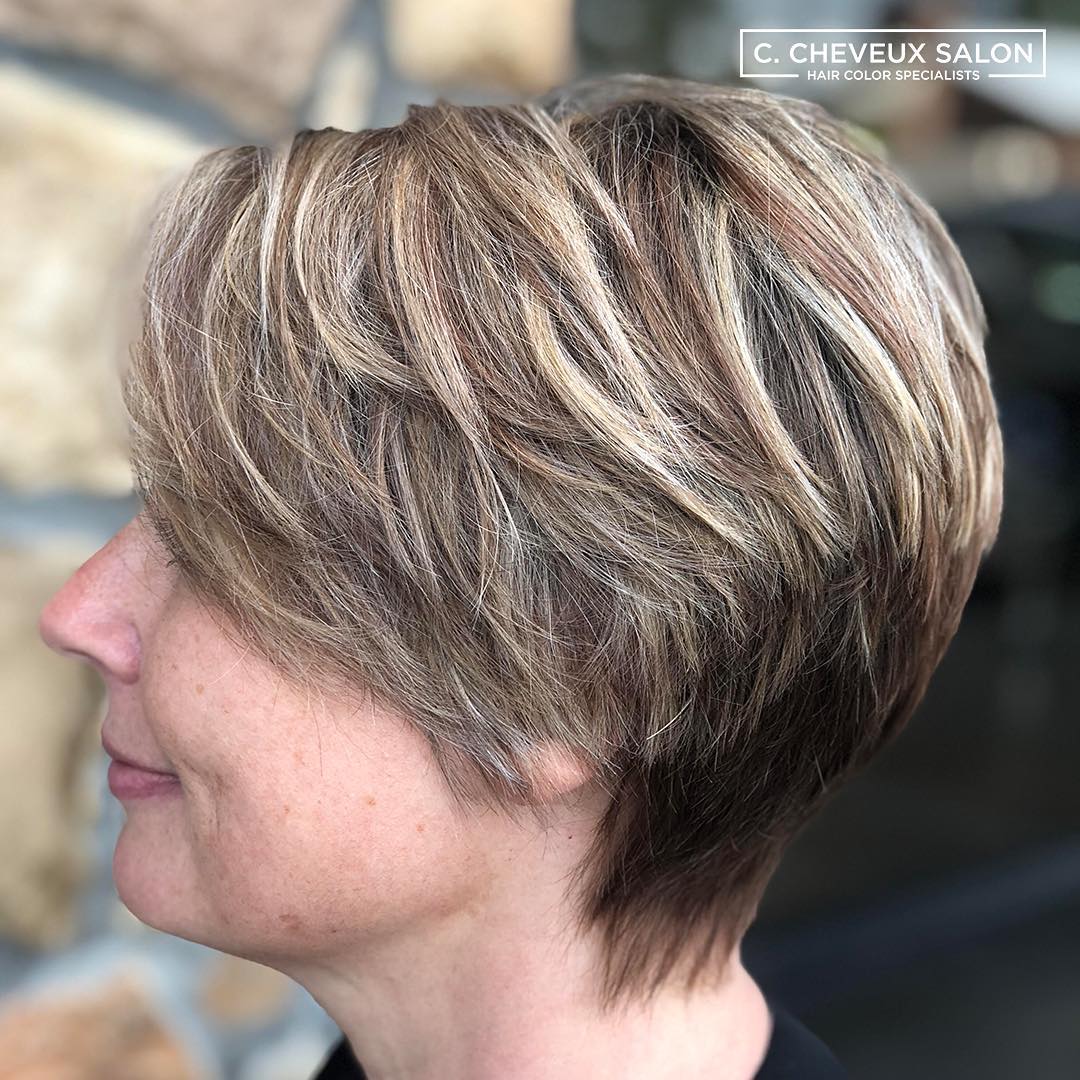 Credit
Warm up the complexion with light highlights and warm brown balayage. Artfully blended blonde and trendy ash shades creatively contrast with the chestnut hair at the back of the head. This stylish take on the asymmetrical bob is a subtle way to go blonde and spruce up your look this season!
Silver-blonde asymmetrical pixie for fine hair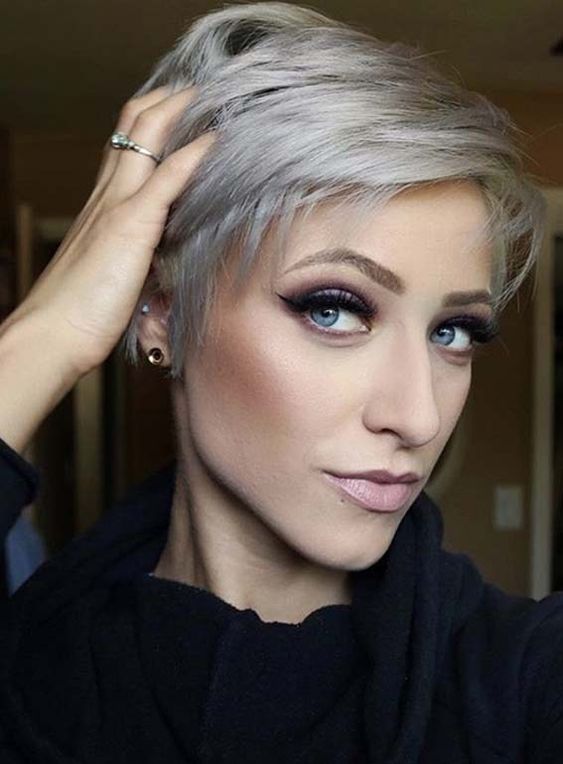 Credit
Hair can be difficult to style for fashion impact, but this short silver-blonde cut is a real attention-grabber! Ash-blonde highlights the top before gentle purple tones accentuate the messy, defined strands framing those beautiful blue eyes! This is a super short haircut and color for enhancing pale skin with cool undertones!
The key to your fashionable, new hair color is to consult an experienced colorist who knows how to complement your personal skin-tone and eye color! And remember, there are now 3 skin undertones to guide you, cool, warm, and neutral, which looks great with hot or cool hair colors!